6 Reasons Why Saying 'No' to Clients Can Be Good For You
Written by Marc (InvoiceBerry.com) on June 15, 2015
It's already quite a challenge for many businesses to find clients. So when they do find some, their natural reaction is to go out of their way to please them and make sure they don't have to say "No" to them ever.
You might be thinking from a customer service point of view that saying "yes" all the time will make your company look admirable.
Try our online invoicing software for free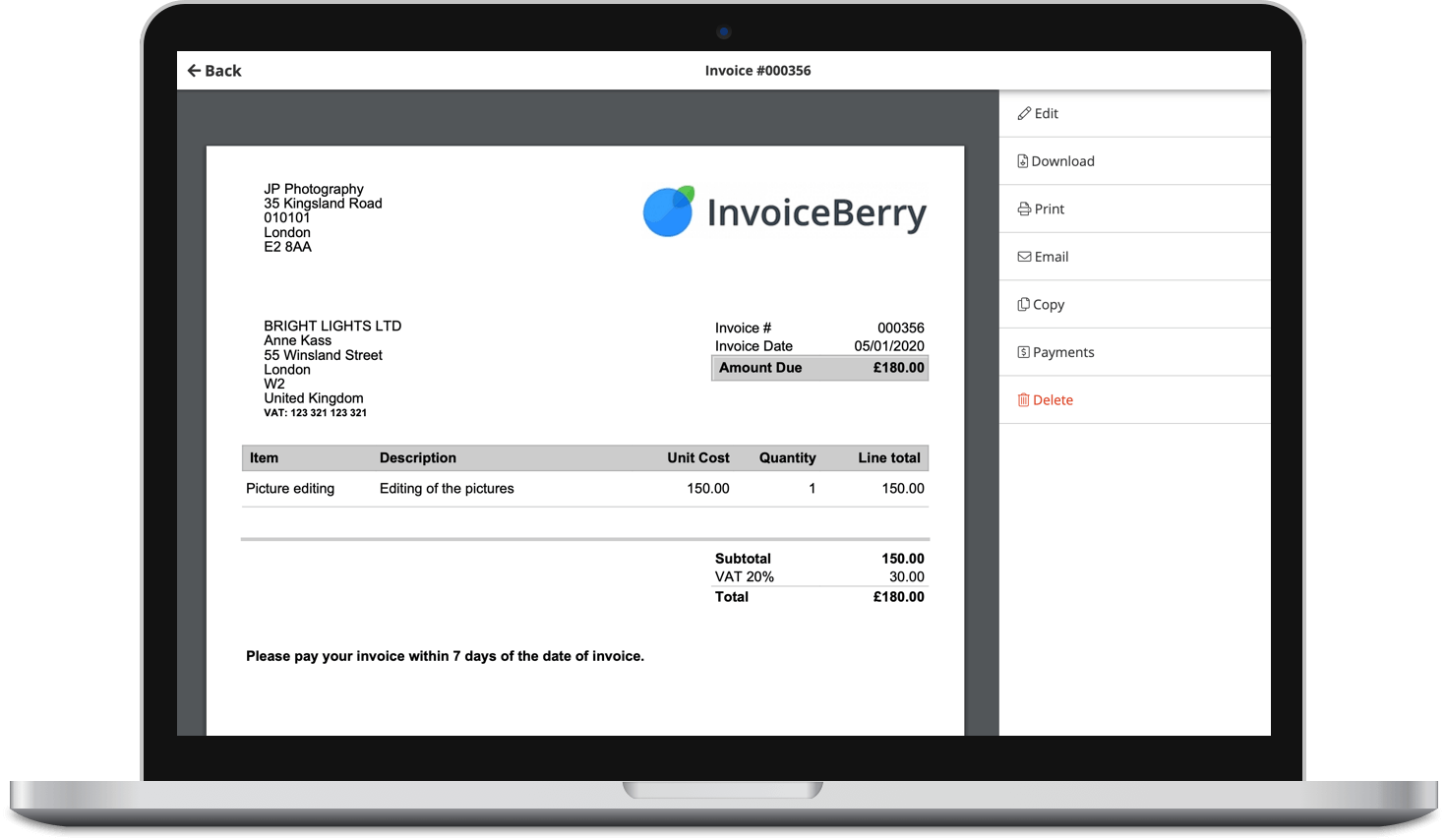 Send professional-looking invoices
Accept online payments with ease
Keep track of who's paid you
Start sending invoices
However, you need to learn the point when it starts becoming detrimental to your company saying "yes" to every demand the client makes. It's simply not feasible to be saying yes to everything.
This is where you need to learn to how to start saying "No" to some clients.
In order to understand what the advantages can be of saying "No" to your clients, let's have a quick look at what the problem can be.
1. Making promises you can't keep
The more you start saying yes to your clients, the more work you are piling up for yourself. People who tend to say "yes" a lot complain about being very very busy.
Soon they find themselves making promises they can't keep or ruining their reputation because they have promised something they can't deliver. What's happening here is that instead of being appreciated for saying "Yes" to your clients all the time, you are now going to end up suffering a bad reputation because you simply can't attend all requests.
This certainly is not going to help you in the long run. This is where you need to be able to juggle your time and make sure that the requests you do take on board are practical and can be delivered within reasonable time.
Never make promises you can't keep.
2. Distinguishing reasonable requests from unreasonable ones
This is really important in running any business. You will come across clients making all sorts of requests but which ones are the ones you should take on board and which ones should you drop?
This is where you need to be able to identify a reasonable request from an unreasonable one.
A good example of this is if perhaps a client came to you with a request regarding a mistake made by your company, and asked you to look into it. This is a scenario which requires your immediate attention and all efforts to make sure the problem is solved. This is the type of client requests that you need to prioritize in your schedule.
At the same time, if for example a client comes to you regarding a project you have been working on for them, and requests some clarification, again you should give sufficient time to ensure all their questions have been answered. That will simply save you from more headaches in the future.
These are examples of client requests that should be dealt with and should be prioritized.
If your clients are coming to you for something that you think isn't important or wasn't your fault to begin with, don't feel afraid to say "no" as you have bigger, more important tasks on your plate to deal with.
3. Saying "No" is not bad customer service
First of all you need to realize that saying "No" to your client doesn't mean that your customer service is bad.
Bad customer service would mean that your customers or clients aren't even able to reach you easily. Or perhaps when they do get through to you, you don't have sufficient personnel to attend them in a timely manner.
However, if you are attending to them, and it is easy for them to get in touch with you, but simply the nature of their request meant you are saying no to them, then this isn't a case of bad customer service.
As long as you have solid communication with your clients, show them compassion, show them a willingness to solve their problems, and put a plan to action.
So once you realize what makes a good customer service, you won't fall for the mistake of saying "yes" to every client and making problems for yourself in the long run by making too many promises you can't keep.
4. Softening the blow
When it is perfectly okay to say "no" to a customer or client, it might not be okay to deliver a plain and simple "NO". There's a thing called softening the blow.
This is again another tip for good customer service. You should train yourself in how you can better deliver this rejection so it doesn't hit the client too hard or you don't come across as someone who doesn't care at all.
A great technique for softening the blow is to come up with a counter offer for them.
A great example for this is when clients make discount requests that you cannot give. Here perhaps you can offer them a reasonable payment plan that your company might be offering to customers. This is you still offering a reasonable solution to them while also saying "no" to their initial request of giving them a straight up discount.
You need to learn to be a little more creative when dealing with your clients. Counter offers are a great way to push forward other services or products of your company too. In this case, even if the client doesn't accept your counter offer, you will still feel more confident knowing that you still did try to solve their problem.
5. Gaining clients' respect
People who always say "yes"  tend to be perceived as people you can pushover to get what you need.
The same tip applies at the work place. You don't want to come across as a pushover to your clients in your efforts to make them "like" you.
Being able to stand up, give your opinion, and say "no" will in fact earn you more respect in your client's eyes. Whether they consciously or unconsciously realize this, clients come to you for your opinion and value it when they see you dealing with them with a professional attitude.
That is why you shouldn't be looking to be liked by your clients rather try and earn their esteem.
6. Clients not worth taking on
This is something to consider before taking on a new client. There will be a lot of situations where you will come across clients that are actually not worth pursuing.
This could be due to several different reasons. A client might not agree to pay fees, follow the company rules and regulations, might be too pushy or needy, or continuously fail to pay on time, etc. These are just a few reasons why you would want to think twice before bringing a client on board.
Depending on the type of business or service you offer, the reasons for you might differ. However, over time handling clients, you will be able to pick on traits and characteristics that will help you identify problem clients that you might want to steer away from.
Following these 6 tips will really help you learn what the advantages of not always saying "no" to your clients are and how you can build better esteem and reputation for your company and yourself by sticking to these rules.
Small Business Finance 101
Download our free guide to learn the fundamentals of finance that will help make your small business more efficient and successful.