Top 27 Edinburgh Coworking Spaces for Your Startup
Written by Alla on November 08, 2016
Edinburgh today is not only about history, politics and festivals. This city of half a million people was voted as the best in the UK three times in a row.
Today, Edinburgh is home to a close tech community and hundreds of entrepreneurs inspired by the success of Skyscanner, FanDuel, Float, Craneware, Twig and many more Scottish native tech and creative startups that have gone global.
Try our online invoicing software for free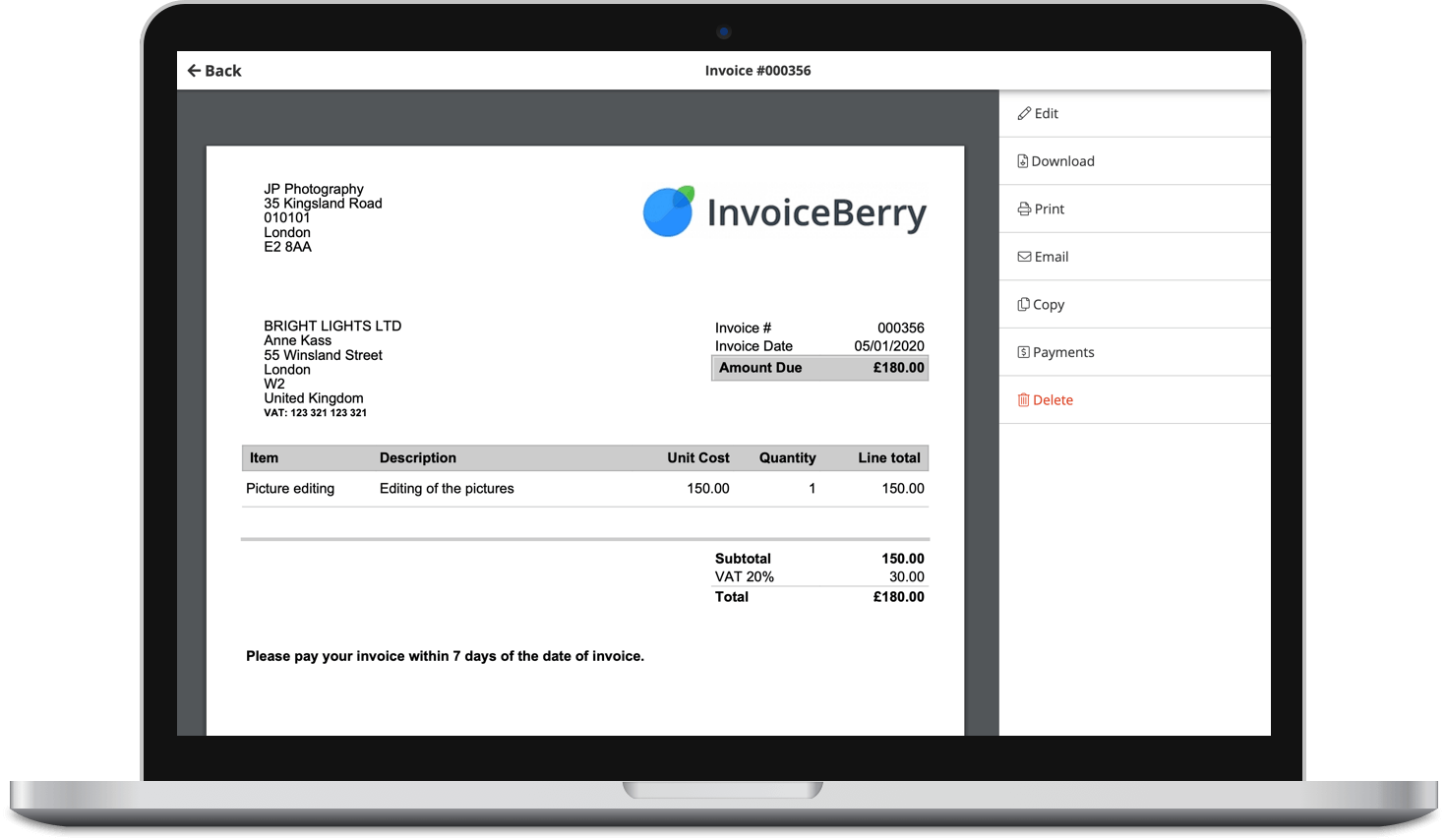 Send professional-looking invoices
Accept online payments with ease
Keep track of who's paid you
Start sending invoices
Naturally, all those young businesses have to work, create and network to reach the stars. And coworking is the best choice to start from.
Check our list of the 27 best Edinburgh coworking spaces for your startup success!
Nexus is a colorful creative space for small businesses, freelancers and startups located just off George Street in Edinburgh's bustling city center.
It provides plug and play offices with all the possible perks: coffee lounge, full kitchen facilities, shower and changing rooms, bike storage and many more (including discounts for the pub next door and a local gym and spa).
Location:
Nexus: 

21 Young Street, Edinburgh
CodeBase is one of the fastest growing incubators in Europe. Located in a quarter-of-a-million square foot building, they have enough space for offices, coworking spaces, mentorship and investment projects.
The company's mission is to build and grow tech startups that make this location a unique collaborative space for tech developers and entrepreneurs.
Location:
CodeBase: 38 Castle Terrace, Edinburgh
Regus Edinburgh coworking has 8 locations for every coworking need in various parts of the city that include all the necessary amenities for work as well as socializing with fellow businesses.
Flexible membership plans allow you to rent its spaces from one hour to years in advance based on your needs. Prices start from £3.80 per person per day.
Locations:
St Andrew Square: 

9-10 St. Andrew Square, Edinburgh

Princes Street: 

83 Princes Street, Edinburgh

George Street: 

93 George Street, Edinburgh

Fort Kinnaird: 

Unit 30, 1st Floor, Fleming House, Fort Kinnaird Retail Park, Edinburgh

South Gyle: 

Westpoint, 4 Redheughs Rigg, South Gyle, Edinburgh

Conference House: 

Conference House, 152 Morrison Street, The Exchange, Edinburgh

Lochside Place: 

10 Lochside Place, Edinburgh Park, Edinburgh

Newbridge: 

Harvest Road, Newbridge, Edinburgh
With The Loft, besides a dedicated desk, you'll get a 24/7 access to the coworking area, kitchen facilities, Internet, meeting space, and also a business address.
As the name goes, this Edinburgh coworking space is situated in a loft, and the price for monthly access is £225, including tea, coffee and biscuits.
Location:
The Loft: 

1-2 Sciennes Gardens, Edinburgh
Codesk is a shared working space for everyone from a freelancer and entrepreneur, to businesses and those who are just looking for a workspace.
The prices kick off from £240 monthly, and have all the perks that you need, including but not limited to participation in social events, IT support, a bar and cafe, printing and bike storage.
Location:
Codesk: Techcube, Summerhall, Edinburgh
Seventh Crow is a light and airy coworking space that was created by a film and animation production company. There you can rent a desk space or the production studio space.
Membership starts from £200 per month, which includes 24-hour access, WiFi & Ethernet, and a lockable set of desk drawers. You'll also be able to use a shared meeting room, kitchen facilities, additional storage, and free on-street parking.
Location:
Seventh Crow: 

2nd Floor, Suite 6, 2 Commercial Street, Edinburgh
Kingsford Office is a new coworking space in Edinburgh city center with a creative design, inspiring atmosphere and dazzling networking opportunities.
The location offers flexible membership plans starting from £100 a month with access to all the networking events, refreshments & cereal, printing, stationery, mail handling, and extremely fun Friday open bar.
Location:
Kingsford Office: 26 Dublin Street, Edinburgh
TechCube is an office space for tech and creative startups and small businesses in the Summerhall Arts Complex.
For £10 per day you'll get 24 hour access to all amenities, including meeting rooms, kitchens, parking, etc., surrounded by a mixture of art and technology for better inspiration.
Location: 
TechCube: 

1 Summerhall, Edinburgh
The Melting Pot is one of the first coworkings in the UK, and is Scotland's Centre for Social Innovation at the same time.
The location connects people from different industries focused on social innovations and improvements. Besides outstanding networking, they offer meeting and private spaces, a fully equipped kitchen, a shower and also free coffee and tea.
Location: 
The Melting Pot

: 5 Rose Street, Edinburgh

The Creative Exchange is a collaborative business coworking space for creatives, small businesses and entrepreneurs looking for flexibility, socialization and connections with people.
The company offers a number of membership and hot-desk options ranging from hourly to 24/7 full-time access. You can also rent a space for various events. 
Location: 
Creative Exchange

:

29 Constitution Street, Edinburgh
Cre8te is an award-winning independent social enterprise that helps local businesses grow. The company encourages communities and small businesses to maximize their potential by providing free business support.
Shared spaces are located in the Castlebrae Business Center, which is equipped with meeting rooms and kitchens. Most importantly, Cre8te offers flexible leasing terms.
Location:
Cre8te: 

Units 1-3, Castlebrae Business Center, Peffer Place, Edinburgh
Out of the Blue is a social enterprise that helps artistic and creative entrepreneurs and startups. They provide 114 various studios for different art and creative purposes.
The location also offers assistance in promoting artistic projects and stimulating collaborations through their community events, workshops and seminars (the venue hosts a quarterly Arts Market and monthly Flea Market).
Location:
Out of the Blue: 

36 Dalmeny Street, Edinburgh
WHALE Arts is a great part of the friendly local community that offers a supportive office space together with the WHALE Pod business services. It is one of the more art and culture focused Edinburgh coworking spaces.
The location offers a wide range of creative and workshop spaces, meeting rooms and at the same time holds a variety of art, craft and other cultural activities.
Location: 
WHALE Arts:

30 Westburn Grove, Edinburgh
Andell Studios is a modern and stylish coworking space in the center of Edinburgh owned by two architects. The location offers desks and meeting spaces for rent starting from £175.
You'll love their amazing desk chairs, superfast fibre Internet and dimmable LED lightning in the coworking environment.
Location:
Andell Studios: 

14 Belford Road, Edinburgh
The Deskhop is a perfect coworking space for freelancers, independent businesses, creatives, non-profits and entrepreneurs with flexible membership contracts from 1 day to 6 months.
The location offers fast internet, a meeting room, kitchen area, unlimited coffee and toast, and printing facilities in a cozy office within a 10-minute walk from the city center.
Location:
The Deskhop: 

5 Brougham Street, Edinburgh
Tribe Porty is a creative community which promotes a healthy and happy lifestyle. It provides offices, studios, and hot and permanent desk options. This makes it one of the best Edinburgh coworking spaces.
This location is great for freelancers, startups and those who need a flexible workspace. Also, you'll get a discount on yoga classes and multiple social networking opportunities.
Location:
Tribe Porty:

19 Windsor Pl, Edinburgh
Edinburgh Hacklab is a shared space for those who like messing with technology and having fun. If you want to collaborate with fellow hackers, to learn and socialize – this place is ideal.
The location is part of the Hackerspaces worldwide movement. Membership options start from £25/month, with 24/7 access to the coworking space, joint use of the tech equipment and some space to store your projects.
Location:
Edinburgh Hacklab: 

1 Summerhall, Edinburgh
Ten Henderson Street is a modern office space that provides desks and meeting and training rooms for rent.

Hot-desking starts at £2.50/hour, with free coffee, tea and toast. You'll also get access to kitchen utilities, parking, and WiFi. Tip: book online to get a 10% discount.
Location:
 Ten Henderson Street: 10 Henderson Street, Edinburgh
Schop is a chain of coworking spaces started by a team of architects. The company now offers dedicated desk spaces and business services at two locations in Edinburgh. The place is great for creatives, startups and tech professionals.
With the membership you'll receive an individual desk space with a locker, a space for meetings, internet connection, shared kitchen, printing and photocopying facilities, and access to various networking events. 
Locations:
St Mary's Street: 

36 St Mary's Street, Edinburgh

Grindlay Street: 5

 Grindlay Street, Edinburgh
 Map of the best Edinburgh coworking spaces