8 Simple Steps to Improving Customer Service When Sending Invoices
Written by Angela on June 13, 2022
Invoices are one of the most important customer service tools that small business owners and freelancers have. They can be used to make a great impression on clients, build trust, and show professionalism.
Unfortunately, they're often relegated to boring official paperwork, sent as an afterthought, and only when the client requests for it. This is a missed opportunity for brilliant customer service that can make your clients smile.
Try our online invoicing software for free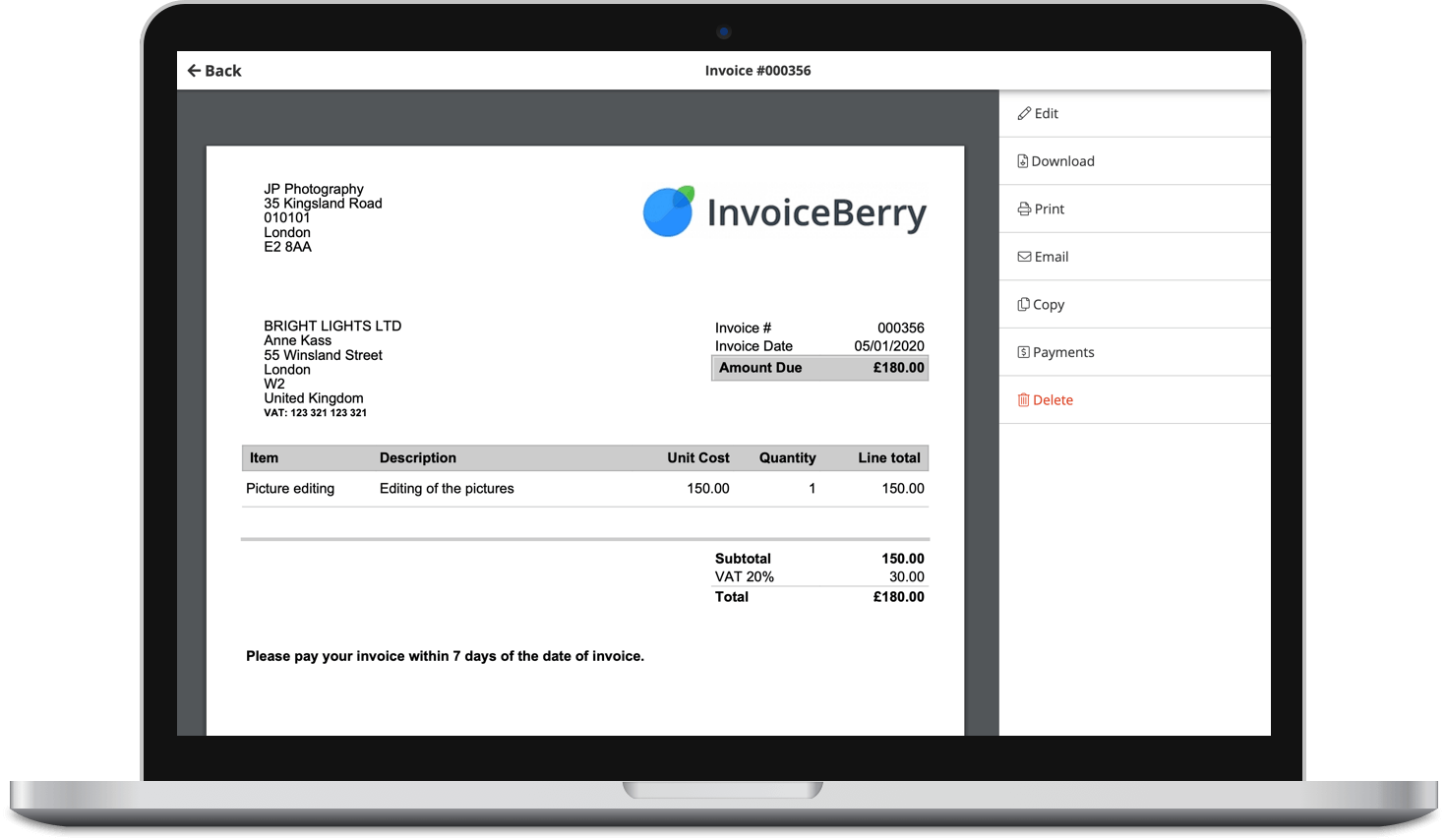 Send professional-looking invoices
Accept online payments with ease
Keep track of who's paid you
Start sending invoices
In this article, we will outline why invoices are so important for customer service, and give you a few simple steps to follow to get the most out of your invoicing process!
How Invoices Can Improve Customer Service
Invoices are an important part of doing business, but they can also be a powerful customer service tool.
When you send invoices to your clients, you are providing them with important information, such as what was billed, when it was billed, and how to pay for the services or products that were provided.
But invoices can do more than just provide information — they can also help improve communication between you and your clients.
Here are a few ways on how invoices can help you make customers happy:
Avoid misunderstandings with a clear and concise invoice. Confusion on when invoices are due or what was billed can be very damaging to your relationship with your client. Minimise misunderstandings by keeping your invoices clear and professional.
Further build relationships with your clients. An invoice is one expected touch point in your business relationship, so it's an easy way to keep communication lines open.
A well-designed invoice sent on time and when they expect it leaves a great professional impression. This also helps them plan their own cash flow and signals to them that you're committed to servicing them.
A complete invoice minimises back and forth and makes it easy for them to pay. Your clients will appreciate not having to ask for more information if your invoice is complete. It lessens the time they need to spend on processing your invoice, and this also means you get paid faster!
With all these great ways of improving your relationship with your client with just a simple invoice, why wouldn't you want to?
If you're interested in raising your invoicing game, here are a few simple steps to improve your customer service with just sending your invoices.
Step 1: Make sure your invoice is clear and complete
There is no point in sending an invoice if your client can't understand what they're being charged for. Make sure to be clear and concise in your itemisation.
Use terminology and words that you have used in your past discussions with your client, so that it's clear to them what they're being charged for.
You should also include any pertinent information like project dates, your contact info, and payment methods. This can help avoid any confusion or back-and-forth between you and your client later on.
Step 2: Make it easy for your clients to pay your invoice
In this day and age, there are a multitude of ways that your clients can pay you. Include as many options as possible on your invoices to make it easy for them.
This way, they can easily pay you the way that is most convenient for them. Not only are you catering for their comfort, but you'll also get paid faster!
If you're using an online invoicing tool like InvoiceBerry, most will have the option to include a "Pay Now" button that will link directly to a payment gateway like PayPal or Stripe.
Make sure that this is enabled if you have this facility, because online payments have been on the rise for the last few years.
Step 3: Include a personal note or a personal touch
Clients will always appreciate feeling like a VIP, and a personal note can mean a lot. This can be as simple as adding a handwritten note to the invoice thanking them for their business.
If the invoice is only the start of an ongoing series or project, you can mention how you're looking forward to working on their project. If it's a one-time job, you can let them know how much you appreciated the opportunity to work with them.
You can also use this space if there are any changes to your business that might affect them.
Step 4: Gracefully cross- or up-sell your services and products
Don't get all sales-y on them with the invoice you send, but your invoice is a great way to subtly let them know of other services or products you offer, especially if you have new services available.
As much as possible, try to tailor your offer to what they might need related to their current or finished project.
You can send a small related gift with your invoice, or even a small discount in case they are keen to try. A tasteful brochure can be tucked with their invoice as well.
Step 5: Send your invoice on time
It's important to send your invoice to your client on time. This may mean different things depending on the client, but a general rule of thumb is that you should send your invoice within a day or two of completing the work.
This shows that you're organised and efficient, and that you value their time.
Sending promptly also means your project and work is still fresh in their minds when they view your invoice. They'll remember what was worked on and will have less questions about their invoice.
Couple that with a well-designed invoice and a personal note, and they'll love your business even more.
Sending your invoices on time is also a good way to get paid promptly. The sooner you send an invoice, the sooner you'll likely get paid.
Step 6: Follow up after you send the invoice
After you've sent off your beautiful, well-put-together invoice, don't just sit and wait. Depending on your agreement with your client, give them a day or two to look it over and then follow up.
You can ask if they have any questions about the invoice and if you can clear up any confusion about the invoice or even the project. This shows you're interested in getting paid and that you care about your services.
Step 7: Follow through after they pay your invoice
Don't leave them hanging once you get paid. This is still a good time to make a great impression.
After receiving their payment, send them another email or give them a call to confirm that you've received their payment, and to thank them for it. Remember, they're taking time out of their busy schedule to pay you.
You can send them their official receipt, and even ask them for feedback on the work or product they received. This shows them that you're committed to improving your business, and that you're always looking for ways to make your customers happy.
Thanking your clients for their business is a good way to build rapport and keep the lines of communication open in case they have any questions or concerns in the future. There are also various Help Desk ticketing software tools that makes it easier to answer and respond to queries.
Step 8: Stay organised with your invoices
Customer service with invoices doesn't just stop once you've sent the invoice and received payment. Invoice management is also important — being able to retrieve past invoices for your clients as well as keep a history of the work with them is important.
Even if they don't become returning customers or they don't refer back to the older invoices, being able to see a history of the client is a good resource for you in your future dealings with them or other similar clients.
You can refer back to their history on what works with them and what doesn't, which will improve your customer service for future projects.
This can be done by implementing a simple system for saving and organising your invoices so you can quickly access them later. You can also use online services like InvoiceBerry, that can help you quickly access customer history and see past work with them.
Put Your Invoices to Work
Sending invoices doesn't have to be a pain. By following these simple steps, you can turn the process of sending invoices into a chance to improve customer service and make a great impression on your clients.
Invoices don't have to be a necessary evil — they can be an opportunity to build strong relationships with your clients. Use these tips to make the most of your invoices and turn them into a valuable customer service tool.
What are some other ways you've used invoices to improve customer service? Share your thoughts in the comments below!
The Ultimate Social Media Tool
Download our free guide to learn how to create shareable content, generate website traffic & increase conversions.