How to Offer Superior Discounts and Generate More Sales
Written by InvoiceBerry Team on March 22, 2021
Discounts are a widely used marketing tool. It allows you to increase the flow of customers, sell off your inventory, and increase sales. However, this strategy can also be harmful to business.
Constant or excessive price reductions can lead to loss of profits, deterioration of the image, or loss of product value. Therefore, you need to use the discount strategy wisely.
Try our online invoicing software for free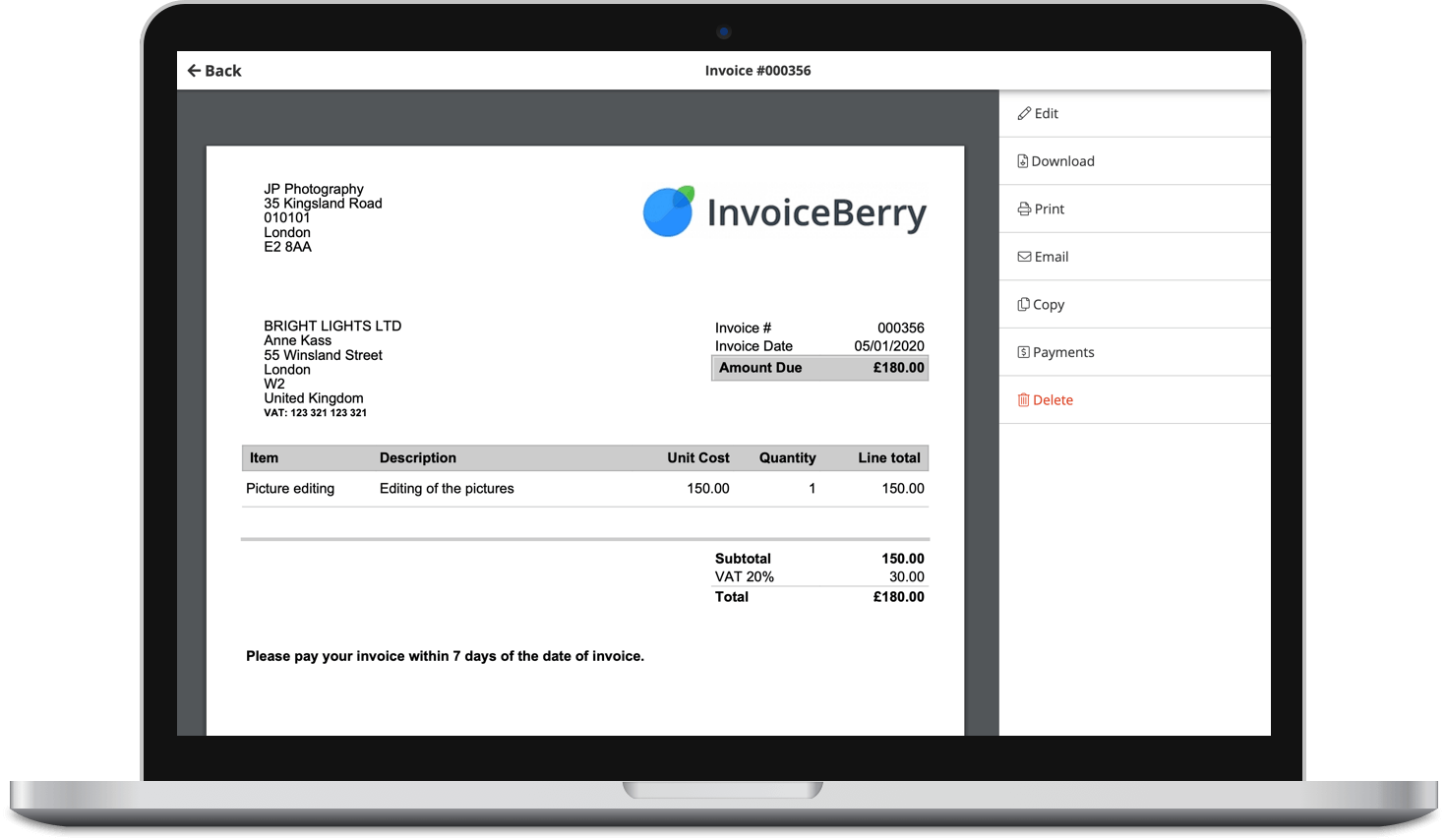 Send professional-looking invoices
Accept online payments with ease
Keep track of who's paid you
Start sending invoices
In this article, we will talk about how discount pricing can help a business, as well as the specifics of its implementation. Just a couple of tips and promotions will start to increase your profits.
How not to lose money by offering discounts
Discounting can help to achieve the goals of the company, or harm the brand. To exclude the latter allows preliminary planning. It is important to define key indicators that will limit the possible amount of discounts, their type, and validity period. So the company will definitely make a profit.
Before launching a promotion, you need to determine:
Its current margin, mark-up, and break-even point;
The optimal price with a discount at which you will still make a profit;
Current prices and offers of competitors;
Strategy of attracting new and returning existing customers;
Possible alternative ways to stimulate sales, excluding price reductions;
Period of the discount;
Periods of sales decline (day of week, month, or season).
8 Goals You Can Achieve with Discounts
1. Creating a database of email addresses
User contacts are a valuable resource. With an email address, you can launch email marketing that increases the likelihood of conversions. According to research, the return on investment in it is 4400%. Every dollar spent is $ 44 in income.
A discount is a great way to encourage users to sign up for your newsletter. Maybe one-time. For example, for filling out a subscription form (with the introduction of an email address), a person receives a 5% discount on the first purchase.
2. Increasing the number of loyal customers
Loyal customers are the force driving the development of the company. They become advocates of the brand, recommending it to friends and family. They do this with approximately 60% loyal customers. More than 34% of them are willing to pay a high price for the product. And even if there is an analog cheaper.
Discounts and special price offers help to attract customers to loyalty programs. A sense of exclusivity contributes to this. That is, a person gets unique access to rewards.
How to implement this? For example, through segmentation. Divide clients into groups and make a special offer. If you sell educational courses, you can design a reward program for newcomers to a specific field.
3. Product packaging
The strategy allows increasing demand for less traded items by offering them along with those in demand. The easiest way to explain this is with an example. Let's imagine there is a cosmetics store.
One foundation in the company's assortment is popular. And so, the company presents a new concealer. You can stimulate the sales of new items by offering a discount on it when you buy it with a foundation.
In this strategy, it is important to understand which products are combined with each other. If a promotional package contains incompatible products, buyers will perceive the offer as a gimmick.
Remember, when packaging your product, you must provide a positive experience. Quality content will help you with this. With it, you can communicate the value of the proposal and improve your performance.
To prevent errors in the text and typos, use special services like Grammarly, Essay Tigers, etc. This will help build trust and loyalty.
4. Collaboration with influencers
Research shows that an investment in influencer marketing pays off 11 times better than an investment in other digital marketing. This is probably a consequence of the high level of trust in influencers. Almost half of the buyers rely on their recommendations.
Influencer marketing is effective for increasing brand awareness, expanding reach, and increasing sales. However, it is important that the influencer matches the brand image and values.
How are discounts used in influencer marketing? It's simple – exclusive promo codes. They will help you track the buyers attracted by the blogger.
5. Returning customers
Every company has one-time customers. Maybe they tried the product, got a bad user experience, and decided to leave. However, there is a possibility that the company was forgotten.
In this case, retargeting is possible. The discount will help attract buyers. This can be done through push notifications or SMS messaging. To make your retargeting campaign more effective, check out these creative mobile push notification ideas that can grab the attention of potential returning customers.
6. Reducing the number of abandoned carts
The average bounce rate is 69.57%. More than half of the transactions are simply not completed. However, the rate can be reduced by returning the customer. In this case, the discount is a powerful argument.
Offer a discount in a push notification or email. The latter can be automated using special tools for trigger mailings. One of these is Mailchimp.
7. Prevent exit
Sometimes, getting to the site, users still don't know exactly what they want. They need time to make their choice. However, you can speed up the path to purchase. Set the window to pop up automatically when you try to exit.
It is important to make the shape attractive. Come up with an offer that the user can't refuse. For example, an individual selection of a product or a discount on the first purchase.
8. The attraction of new clients
Consider a special offer for first-time buyers. This will increase the likelihood of ordering and create a positive user experience. You can use QR Codes to lead users to a mystery discount or special offer. By scanning the code, users are taken to a landing page that reveals their discount or offer. QR codes are easy to use and can be created easily using the best QR code generators.
5 Types of Discounts that Businesses Should Use
Free shipping
For 90% of users, it is a key motivation to buy. The amount of orders, with free shipping, is increased by 30%. 93% of customers buy more products. If free shipping is available for orders of a certain amount, then 58% of users will add more products to their cart.
It's worth using it. However, it is important that free shipping does not incur losses. To do this, consider the cost of transportation and packaging. They are often included in the price of the product.
Pay special attention to this if your business has low margins. Providing free shipping from a certain amount of the order will ensure profitability.
Limited time offer
This refers to a discount that is valid for several hours, days or weeks. The exact period is determined by you. Time constraints evoke a sense of urgency. The user feels they might be missing something.
And the fear of loss prompts you to urgently buy, so as not to miss the chance. An example of such a proposal is Black Friday.
What is worth remembering when implementing such a proposal?
They are especially appropriate during holiday periods (for example, before Christmas).
Turning on the countdown timer will increase the sense of urgency of the purchase. You can also display product leftovers on the site.
Adding social proof will provide a higher level of trust in the company.
Discounts in numbers
There are two types: interest and cash. The former are widely used in advertising campaigns. You've probably seen offers like: "20% discount". This is the percentage discount.
The offer can be made better by dividing clients into groups. Consider a different discount percentage for newbies and loyal customers. This will help attract customers. At the same time, regular customers will receive a decent reward from the company, which will have a good effect on the level of loyalty.
The second option for discounts is cash. Such offers contain a specific amount that a person will save. For example, a $10 discount. When developing such an advertising campaign, you can also divide clients into groups.
Perhaps you are thinking: "What kind of discounts is better?" This is a question for which there is no definite answer. The more profitable type of discounts is determined by the cost of the product, the perceived value of the offer, and the characteristics of the target audience.
The Rule of 100 can help you choose. Its essence is as follows: for goods costing more than $100, a cash discount is more effective. If the product price is $ 100, then the percentage discount is preferable.
The choice of the type of offer is based on the perceived value of the customers. People don't count the savings from every discount. Therefore, they can choose an offer that ultimately turns out to be less beneficial for them.
Let's say there is a $25 product. The company chooses between two options for the offer – a 10% discount or $5. Despite the fact that the second share is more profitable for the buyer, it is very likely that the first one will be more effective.
BOGO
A common discount option. Its essence is simple: Buy One Get One (BOGO). This promotion is applied in two ways:
buy one product and get the second for free (BOGO-free);
buy one product and get a discount on the second (for example, BOGO-half-off).
Quotations are often used to sell inventory.
Before launching an advertising campaign, you need to decide on the type of offer – the second product is free or at a discount. The effectiveness depends on the characteristics of your audience.
When participating in such promotions, buyers often choose the second product from among the cheapest. Therefore, BOGO-half-off is less beneficial for them. If this behavior is typical for your customers, then it is better to use BOGO-free.
Multiple purchases
"2 for 1" stocks come in handy when you need to clear inventory. However, they are not suitable for all products. Before launching a proposal, consider whether the products are being used together.
The option "Buy 2 T-shirts, get one more for free" is a great offer. But "Buy 2 mattresses, get a discount on a bed" sounds strange. It is unlikely that the client will change the mattress along with the bedding.
Outcome
The discount strategy is used frequently. However, it brings profit to some companies and losses to others. To prevent this from happening to your business, be sure to plan for discounts.
Consider the value of the product to users, the perceived value of the offer, and the specifics of the products. Also, remember that discounts cannot be permanent.
Carry out promotions when necessary. In this case, the company's image, product value, and persuasiveness of the proposal will only improve.
Stacey Wonder is a content marketer who enjoys sharing best practices for self-development and careers with others. In her free time, Stacey is fond of contemporary dance and classic French movies.