How to Boost Sales in Your Online Business Using Product Retouching Services
Written by InvoiceBerry Team on June 19, 2023
According to Justuno, 93% of people accurately study product photos before making a purchasing decision. The quality of product images is extremely important for online shopping when customers need to see the smallest details of items before adding them to the cart. Therefore, all pictures on trading platforms must be detailed, business-oriented, and eye-pleasing.
If you want to boost your photo online sales, this in-depth guide will come in handy. It covers major things that affect picture quality and lists possible methods to improve your images like a pro.
Try our online invoicing software for free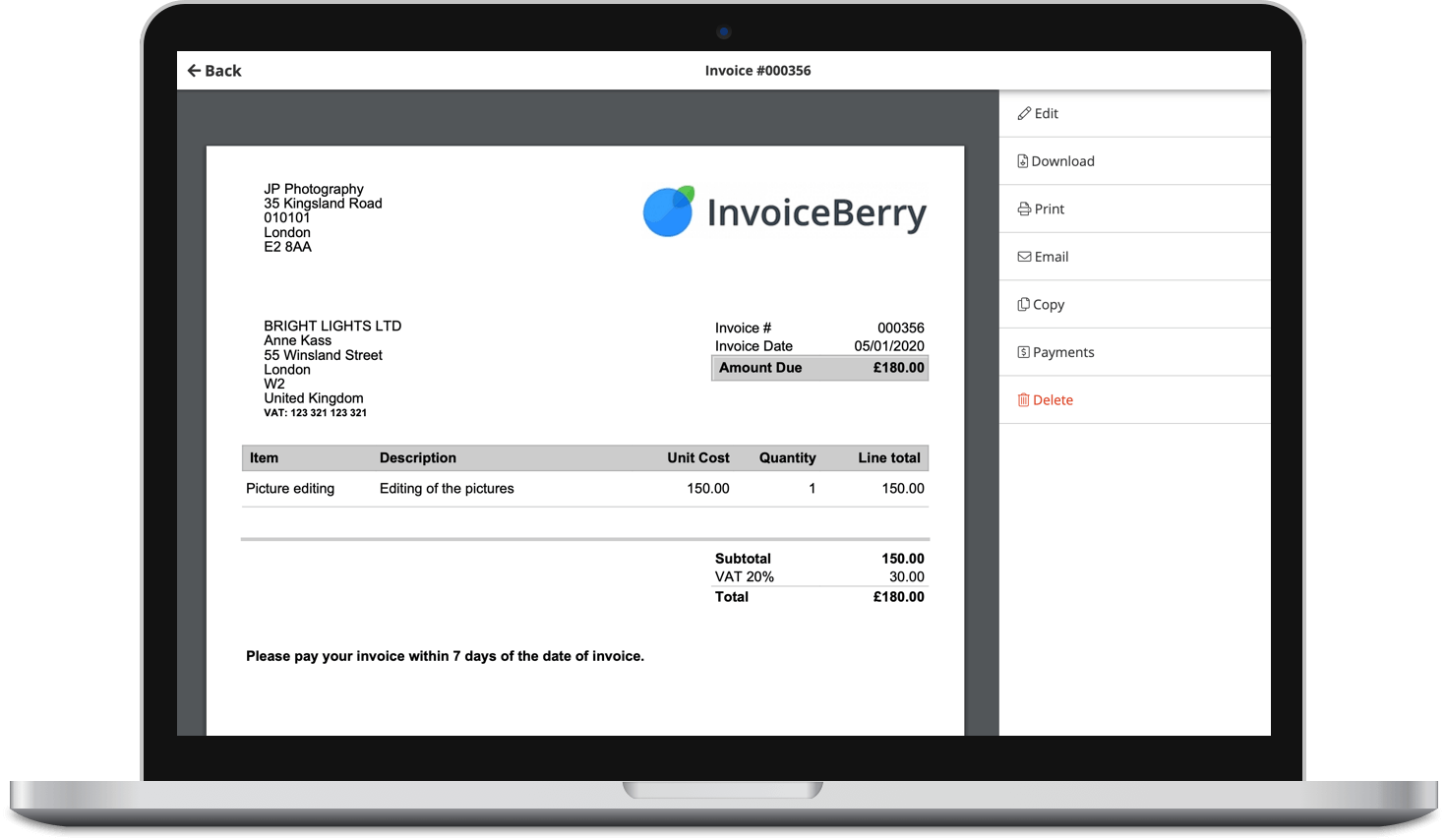 Send professional-looking invoices
Accept online payments with ease
Keep track of who's paid you
Start sending invoices
What Product Photos Can Boost Your Sales?
A common tip to take product photos is to photograph objects straight on. It is a go-to approach for product listings on popular platforms, including Amazon and Etsy. Typically, such pictures have a white background to minimize distractions.
Product-only photos are the best option if you want to draw attention to the subject's details such as size, color, silhouette, etc. While flicking through such pictures, customers can stay focused on the item and quickly find the needed product.
If you check out the main eCommerce websites, you will see their specific requirements considering photo parameters. While the key aspects are similar, there are certain differences to keep in mind.
For Amazon: at least 1000 pixels tall or wide by at least 1600 pixels tall or wide.
For eBay: Minimum size of 500×500 pixels and a maximum of 9,000 x 9,000 pixels.
For AliExpress: Minimum size of 750 x 360 pixels.
How Product Retouching Services Can Help?
Product retouching is the professional enhancement of eCommerce photos that usually includes color correction, clipping path, background editing, object removal, and more. Businesses order product retouching services because they want to get top-quality images that will spike customers' interest and make them purchase an item.
Customers like the possibility to scrutinize products from different angles, which implies the necessity to hire experts, who can take good shots with the camera for product photography and further edit them. Besides, when there is a skilled retoucher taking care of your shots, you can be sure the resulting pictures will have proper colors, a correct focus, and no distractions.
Photo Retouching and Cleaning
If you order this service, specialists will perform basic photo retouching, improve colors, get rid of deep shadows, and adjust white balance. Cleaning is the process of eliminating various distractions without destroying the overall idea of a shot.
Recoloring
Sometimes, to increase photo online sales, you simply need to show the diversity of your products. Doing that is easy by photographing one item and then asking retouchers to recolor it. This is quicker and cheaper than taking images of an identical product available in different colors.
Background Removal
Leading eCommerce marketplaces such as Amazon and eBay accept product photos with a white background only. Unfortunately, getting a purely white background during shooting is extremely difficult, so you'd better order background removal/replacement services after a photo session.
Photo Straightening
Images that are posted on eCommerce platforms are always straight and perfectly shaped. This is a major rule to remember. If you neglect such criteria, you risk spoiling your reputation because customers will start to doubt the quality of your goods.
Rotation and Resizing
Rotation is used for displaying products from different angles, while resizing is needed to bring a specific element of an object in focus.
Reshaping, Liquifying, and Fixing Symmetry
Retouchers recommend making reshaping to show more details of a product. Liquifying is a great technique for pushing or pulling pixels without sacrificing their quality.
Sometimes, it is also necessary to redress symmetry just to give an image a professional look. Currently, there are lots of tools for handling all these tasks promptly.
Ghost Mannequin
To help customers imagine themselves wearing a particular clothing piece, you need to shape images with 3D effects. Such photos attract more attention and serve as fantastic sale-boosting means. However, adding mannequin pictures is forbidden on eCommerce platforms. So, you should order a ghost mannequin service to get a 3D picture.
Perspective Correction
Photo perspective can get screwed up due to various reasons. In most cases, an object is leaned in shape to one side. Fortunately, you can order online retouching services and have this defect fixed.
Exposure Correction
Manipulating light is rather difficult, especially if you take photos outdoors. Sometimes product images end up looking overexposed due to intense lighting. In other cases, when the weather is gloomy or when studio lighting setups aren't powerful enough, your pictures will be underexposed.
No matter what your problem is, you can order an exposure correction service to receive a picture of impeccable quality.
Adding Shadows and Reflections
When correcting shadows, it is paramount to preserve a realistic look. The same applies to reflection adjustments. Glass surfaces are the most intricate to edit, so it is recommended to make minor changes step by step.
Clipping Path/Masking
This service resembles background removal but, in this case, an object not a background is cut out of a photo. Regardless of an object's size, the processed picture will look absolutely realistic after this manipulation. This approach is particularly helpful if you need to create an eCommerce product catalog or advertising materials.
Creative Photo Manipulation
Creative product retouching services include adjustments of color temperature profiles, vibrancy, noise removal, correction of product's contours, as well as sticking for a captivating look.
Why Do Successful Sellers Use Such Services?
In accordance with the MDG advertising stats, 67% of buyers state that the quality of a product photo is one of the major factors that impact their shopping decisions. Image retouching is the most efficient method to turn a mediocre photo into a beautiful one. Retouchers can define defects and accurately fix them.
Photo retouching ramps up sales. Based on the research held by eBay, products that are complemented with detailed and crisp pictures attract more buyers and are sold more frequently. Besides, listings with top-quality photos get the highest conversion rates.
Possibility to level up your business. Offering online retouching services is a terrific way to find new customers as a freelance photographer. Edited pictures look arresting, so you can entice your clients and increase profit in the long run.
Stick out from competitors. Edited images greatly affect brand recognition. If you post only professional pictures in the same photo style, you have better chances to turn first-time visitors into returning buyers. Besides, people will immediately recognize your company if you maintain a coherent look across all your pictures.
Therefore, taking and editing product photos is worth the time and effort because you will eventually get many satisfied customers.
Build trustworthy relationships with customers. Your attitude to online trading and your products can be easily traced in your images. If your store has only detailed and zoomable photos, customers will believe that you are a responsible seller, who cares about his/her products. If you underestimate the importance of image quality and add pictures with distractions, hectic backgrounds, etc., people may be put off by such an attitude.
Improve the reputation of an online store. Gaining a good store reputation is very difficult considering how severe the market reputation is. However, if you fill your online store with excellent product photos, you will surely increase brand value.
Get better income and content customers. There is an inextricable connection between the quality of product photos, sale rates, and your profit. Good-quality pictures are suitable not only for a trading platform. You can use them to start a blog and spruce up articles with edited pictures.
Product Retouching Service to Address
These are reputable companies that have been offering product photo editing services for many years. They can remove/replace/recolor the background, perform color correction & clipping path, and make many other adjustments.
Besides, experts from these services skillfully apply the ghost mannequin technique, make products look voluminous, and improve pictures to optimize eCommerce websites.
Some companies have discounts on bulk orders and even offer a free trial.
FixThePhoto
The team has been offering product retouching services in business for over 15 years. You can order basic picture editing and they will make slight adjustments, advanced photo processing (3D effects and shadow fixing), and everything in between. The highlight of the company is that clients can place a trial order for free. After that, the cost of photo editing is $0.99/shot.
With FixThePhoto, you can get beautiful pictures for your online store very quickly. For example, if you have several products with different colors, you can simply order a product recoloring service instead of photographing every item separately. The same refers to background editing.
Conclusion
Brands that are actively engaged in the eCommerce sphere always cooperate with reliable photo retouching companies. The success of a whole trading campaign is much dependent on the quality of product images. Whether you need pictures for magazine ads, billboards, product packaging, blogs, or online stores, you should take advantage of pro-grade photo retouching.
Tata Rossi is a Boston-based photographer and retoucher, who is a part of the FixThePhoto team. Tata collects and analyzes photography-related data and writes interesting articles for the blog. She dwells on creative photography, product retouching intricacies, popular programs for photo editing, and related topics.