Essential Online Tools for Business Owners and Freelancers
Written by Mindaugas on August 06, 2018
There are a huge range of online tools created to fortify business operations. With so many choices, it can be hard to narrow down the essential online tools that need to be employed by any business owner or a freelancer.
I have managed to accrue a list of online business tools that will surely make you a more formidable force in the competitive business environment. Check them out and see what benefits you're able to reap.
Try our online invoicing software for free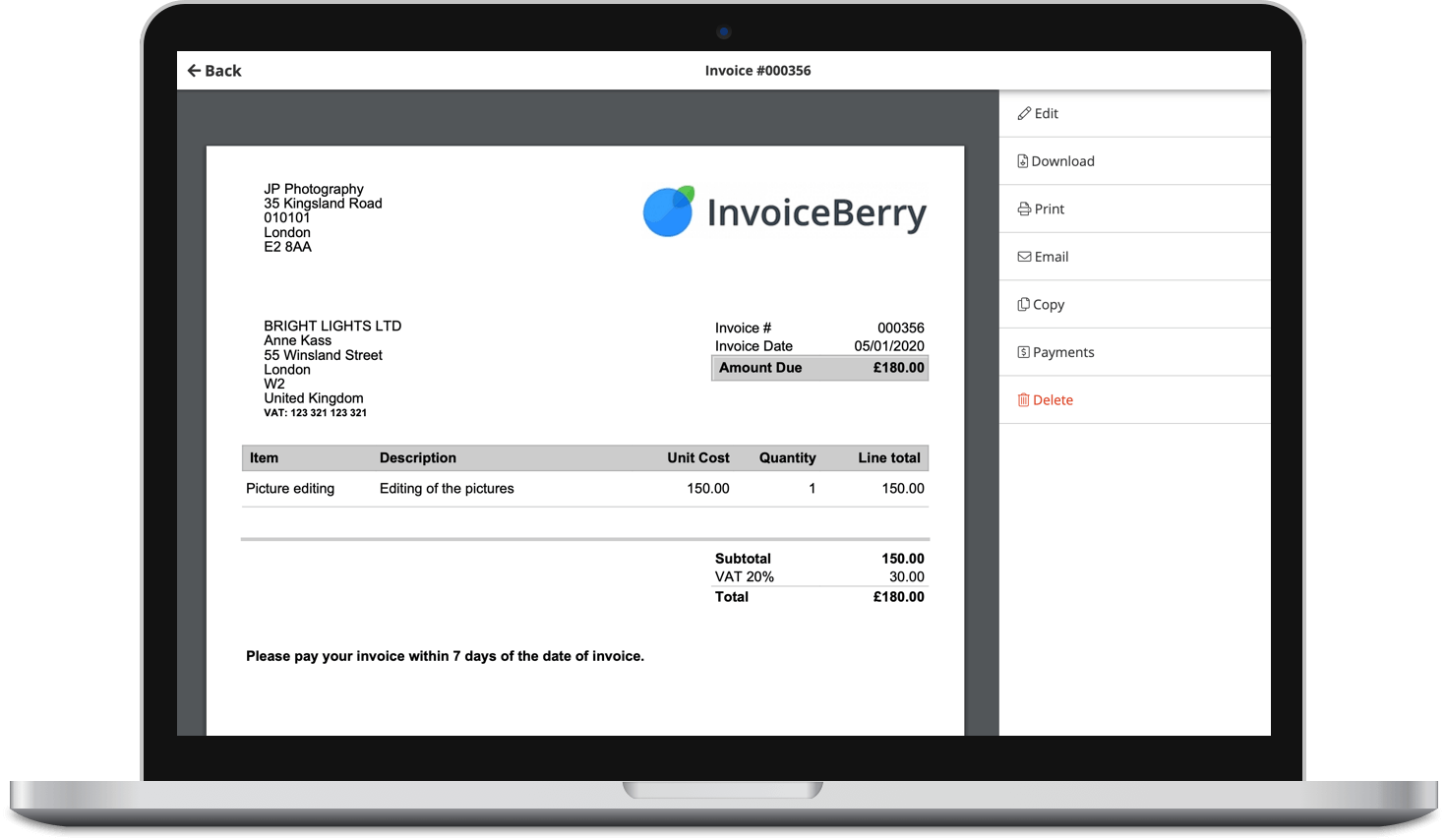 Send professional-looking invoices
Accept online payments with ease
Keep track of who's paid you
Start sending invoices
Essential Online Tools –
Project Management and Team Communication
Having to rely on too many apps that facilitate communication and collaboration with your team can adversely affect productivity. Basecamp combines all the essentials that appease teamwork.
This tool lets you create task lists, share files, and discuss ideas with your team. You even have access to scheduling boards so you and your colleagues are aware of any impending deadlines.
To herd all of your team members under the same roof may not always be possible, though you still want to communicate with them on a more personal level. Uberconference is designed for that.
Using this tool, you can conduct video chats with multiple team members and share your screen with the ones that matter. You also have access to powerful call controls that can negate any background noise such as barking dogs or rowdy cafes.
Scheduling meetings with people can be a nuanced endeavor – the more people are involved, the more difficult it may be. Calendly is a scheduling platform that helps individuals overcome the problems associated with organizing a team or customer congregation.
Whether you're looking to organize a team meeting or a quick meet-up with a customer, Calendly will help you do that. It provides you with an accessible scheduling interface that will allow your coworkers to schedule meetings within the organization as well as give customers the ability to schedule appointments too.
Struggling to decide on the right time to bring the team together? Maybe you need to pick the optimal date for the next company outing? Whatever it may be, picking a date can be difficult when a lot of people are involved – Doodle is good solution.
Doodle is made to alleviate the tension that comes with picking deadlines, times, and places. To get input fast, create a poll that people can vote on with Doodle; see what dates work well for any of your team members so you can start organizing events, days off, etc.
Some work may need additional security measures such as encrypted communication. Brosix offers a safe communication and collaboration medium for your team.
Private chat, file sharing, video conferencing, whiteboard access and other tools are available with Brosix to get your team working together in a secure online environment.
All-in-one team collaboration platform. Scoro let's you track progress of various projects, evaluate team productivity, watch over billable hours, and create income reports.
Scoro has multiple integrations available through Zapier that reduce your workload even further.
Productivity and Time Management
This tool really applies in a variety of categories since it's an all-inclusive platform for business and freelancers alike. I have included this in the productivity category because of its ability to bolster workplace results.
Todo gives you access to CRM, task management, time tracking, check lists that accommodate progress %, and a calendar that can be synchronized with any project due dates.
You can even grant access to any clients that you're working with who wish to oversee your progress and team communication. This can enable peace-of-mind and transparency between your organization and the customer.
Even while working, there may come a time when we wonder off to some unrelated online page. Social media could be your draw, or perhaps a Wikipedia article about amino acids caught your attention.
Having a clear picture of how the time spent online is allocated can gauge your actual productivity. Rescuetime is an online tool that tracks the time you spend on any particular page, giving you an inside scoop on just how well you manage time while browsing the web.
An intuitive way to manage your teams and their workflow. If and when comes the time to distribute a plan of attack to your colleagues, Process Street will help you do that.
Create workflow sheets for your team, manage client on-boarding, and track progress of any current projects with Process Street. This tool also allows you to integrate with over 1000 different apps through Zapier.
Some people have a difficult time distancing themselves from distractions, especially when working on the computer. Too many interesting websites to browse, not enough time for work.
Lock yourself out of any potentially distracting websites with Cold Turkey and enhance your productivity. If it's unrelated to work, better lock it for your own sake – see what difference it will make at the end of the day.

Time Doctor is a powerful collaboration tool which also tracks time accurately. It helps you stay focused by gently nudging you when you get distracted from work. It is also a web-based solution that provides time tracking, computer work session monitoring, reminders, screenshot recording, invoicing, reporting tools, integrations and so much more.
Marketing Tools
People have become more vocal on the web as a result of social media. Disclosing a positive or a negative experience that an individual had with a particular business is often done through a social media platforms. It garners attention from peers which can domino into a long-lasting impact on the company in question.
Do you know what people are saying about your business? Brand24 is a social media monitoring platform. It connects you with user mentions of your business so you know exactly what perception is being cultivated about your enterprise.
You may find out of unforeseen shortcomings encountered by customers or perhaps run into a medley of positive comments about you and your team. It's good to know what people are saying about you on the web – awareness is what helps improve the business.
Your email marketing campaigns can be elevated with Convertkit. It's a tool designed for creators who employ email marketing to promote themselves and build leads.
With Convertkit you can spice up your emails by implementing customized forms that suit your audience, track recipient engagement, and automate email delivery.
With EvergreenFeed, you're able to schedule any Twitter posts you create for automated posting and measure audience engagement.
Group your Tweets into buckets based on the criteria of your choosing. Each bucket of posts can be scheduled for automated posting – schedule it and let the software do the hard work.
Newsletters are a method of relaying vital information to the masses – now this is typically done through email. Revue is a newsletter creation tool that will help craft and distribute most engaging newsletters to your subscribers.
Revue gives you a hand in aggregating vital newsletter content through a nifty browser extension, automates email delivery, and provides you with plethora of customization options.
Social media marketing is simplified with Outbox Pro. Manage and create your primary social media platforms on one dashboard.
Create and publish content on one or more platforms at once – while optimizing selected content for a particular platform, moderate and analyze engagement of your audience. Analytic tools provided on-hand will help improve the performance of your posts for the future.
SEO is a vital part of digital marketing, one that gets you to the front lines of search results. SERanking is an all-encompassing SEO tool to help elevate your content in the competitive world of search engines
Keyword research, competitor rankings, backlink monitoring, deep website audit, and other relevant SEO gadgets are available with SERanking.
Being omnipresent on the web in order to interact with the audience is incredibly beneficial. Answering reviews, comments and concerns builds positive rapport which pays off in droves.
Podium gives you the ability to engage with your audience through Facebook, Google, and Webchat messages while never leaving the platform. You may also invite your loyal customers to leave reviews and disclose their experiences with a simple text message.
Rank Tracker comprises a complete set for working with new keywords and monitoring those your pages are already optimized with. The interface offers a logical structure for searching and analyzing keywords. Keyword Research gives the product's multiple proprietary search methods, including its Keyword Gap allowing to find keywords a brand's competitors use, Related Questions helping to find keywords based on Questions Autocomplete and People Also Ask, as well as possibilities of integration Google accounts for search.
The Competitor Research tab lets a user find a brand's competitors and top pages. SERP Analysis focuses on any keyword's performance on the search results page. Target Keywords make keyword analysis available via a number of inner tabs with ranking details, organic traffic, and more. The history of keywords performance can be recorded and tracked through time.
Buffer connects your Twitter, Facebook, Google+, and LinkedIn accounts. It will allow you to create an automation schedule for when and where your content gets published.
This tool is incredibly useful. All you have to do is create the content you want published and let Buffer handle the intricacies of getting it all online.
A strong social media management platform, NUVI wows it's users with stunning visual displays. Not only can you oversee your primary social media accounts and analytics, but also get a glimpse of what people are saying about you in real time.
Monitor, analyze, report and publish – these are the functions that create successful social media marketing campaigns. NUVI delivers it.
CRM and Conversion Tools
Drip is a CRM designed for e-Commerce businesses. Learn about your website visitors and subscribers and how they interact on your page. You can even apply specific categories and tags to individual visitor which depict their browsing habits.
Email marketing campaigns, and analytics are also present on the platform. Gauge the effectiveness of your online presence and marketing approach to see what effect it may have on your conversion rates.
Infusionsoft is a consumer data aggregator which will enhance relationships you've built with your customers. All of data gathered from your consumers can be found and managed through Infusionsoft.
The tool also lets you score the leads you've generated based on their buyer's journey, so you know what content they need to be endowed with in the future. Pave a way to a more compelling email with a built-in A/B testing interface.
Review the history of your consumer interactions and the effectiveness of your campaigns with the use of an intuitive Infusionsoft dashboard.
Customers love real-time communication with a business they have interest in. Visiting a page and having access to a direct business representative via a chat box is appreciated by many. Good news is that Olark implements these chat boxes for easier communication with current and potential customers.
Olark provides a live-chat experience to website visitors. Conversations can be tracked to better track chat volume, and if your team isn't able to answer right away, customized automated responses can be utilized.
A simple analytics tool, TruConversion helps you optimize the web experience to best suit visitors.
Embed the simple tracking code within your web page and let the software do the work. You will gain valuable insight as to how visitors interact with your website while on their desktop or a mobile device. With the gathered data, make tweaks to the design or layout that could enhance the overall user experience and boost conversions.
A variety of tools are available on Freshworks website, but I settled on the CRM software that they provide.
Through the Freshworks CRM platform, you can make direct calls, manage and send email campaigns, track conversions and even employ AI to score your generated leads. Freshworks dashboard is intuitive and grants you access to valuable data that make converting your leads easy.
Data Storage and Back-up
Accidents happen to people and businesses. Data loss due to damage or cyber-security problems is possible but can be prevented taking the right precautions.
Carbonite is a data-backup service. All of your data and information pertaining to your business and your clients can be securely backed up and stored in a cloud with the help of Carbonite. Never hurts to have additional security measures that keep your business running smoothly.
Business Intelligence
Data and intelligence plays a pivotal role in business development and its overall success. Utilizing information can be advantageous in customer acquisition and product development – though not everyone has the capacity to understand the pertinent data and apply it accordingly.
Sisense is a business intelligence tool that makes understanding data simple. Easily accessible and comprehensive analytics will be brought to you on a silver platter once Sisense manages to digest it all.
Almost since the inception of the internet, Dundas has been around providing business intelligence. Strength of this tool lies in its ability to translate data visually.
The whole mantra upon which this platform has been built is more than just analysts exploring your data – it's about business people being empowered to act on it. Visualize your analytics in a way that's comprehensible and is able to transfer information effectively.
Small Business Finance 101
Download our free guide to learn the fundamentals of finance that will help make your small business more efficient and successful.