Essential Logo Creation Tools for Small Business and Freelancers
Written by Mindaugas on November 06, 2017
Designing the perfect logo for your business is immensely important – that's where logo creation tools come into play.
The logo should speak volumes before you say a word. It's the gateway to your business. Ideas will be forming in everyone's head about the type of business you conduct when they glance at your logo.
Try our online invoicing software for free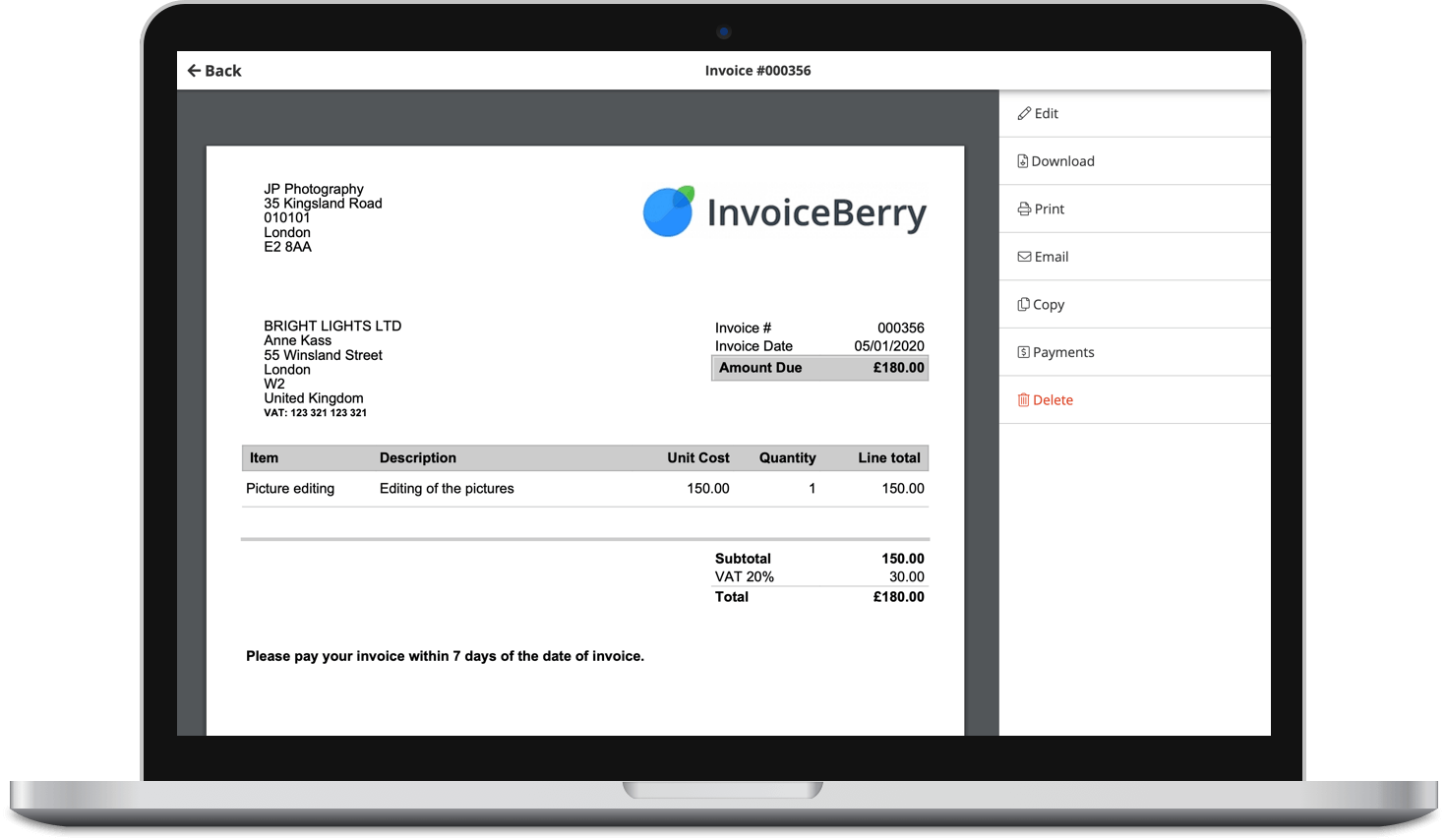 Send professional-looking invoices
Accept online payments with ease
Keep track of who's paid you
Start sending invoices
The logo is an essential part of every business and the brand that the business is trying to cultivate. Even the colors you choose can impact how people perceive your brand and may influence their purchasing habits!
The process that you will have to undertake to create the perfect visual representation of your company won't be an easy one. You may need help from others along the way to get the right design that works well with your business.
Good thing we have a hefty list of logo design tools for you to choose from to make your life just a little bit easier. Tools range from advanced graphic design software, to simple-to-use 5 button design platforms.
Some of these tools even offer you the ability to consult graphic artists to help you through the design process.
Read on to see what could work well for you.
Something to Consider
If you are looking for a versatile logo that can be utilized on any medium such as banners, t-shirts, brochures, business cards, etc. you will want to really think about going for the vector format.
Vector format allows you to play around with the size without compromising the visual quality of the design.
Logo Creation Tools
1. Adobe Illustrator
The fabled Adobe Illustrator is an all around versatile program that's not only good for creating logos; you can design anything you want. This is a universal graphic design software.
This software might take some getting used to, if you have never used it before. There are a lot of tools and options at your disposal here that you will have to familiarize yourself with.
Once you learn all the ins and outs of Illustrator, you can design not just logos for your business, but almost everything related with graphic deign. Learning to use this software effectively can go a long way as a business owner.
Everything you do on Adobe Illustrator is done in vector format. This is incredibly important as I mentioned before. Vector formatting allows you to scale your designs to any size without losing its visual quality.
Pricing
Adobe Illustrator is a subscription based software. To have access to the single Adobe application, it will cost you $19.99 a month. If you choose to get all the tools Adobe has to offer, it will cost you $49.99 a month. Keep in mind both of the subscriptions come with a 20gb cloud storage for you to keep your work in.
2. Logomaster
I have recently stumbled upon the new kid on the logo designing block – Logomaster. This tool conjures up a design process that is intuitive and rather inspirational, so if you're not much of an artists this may be the creation tool for you.
To start the design process, all you have to do is enter your brand name into the provided field on the front page. As you move through the design process, the platform picks up on your likes and dislikes to narrow in on a few logo concoctions that will work for you.
The great news is that you can play around with the design process at no cost. Awaken the little artists inside you – try different templates, text, images – to really get a sense of the creation process.
For an extra personal touch, you can invoke the help of a designer to add some pizzazz to your logo.
Pricing
The basic logo plan is 17€. You will receive a transparent .png file of your logo.
For 54€, you get a whole lot more out of the service. High resolution logo files for download – including a vector file. Not to mention you get the full logo ownership and the ability to go back and edit the logo whenever you please.
138€ option comes with everything mentioned above but also includes the services of a personal designer. If you aren't happy with the outcome, the designer will make all your creation woes disappear.
3. Design Hill
Having the right logo that reflects your business and cultivates a healthy brand identity is essential. Logo design tools and graphic design firms typically confine you to few choices after you have gone through with the payment – Design Hill flips the script.
Design Hill is a graphic design crowd-sourcing platform. Your specific needs will be acknowledged by variety of seasoned designers who will turn your logo vision into reality.
Initial process is assisted by AI. This will help the platform hone in on viable designers to undertake your logo request. With this service, you will get a minimum of 20 different logo designs to choose from with the ability to alter them if so desired.
The logo you settle on will come with full copyright and ownership. If for some reason you're not happy with the results, you don't have to worry about a thing since you can get your money back – not questions asked. Any concerns you may have will be addressed by their 24/7 customer support line.
Pricing
$199 Fast track option. This is the lowest logo design tier. Vector file format, 20+ designs from 10 different designers.
$349 Standard option. 20+ different designers presenting you with over 40 different logo design options. They will even promote you on social media for additional exposure. Vector file format logo.
$649 Executive option. The company handpicks over 30 different designers to create 60+ different logo designs. The logo you decide on will come in a vector file format. As with the previous tier, you will get additional promotion on their blog and social media page.
$1249 Platinum. Design Hill will hand select artists out of the top 150 working within. This will guarantee top tier skill when creating your logo options – which there will be over 80 of. Likewise with the previous options, you get vector format logo file, and additional exposure on their social media platforms.
4. LogoJoy
LogoJoy is an artificial intelligence logo designing platform. This logo design website works in a unique way – it tracks your preferences to come up with designs that will suit your needs.
You may be wondering how the website picks the right designs for you. Well the site presents you with various pre-made designs and texts for you to choose from. As you pick the ones you like, the software tracks the design options that catch your eye.
As you go through this process, it learns what your logo needs are and in the end comes up with design options that could work for your business.
You should keep in mind though, that if this process doesn't create anything suitable for you, you have another, more personalized option. If you opt in to pay $165, you will have the option of consulting designers themselves. They will help guide you in creating a unique logo that may better than what previous options had to offer.
Pricing
For $20 you receive the basic low resolution logo.
$65 option includes vector format logo file, ability to edit or update your logo, as well as full copyright ownership of your design.
$165 option offers all of what the $65 option offers. Also as I mentioned before, you will have the option to consult a personal graphic designer to aid you with your logo designs.
5. Placeit
Placeit is an all-around creative solution for branding and marketing. Logos can be made with the use of templates catered to variety of industries. Every template can be altered; with a little creativity from you, it will turn into a great logo.
The logo you settle on can be applied to variety of custom-made items such as t-shirts, banners, and even business cards.
Your social media platforms can also be enhanced with Placeit offers. Any type of social media that you may use, Placeit can also hook you up with bespoke page templates that will help spruce up your profiles.
Pricing
$39 gives you the right to use a customized logo template of your choice. The caveat is that the Placeit still retains legal ownership of the template regardless of how it's modified.
6. Canva
This is not just your run of the mill logo designing website. This is an entire business brand managing platform. Your creation process has no limits here.
Canva offers a variety of design options for your business. You can choose to design business cards, banners, brochures and even logos for your enterprise.
Canva boasts a very easy to use logo designing software. Even if you don't have much skill when it comes to operating such tools, Canva is intuitive and simple.
It comes with a lot of pre-loaded templates and designs for you to browse through to help get you started. You also have the option of uploading images you want to spice up your design.
You have the ability to edit the designs you choose and pictures you upload. Add filters and text too, if you think your logo needs it.
Pricing
This software allows you to do much more than just design logos, it's a brand managing tool that your entire business can rely on.
One option is the free forever option. It works for a team of up to 10 members. You can collaborate, manage, and edit your logos and other designs for free. It has some limitations on storage and access to certain designs.
Other option is $12.95 a month per team member. This option allows for more folders and unlimited storage for your designs. A lot more brand customization options. This option works for a team of up to 30 members.
7. LogoMaker
Logo Maker is an easy to use logo making site. No need to download any software, just sign right up and get creative.
If you don't have any design experience, you won't have to sweat it. You can create a professional business logo in minutes with Logo Maker.
When you are about to design a logo, the site will present you with an introductory video on how the software works. It will walk you through step by step of the whole logo creation process.
You will also encounter various suggestions on how to best utilize designs as you start creating your logo. It might spark some ideas you never thought about before.
With thousands of templates and design elements to choose from, you will surely find something that best reflects your business.
Once you have gone through the creation process, you can download the logo in multiple file types. This will come incredibly useful when you need to think of how and where you will be using your new logo.
Pricing
This tool is free to use for anyone who wants to create a quick and simple logo for themselves. Although the file will be low resolution.
If you want access to a high-resolution file it will cost you $39.95. This will allow you to adjust the size of your design without losing its visual integrity.
8. Logo Squarespace
Some of you may have heard of website design and hosting service Squarespace. Well now they are bringing those easy to use design tools to logo creation too – LogoSquarespace
Using LogoSquarespace to create a logo for your business won't pose much of a challenge. Everything you need for your design will be provided at your fingertips. You just need to bring your creativity.
Right away, when you go the the web page, you are greeted with a simple and straightforward creation mode. You will be walked through each step of the process until you are familiarized with the way things operate.
An individual with less than adequate amount of graphic design experience will appreciate the walk-through and the simplicity of the design process.
Pricing
Low-resolution logo is free. It comes with a catch though. It's not for commercial use! It also has a watermark on it.
High-resolution logo is free for Squarespace customers. If you are not a customer, a high-resolution logo will cost you $10.
9. FreeLogoDesign
Free Logo Design offers exactly that – free logo design! Start designing right away – just begin by entering the name of your business.
Select the category that best describes your business, and you will be immersed in numerous design options that may suit your business operations!
Of course the process doesn't just stop there. You will have the ability to configure your designs anyway you want. Let your creative side flow. You have countless elements and settings to mess around that will make your logo really pop!
Pricing
You have the option of going down the free route, and not pay a dime for your logo. It will not be a high-definition format though. Free logo will lose its integrity as you increase sizes for other applications such as brochures or banners.
You can pay $59 for a high-resolution file download of the logo you created with their software.
Other option is a single payment of $199 for a uniquely designed logo by the company's graphic designers. You will get full control of your logo design as well as copyrights to your logo. This option also includes high-definition logo that can be used in any application – resizing will not cause any issues.
10. LogoGarden
With over 2.1 million unique logos created, Logo Garden is a design company you know you can trust. Millions of other businesses already did!
Design process may always stir up some anxiety in people. You may be worried about the difficulty of the task ahead of you, designing a logo that represents your business is no small feat. Logo Garden will extinguish your design anxiety in no time!
This might be one of the simplest design platforms we have discussed here. All of the essential capabilities are all condensed into around 10 buttons!
You have the ability to choose a category that best describes your business to help you decide on appropriate templates. A search function makes it easy to find the right design accessories that will really enhance your work.
Pricing
Designing your logo won't cost you anything. In the end, depending on how you may use your logo, the high-definition file may not be required.
If you are looking for a high-definition file of your logo, to be able to scale it anyway you'd like, it will cost you $39.99. This will also allow you to revise your logo up to 3 times, in case you ever change your mind on your chosen design.
11. Logomkr
Logomkr had a very good approach with their website design. Right away when you go to their page, you are greeted with a clear introduction video that walks you through the logo creation process.
Compared with other websites, Logomkr cuts out a lot of the fluff that's not always necessary. You jump right into the logo creation process.
The initial design process is easy to understand and to get the hang of it all. All the things a novice designer could use are right there.
When your tutorial video is over, little small arrows will guide you through your initial logo creation. It never hurts to have your hand held for a little while while you learn the ropes!
Pricing
You will get a low-resolution file of your logo for free when using LogoMkr.
If you want to receive a high-definition format of your logo, it will cost you $19. This is great if you ever want to resize your logo for any reason.
You also have an option of getting a personally designed logo for you by a LogoMkr professional. This will be completely uniquely designed from scratch without any templates. You will be able to revise your logo anytime at no cost to you. All this will cost you $299.
12. GraphicSprings
A jack of all trades, GraphicSprings offers you the ability to create a website, design business cards, and design company logos.
The creation tool will walk you through the whole thing, describing the steps you can take to make your dream logo for your business. It's great knowing that even if you are not aware of how things may operate, you will be taken care of along the way.
As you go through the creation process you can safely design your logo knowing that you can always revise it later for free. If you are not happy with the way things turned out or your idea of the perfect logo changed, go back and try again.
Downloads are unlimited too! Download as many files as you want at no extra cost to you. Things may happen and if you lose your files, your logo will always be safe.
Pricing
You are free to experiment with the website and play around with the logo designs. It doesn't cost anything and there is no sign up required.
If you want to actually receive a logo in a high-definition file format, it will cost you $19.99. You can revise your logo as many times as you wish at no extra cost to you.
For $149.99 you can have a graphic artist design a logo for you that's unique. You can discuss in detail what and how the artist should go about designing the perfect logo that fits your business' needs.
13. FlamingText
FlamingText takes a bit more basic approach to logo design. If you aren't looking for extravagant pictures and graphic art then this might be exactly what you need.
Focusing on producing a quality text based logo, Flaming Design uses a simple and easy interface to help you with the designs.
There are many fonts and design templates for you to browse through – anything from basic bold text to more intricate fonts. If text based logo is all you need, I am sure you find something suitable for yourself here.
The homepage puts you right there in the design mode. Start right away by entering your business name into the box provided.
Pricing
With FlamingText you have 3 pricing options.
One payment of $24 offers a logo for you to use, up to 50 characters long.
For $2.99/month you get a logo up to 500 characters long and 5 commercial logos.
$8.99 offers you unlimited commercial logos, larger font sizes if the need arises.
All those options come with 30 day money back guarantee as well!
14. LogoGenie
LogoGenie is another great name in the logo design industry.
When you make your way to the web page, you will be greeted with an empty field where you can fill out your company name. You have already started your creation process.
For those looking for some design inspiration, the website offers guides and walk-throughs that will help get the ball rolling. You might discover some new ways you can enhance you logo you haven't thought about before.
LogoGenie will be able to assist you anyway they can if you ever run into issues. The customer support is always right there, and you even have access to live support right on their web page.
Pricing
LogoGenie has 4 pricing packages for you to choose from.
The first one is $29.90. You receive your logo in an HD file format, but not vector format.
Business package costs 59.90. You get everything from the previous package but you also receive your logo in vector format. Social media platform file format as well as unlimited modifications for 1 month.
Last package is $189. With this package you get everything from the previous two packages but also unlimited logo modifications. You have exclusive rights to your logo as well as copyright documents. Graphic support will also be on standby for you, in case any questions may arise when designing your logo.
15. DesignMantic
DesignMantic implements a seamless try-before-you-buy process that you can use to your advantage. Even before committing to a logo, you have the option of playing around with different elements to see what works best.
Website layout is simple and easy to maneuver through. The essential call to action button in the middle takes you straight to the action of developing the logo you want.
This platform also allows you to outsource your design process to graphic artists. If you are unsure of how to start or have doubts in your artistic ability, this might be the option for you.
Pricing
When you have settled on your design, you have to pay $37 to receive the logo in high-definition format.
If you want to have a designer to custom create a logo for you, it will be more expensive. They way the custom creation process works is by giving you a platform to reach out to 100's of graphic artists who will work for you. Set your price limit (minimum of $199) for the design and see who flocks to you.
16. 99Designs
This one is a great site for designing business logos. 99Designs sources logos for you from multiple artists, giving you the opportunity to hand select a unique logo that sets you apart from your competitors.
You describe the type of logo you want created. Share your insights with the platform, let it find out how it can approach your perfect design.
Real artists from around the globe get to pick who's logo they want to design. Based on your preferences, graphic designers who understand you the best will undertake the task.
Pricing will of course plays a part when taking into consideration the experience level of the artists.
Pricing
99Deesigns sources your own personal designs from multiple artists around the globe. The price points reflect expertise of the artists whose work you'll receive.
Bronze tier costs $299. You will receive 30 designs from different artists for you to choose from.
Silver tier costs $499. You will receive 60 designs from different artists to choose from.
Gold tier costs $799. These are a lot more experienced artists that you will be working with. You will receive 90 designs from different artists for you to see what fits best!
Platinum tier costs $1,299. This is the top of the line tier with the most seasoned artists. Not only will your graphic designers be top notch, but you will also receive about 60 designs for your company to look through.
All of these tiers offer you money back guarantee if you don't like the logo designs you get. It's risk-free!
17. Logaster
Logaster specializes in creating logos and identity elements for your business or enterprise. They even have a logo counter on the homepage informing you of how many businesses put their trust into this design company.
The site is easy to navigate. Home page is clean and takes you where you want to be.
You have options of looking through many different previously created designs to help the creative juices flow.
When you choose to create a logo, Logaster offers you the ability to apply your newly created logo to other marketing mediums such as business cards, social media, and banners.
After completing your logo creation, you will be able to acquire your designs in many different file formats. This will allow you to incorporate your unique logo in other areas too. With this type of file format, you won't solely have to rely on Logaster if you want to create brochures or banners for your business featuring your design.
Pricing
The pricing for your logo here is very affordable. Logo prices vary. Small logo will be free for you. Keep in mind the small logo will not function well for a lot of platforms.
1024px (jpg, png) logo will run you €9.99
5000px (jpg, png) logo will cost you €19.99
Vector format logo will run you €24.99
Although, as I am writing this, the company has a promotional deal going on. You receive all the formats of your logo, as well as envelope design and business card design for only €29.99!
18. LogoEase
LogoEase page really caught my eye, more-so than any other logo design page I had the chance to visit. From the initial looks, you can tell right away that the design aspect is strong in the web page implementation.
Eye for design carries over to the available logo templates you have at your disposal.
One thing that's different with LogoEase is the fact that you have to download a program that will allow you to start your creation process.
Pricing
LogoEase offers free logo design like many other companies. It may cost you to download a high-quality logo design for use.
If you want a uniquely designed logo for your business, it will cost you $149. This will be designed specifically for your company by a graphic artist. You will be able to communicate with him so you get exactly what you want. You will also have the chance to get full copyrights of your logo.
19. Free Logo Creator
If you are looking for a quick logo design for your website and social media, you will find nothing better than this online logo maker program. Free Logo Creator is a SaaS website that offers you professional logo designs at no cost. Zero strings attached.
The process is straightforward and intuitive, too. Simply add your company name, choose your industry, and let the program display its most relevant logo templates. Choose the design you like and make changes as per your needs. Even if you aren't too gifted in the art department, the tool is easy-to-follow and intuitive enough to help you make a huge amount of changes with no hassle.
In addition to free logos, the program also offers you a whole range of identity design branding. Website headers, social media headers, brochures, stationery, business cards, and so much more.
Pricing
While a basic logo design is free, the full range of branding is available for a price, but only a fraction of what you'll pay anywhere else.
$37 for a hi-res logo in vector format for easy and flexible scalability.
$57 for a hi-res vector logo plus a business card if you are a startup and looking for more optimum branding options.
$97 for full-on company branding, a hi-res vector logo, business card, postcard, letterhead, envelope, and more.
Other Tools You May Consider
Simple creation process;
4 steps to your final product;
Cheap $5 for svg format download.
One stop shop for all your branding needs;
Many pricing options to choose from that will best suit you;
Ability to generate multiple quality logo designs from talented graphic artists.
Takes the fuss out of the design process;
Well-implemented and effortless;
All the formats you want are available for you once you finalize your logo;
You can register a trademark for your logo on the spot.
Purchase a high-resolution logo for $29.95;
Enjoy a variety of great templates that will help your logo creation;
Affordable unique logo designs from qualified graphic designers;
If you don't like the end result, get your money back!
Offers a variety of file formats to download your logo in;
Affordable for any small business;
Design process is bolstered by AI.
Computer generated logo templates that fit your company's theme;
You have the option of hand drawing your perfect design;
One low price for everything you will need – logo fitted for social media, invoices, etc.
Ability to create a logo yourself for free;
You can quickly receive a custom made logo according to specifications, with full copyrights from a talented artist;
Web based software – you don't need to download anything.
Subscription based service;
You can come back and revise your logo anytime you'd like;
You have the option of opting in for Facebook ads with your newly created logo.
Start right away with the design process when you enter the website;
Intuitive and easy creation process;
Allows you to view your logo on different objects and surfaces.
Have access to hundreds of templates;
Wide range of design tools available for easy customizing;
Zero previous design skills needed;
Downloads are absolutely free!
Invoicing doesn't have to be scary
GET 50% OFF SOLO & PRO PLANS
UNTIL MIDNIGHT, OCTOBER 31