Ultimate Guide to Keeping Your Team Happy
Written by Mindaugas on July 16, 2018
Being the head honcho of a company is an empowering position to be in. It comes with it's own rewards as well as challenges. One challenge in particular that many businesses owners and managers face is employee morale and keeping your team happy no matter the circumstances.
Now this may sound cliche, but a leader is only as strong as the team behind him or her. You'd be hard-pressed to become an industry pioneer without a motivated team working along side with you. You and the environment play a key role in inspiring the team members to exceed expectations rather then settle for mediocrity.
Try our online invoicing software for free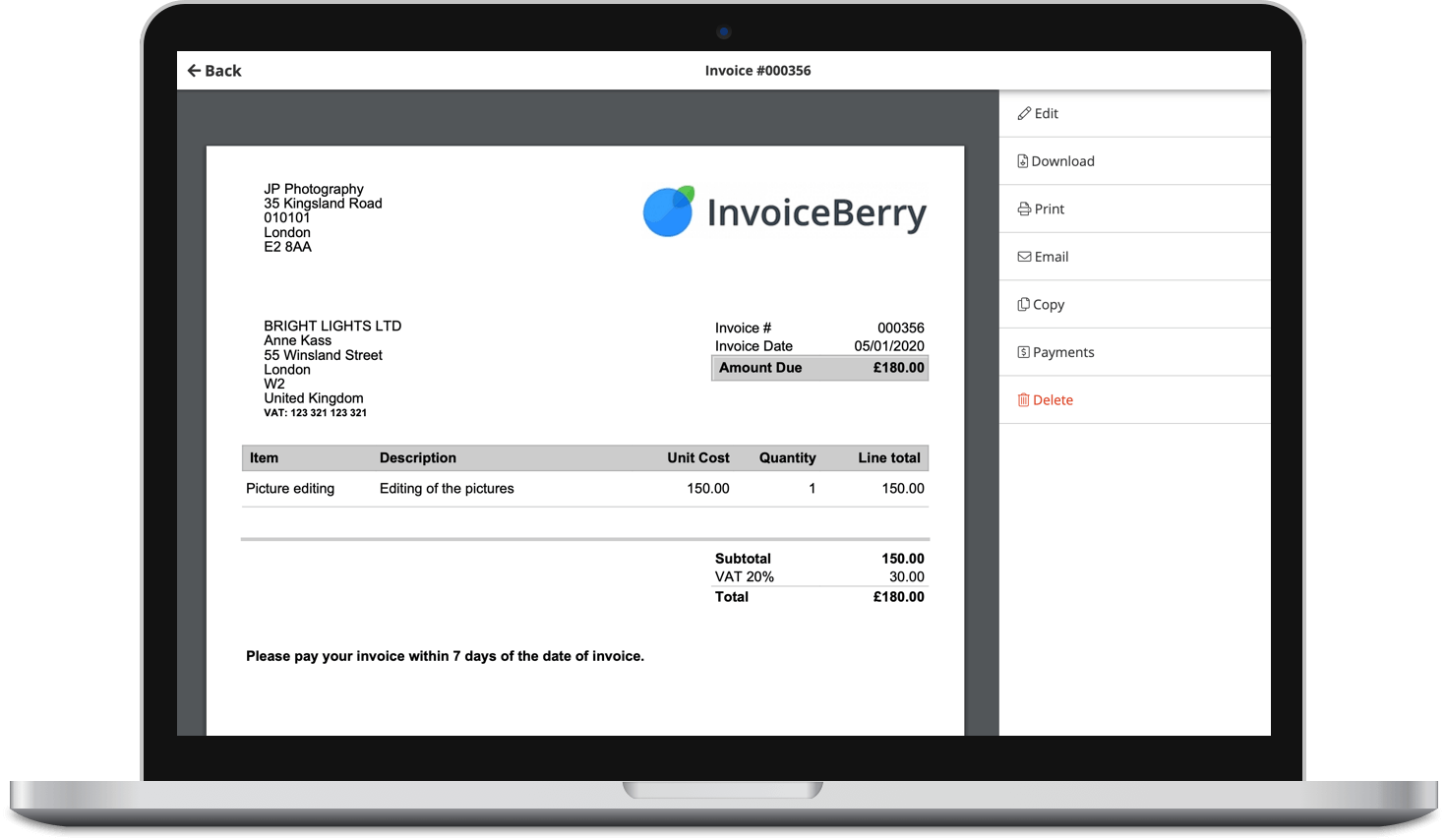 Send professional-looking invoices
Accept online payments with ease
Keep track of who's paid you
Start sending invoices
Another crucial element that comes with keeping your team happy is retention of a learned employee. Losing a seasoned veteran to a more competent business is an expensive endeavor that should be avoided. Loyalty can be earned from your employees by focusing on their satisfaction in a given position.
Now we must go over what variables play a role in conjuring up a great work environment that both you and your employees would appreciate. Though motivation may be subjective in many cases, there are a few universal truths when it comes to establishing happiness in a workplace.
Organizational Culture
I am going to start off with the basics – the organizational culture of your business. This will play a pivotal role in making sure that your employees are content with how your business behaves.
Coming into work isn't something that an employee should dread each morning. On the contrary, your company needs to be difficult to want to leave and I am not talking about chaining people to their desks. All the elements that comprise your business, including yourself as a boss have to produce a stress-free habitat.
Work itself may pose a challenge, but through a well implemented organizational culture, the workplace and all things contained within shouldn't add additional burden on the worker.
All this now comes down to the workers you are attempting to attract. Not everyone may be cutout to work under the same roof and that's okay. Avoid creating too much friction in hopes to attract talent that may not coincide with the rest of the team.
You can read more about how to develop an effective company culture for your business here.
Constant and Effective Communication
You may have heard that without communication, a relationship is bound to fail, this is relevant in the workplace too. Keeping everyone in the know allows for a more cohesive work environment. Unintentional task overlap, redundancy, and overall loss of productivity is a result of poor internal communication.
Constant and effective communication will not only improve work performance of your subordinates, but will help elevate satisfaction within. Collaboration and teamwork is reinforced as workers see themselves part of a collective rather than an individual that so happens to work there.
It doesn't hurt to employ the help of some additional tools to enhance communication efforts. I have listed two incredible tools that will do just that. Check them out.
One communication tool that many businesses swear by is Slack. This is not a one trick pony that serves as just another basic messaging app.
Through this platform, you can hold conference calls, have variety of communication channels designated to different tasks, while also storing and sharing pertinent files among the team. There is even a nifty search function that makes browsing through the uploaded content that much easier.
Take your conferencing to the next level by using UberConferencing. It does live up to its name.
This piece of communication software has a lot to offer. You can create group conference calls – video or voice, share files within the team, record conversations, screen share, gather call analytics and much much more.
UberConference user experience carries over to your smartphone too. You can download the app and utilize all the features while on the move.
Breaks
This may seem like a counter-productive method to your organization's goals, but you can increase output as well as employee well-being by incorporating additional breaks. Sounds too good to be true, right? Well research has shown that short, frequent breaks are in fact a reasonable solution to counter productivity loss as well as boost employee satisfaction at work.
Flexibility
Status quo of the 9 to 5 grind is slowly becoming a thing of the past. More companies are choosing to embrace flexibility within. Telecommuting and allowing employees to design their own work schedules are some of the ways you can evoke happiness within your great team.
As a leader, the focus typically lies on the timely results achieved by the team. There should be less emphasis on where or how these results are achieved – in the end, that may not even matter.
Research was conducted to see if workers endowed with flexible schedules managed to be as productive as their counterparts with a fixed schedule. Workers with the flexible schedule were just as productive as the control group (ones with a fixed schedule) but also managed to allocate more time to their families and friends.
Schedule flexibility in combination with remote work, managed to achieve similar work results while also improving the well-being of the employees. It's easy to see why more companies are adopting flex-time and telecommuting.
How far you're willing to take flexibility will vary greatly based on the type of business you operate. See if your business is able to implement additional flexibility for its employees.
Encourage Learning
Learning should never stop and it needs to be encouraged. This way you're promoting the development of additional skills that will make your business an even more competent entity in the market.
It makes sense to have knowledgeable people in the ranks. With the world evolving by the second, you and your team need to adapt and acquire additional competencies.
One way to encourage further learning is reimbursing studies. Companies of all caliber have started subsidizing fees related to studies or have even covered the fees entirely. This is an incredible way to show appreciation to your employees as well as amplifying their capabilities for the future.
This is just one idea to help increase the satisfaction of your workforce. I am aware that fees associated with higher learning can be quite substantial and some smaller enterprises may not be in position to offer such amenities.
Pet-friendly Environment
Situational yet an effective way to promote team happiness: a pet-friendly workplace. There are no added expenses associated with this strategy and can have an incredibly positive effect within your organization.
AirBnB has implemented a policy that allows workers to bring in their four-legged companions to work.
If you're thinking of allowing employees to bring their pets to work, have a discussion within the company. Address any issues that the team may have with this policy implementation.
Recognition
Burning the midnight oil, sticking around in attempt to sign up just one more client, or going above and beyond what you had expected. Things like these can sometimes go unnoticed but you should make a conscious effort to recognize the additional effort that was exerted by your team.
"You did well last week securing an essential client". Acknowledgement and recognition for a job well done will go a long way in keeping your team motivated and happy. It doesn't take much to utter a few positive words for on-the-job accomplishments and it will have a lasting impact on the person and his or her performance.
Caveat concerning complimenting work achievements –
Being too generous with complimenting achievements can lead to some peculiar results. I have recently read a research paper that found compliments can cause people to regress towards the mean. In other words, complimenting individuals who exceeded work expectations were more likely to produce only average results next time.

Companies are also implementing variety of methods to track and reward the extra effort within the workplace. You may want to implement some reward or recognition system as well.
Rewards can vary and could be granted to teams or individuals –
Simple reward / plaque;
Gift certificates;
Company dinner.
Just remember that recognition rewards don't have to be anything lavish or extravagant. It's there as a token of appreciation for the hard work that the individual or a team has put in.
Don't Play Favorites
I won't go too much into detail regarding this. Playing favorites in a work place as a person in charge can quickly cause the whole ecosystem to crumble and should be avoided at all costs.
Nepotism or offering additional benefits to some based on variables other than experience or work performance is a slippery slope. Animosity towards you can begin brewing within the organization and may result in reduced productivity, plummeting morale, and can even cause employees to jump ship.
Company Outings and Collaborative Activities
It's good to take some time off work as a collective and do something fun. Organizing a company outing or participating in some group activities is a great way to mingle with your team and get to know them on a more personal level.
Often times, workers feel a disconnect between themselves and the individual for whom they work. Getting involved in fun games and various outings that are unrelated with work humanizes you in the eyes of the team and makes you a more approachable leader.
HubSpot managed to compile an extensive list of phenomenal games and activities you can do with your team. I urge you to check it out and see if anything tickles your fancy.
Competitive Compensation
Money is the root of all evil although it keeps the lights on and brings food to the table. It would be naive to think that money isn't a variable that plays a part in motivating and keeping your team engaged. How big of a part it plays stems from the industry in which you operate and cost of living associated with where you're located.
Fair compensation is in order if you want to retain the great group you have come to manage. You have to understand that financial woes are more prevalent to some than others and the burden that one shares outside of work may not be the same across the board.
I don't have specific tips as to how you should manage salaries and other financial compensation of your employees. These numbers tend to fluctuate and vary vastly depending on the employment position and the region in which you find yourself in.
Use a resource such as GlassDoor to help analyze salary data in various employment positions and locales. Could help you better understand the labor market and what competitive salaries are being offered.
As an employer, this topic is surely on your mind. Talented individuals often jump around from employer to employer in search of a higher wage. This has proven to work in a lot of cases, so if you want to retain your team, be fair and let the pay reflect their value.
Feedback
Last but not least – feedback. Now I am not talking about a one way street here but feedback being received and given. It's an elementary principle that can improve workplace environment for you as an employer and for your employees.
Companies ask for feedback from consumers which will in turn lead to an improved product or an experience for the user. Same thing applies to your company and the attitude of your team.
You probably have met a few people in your life who didn't take criticism too well. Whenever they hear a suggestion or a critique, all hell breaks loose. That's not a desirable trait to have in a professional setting.
We are not without our flaws and there's always something we can improve on. Make an effort to encourage people to share their opinions and offer you feedback about the work they do, the workplace, or your leadership. This way you can reflect on your own strengths and weaknesses and improve on the shortcomings for the future.
Employees may also need some tending to. Do offer feedback same as they would with you. Be amicable in your approach and don't scold them for any faults you may have encountered. Participate in a civil conversation and provide guidance – not strictly relying on punishment.
Time to Implement Some Changes
Employee well-being and workplace satisfaction stems from leadership and the environment in which they work. Taking into consideration the happiness of your team is paramount to the success of your business.
I hope you're one employer who is invested in the team as much as they are invested in you and your company. Take these ideas into account when attempting to improve working conditions and elevating the morale within the organization. Cater to your employees, show appreciation and it will pay off in droves through increased productivity and retention.