Communication With Customers That Will Take Your Small Business To The Next Level
Written by Evelina (InvoiceBerry.com) on June 05, 2016
Every successful relationship is based on a solid foundation of good communication. It applies to your personal life, and the same goes for all your business interactions.
Regardless of what you're offering and how good your products or services are, you won't grow a loyal audience and, consequently, build a prosperous business unless you establish a proper relationship with your clientèle.
Try our online invoicing software for free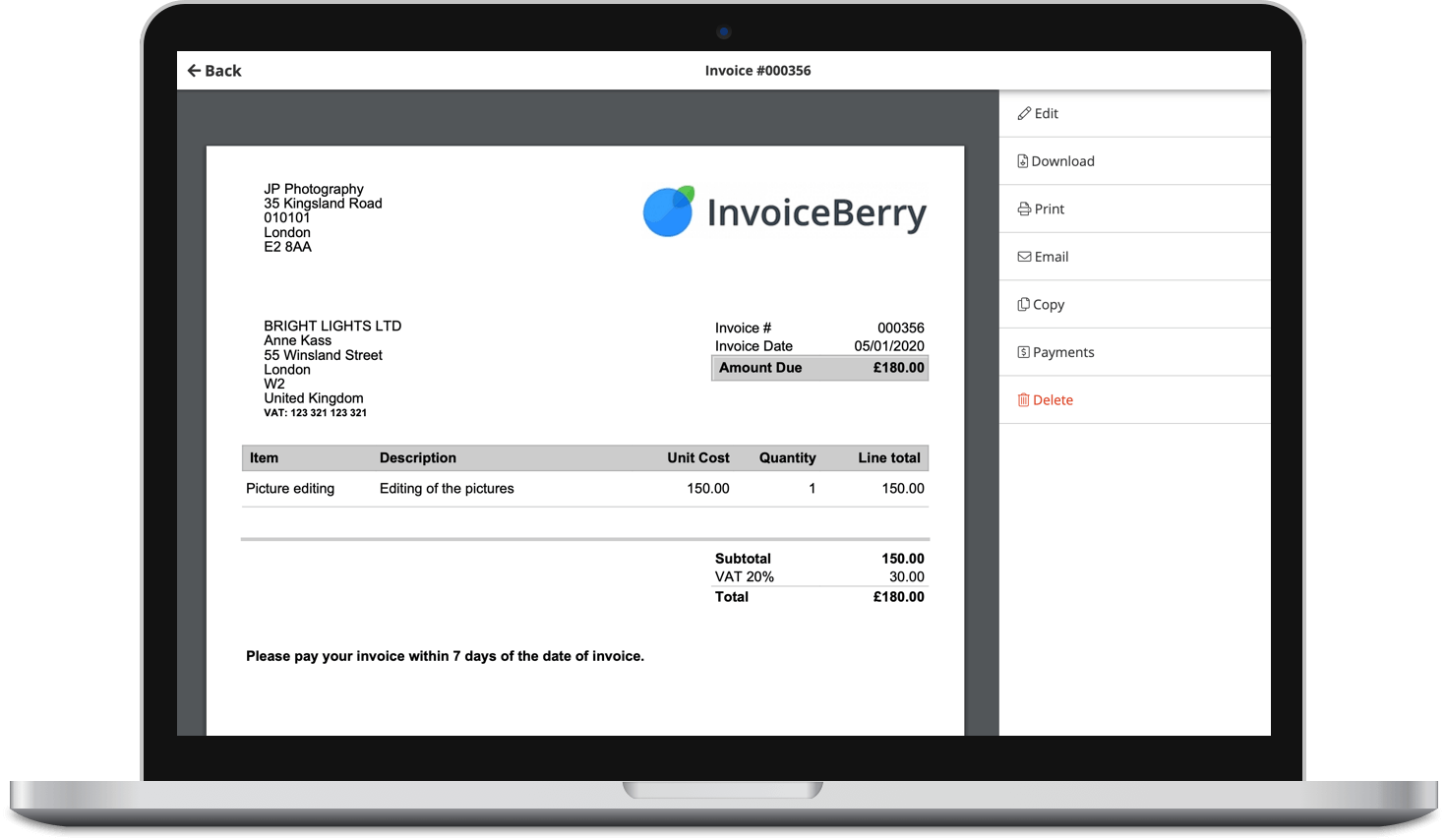 Send professional-looking invoices
Accept online payments with ease
Keep track of who's paid you
Start sending invoices
The lack of effective communication results in conflicts and misunderstandings that, in return, lead to bad reviews from your clients or worse – them slipping away forever.
While in the age of digital innovations keeping in touch with you clients seems to be extremely easy, it's, on the flip side, twice as hard.
Although technologies make it possible to be reached out to 24 hours per day, surprisingly enough, poor communication or lack of such is one of the main reasons a lot of small businesses fail.
That being sad, caring about your clients, initializing and nurturing conversations with them might now be more crucial than ever.
These 9 tips will help you improve your small business communication strategy and build a long-term relationship with the clients of your small business.
1. Make the communication with clients your priority
I know that you probably think that doing good business, i.e. providing quality services and products, should be your main priority, and you're absolutely right.
Except you're not. Not entirely, at least.
Year 2016 has been named the year of the customer for a reason; 89% of companies expect to compete mostly on the basis of customer experience, as opposed to 36% four years ago.
An unfortunate thing is that small business owners concentrate on selling turning the blind eye on customers once the deal is sealed.
Yet, by year 2020, customer service is expected to overtake both price and product as the key factor in running a small business.
It's fair to say that customer experience starts long before they make their first purchase. And as a small business owner you should always question yourself if you're doing your best to make the customer stay and come back over and over again.
The way you present your small business, the language you use and how you use it, how engaged you're – everything influences whether the person will eventually become your client or if they'll just leave and never come back.
Start with some communication guidelines, for example, set up general rules such as "all emails will be returned within 24 hours".
You need to plan a communication strategy that will allow you to build good relationships with customers who will later return the favour and reward you with more orders from your small business.
2. Be responsive and react fast
This might seem obvious from the paragraph above. However, it's often being overlooked by a lot of entrepreneurs.
Do everything in your power to take care of your customers all the time. Reply to messages and emails quickly and be eager.
The Eptica study revealed that 77% of customer aren't willing to wait for more than 6 hours for an email response.
Mistakes happen, and one of the worst things you can do if a problem of any kind occurs is to ignore client's calls, emails, questions, etc.
If you really want to work on the client retention, prepare yourself to react immediately no matter how serious the issue is. The longer you wait with the reply, the fewer the chances are that a customer will come back, leave a positive review or suggest you to a friend.
3. Treasure your old clients
As the good old Pareto Principle, or the 80/20 rule, goes, 80% of your business' income is done by 20% of your customers.
A mistake small business owners commonly make is chase after new customers and, therefore, completely neglect the ones that have been with them since early days.
Sure, recruiting fresh clients is an essential part of having a growing successful business, but you would agree that keeping customers who are already a part of your client-base is fundamental, right?
It takes time to build up a relationship between a client and a business but eventually it develops loyalty that's a very important element in the whole supply and demand mechanism.
According to Marketing Metrics, the probability of selling a product to an existing customer is 60-70% while selling to a new one is only 5-20%.
Committed clients are more acceptable and understandable when the changes come to the company or when something, for example, a delay or an error, takes place.
4. Engage on social media
It is crucial for a small business to keep up with the times using different means of communication to reach out to your audience.
Over 81% of marketers agree that social media is critical for success.
Social media have a lot more to offer to small businesses than just branding. Use Facebook, Twitter, LinkedIn to post special deals, valuable information about your business and upcoming news depending on the niche you're covering. Keep your clients up-to-date.
Social media quickly became a crucial part of connecting brands and businesses with people using them.
Use these resources to monitor what they're talking about you, keep an eye on your competitors, and trace how the interests of your customers switch and how you can be helpful.
Social media is a very effective approach when it comes to interacting with clients. Groups, blogs and tweets enable small businesses to organise communities of the likeminded people, offering assistance alongside promoting products and services.
5. Create an email list and send newsletters
Social media might be the top-notch thing that brings entrepreneurs and buyers closer together, but nothing beats a good old newsletter emailed into your mailbox.
Facebook is a great place for outreach, but actually bringing and keeping people you've reached still belongs to email.
The best way of building your email list is to offer some value in return for a sign-up.
Share your ideas, include little give-away's and sneak peaks of the upcoming plans. You can as well write about your personal experience in small business or share some stories – whatever feels right for your particular company.
"In 2016 every dollar spent on email is projected to bring in $35.02," says the US Direct Marketing Association.
Newsletters also give you a great opportunity to hold opinion polls and conduct surveys. Asking your clients for some feedback is definitely the best way to find out which step you should take next with your small business.
Let your customers share the ideas and help you improve. A small reward in the form of a discount, free sample/product, or a personal consultation will encourage them to be receptive.
6. Be persistent
But not annoying.
Look at it this way: if you don't water a flower, little by little it dies; on the contrary, if you water it five times a day, the flower will rot.
You customers are your flowers, so you need to find this perfect balance to keep them blossoming.
7. Keep the conversation personal
Don't be another faceless company. Forget about the auto-replies. Make sure your emails as well as the overall interaction with your clients looks like it's done by an actual human being rather than an automatic spam robot.
Talk to your customers the way you talk to you friends. Don't forget about greeting and thanking them. In the end, you are the flesh and bones representation of your small business.
Show that you care.
For a small business owner an exceptional customer service is one of the strengths and advantages over big companies. Due to their large size and overload gigantic corporations often completely overlook the communication with clients leaving it in care of impersonal general questions/answers page and automated replies.
A small entrepreneur like yourself is a whole different story. Communication with customers can be your signature asset that will not only let you build strong loyal relationship with the clientèle, but will also attract new people.
8. Turn your company's style into your own templates
You heard me right.
Communication shouldn't be all verbal. People remember 80% of what they see as opposed to 20 and 10% of what they read and hear, respectively.
Even if you've just started with your small venture, you still have to have your personal style. It's reflected everywhere from the logo you put on your invoices to the style your write your emails and posts in.
Why not save yourself some time you'd rather spend on brainstorming future ideas, and create templates for your newsletters if you're using the same writing style for your emails and other marketing things you're doing?
This way your customers will easily recognise you among the bunch of other posts and newsletters in their feeds and mails.
9. Learn to listen carefully
Your clients can become the best source of inspiration for your small business. Communication is a two-way road. Talking to customers without paying attention to what they have to say in return would be ineffective and simply extremely rude.
It's vital to let customers express their opinions about your products or services and make suggestions about what improvements can be made.
This could reveal some common defects you haven't noticed or realised existed. When customer see you took their comments into consideration and action, they'll feel more valued and continue a) shopping with you; b) contributing into making your small business better. It's a win-win situation for both parties.
Of course, the path you decide to take with communicating with your clients fully depends on the type of business you're running.
But don't forget that the more effective your communication with customers is, the more likely it's that they'll remember you and recommend you to their friends or write a life-changing blog or Facebook post.