8 Tips To Improve Client Engagement with InvoiceBerry In 2022
Written by Ana Mladenovc on April 18, 2022
There are a million ways we can send bills to our customers, but only a few of them can help us catch their attention.
Sending highly personalized invoices is one of those ways that can help us engage our customers, get paid faster, and build stronger relationships with them.
Try our online invoicing software for free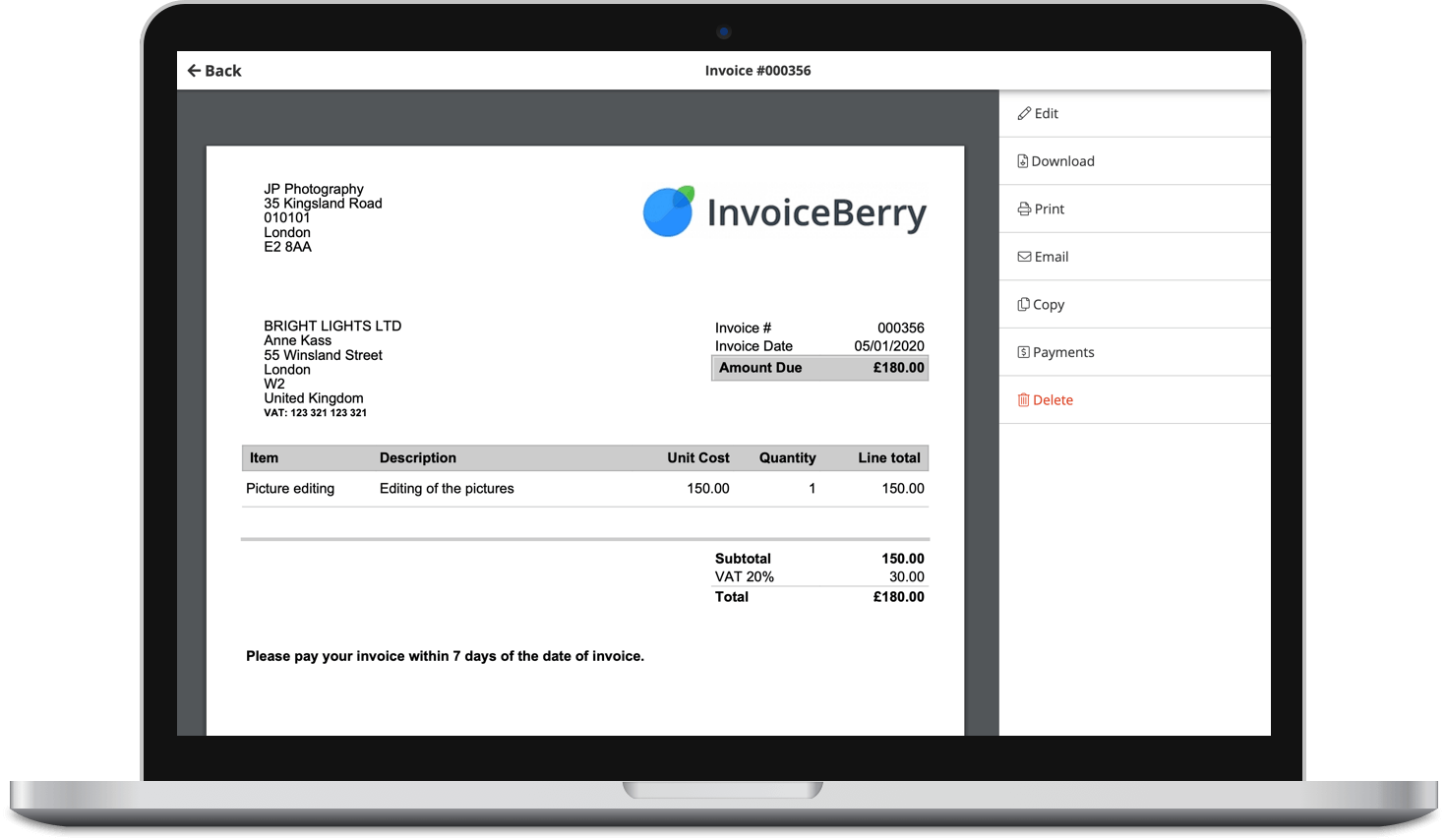 Send professional-looking invoices
Accept online payments with ease
Keep track of who's paid you
Start sending invoices
Personalized invoices improve customer experience in several ways. First, and foremost, personalized invoices show we care about our customers. Furthermore, by sending tailored invoices we can enable our clients to pay us in a way that's most convenient to them, offer them incentives and discounts, and send them personalized messages that straighten our relationship with them.
All of this combined, helps us increase their retention.
As an online-invoicing solution, InvoiceBerry offers many features that help both small business owners, entrepreneurs, and freelancers engage their customers and increase retention.
That said, I decided to create a guide on these features, to help you improve your business and increase customer engagement.
Why do you need an online invoicing solution?
If you want to scale your business, one of the first things you need to tackle is billing. Managing paper invoices or tracking them via the Excel sheet isn't the most convenient and efficient way of improving your invoicing and billing process.
Subscribing to online invoicing software is.
With that being said, let's see what are the benefits of online invoicing software.
It Streamlines The Invoicing Process
Sending, keeping, and tracking invoices can be a lengthy process. Online invoicing software comes to the rescue as it makes the whole process much faster and easier. For instance, by using InvoiceBerry's services, businesses can choose the option for recurring invoices, and the software tracks what's paid and what's not and automatically sends reminders to clients.
It Enforces Brand Identity
Most invoicing software allows companies and freelancers to customize their invoices by adding their logo, fonts, and color scheme which increases brand recognition and the likelihood of fast payment. Furthermore, adding customized messages on invoices reinforces the brand's relationship with customers which allows them to retain them for longer.
It Increases Safety
If you're a business owner who considers switching to online invoicing but has safety concerns, you'd be glad to hear that most invoicing software adheres to PCI Security Standards, which makes them extremely safe.
Streamlined International Billing
Today we're communicating and doing business with people around the globe, thanks to technological advancement. And while expanding the business beyond your home country's borders provides more opportunities for increasing the revenue stream, it creates a whole set of problems regarding invoicing and billing.
Luckily, most invoicing software, InvoiceBerry included, offers the possibility to adjust payment methods and currencies for each invoice we send, making the whole process effortless.
It's Cheaper
Creating, tracking, and sending invoices takes a lot of time employees can put into better use. Lost time means lost opportunity to earn money. Luckily, invoicing software provides help as it streamlines the billing process, saving energy, time, and money.
Minimizes Errors And Disputes
It's in human nature to make mistakes and sending wrong invoices delays payment and ruins the relationship with clients. That said, having software that can streamline this process minimizes invoicing mistakes, ensuring you're getting paid on time.
Improves Customer Satisfaction And Relations
Online invoicing decreases the chance of sending inaccurate billings, allows users to set their preferred payment methods, enables greater customization, and provides a positive brand reinforcement. All of this increases customer satisfaction and improves the relationship businesses have with their customers.
8 Tips To Improve Client Engagement with InvoiceBerry In 2022
Now, after we've seen what are the benefits of online invoicing software, let's see how InvoiceBerry can help you improve client engagement in 2022.
Allow Your Customers To Pay How They Like
If you want to know how you can retain existing clients, the answer is simple: offer them convenience and fast service. Time is the biggest luxury today and helping clients pay for your services in a way that's the most convenient for them will result in their higher retention.
InvoiceBerry allows you to do just that. By choosing to send invoices through InvoiceBerry, you'll be able to offer clients to pay you via several payment options including Stripe, PayPal, WePay, and so on. Customers can pay directly from their invoice, and InvoiceBerry will record the payment and update existing invoices.
Convert Quotes Into Invoices Effortlessly
In sales, timing is everything. Successful business owners and freelancers know how to motivate a client to take a certain action, and, more importantly, to seal the deal while their lead is hot.
InvoiceBerry can help you with this. This online invoicing software allows you to turn your quotes into invoices quickly and effortlessly, and seal the deal much faster.
Personalize Your Invoices
Positive customer experience is as important as the product itself. The truth is, we live in a consumer-centric market where personalization plays a huge role.
Personalization of invoices can bring a wide variety of benefits to your business since it provides a unique and more relevant customer experience. Furthermore, invoice personalization offers an opportunity to build more meaningful relationships with your clients.
InvoiceBerry allows you to customize your invoices by adding your logo, setting terms and conditions, as well as adding custom notes to your clients.
Put Invoicing On Autopilot
Business owners, freelancers, and entrepreneurs have a lot of things on their plates. If we take this fact into an account, we know that automating certain processes can help them focus their energy and strength on things they do the best.
InvoiceBerry allows its customers to automate and streamline the invoicing process by scheduling recurring invoices.
Send Invoices To Several People
A path toward building a successful business relationship is respecting your clients' and coworkers' private time. To avoid disturbing clients during their time off, InvoiceBerry allows you to add several invoice recipients, ensuring that the invoice gets into the right hands and avoids late and missed payments.
A bonus tip: if you send them an invoice through email with a catchy subject, the likelihood of getting paid faster goes up!
Engage Late Payers With The Reminder Option
Waiting to be paid can be unnerving, and reminding clients they owe you is always uncomfortable. InvoiceBerry enables you to track your late invoices easily and helps you follow up and engage with late payers. Through InvoiceBerry, you can send gentle reminders effortlessly with one click and have a clear overview of who's paid and who hasn't.
Support
InvoiceBerry is pretty easy to learn, however, if you, or your clients, run into any problems, InvoiceBerry Help Center is here to step in and solve the problem.
Help Center has plenty of articles on various topics including expenses, reporting, clients, invoicing, and quotes, but it also offers a chat option for more advanced questions. What's best, the Help Center is available 24/7.
Allow Clients To Have a Clear Overview of Their Invoices
A great thing about InvoiceBerry is the fact that this software allows you to send interactive invoices through the Client Portal. Through the Client Portal, customers can view, download, and pay active invoices online. This way, you can prevent any confusion about the payment among your clients, and secure complete transparency, which, in turn, increases customer engagement and retention.
Final Words
Working smarter, not harder is a motto of many successful people. Subscribing to online invoicing software such as InvoiceBerry is one of the best moves you can make for your business that will allow you to work smarter, not harder, build relationships and engage customers along the way.
We listed eight features InvoiceBerry provides that are proven to increase customer engagement. The question remains: how will you use this knowledge?