59 Best Android Apps for Small Business Owners
Written by Alla on August 08, 2016
Managing a small business is already hard enough without the extra stress of choosing applications to install on your phone.
And you know that there are millions of Android apps available in the Google Play store and it's difficult to go through them all.
Try our online invoicing software for free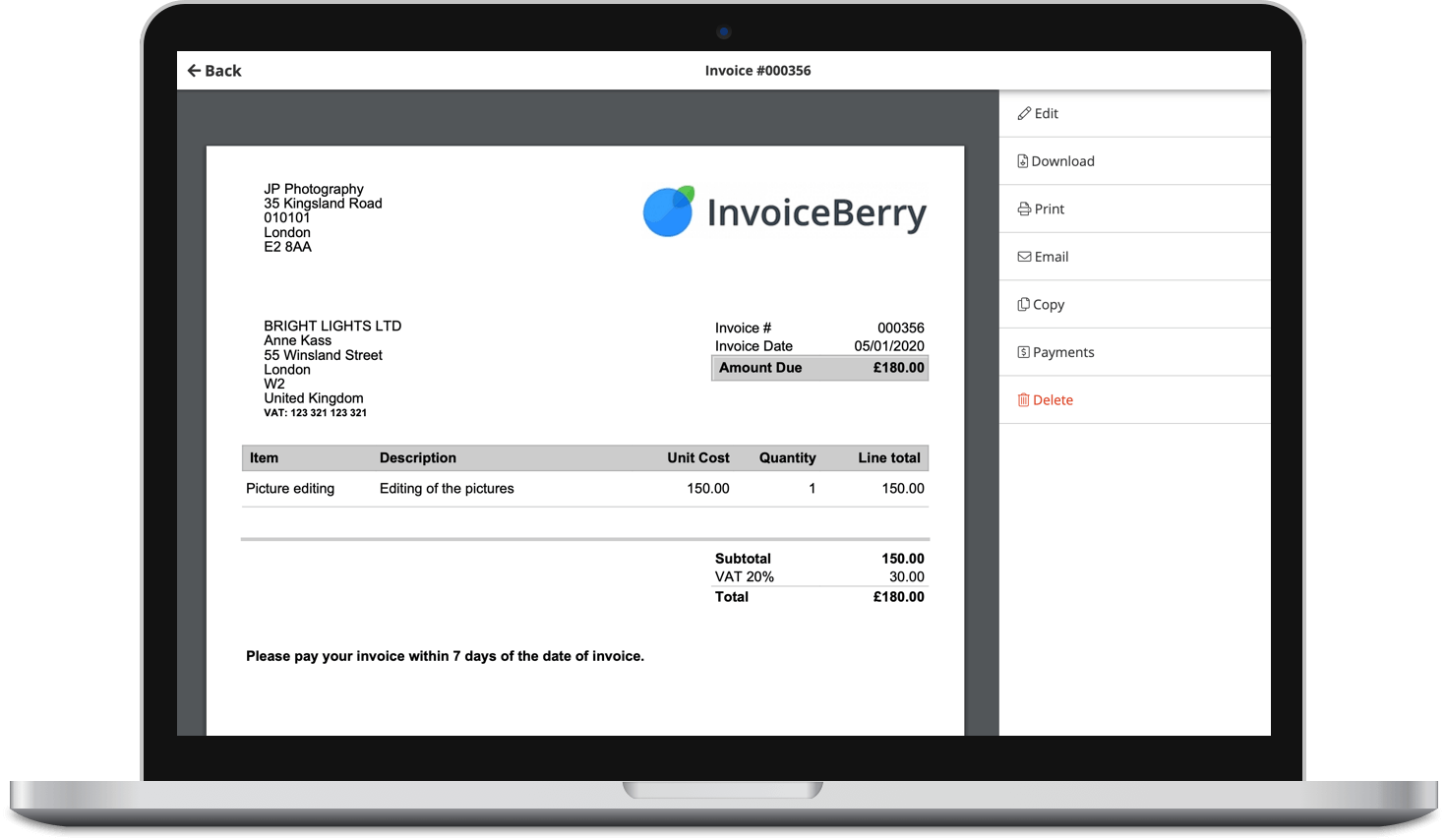 Send professional-looking invoices
Accept online payments with ease
Keep track of who's paid you
Start sending invoices
That's why we've picked the most essential Android apps based on one general principle: they should make your life easier, not complicate it even more.
Communication
Effective communication with and within your team and clients is the #1 priority for getting things done.
You need to organize your contacts and e-mails first.
1. Keep your address book always updated with Addappt.
2. Smartly manage your e-mails with Blue Mail.
Connect with your clients and team with online video and audio calls.
3. Fuze Meetings will connect small business teams via HD video conferences and online meetings.
4. Enjoy free messaging, voice, or video interactions with Skype.
5. WhatsApp Messenger consumes a bit less space than the above apps, and does pretty much the same.
6. For extra safety, communicate with your team via encrypted messenger Threema.
7. MobileDay dials in your conference calls from your mobile when you're away from your office or laptop.
8. Remember what you promised to do on the phone and record your conversations with Call Recorder.
9. Doing all of it will be impossible if your colleagues don't have Internet – share yours via the Portable Wi-Fi Hotspot.
Documents
While managing a small business, you obviously have to do a lot of paperwork. But it's the 21st century, use some technology instead!
Use mobile applications to create, edit and browse documents, sheets and presentations.
10. Create various documents and presentations on the go with the WPS Office app, a great alternative for bulkier office apps.
11. Impress your clients – your presentations can become mini-movies via MiniMovie-Slideshow Video Edit.
12. Or you can structure and visualize your ideas with Mindly by creating colorful mind maps.
13. View, edit, and sign PDFs with Adobe Acrobat Reader.
14. Grammar lovers will enjoy the Swiftkey app which learns your writing style and corrects mistakes.
Share your documents with your team via Cloud services.
15. Box will help you edit and share files, providing 10GB of cloud space for free.
16. Dropbox will securely store and share files of various types and sizes.
17. If you're using Google Docs, the Google Drive app is essential to accessing them.
18. With Unifyle your employees will be able to access all your corporate file databases and cloud services from a single app.
19. Chrome Remote Desktop will help get your work done anytime and from anywhere.
20. Send any file quickly and easily using Send Anywhere.
Regular paperwork that saves time and money is possible with these apps:
21. Electronically sign your docs to speed up the working processes and save the planet at the same time using DocuSign.
22. Whenever you need to scan documents, use TinyScanner.
23. …And then print them with Cloud Print.
24. While working with documents, don't forget about security: SOS Online Backup will provide extra protection when you're sending files.
Time Management & Productivity
Managing your time and using it productively is key to the success of your small business.
Are you really working or spending enormous amounts of time getting to meetings or messaging your friends?
25. Start your productive day on time with the worlds' most annoying alarm app Alarmy.
26. Schedule your meetings and manage your calendar and daily tasks with aCalendar+.
27. Wunderlist will also organize all your tasks and to-do lists.
28. Your daily routine will always be duly scheduled with TimeTune Schedule Planner.
29. Time tracker RescueTime will show you exactly how you spend your time while working (or not working).
Save time that you spend on your routine tasks.
30. Create shortcuts for the most popular tasks you do every day with DO Button to access them faster.
31. Get to all your favourite apps with only the touch of your thumb with Omni Swipe.
32. Pushover will send you alerts and notifications from web apps, blogs, news websites and other sources to your phone whenever you receive them.
33. With Tasker you'll have endless possibilities to fine-tune your Android phone and make it an AI tool.
34. Automate creates actions like turning Wi-Fi on/off at specific locations and sending e-mails at a particular time.
Team Work
Make sure that your team is performing all the tasks that you set, and, more importantly, doing them on time.
35. Evernote will keep track of all your projects at once and make collaboration within your team well-organized and synchronized.
36. Asana is necessary to keep all the tasks and conversations for your team in one place.
37. Also, Trello is another option to systematize and organize tasks for yourself and your team.
38. Basecamp helps teams to monitor and finish projects together and in time.
Payments
Making and receiving payments should be smooth and fast without distracting you from managing your business.
39. Credit Card Scanner will turn your mobile phone into a credit card machine.
40. Square Register is a point-of-sale app that will track sales and inventory, manage teams and allow access to analytics.
41. Android Pay will take care of your payments and secure them with fraud monitoring and protection.
42. Or you can receive payments and spend money with PayPal.
43. Track your daily expenses and credit balance with Prosper Daily.
44. Collect all your reward cards to get fast access to all your discounts in one Stocard app.
Just Plain Cool & Absolutely Necessary Apps
Sometimes you like the app, and you know that you need it, but can't really assign it to any group. That's the case for these 14.
Think about the safety of your mobile phone and data and how it's organized.
45. Protect your mobile device with 360 Security.
46. Authy is like user verification for your phone.
47. Save all your passwords in LastPass password manager.
48. File Manager is a must on any Android device if you ever want to find your files (and you do).
49. Get rid of all the junk files and boost your phone with Turbo Cleaner.
Make sure you and your company look good online and offline too.
50. WordPress allows you to make changes on your website while you're rushing to another important meeting.
51. Create multiple designs of your business cards with Business Card Maker to exchange them with your partners.
Don't forget to learn and look for inspirations every day.
52. Sign up for courses to improve your knowledge with Coursera.
53. Save articles, images, video, links and blog posts 'in your pocket' and read them later using the Pocket app.
54. Learn new languages with Memrise.
55. Improve your vocabulary with WordWise.
56. Memorado will train your memory, reaction and develop other very useful brain skills.
57. Brilliant Quotes & Quotations will give you inspiration on the go.
58. And you can learn to do anything with WikiHow.
59. Creativity will assist you in developing new ideas for your small business.
That's about it with the most necessary Android apps that you'll need as a small business owner.
Did we miss out any of your favourite Android apps? Feel absolutely free to leave a comment below and we'll gladly add it to our list!
Small Business Finance 101
Download our free guide to learn the fundamentals of finance that will help make your small business more efficient and successful.