20 Tools to Run Your Cleaning Business
Written by Ana Mladenovc on July 25, 2022
Running a cleaning business is a lucrative business decision due to low operating costs, reliable demand, and low overhead. What's more, some estimates suggest that the global cleaning service market will grow by $111.5 billion by 2030 which is yet another reason for choosing this career path.
However, managing a cleaning business is not an easy job. In fact, it can quickly become messy as you start dealing with scattered schedules and complicated timekeeping. Add employee management to this list, and you'll have full hands of work.
Try our online invoicing software for free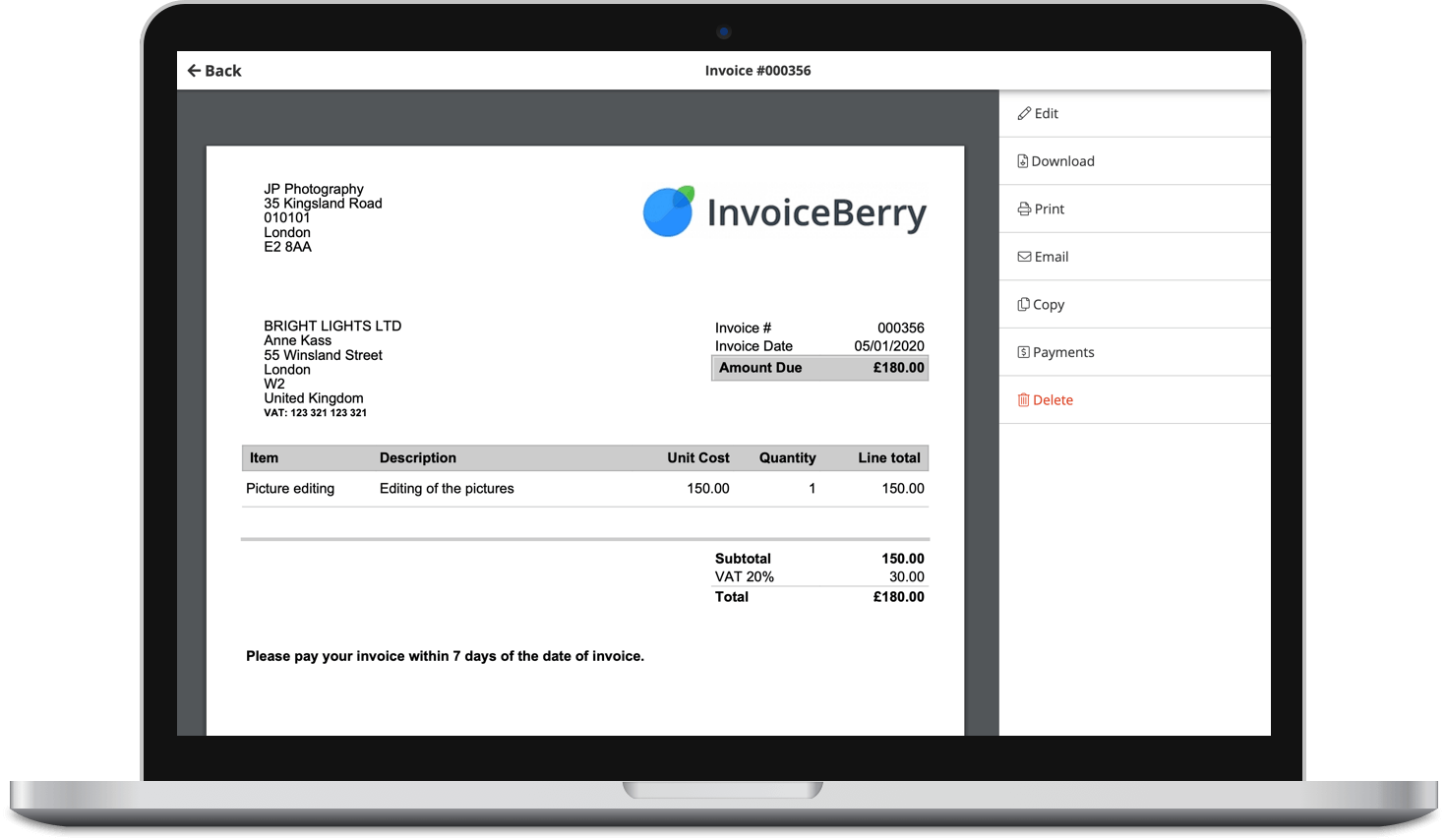 Send professional-looking invoices
Accept online payments with ease
Keep track of who's paid you
Start sending invoices
Luckily, complicated doesn't mean impossible, and today we have a wide array of tools we can use to streamline and sort out these tedious, complicated, and time-consuming tasks.
That said, we present you with the best software cleaning businesses should use to improve their business operations effortlessly.
What A Good Cleaning Business Software Should Have?
Running a cleaning business is similar to having a field service business, as tasks are done away from the main offices. The type of the business itself requires the use of specialized tools, and you'll need similar tools to what business owners in the field business use. That said, the main characteristics of the software you'll need to efficiently run your business include:
Efficient scheduling. Given most of the work is done outside of the office, owners of cleaning businesses will have to find a good scheduling software that will allow them to organize their workload and efficiently manage their schedule to avoid empty slots of time.
Efficient administrative management. Besides keeping your client's houses and businesses in order, you'll need to find a way how you can keep the administrative part of your business organized and neat. For that, you'll have to find software that will keep your administrative operations up and running, helping you save time and do things you know how to do the best.
Easiness of use. As your business scales, you and your team will constantly move forward. You'll onboard new team members, new clients and so on and you'll need a software solution that will help you grow easily. That is, you need a solution that's easy to use and has a quick learning curve, but also a solution that provides a clear interface and good overview of your tasks and business operations.
Scalability: One of the most important things to look for in software is its scalability options. As the business grows, you'll need a system that will grow with you as a company. That said, you'll need to find a software that will seamlessly manage your needs, as they grow and change over time.
20 Tools to Run Your Cleaning Business
Now, when we've seen what great cleaning software should have, let's see what 20 most useful software cleaning businesses should use.

InvoiceBerry is a great invoicing tool that helps businesses automate tedious and time-consuming tasks and focus their time and effort on things they know how to do the best.
We all know that personalization is the key to success and building long-lasting client relationships. That's why InvoiceBerry allows businesses to create customizable professional-looking invoices that boost customer engagement effortlessly. 
Furthermore, it allows businesses to automate their recurring invoices, but also use them for marketing purposes as they can offer discounts and promotions for those who pay before the due date.
Another great perk of this software is the possibility to offer multiple payment options, allowing customers to choose which one suits them the most and retain them for longer.
InvoiceBerry also offers the possibility of tracking which invoices are paid and which ones aren't, enabling businesses to keep a clear overview of their revenue stream and avoid late payments as much as possible.
Another great perk of InvoiceBerry software is the fact it allows businesses to turn their quotes into invoices in seconds, save time, and seal the deal while the lead is hot.
Overall, it's a great tool for a wide variety of businesses, but especially for those in the field service niche, as it helps them minimize office tasks and focus their energy on growing their business by doing what they know the best.
Interested? Sign up for a free trial today!

Good marketing is crucial for every business as it enables them to scale faster, improve, and reach customers more easily. Since we're living in a digital-oriented world now, more than ever, it is crucial to be online and be where your customers are: on social media.
This is where EverGreenFeed comes to the rescue! This tool allows businesses to increase their social media reach up to ten times, pick and track their best content and reach more potential customers faster.
This tool allows businesses to collect crucial information about customer behavior and tune in their strategy in a way that will enable their business to scale much faster.

Housecall Pro is a cloud-based field service management tool best suited for field service businesses such as cleaning businesses. It comes with a wide array of useful features such as dispatching, job scheduling, online booking, estimates, review management, and more. What's best, it's extremely easy to use so you won't spend a lot of time onboarding your employees.
One of the main benefits of this tool is the fact it can be used both on desktop and mobile devices, meaning you can manage your workload regardless of your location.
Furthermore, customers also have the chance to get their version of the app so they can use it to book your services directly, reducing the time you'll spend managing their requests.
The only downside of this app we can think of is the fact it's pricier compared to other solutions in the market, however, the benefits definitely outweigh the downsides.
Service Fusion is yet another field service management software worth trying. It comes with a wide array of features including inventory and customer management, time tracking, and reporting. It's available both on mobile and desktop devices, allowing office staff, cleaners, and clients to stay connected at all times.
Its intuitive interface makes onboarding seamless, and an overview of the schedule, customers, and inventory clean and simple.
Connecteam is a great app for remote teams and teams who operate on the field. It offers a wide variety of features, allowing businesses to manage all their tasks and employees regardless of their location.
The biggest perk of this app hides in its employee time clock feature that allows cleaning businesses to track time upon their arrival at the location, set up worksites, and connect them to jobs, customers, and tasks, as well geofence feature that allows business owners and managers to see where their cleaners are during work hours.
Furthermore, this app offers an employee scheduling feature that allows business owners to see which employees are available and distribute work evenly across teams and employees and avoid overbooking and burnout. On the other hand, with this tool cleaners have more control over their schedule as they can easily claim open shifts, and accept and reject tasks, according to their schedule and capabilities.
While all these features are great, Connecteam is maybe most famous for its ability to automate all daily cleaning processes as it offers checklists and reports in digital form such as office cleaning checklist, end-of-shift checklist, detergent checklists, and inventory order forms, to name a few.
Lastly, Connecteam offers an employee chat tool that helps managers and employees stay on the same page at all times, avoiding miscommunication.
Jobber is a great tool made for carpet, residential, commercial, and window cleaning businesses. Among many other features, it offers customer service management, team management, scheduling, and dispatching features, allowing businesses to organize their tasks and employees more efficiently.
However, available features for this tool vary based on the plan businesses choose, so it's vital to research every option before subscribing to the software to find the best plan that suits your needs.
Deputy is an all-in-one field service solution that allows businesses to manage everything from one place. It hosts an array of useful features such as a budget and hours tracking option, the ability to find replacements quickly and efficiently, and autofill shifts feature that allows cleaning businesses to fill shifts effortlessly based on their teams' availability, and profile and pay rate.
Furthermore, just like Connecteam, Deputy enables businesses to have an overview of employee attendance but as well to see who's on-site, who's late, or who's on break. Cleaners, on the other side, can easily clock in and out of the job using their phone.
As their team says, DoTimely is an amazing tool that allows teams to automate tasks and focus on things they know and love to do.
DoTimely is specialized in helping field service businesses including cleaning and pet sitting businesses easily manage their day-to-day schedules, invoices, and customer data.
DoTimely is a software designed to help professional cleaners manage their customer data, and day-to-day schedules for employees, manage invoices, and collect payments. It offers a wide array of features, and one of the biggest perks of this software is the mobile apps for customers, staff, and managers allowing everyone to stay in touch and on top of the game year-round.
mHelpDesk is a great field service management solution that allows businesses to automate all their time-consuming and administrative sides of their job. It hosts many different and useful features including sorting out and handling invoices, employee management solutions that allows both cleaners and managers to have a clear overview of their schedule and tasks. What's best, it comes with a mobile app that enables easy access and simple and clear overview.
The only downside to this app is its price that's a bit on the higher end. However, those who can afford it won't regret decision!
Additional tools to run your cleaning business
We provided you with the nine best tools for running your cleaning business. But that doesn't mean that list ends there! There are a plethora of handy tools available on the market you ought to try, including:
10. ZenMaid
11. Hubstaff
12. ClickUp
13. Slack
14. MS Teams
15. ActiveCollab
16. WorkWave
17. Launch27
18. JanBid
19. WinTeam
20. OrangeQC
Final Words
We're lucky we live in a digital era and that we have the opportunity to find plenty of great tools that can help us automate our business. Managing a business is a hard process by itself as it entails several things starting from managing the administrative side of the job to client and staff management. However, working on your vision is a reward by itself, and this is what pushes many business owners to go above and beyond their limits.
We gave you the list of the tools for managing your cleaning business effortlessly. Which one you'll try?
Small Business Finance 101
Download our free guide to learn the fundamentals of finance that will help make your small business more efficient and successful.