10 Easy Lead Generation Tactics for Your Small Business
Written by InvoiceBerry Team on July 26, 2021
Creating a consistent lead generation strategy for your small business is essential if you want to keep your sales up. Lead generation tactics help you to attract new customers, generate interest in your products, and boost brand awareness. No matter what size or scale your small business is operating at, having the right lead generation tactics in place is a must.
Luckily, lead generation isn't all that difficult. There are loads of highly effective lead generation tactics out there to help your business attract more of the right kinds of leads.
Try our online invoicing software for free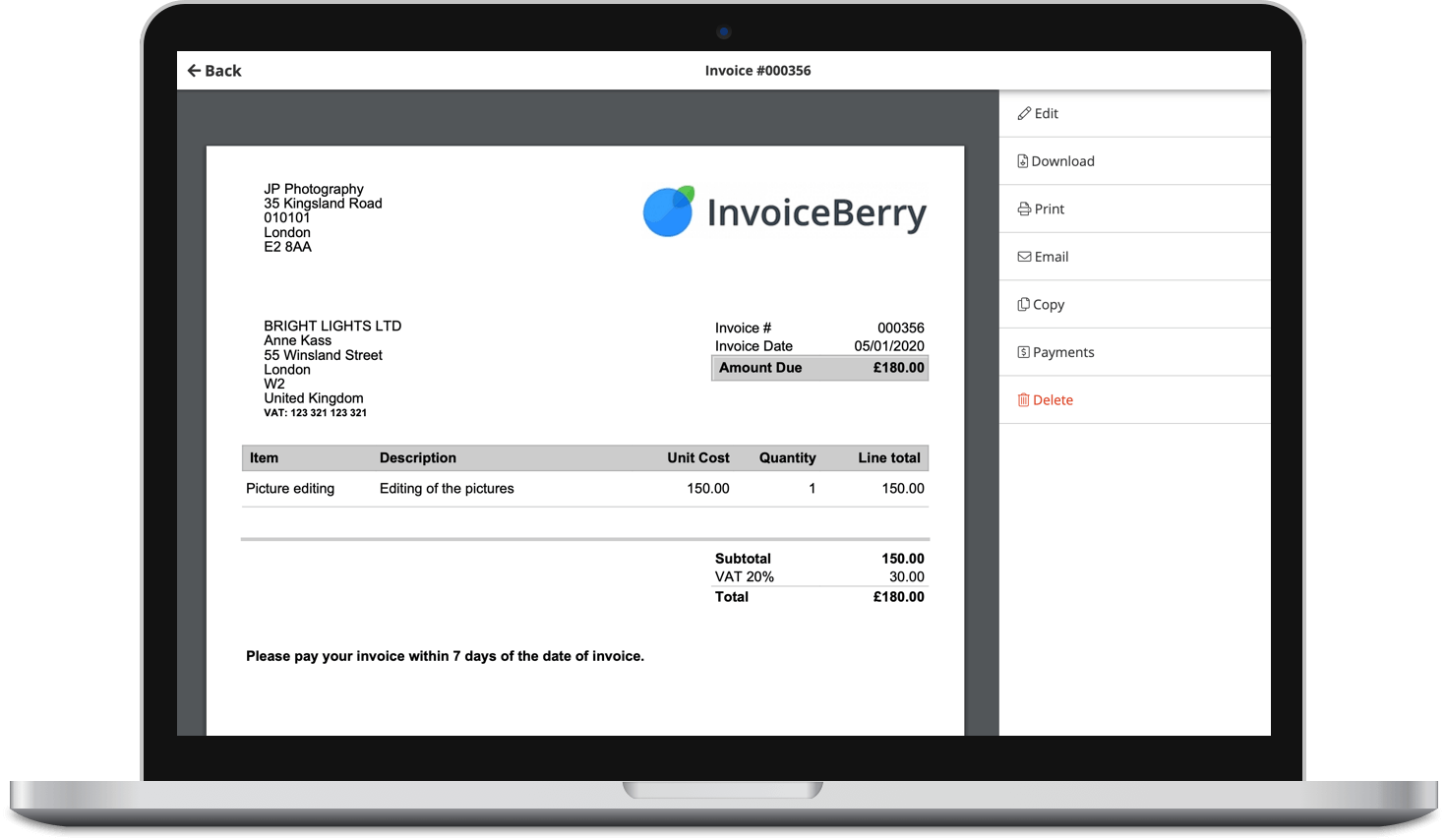 Send professional-looking invoices
Accept online payments with ease
Keep track of who's paid you
Start sending invoices
We will explore 10 easy lead generation tactics below to help your small business take its lead generation strategy to the next level.
What is a Lead Generation Strategy?
Lead generation may sound like a complex marketing term, but it's a really straightforward concept. Quite simply, lead generation is the strategy you use to attract new customers to your business. The aim of lead generation is to find interested customers who make some sort of inquiry into your business. Lead generation is the first stage of consumer interest in your company.
If you run marketing campaigns that prompt people to give you their email addresses, you're attracting and gathering new leads for your business. You can then retarget these leads with the aim of converting them into customers.
Pretty simple right?
The Four Parts of a Lead Generation Strategy
Whether you're a B2B or a B2C company, your lead generation strategy should include the following four components:
Lead magnet: the thing that attracts your lead to engage with your business or provide their contact details
Lead capturing: This is collecting your leads information, such as their name and email address
Segmenting leads: Placing your different leads in different lists. This could be based on how they've interacted with your business, who they are, where they live, etc.
Lead qualification: Figuring out whether your lead is likely to actually become a customer
10 Simple Lead Generation Tactics for Any Small Business
Your business needs leads if it wants to make more sales. If you're looking for ways to attract those leads, then check out the following lead generation tactics. These are easy tactics that any small business can use.
Social Media Contests and Promotions
Social media promotions are one of the most tried and tested lead generation tactics for any kind of business. Who doesn't love a contest? With the right prize and promotions, your social media giveaway can end up gathering hundreds of new leads for your small business.
For successful social promotions, make sure to use the right tools to promote your contest. With each new entry, you will be able to gather valuable lead information. You can then remarket to all of your contest entrants after the giveaway – possibly offering them a discount code as a consolidation prize.
If you offer a free giveaway of your product or service, then you will be attracting leads that are already interested in your company and what it has to offer. This will make remarketing towards them more effective.
Referral Campaigns
Referral campaigns are incredibly powerful. This is because your target audience will probably trust their friends and contacts more than they trust your brand at first. Offering incentivized referrals let your customers spread your business to their circles, expanding your reach significantly.
For example, you could get your leads to offer discount codes to any new customers that they refer, where they get a discount code themselves in return. Another classic referral idea is to offer a bonus entry into your contest for each successful referral who enters.
Referral marketing makes use of a wider audience, and it can help to boost brand awareness in a big way.
Offering Gated Content With Lead Magnets
Lead magnets are incentives that your business can offer potential customers in exchange for their email addresses. You could have various lead magnets spread around your website, enticing your visitors to give you their details.
An effective lead generation tactic is to offer your audience some kind of gated content hidden behind a lead magnet. Some examples of gated content include eBooks, courses, guides, worksheets, tools, white papers, and more.
A good example of this would be offering a free eBook. All you need is an email address and name, and you can send the eBook directly to your new leads inbox. It's a win-win situation because the user gets an eBook on a topic that they're interested in (relating to your product or service), and you get a new lead to market towards.
Top Tip: You can repurpose your existing blog content into an eBook. This is easy to do and allows you to offer something valuable to your audience.
Discount Strategies
If you're a new business, then you probably don't have much of an audience to market to. A great lead generation tactic is to offer a special discount or promotion and to run this promotion through a dedicated discount site.
You could join these discount sites as part of an affiliate marketing program, which is another great way of generating more interest in your business. This allows you to access that discount website's audience – promoting your product, and gathering more leads.
Blogging and Content Marketing
Your blog is one of the easiest and most effective lead generation tools available. As long as you create high-quality content, you can start to gain a lot of attention around the right audience.
Understanding some SEO basics is important, as it will help your blog content to rank for the right keywords. Content-based lead generation tactics will help to get your business in front of many new interested leads, and any small business can do it successfully.
Just make sure that you create the right content that's relevant and useful for your target audience. You will also want to include some form of lead magnet or CTA in the content to help you gather your lead information. This strategy might be a bit challenging, so you might consider reaching out to reliable lead generation companies in order to make sure that you are on the right track.
Making the Most of Your Landing Pages
You've got landing pages on your website, but are you making the most of them? There are many different ways that you could be optimizing your landing pages to gather more leads.
This can include adding things like simple appointment calendars, popups, and online forms to your landing pages. Each time someone fills in their details, they're added to your leads database. You should have dedicated landing pages promoting your lead magnets.
Most businesses don't have enough landing pages on their websites. Each landing page provides an opportunity to gather more lead information and attract new leads.
Email Marketing Newsletter
Email marketing is a tactic that any kind of small business should be using. Email marketing is one of the most effective ways of attracting new customers and retaining existing ones. It also offers a particularly great ROI.
If you're looking to make the most of email marketing, then you will need to start by having the right tools. Email marketing software lets you automate your messages, and send the right content to the right people. This is important for effective lead generation.
For great email marketing, you will need to offer the right newsletter. If you're using email marketing newsletters for lead generation, then make sure you're offering something enticing to attract your new customers.
You need to have good reasons why people should sign up for your newsletter list. So, make sure that you promise to deliver something exciting to them (like expert knowledge or exclusive insider tips), and then follow through with that offer.
Create a Quiz
Who doesn't love a quiz? Nobody. It's impossible to resist a quiz, no matter how silly the quiz may seem. And you just have to finish a quiz. Imagine leaving a quiz after the second question without figuring out which Friends character you are? Nobody would do that.
Creating a simple quiz can attract loads of interested new leads. Just make sure that the quiz relates to your business and industry. It can offer something useful or entertaining to your new customers. Get them to access the quiz with their email address, and then add that to your leads database for easy remarketing.
Host an Event or Webinar
Live webinars can be a great way to attract new customers and build relationships with them. Live webinars are fun and easy to run. You can share your expert industry advice during the webinar, or get special guests to share theirs. Just make sure that your webinar focuses on your industry, in order to attract leads that will be interested in your business.
Hosting a webinar doesn't take much planning, and you don't need a huge marketing budget either. It's also a great way of positioning your business as being a leader within your niche. You get to offer insightful information, engage with potential new customers, and answer their questions.
Events and webinars are also excellent platforms for marketing your product, and showcasing how useful it can be. Every attendee will need to provide you with their details, generating plenty of new leads.
Make the Most of Social Media
Of course, your business should be using social media to be generating leads. Social media offers a massive world of opportunities, and there are many different ways that you could be using it to generate leads (beyond just regular posting).
If you've got a lead magnet, then optimize your social media profiles to promote it. You can promote it on your cover image, include links in your bio, and try to get more users engaging with your link magnet.
You could use paid social ads to promote your link magnet too. This is a highly effective way of targeting the right demographic who might be interested in your business.
Conclusion
And there you have it, 10 easy lead generation tactics that your small business can start to put into action. These lead generation tactics really don't require that much from you, and they can make a massive difference to your customers and sales.
So if you don't have a clear lead generation strategy in place yet, then nows the time to implement one. Try out some of the tactics above, and you will soon gather more and more customers interested in your business.
Tom Kotze is a marketing content writer at Wishpond. If he's not creating marketing content to help small businesses, you can find him staring at dogs or drinking too much coffee.
Invoicing doesn't have to be scary
GET 50% OFF SOLO & PRO PLANS
UNTIL MIDNIGHT, OCTOBER 31