Your One-Stop Guide For B2B Email Marketing to Drive Sales
Written by InvoiceBerry Team on December 22, 2022
How to use email marketing to increase sales? The answer to this question requires a holistic understanding of your target audience, their intent, nurturing strategy, etc. Email marketing may be extremely effective in selling information, services, or physical things.
Email marketing is one of the most effective ways to promote your products and services and create your brand.
Try our online invoicing software for free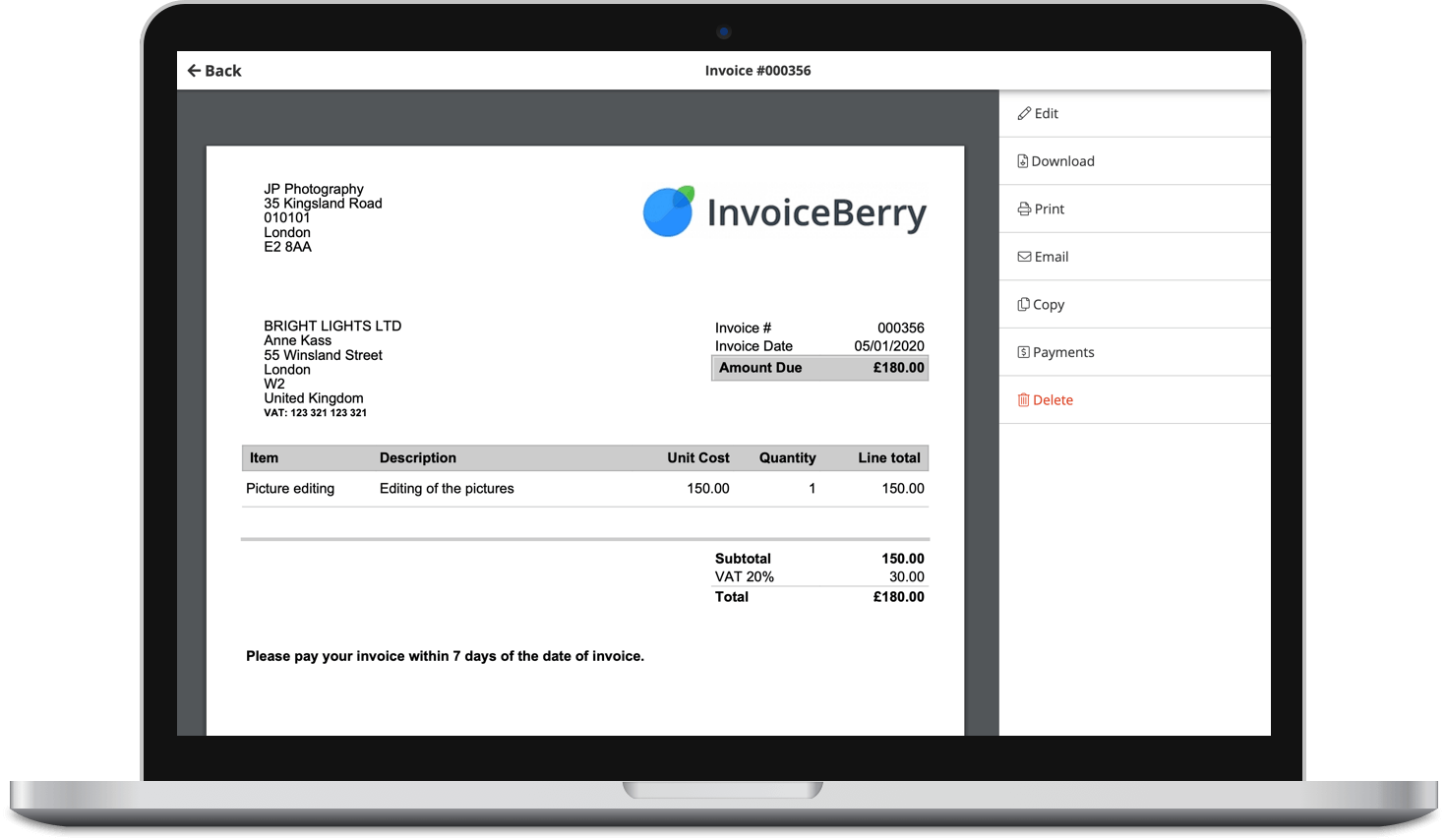 Send professional-looking invoices
Accept online payments with ease
Keep track of who's paid you
Start sending invoices
Furthermore, if done correctly, it aids in raising sales and bringing in more business.
According to Statista's latest report
In 2020, email marketing revenue stood at 7.5 billion U.S. dollars, and by 2023, this figure is set to cross the 10-billion-dollar threshold.
In this article, we will discuss some of the trending tactics to spike up your email marketing performances and make your emails conversion-focused.
Write an Appealing Subject Line
Because the subject line is always the first thing your email marketing recipients see, it must be done correctly. To stand out from all the other emails in your recipient's inbox and reduce email bounce rates, an email with a well-written, appealing, and fascinating subject line typically entices the recipient to read the email further.
Always take your time to think about the best subject line to entice the recipient to read your email. The ideal method is to consider what would have lured you or what has personally appealed to you to open an email and buy from a firm.
So, while composing the subject line of your email, avoid using phrases like "Help," "Free," "Percent Off," and others that would activate the recipient's spam filter.
Include A Clear and Simple Call-To-Action
A clear call to action can mean the difference between a successful and unsuccessful email campaign. Never attempt to perplex or overwhelm your email receivers.
Always concentrate on one and only one call to action. Also, ensure that your call-to-action content is prominently displayed on the upper half of your email. A good call-to-action explains why and what the recipient is clicking on the subject line of your email. Using a relevant image with the CTA can increase the click-through rate. There are sites that offer free commercial-use photos.
You Email Starts With The Subject Line
Consider your subject line in particular, as if it would be the only line of text in your email. Why? When your email arrives in your client's inbox, the first thing he or she will see is your subject line. You just have a few seconds to pique their interest in your offer, so you should give them all they need to know immediately.
However, if you successfully get the customer to open the email, the headline is equally significant. The subject line will get your readers to click and open the email, and the title will persuade them to read the rest of your material. Don't forget about small CTR techniques like adding an emoji. Which of the five emails below jumps out to you?
A good sales email call to action has numerous characteristics:
They are unmistakable.
They request that the other person do something.
They just have one request.
That is a simple task.
If the prospect does it, you have a compelling reason to speak with them again.
Use a Comprehensive Email Marketing Tool
Email service providers are not only a cost-effective option, but they also have unique characteristics that allow you to improve your emails at every potential touchpoint. Of course, no marketer sends hundreds of emails by hand in a single session.
Email marketing solutions are designed to give value to your prospects, segment your audience base, maintain email lists, conduct promotions, send bulk email blasts, assure email deliverability, perform email automation, measure metrics, and do much more.
These marketing solutions offer several choices for customizing your emails and ensuring they are mobile-responsive. According to statistics, 35% of business professionals check email on a mobile device. As a result, it is critical to fine-tune your emails at every conceivable touch-points.
Use Target Audience Analysis (TAA) to Create Personalized Segments
Consumer analysis (also known as user research) and target audience analysis are critical components of every marketing campaign's effectiveness.
It enables you to grasp the distinct and ever-changing demands of target groups easily.
The data gathered throughout this process is critical in developing custom segments that resonate with each user on your email list.
Understanding the user segments you should establish is the first step in determining the exact folks to target with your marketing initiatives.
When you have the right knowledge and the right tools, it's an easy procedure. During the TAA procedure, you must collect the following data segments:
Geographical – This includes categorizing your website visitors depending on their geographic location.
Demographic – it is based on categorizing your website users depending on their age, gender, and race.
The term "holistic" refers to the classification of clients based on characteristics such as psychological or behavioral tendencies.
Social networking is another wonderful source of information for your TAA requirements. Consider using all of the common social media sites, such as Facebook, Twitter, and Instagram, and managing them all in one spot, where you will build pages for your business.
Use Drip Marketing
Drip marketing is the automated delivery of emails in response to predetermined schedules or user behavior. They allow you to interact with groups of people based on events, such as when a person creates an account or how frequently that user clicks on emails.
Drip marketing sends a regular stream of pre-written messages to potential consumers or purchasers via multiple channels such as email, direct mail, and social media. It isn't the same as spray and prays. It's a methodical approach. It doesn't flood your lead's inbox with generic messages. Rather it is triggered depending on their action and considers their interests.
The major benefit of email drip campaigns is that they allow you to stay in touch with your customers on a regular basis without having to devote a lot of effort to each one.
Automation
The main advantage of drip emailing is that it saves time. You just let them do the work once you've arranged your sequence of texts. They keep you in constant contact with the consumer, ensuring that no sales fall through the gaps or are forgotten.
Lead Nurture
Drip programmes help you generate leads. Assume you send a cold email to a potential client about your product, who reads it and visits your website. You don't want this to be their last impression of you. A second drip email will be sent to them, thanking them for visiting your site and offering them to join up for a free trial if they so choose.
Timely information
You never want to send individuals inaccurate or out-of-date information. You may avoid this by modifying your chain as needed with an email drip campaign. You can quickly replace or update outdated material in a drip campaign with relevant content to ensure your lead sees the information they want.
Another advantage of drip marketing is that each customer receives information according to their stage in the sales cycle. You wouldn't send the same email to a brand new prospect and a paying client, and a drip campaign does the same thing.
Focus on Highly-Targeted List Building
The goal of creating a B2B list is to produce a prospect list that is extremely accurate and targeted. You don't want to spend weeks or even months messaging prospects on your list just to find out they aren't a suitable fit for your product. Worse, they may no longer be employed by the firm. Sending emails to many irrelevant contacts sets you up for low response rates, insufficient pipeline volume, and lower sales.
You can choose an email list provider or use a sales intelligence platform. However, using a sales intelligence tool is the simplest, quickest, and most effective approach to building your prospect list. Earlier businesses had limited options dominated by ZoomInfo. However, with the way the data industry has evolved, many ZoomInfo competitors are offering human-verified and relevant data. This strategy condenses the process of searching organizations, decision-makers, and validated data into a single step.
For instance, you want to target the marketing managers or VPs from the SaaS companies who use HubSpot's email platform and have a 500-1000 company size in the United States. Using the right tools like SalesIntel, you can apply the filters as per your lead qualification requirement, and you will get the filtered, highly targeted prospect list. This process can save a large portion of your day than could have gone in search of the data.
Conclusion
The great thing about email marketing is that you can test your subject lines and content with a small group of subscribers before sending your email campaign to your whole database.
Any reliable email service provider will allow you to submit two subject lines or versions of an email and have it run a user test on your behalf. Whichever subject line receives the most clicks and which email receives the most interaction should be sent to all relevant prospects.
You may gather intelligence (based on copy, content, photography, design, color schemes, and layout) from split testing to optimize your future communications for the highest potential odds of lead-nurturing B2B success.
Bio:
Ariana Shannon is the Marketing Director at SalesIntel. SalesIntel provides the most accurate and affordable b2b data.