Why Video Marketing Is Essential For Your Small Business
Written by InvoiceBerry Team on December 13, 2021
You won't believe it, but marketers resist using videos to market their business. Yes, that's a fact, and the reason is that marketers think it's an expensive endeavor.
Video marketing serves as one of the best tools for enhancing and improving social media marketing efforts. It even works wonders for email marketing, website design, and various other marketing networks.
Try our online invoicing software for free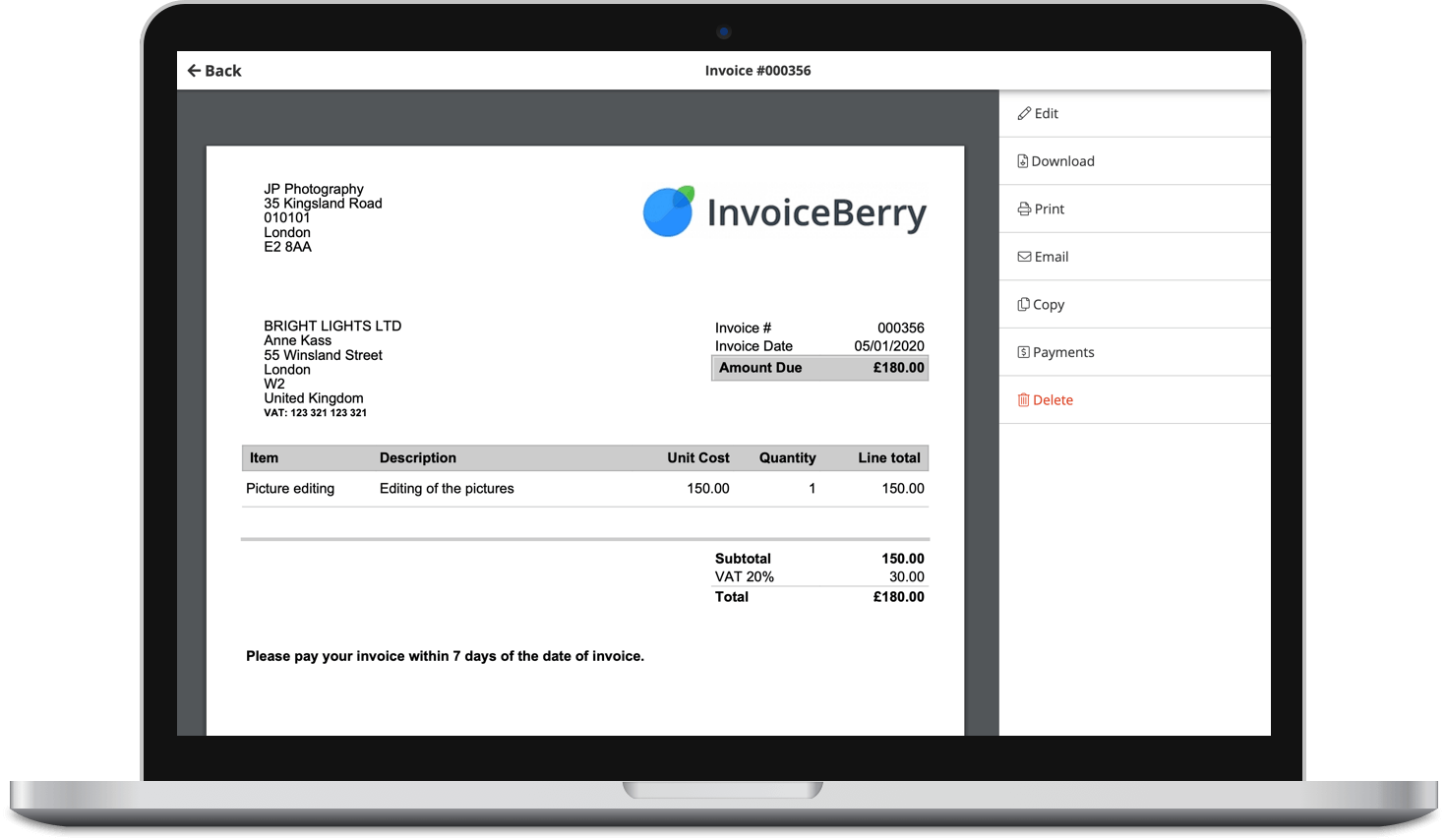 Send professional-looking invoices
Accept online payments with ease
Keep track of who's paid you
Start sending invoices
Small business marketers need to wear many hats. From content creation to product marketing, small business marketing event presence to social posts and even sales- everything is on these marketers. So, they usually cut corners when it comes to adding video marketing.
Nevertheless, they do not understand the advantages of this form of marketing for their business. Here are top reasons why small businesses need to care about videos:
Your Chance of Getting on the World's Second-Largest Search Engine
Boasting more than a billion users watching over 250 million hours of visual content every day, YouTube comes as the 2nd largest search engine globally. Hence, it can be rightly added that this is the place for small businesses to search for their potential buyers. But how do you do so?
Simple- by using videos. This is where your prospects are searching, so it would be better for you to be there in the How-To searches. Create educational content, and it will definitely offer you the strategic scope of drawing in potential buyers.
You can always make the most out of this platform simply by understanding the way YouTube video content fits into the journey of the buyer.
Increased Brand Awareness
According to the video marketing statistics, Facebook alone generates over 8 billion video views every day. This stands as proof of the fact that the generations of these modern times are really responding to the good quality visual matter.
Visual content is far more engaging in comparison to written matter and attracts people at a very fast pace. Videos are good at connecting with individuals and helping them get closer to brands.
Small businesses can spread the word about their products and services like wildfire provided then work on the right video marketing and content strategy. 
Contrary to popular belief, video marketing is one of the most cost-effective ways of promoting a business, and this goes special for small businesses. It is an effective strategy that brings in manifold benefits.
Rank Higher in the Search Engines
Well, as has already been said, YouTube is the world's second-largest search engine, and definitely, Google holds the top position. And go by Google algorithms only to find that the search engine favors sites with the maximum number of videos.
This means that adding videos to your site will help increase your site's search rankings on Google and even on the other search engines like Yahoo and Bing. Go by statistics, and you will find that 75% of individuals searching for products and services on Google do not venture past the first page.
This means that if your business website is on the first page of the Google search rankings, you will be getting business consistently. Adding top-quality videos to your site will give you Google first-page rankings, and that's well worth the effort.
Increased Online Presence
It will get very difficult for you to survive without a proper online presence, let alone thrive as a small business. And this is where video marketing can come to your rescue.
It increases the online presence of any business, provided you make your video content easier to consume and more engaging. Top-quality videos go a long way in encouraging the viewers to take the right action.
This action entails clicking the subscription link or visiting a business website. When the viewers like what they view, they will spread the word about the same by clicking on the share button.
And this is what you must work on as a small business.
Effective and engaging video marketing can help small businesses become prominent online entities within the shortest period.
Increases Product Understanding
Understanding a product is a complex procedure. So, you must make the audience understand your product thoroughly before making the final purchase decision. Luckily, 85% of the website visitors have a higher chance of purchasing a certain product after going through its video.
The best is to go for explainer videos as they offer businesses the chance to tell and show what they are offering to the potential consumers. These videos are good at solving the problems of potential buyers.
An explainer video tops the list of experts' recommended video types that will bring business to small ventures. So, if you still do not have one on YouTube, it's high time to get on it!
Good Quality Videos Reveal Your Brand Personality
It is quite likely for brands and businesses to remain anonymous to the viewers' eyes because of very little to no human representation. This does not work because human beings hate interacting with robotic things.
Nevertheless, this barrier is finely eliminated with the help of videos. Making business promotional videos means you are giving a face to your brand name, and most customers highly prefer this.
Through videos, people see and hear your brand. This connects them with your business at another level and in a better way than the other varieties of content.
51.7% of internet users claim that watching TV shows, movies, and videos is the main reason they are online. That being said, 86% of the individuals prefer seeing more brand videos.
Out of these, 14% prefer seeing product demonstration videos, while 36% watch more explainer or educational style videos. These statistics prove that almost all the different varieties of videos have a huge demand among the prospective buyers of products.
And without a doubt, videos are the medium of choice for the audiences of the present era. Now that you know this fact, why not give customers what they want? By offering them the medium they prefer, you will actually get them closer to your products and services. And that too without putting in a lot of effort.
Enhanced Social Media Engagement
Ok, so social media channels like Facebook, Twitter, and Instagram witness many articles, vlogs, and blogs every day. There is hardly any business, small or large, that remains untouched from the magic of the social media platforms.
In such circumstances, it becomes important for your small business to make efforts so you stand out from the rest. But how do you accomplish this goal? Simple- by making the most engaging visuals.
Videos Build Trust
As has already been said, customers have a higher chance of buying products after watching their videos. But what is it that triggers this? It is the trust that a business can build through videos.
Good quality, informative videos connect a business with the audience in a personal way, and this is what builds trust among the audiences. Visuals allow individuals to know a brand and like it at the same time. So, it is quite evident that they will trust the brand eventually.
And after such a long-time experience in the business world, you would probably know that people always do business with the ones they know, like, and trust. Isn't it?
Video Marketing Helps in Boosting Email Click-Throughs
Using the right kind of videos for brand outreach can help break through inboxes and earn 3times more responses. One of the best ways to include videos in emails is to include thumbnails from the videos in the email body. This way, users will get the scope of clicking on them to view videos on our landing page or your site.
Never embed videos because the majority of the email clients do not support inline video playing. Some clients support this, but if there are massive video files, there are increased chances of getting caught in the spam filters. So, it is best to avoid embedding videos in emails.
Video Marketing Is Inexpensive and Easy
It is not difficult to create and edit videos, as is the perception among a large number of marketers and business owners. You can find amateur individuals creating professional quality videos simply by using their smartphones.
There are just a few extra accessories required, and these include a microphone, good lighting device, sound effects, and proper video editing. Well, if you are making branding videos, it becomes essential for you to take the help of video editing tools.
That's important because you do not want your company or its products and services to look too local. Nevertheless, there are these simple videos that can be created in-house and with minimal help.
The Bottom Line
In this digital era, engagement is of prime importance. If you fail to drive engagement through your video content, the traffic on your site and conversion will suffer a lot. Top-quality videos go a long way in promoting social media engagement.
This means that if you produce educational and relevant videos that speak to your prospective client, there's this guarantee of increased social media engagement.
Author Bio
Joshua is a Growth Hack Marketing Manager at InVideo. He has previously written and contributed to audience growth strategies, especially in the field of Video Marketing, for publications including Medium,Entrepreneur Magazine, Marketing Directo, and much more. Before he started writing, Joshua got a post graduate degree in MBA. Then he did a handful of some jobs with really famous organizations who are way too dignified to be named here. He was a Sales Analyst for a while. He now writes full-time. Now he is settled and lives with his family in New York.