Tips on How To Bootstrap Your New Business
Written by Mindaugas on March 05, 2018
While it's true that having capital and investors does make starting a business easier, it isn't a necessity. If you start things off right, you can get get by with minimal investment and still pave a solid path to success.
Bootstrapping your business and making it function will need some sacrifices and ingenuity. We will cover some of the things you should keep in mind when creating a startup with less-than-ideal budget.
Try our online invoicing software for free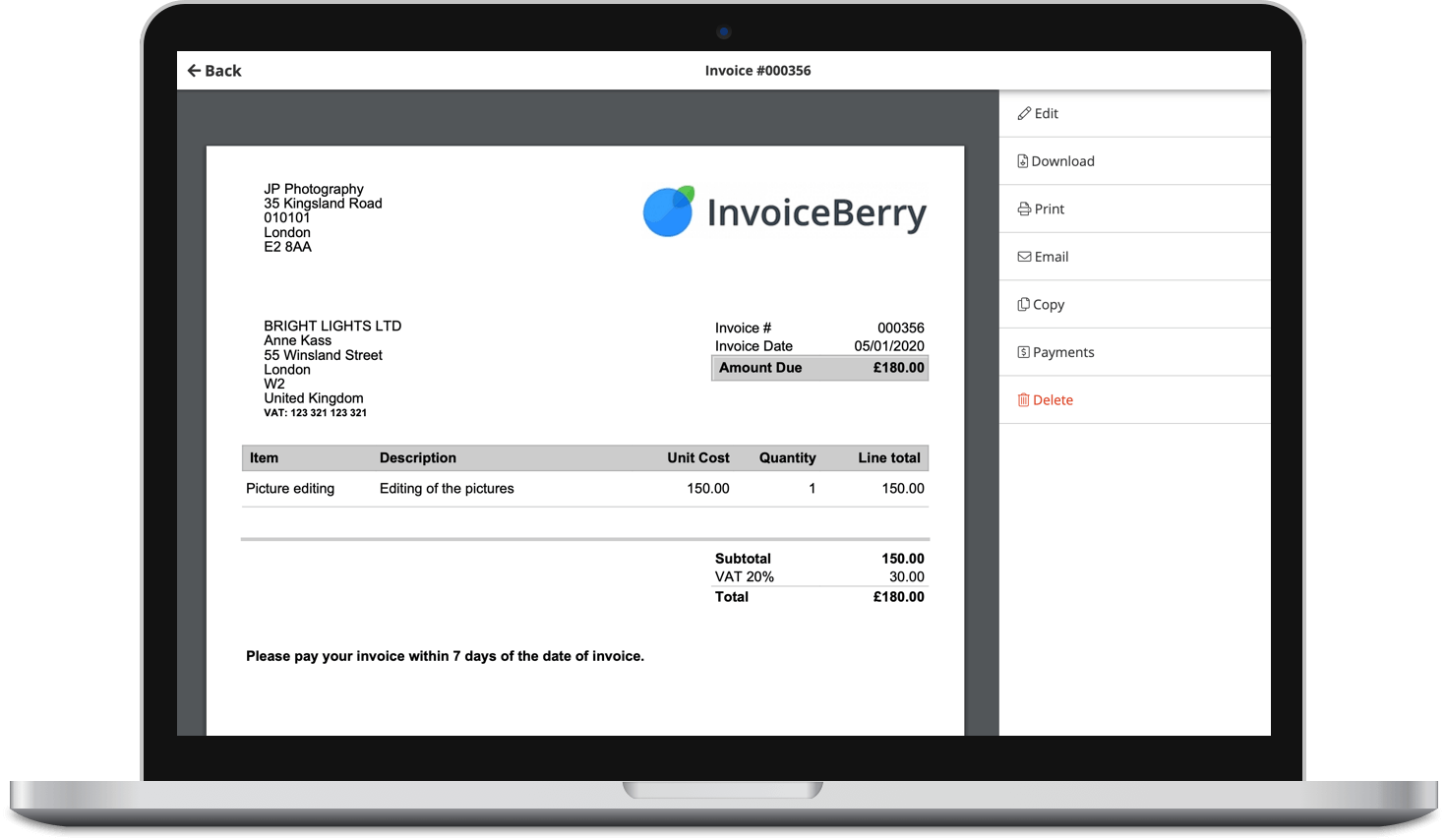 Send professional-looking invoices
Accept online payments with ease
Keep track of who's paid you
Start sending invoices
Let's dive right in.
Prioritize
With a shoestring budget, there isn't a lot of wiggle room for you in terms of expenditures. Somethings will have to be put off on the back burner while you focus on the things that matter the most.
They key here is prioritizing your necessities. Set your sights on things that will have the greatest return on investment. When bootstrapping a startup, you have to make sure that your limited finances are all aimed in the right direction.
List
You will have to learn to create lists and appreciate them. They are a key to staying on track and on budget.
Create a list of all the things you will need for your business to prosper. Even jot things down such as electricity bills on that list. You need to have a visual representation of where your money is and where it's going.
Now in this case you won't be able to have everything your heart desires – let's be realistic for a moment. With your limited capital your options won't always be ideal.
Look at the things that have the potential of being of most use and have the greatest ROI. Other things can be put on hold.
Quality Product or Service
Having a quality product or a service is essential, especially when your capital is lacking. When you have something of quality to offer to people, they will be not only more inclined to come back to you, but recommend you to their friends and relatives.
If you produce a good or a service, try and make it the best it can be. A product should speak for itself. Not only will this help you establish a presence on the market; the quality will be a marketing tool on its own.
Start strong, and continue to push to be the best. Always strive to produce the best for your consumer. They will reward you as a result.
Target Audience
Knowing the audience you should be focusing on is extremely important. This will help you create the most effective marketing campaigns with the greatest potential.
When you know who your ideal consumer is, you will know what and how to approach them for the best results. Here is where the buyer persona comes into play.
Social Media
Social media is one of the best ways to promote and market your new business. In 2017, in the United States, 81% of the population had at least one social media account. Globally, there are over 2.4 billion social media users.
If you don't incorporate social media as part of your marketing campaign, you are under-utilizing your available inexpensive resources. Social media is effective and if done right, has a great ROI.
Revert back at your target audience. Evaluate the social media platforms they would be most likely to use. Use those! This way any time you create and post social media content, it will be aimed at the most fruitful platform.
Automation
With your limited financial resources, you may be stretching yourself thin across all of the tasks that need your attention. Well, automation can alleviate some of the pressure when it comes to social media management.
Lighten your digital marketing load, and have software take over. You can still engage your audience on your social media platforms while working on other important things at the same time.
Here are some tools you should consider, if you'd like to automate part of your social media marketing –
Buffer connects your Twitter, Facebook, Google+, and LinkedIn accounts. It will allow you to create an automation schedule for when and where your content gets published.
This tool is incredibly useful. All you have to do is create the content you want published and let Buffer handle the intricacies of getting it all online.
If you use Buffer for your business as a marketing or a promotion tool, EvergreenFeed might just be for you. With EvergreenFeed, you're able to schedule any and all social media posts you create for automated posting.
You can group your social media posts in buckets based on the criteria you choose. Each bucket of posts can be scheduled for automated posting – schedule it and let the software do the hard work.
Buffer and EvergreenFeed go together like peanut butter and jelly.
Influencers
If your social media pages are lacking considerable amount of followers, you may want to rely on an influencer or two – at least in the beginning.
Influencers are individuals who have established themselves on the one or more social media platforms with a large following. They are there for your benefit. Try and reach out relevant influencers and see if they would be willing to help promote your ideas.
Keep in mind though, some influencers will require compensation for helping you out.
Promotions
Promotions are a great way to attract much needed attention to yourself. At the very beginning you may want to grant some incentives to your brand new customers for giving you a shot.
A great example of promotions is offering discounts or freebies to people that recruit their friends to come to you – referral program.
"Dropbox" is known worldwide for their great referral strategy they implemented into their business. They managed to amass over 4 million users in just 15 months!
What "Dropbox" did to create such tremendous growth is simple. For each new referral that the current user had, they were offered 500mb of storage space on their Cloud.
As you can see, useful incentives can create tremendous boost to your business growth. See if this incorporates well into your business plan.
Track Every Expense
Tracking every expense is especially crucial when bootstrapping your own business. You need to be aware of where your money is going and when the money comes back to you.
Create a separate business bank account. Don't mix your personal finances with your business. This can get a little hairy for you, especially in the beginning phase when expenditures may outweigh your profits.
Listen to Feedback
Hearing out to what people have to say is essential to being successful, no matter if you're on a budget or not. When starting a new business this will be one of the most crucial things for you to keep your eyes on.
Customer feedback will help you iron out any overlooked kinks you have in your product or a service.
Listening to feedback also allows you to build a great relationship with your customer base. People appreciate when they are being heard. In the long run, this will create a positive rapport with consumer and improve perception of your business in the community.
Make It Easy
Implement a feedback box on your web page and don't forget to list your content info.
Accessing your business contact information or a feedback box should be easy. You want to avoid making users jump through any hoops or go through multiple pages to find a way to reach out to you.
Consider Remote Team
Maintaining an office is an expense that can and in some cases should be avoided. It is not a cheap endeavor to lease some property that's easily accessible to you and your employees.
A very viable solution is to have your and your team work remotely. A sizable portion of your budget can go to improving the product, marketing or other necessities instead of providing a brick-and-mortar location.
Aside from saving on rental and utility costs, think of all the time you save while not having to commute to and from work. Let's not forget the environmental impact of sitting in traffic for hours at a time. In fact, on average, an American worker spends almost an hour each work day commuting to and from work.
If you do decide on having your team work remotely, consider incorporating Function Fox in your business.
It's an all-in-one tool designed for remote team collaboration.
You have the ability to create and delegate tasks to team members. Project statuses are visible for you and your team, so you know how each task is progressing. You are also able to set up email alerts for any of the projects you're doing, allowing you to stay informed of all the latest changes.
Of course, with your limited budget, this will truly come in handy: options to track project expenses. View your budgets and any financial constrains you have for each project. Staying on budget is essential for any team out there
Good Luck
Time to put these tips to action. Don't let your minimal financing slow your business down. Be smart with your approach and you can succeed.