Tasks Any Small Business Owner Should Automate Today
Written by Mindaugas on April 09, 2018
Everyday more and more businesses choose to automate their everyday functions to increase their bottom line. Automation will improve business efficiency, accuracy and increase profit margins.
As a small business owner, you're probably thinking – "what can I do to automate? It sounds expensive."
Try our online invoicing software for free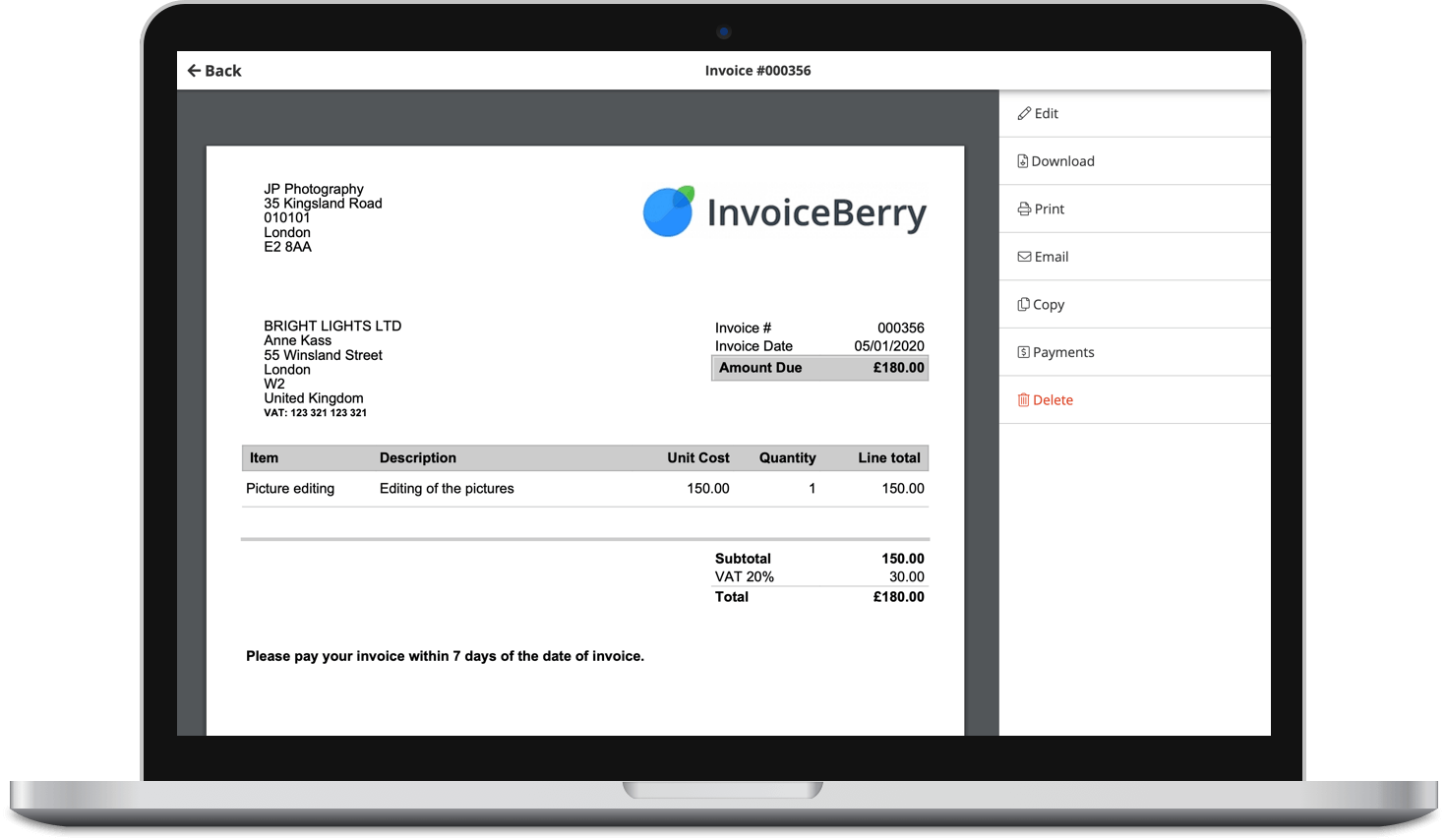 Send professional-looking invoices
Accept online payments with ease
Keep track of who's paid you
Start sending invoices
Well there are many functions you can automate to help enhance the efficiency of your business operations.
Bills
Many of us probably choose to auto-pay phone bills, internet, television. Domestic bills can be automated, don't be afraid to automate your business bills either.
For a business of any size, managing your bills can at times prove to be a challenge. B2B expenses can quickly add up and if you are still doing things manually, can cause problems to arise and valuable time to be wasted.
Look into some software to help you manage and automate your business bills. For example, Circulus may provide you exactly what you need.
Logins
There are many websites and online platforms that we use daily that require us to be signed in. Remembering all the different log in information can be tricky at times. Writing it down somewhere can compromise your security.
You have access to many available resources that will allow you to consolidate all the login information in one place.
Not only will your passwords be much more secure and randomly generated, but you only have to remember one password to unlock all of your online functions.
If you'd like to store your passwords in a secure and accessible place, there are a variety of services that could help you out. LastPass or 1Password might do the trick for you.
Employee Scheduling
Scheduling employees according to your needs and their availability can pose a challenge. Over-scheduling, under-scheduling and other issues pertaining to creating time sheets can all go away with a press of a button.
Software like Hamanity will help you automate employee scheduling for your business. Save yourself time, increase employee satisfaction. You will also be able to easily find replacements if there ever is a last minute schedule change.
Data Backup
Accidents happen all the time. I am sure you would hate to lose all the pertinent business information because of an unfortunate technical malfunction. You or your employees may not always be backing up files and data like you're supposed to.
Automate data backup for your business. Save yourself and your employees a potential headache. Sooner or later this will come in handy, and you will be glad you automated your data backup.
Services such as Dropbox, Google Drive and Carbonite allow you to set up automatic data back up for business. If anything were to go wrong, you know your information is secure on a cloud based storage.
Email Marketing Automation
If a subscriber gives you their personal email, you have just acquired a direct line of communication with that individual. Your marketing efforts have just been strengthened.
When the contact list piles up, spending hours and hours manually reaching out to your clients with relevant information concerning your business may not be feasible anymore. This is where automated email marketing comes in to save you.
There are ways to set up email deliveries based on a variety of criteria. You won't even have to lift a finger to reach out your subscribers one by one.
Look into some email marketing tools such as MailChimp, FreshMail or SendLoop. Not only will you be able to send thousands of emails at once, you can also schedule email campaigns. You will be able to track your mail marketing efforts – know the engagement rates and how well your email content is performing.
Social Media
Social media is powerful marketing tool for your business. What makes it even better is that there are ways you can automate it and watch it as it does the marketing work for you.
As a business owner, you may find yourself juggling multiple social media platforms to promote your product or a service. Content needs to be constantly updated to stay relevant and establish consumer awareness.
There are a variety of tools out there such as HubSpot or Buffer that allows you to schedule content uploads on multiple social media platforms. No longer will you have to go through each individual social media page to post your important updates.
Invoicing Automation
For those committed, returning clients, this function will be especially useful. Avoid spending time invoicing when you can automate it and forget about it.
If you haven't made the switch to online invoicing, I think this might be one of the sweet temptations that will force you to make this much needed change.
Look into InvoiceBerry for your online invoicing services. It will allow you to automate a lot of the invoicing for your business. Set up recurring payments with returning clients. With InvoiceBerry, it will take you 60 seconds to set up any online invoice.
Payroll
Depending on the size of your enterprise, payroll can really take away a sizeable chunk of your time.
Implementing partial automation in payroll may sound scary, but if you do it right, it can shave off time that can be dedicated for more productive endeavors.
This won't be a complete hands-off approach. Automating certain aspects of payroll will streamline the process for you and your accountants. Adding automation will also reduce errors and processing costs by up to 80%.
Look into Paychex or SurePayRoll for the software that will streamline this tedious process.
Set Up a FAQ
This may not be automation per se, but a well thought out FAQ can aid your customer service specialist.
If you think about the amount of questions people may ask on the daily basis, you may need to have a dedicated person there to answer them all. Lighten the load on yourself and your employees. Come up with a thorough FAQ to answer all the major questions a customer may have.
Many Small Changes
Make a big difference. Implementing automation in your small business will allow you to work smart, not hard. These changes overtime will save you considerable amount of employee hours.
Experiment with some of the automation tools that are at your disposal. See which tools work best and what positive changes come as a result.
Small Business Finance 101
Download our free guide to learn the fundamentals of finance that will help make your small business more efficient and successful.