How to Start a Profitable Web Design Business in 2023
Written by Marya Sutimi on May 15, 2023
If somebody asked us to tell how 2023 looks so far, we'd describe it like this: recession and tech layoffs. With prices going up on almost everything, and job uncertainty that affected even the biggest players in tech, many young professionals decided to take destiny into their hands and start a business.
If you're one of them, and you're thinking about starting a web development business, look no more. We provide you with tips and tricks on how to start a profitable web design business in 2023 and achieve success.
Try our online invoicing software for free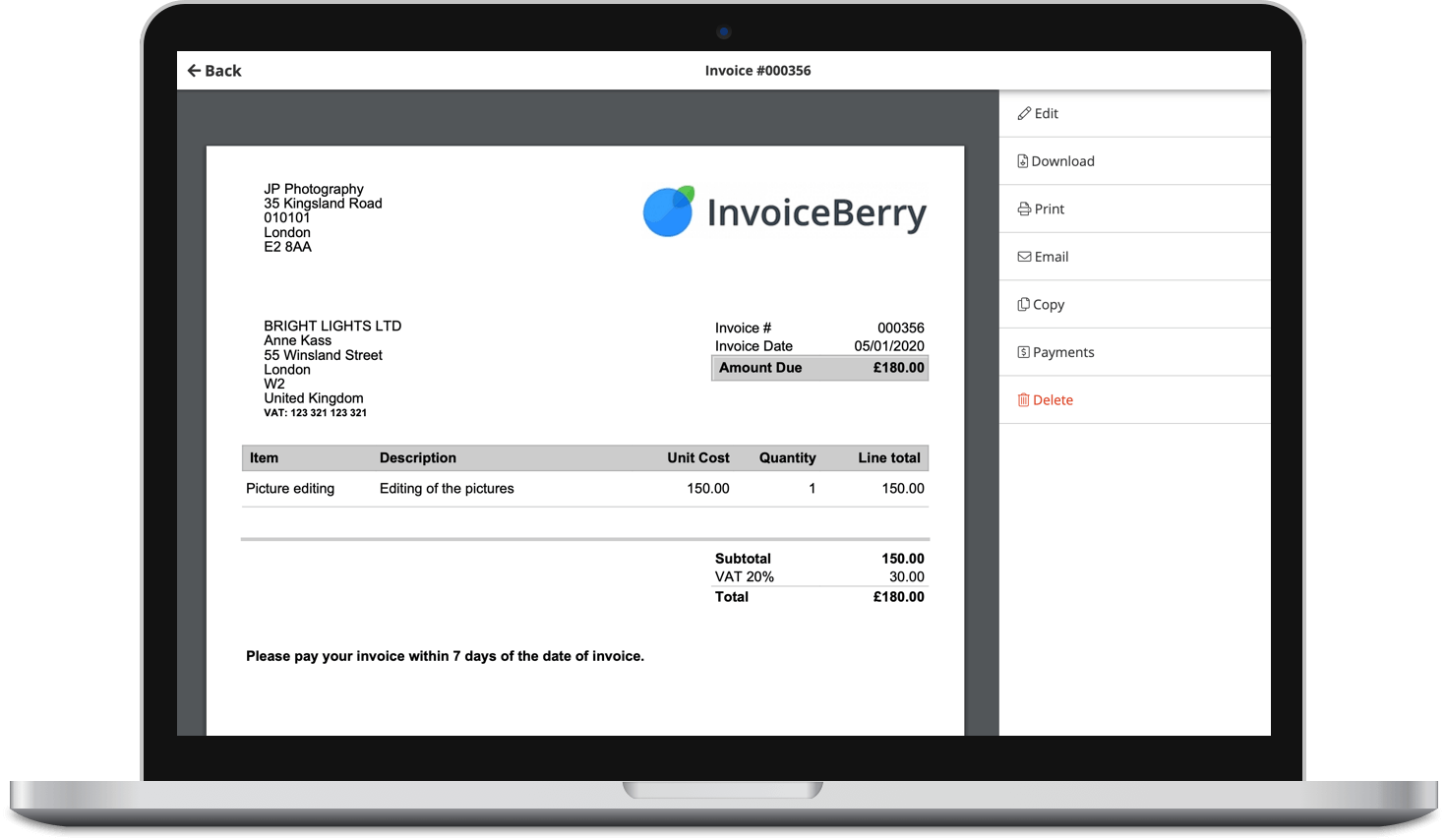 Send professional-looking invoices
Accept online payments with ease
Keep track of who's paid you
Start sending invoices
Things to know before starting a web design business
There are some things you should know before starting a web design business. You should know that:
You might lose some money before you start earning
While skillful web designers make awesome pay (up to $80,000 a year), low barriers to entry in this industry make it extremely competitive, which might influence the success of your newly-founded business.
Professionals who don't have a base of clients might struggle to keep their finances in order, as they will have to invest a lot of funds into marketing their web design business and keep their prices low until they get enough recommendations.
You have to be fearless
The development of AI made many professionals worry about the future of their businesses. Some people might argue that web development might become less needed with the rise of web development platforms such as Shopify and Squarespace, which allow users to make their websites without hiring a web designer.
Furthermore, with technology constantly rising, this field requires professionals to work on their skills constantly. That said, venturing into the web development business isn't for those who're afraid of competition, nor is it for those who aren't ready to work on their skills and constantly educate themselves.
Steps in Creating a successful web development business
Before you start your web design business, you should go through some steps to set it up for success. Those steps include:
Deciding on who your ideal customer is
If you want to be among the best of the best, you'll need to specialize in a certain field. This will help you raise the clout, become more recognizable, and drive customers to your business.
Once you decide on your specialty, create an ideal customer persona to help you market your business. Think about who your ideal customers are, what are their pain points, where they spend their time, and so on. Luckily, there are plenty of websites that can help you build it, such as HubSpot's MakeMyPersona tool.
Furthermore, to market your services, build an SEO-optimized website that will attract all the right clients, invest in your LinkedIn marketing, and visit some fairs that will provide you an opportunity to network and market your business.
Setting the prices of your services right
Setting the price for your services can make or break your business. Before you decide on it, you should do market research and see how much your competition is charging. To do it, you have to be a bit sneaky and send email inquiries pretending to be a customer or visiting their website if the prices are publicly displayed.
Think about the pricing per project and hourly rates and offer various possibilities for charging your services. In the beginning, you should probably offer lower prices to get new customers, however, as your business grows, you'll be able to increase the rates and make more profit.
Set your goals and make a business plan
If you want to run a successful business, you need to make a business plan and set goals for your company. This will help you stay on track, and ensure you're making progress over time. You should know what your rates are going to be, what are your expenses, and how much you want to pay yourself.
You should also determine your businesses' strengths and weaknesses to ensure scalability, and for that SWOT analysis might be useful.
Choose the best web design tools
Running a web design business on a bigger scale requires the use of specialized tools. They can help you streamline your processes and increase the overall quality of your work. You should think about which one you need: graphic tools, tools for website creation and development, but also for marketing and collaboration.
Before deciding on which tools to use, think about the projects you're going to do, which tools are compatible with your devices, how much you're willing to invest, and so on.
How to find new clients
Finding clients is vital for your business's success. Here are some things you can do to attract them:
Be an active member of your community
Many people prefer to do business with those they know, as it gives them a sense of security. To get new clients, you can reach out to your community and make people know what you're doing.
Next time you attend your kid's soccer game, pay a visit to a local volunteer organization or go to church, and make people know what you're doing for work. You'd be surprised at the power of words, and how many clients you can get through acquaintances.
Stay involved in the business community
If you want to attract new customers, be where they are. Visit business fairs, industry events, and fairs and network. Print out business cards and create meaningful relationships with other entrepreneurs. You can also sign up to hold a speech, workshops, and lessons that will make you stand out.
Get in touch with your competitors
Let's just say it: there's nothing wrong with competition. In fact, it can make your business better as it makes you constantly improve and work on your services and skills. Furthermore, your competitors might be the ones who will send new customers your way.
You can make a list of bigger web development agencies in your area and call them up for a meeting. You'd be surprised to hear many of them struggle with the workload and would like to keep their customers by outsourcing extra work your way.
Work on your social media presence
As we mentioned, if you want to find new customers, you should be where they are. The majority of people today use social networks for both business and private purposes.
If you created your ideal customer persona, as we advised you, you then already have some insights on which platforms they spent their time. That said, make sure to regularly advertise your business through engaging and educational posts on your social media pages.
Provide advice your customers can use to improve their business and make yourself stand out as an authority in the field.
Work on your SEO strategy
Most people turn to Google when they need something. This is why optimizing your website for Google's search engine is necessary. Look at the most searched terms related to your industry and build your website based on these keywords.
Write blog posts regularly and share useful advice your potential clients might need. Sharing knowledge will not only make it easier for your customers to find you, but it will also help you build a reputation as it will show you're confident in your knowledge and skills.
Furthermore, you can also write for other websites as a part of your SEO strategy. Build a list of websites that might be interesting for your target group and reach out to them. Offer to write an article for them in return for a backlink to your websites, and watch how your client base gets bigger.
Become a speaker
Speaking at industry events is another good way of bringing new customers to your business. Make a list of interesting industry events and reach out to organizers. Offer to speak or give a lecture for free.
Tools to manage your business
Managing a small business is time-consuming. Since there are many things to think about, from workflow management to tracking payments, using various tools is essential. Here are some tools new business owners might find useful:
Communication software
Keeping an open line of communication is essential for every business, especially for growing one. As a business owner, you'd want to enable your employees to collaborate seamlessly and avoid the friction lack of communication might cause.
You can use various workplace communication tools such as Slack and MS Teams. What's best, many of these tools come on a freemium version and don't require an upfront investment. However, if you decide to save on such software you won't be able to use certain features that might come in handy.
Reporting tools
Reporting tools might play a crucial role in your business growth as they give you an overview of work done, how much time is spent on each task, and the productivity of each employee. This way, you can organize your workload better and determine who's a top performer in your team, and which workers need more motivation. Toggl, for instance, is one of these reporting tools that can help you improve transparency and accountability among your team members.
Invoicing software
Having good invoicing software is crucial for business success, as it enables businesses to keep track of their cash flow and ensure they have enough funds to run their business. Invoicing software helps companies avoid late and missed payments, and it can also serve as an excellent marketing tool.
InvoiceBerry is one of the most reliable invoicing software in the market with affordable plans, well suited for newly-found businesses.
InvoiceBerry allows companies to make personalized invoices and build relationships with their customers. It enables them to make the template for recurring invoices and put them on autopilot, saving time and resources at the same time. Furthermore, by using InvoiceBerry's services, businesses can turn their quotes into invoices in seconds and "seal the deal" while the lead is still hot.
Another advantage of InvoiceBerry is that it allows customers to make payments in the way that's most convenient whether it's a bank payment or a PayPal transaction.
Lastly, InvoiceBerry allows businesses to set reminders for late payments, allowing them to keep their cash flow intact, and ensuring all invoices are paid promptly.
One of the best things about this tool is the fact you don't even have to spend a dime to see how it works. You just need to sign up for a free trial, and decide after you try it!
Document management tools
Running a business frequently equals managing a lot of documentation. To stay on top of things, and ensure nothing gets lost, many businesses use various document management tools.
Google Drive is one of the most reliable, and frequently used document management tools that allow users to share, collaborate on, and create various documents. What's best, businesses can use 15GB of space for free until they decide to switch to a paid version.
Project management tools
Project management tools are a must-have for every business regardless of its size. They allow companies to stay on top of their tasks, ensuring no deadline is broken, and no task is forgotten. They also help them organize their workload and have a clear overview of each employee's availability, which enables them to avoid burnout.
Many project management software comes with a freemium version such as Trello and Asana. However, features on free plans are limited, so businesses need to upgrade their account for more functionalities.
How to manage first customers?
If you thought that acquiring new customers is hard, think again. Their retention is even harder. Here are a few tips on how to manage first customers and retain them successfully.
Understand their needs
If you want to manage your clients successfully you need to make sure you understand their needs. Only this way you can meet and exceed their expectations. That said, make sure to openly communicate with your clients, ask genuine questions, and take an interest in what they do. Research their business model, and think about ways how you can help them improve.
Communicate effectively
Good communication is the key to business success. That's why you should ensure you covered everything in your client onboarding process and left room for any changes and suggestions. However, effective communication means putting boundaries too, as too much unnecessary conversation can make things worse and even cause productivity problems.
Build trust
People want to work with those who are reliable and trustworthy. To ensure business success, future recommendations, and client retention, build trust between your customers by respecting deadlines, offering genuine advice, and showing interest in your clients.
Be flexible
Business flexibility is desirable as it allows you to adjust to new conditions and grab good opportunities when they arise. That said, while it's good to have processes in place you shouldn't follow them at all costs. Leave room for flexibility, and use it wisely!
Be quick
Getting new customers can be challenging, and most of the time it's about choosing the right moment to seal the deal. InvoiceBerry, for instance, offers a handy feature that allows you to turn quotes into invoices in seconds. Transitioning from hot lead to paying customers has never been easier. Let us prove it!
Final words
While managing a small business can be overwhelming at times, the independence and joy of creating something by yourself make up for all the hardships entrepreneurial life brings. Following these tips can help you achieve success sooner and faster. In which phase of business-building are you?
The Ultimate Social Media Tool
Download our free guide to learn how to create shareable content, generate website traffic & increase conversions.