10 Best Ways To Do Online Reputation Management For Small Business
Written by InvoiceBerry Team on November 01, 2021
Did you know that 84% of buyers regard internet reviews as trustworthy as a personal recommendation? This calls for the dire need for online reputation management(ORM), especially for a small business!
Business reputation management can either make or break the success of any company because a customer's journey starts and ends here. Owing to the ongoing pandemic, more and more people are spending time online making online reputation management ever more important. You must know that it is not only your business website that matters. Every single reference of your brand name, whether it is on social media or a review site, can impact your rankings as well as reputation.
Try our online invoicing software for free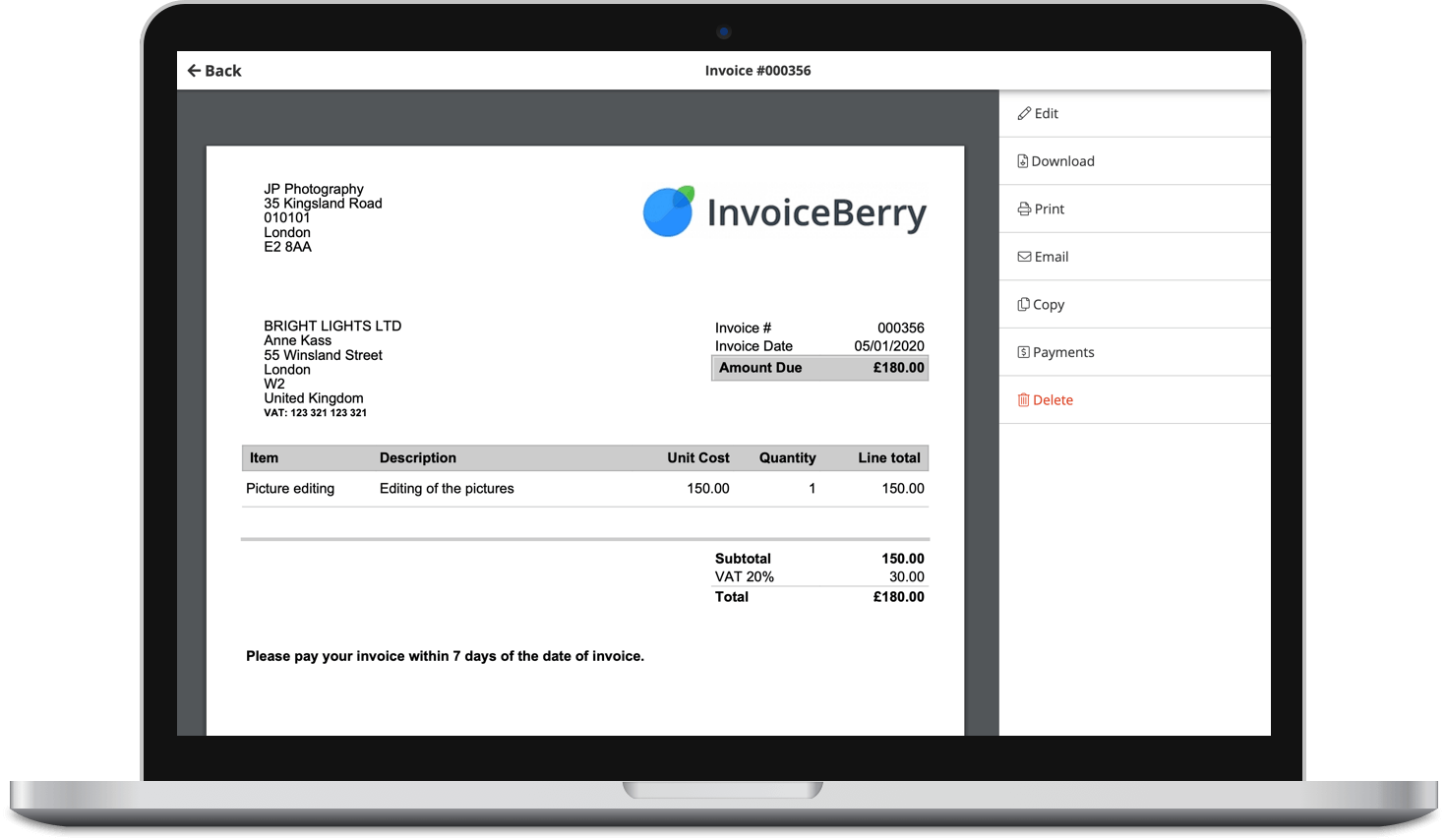 Send professional-looking invoices
Accept online payments with ease
Keep track of who's paid you
Start sending invoices
Ideally, a business must resolve any customer complaints before they decide to go online and post any negative comments about your business. You shouldn't let your customer believe that an online forum is the only place to raise their voice. Unfortunately, the world we live in is nothing but ideal. Things happen and you have to face the music!
Online reputation management for small businesses is rather challenging because almost all of your potential customers will reach you after checking online reviews and testimonials. When it comes to online business management, most small businesses create a mass of hubris. That's because entrepreneurs and small business employees have to be a jack of all trades to keep up with the burgeoning budget stress. If you have been struggling with reputation management for your business, here are the best ways to handle it like a pro!
1. Always Have An Online Reputation Management Plan
Most small businesses are in a precarious position and keep operating at the mercy of the malicious world of online reviews. That's because they didn't pay attention to building brand reputation. If you want your business to flourish, you can never opt out of reputation management. The first step is to realize the need for a thorough plan. Repairing reputation damages is far more expensive as compared to investing in reputation management in the first place. Whether you plan to do it on your own or hire a team of professionals, always keep it a part of your marketing strategy.
2. Conduct An Audit For Your Existing Reputation Management Strategy
Building brand reputation is all about putting yourself in the shoes of the person searching for your company name or businesses like yours. Search for your business name in Google and review all the listings for your company name. The top 20 listings matter the most because only 5% of the users look past the first page of Google.
In general, these listings include company social media profiles, Google Maps, Yelp, and CityLocal Pro to name a few. Check each of the industry directories to check if any of your business credentials are misspelled. Pay attention to the company name, address details, and phone number. Read the review sites thoroughly and take note of all the negative reviews.
Search for all the industry-related keywords that could lead a user to your website. See how your potential clients see your business. Spot any errors in the information given about your business and fix any mistakes. Also, search for your company's CEO name. If the information about your CEO or any of the top employees is not enough or is misleading, this could hurt your reputation management strategy.
Use a reliable citation review service to scan and search every business listing with your company's name. They can help you make sure if all the details are consistent.
Now that you have assessed the current reputation, you are more likely to make an effective ORM strategy.
3. Be Present On All Relevant Websites
Dozens of online platforms can be used to mark your online presence. Start with the most popular ones such as Google My Business, Twitter, and Facebook. To make up in a highly competitive market, find all of the available relevant social media websites. There are dozens of them. If you cannot be on every one of them, find the industry-specific websites and list your business.
Having executives and employees on LinkedIn is also important for your online reputation. Platforms like Pinterest, Flickr, and Instagram are appropriate for visually oriented brands and products. Start a YouTube Channel for your business for video marketing. 93% of the business marketers say that they have landed a customer after watching a video they posted.
4. Build Your Audience On Social Media Accounts
Having a social media page or account is insufficient for effective online reputation management. Anyone who runs a business understands that marketing and reputation management is an ongoing process. You need to develop your audience on different social media accounts continuously. The ongoing engagement with your audience can help build your social media accounts as well as develop a trustworthy relationship. Stay strong in your social media game to make your accounts strong and capable of outranking the negative posts. Although we never know how Google and other search engines determine the strength of a social media account, use independent scoring utilities to know if your business is growing.
5. Build A Cohesive Brand Identity Across All Platforms
Contrary to the popular pretense, brand cohesiveness is a lot more than the title, address, and phone number. It includes maintaining a cohesive digital brand that tells the same story so that audience can easily identify you among the competition.
To start with building brand reputation, review the style guide of your website. It is the information listed by the website designer and incredibly helpful when you are working on your brand reputation strategy. Find the fonts, colors, and styles and ensure all of your marketing platforms are using the same. This helps your business to look more professional and reliable among customers. Your website design must match the color of the logo.
Update the business description and ensure that it is reflecting your current services and operation hours. Make the customer journey easier and you will see the impact on your customer feedback as well as annual revenues.
6. You Must React Wisely To Negative Feedback
When it comes to building brand reputation, this is the number one mistake made by small business owners. Neglecting negative reviews would make things worse for you. Customers, especially the ones who are digging in the reputation, want to know if there is someone behind the screen. They want to know where to turn to if anything goes wrong. Other than some exceptions, customers leave negative reviews because they expect to come to a solution with business. Don't leave them hanging in the mid-air, especially because these reviews can be read by your potential customers in the future.
Be authentic and genuine in your responses and help them overcome the issue. In most cases, it is nothing more than a misunderstanding or something else trivial. A proactive online reputation management strategy in place is your safest bet!
7. Seek Customer Feedback On The Internet.
According to a survey by Search Engine Land, 70% of the customers will leave a review when they are asked to do so. If you are struggling to get reviews or feedback, all you have to do is to ask explicitly. Offer an incentive for writing a review and you would see a significant improvement. Getting more reviews is a win-win situation. It not only adds up the number of positive reviews (unless you are doing something seriously wrong with your business) but it gives you an insight into the customer experience. This is an opportunity to learn your mistakes and work on them to strengthen your brand reputation strategy.
8. Make It Easy For You To Be Contacted
Don't add to the negative experience for your unhappy customers. Make it easy for you to contact them. Claim all of your listings on the internet. Make sure your contact details are clearly mentioned on the top and bottom of each of your website pages. Include phone numbers, email ids, and physical addresses wherever you can. Implement a chat widget for instant communication with your customers. Keep your response times to ace online reputation management.
9. Earn More Positive Media
Online reputation management encompasses a lot more than positive and negative reviews. Use the best of your abilities to create positive messaging with strong, consistent, and unique content. One great way is to earn more positive media coverage through guest blogging.
If you are posting content on high authority websites, they will stick around in search results for years boosting your SEO. Get in touch with industry experts and community members to produce more relatable content for your customers. Give them all the possible reasons to trust you.
10. Hire An SEO Agency For Online Reputation Management
The importance of online reviews is a burgeoning segment of online marketing. Understanding and implementing a brand reputation strategy is not an easy feat. Thankfully, you can outsource this work to a reliable SEO agency so that you can focus on other things that matter. Each step towards online reputation management paves another way to drive traffic to your website and bring in more revenues.
James Luis is an online media creator and marketer by profession. He works for a variety of niche customers in addition to being affiliated with CityLocal Pro, a US business listing site. You can follow him on Twitter @JamesLu25900022