11 Tools You Need When You Want to Grow Your Business
Written by InvoiceBerry Team on April 11, 2022
Zoom, Etsy, Amazon, and Big Lots: Guess what they have in common! Undoubtedly, it is the envious growth that they have achieved.
So, which magic wand will propel that coveted growth for your business? The right tools will do just that!
Try our online invoicing software for free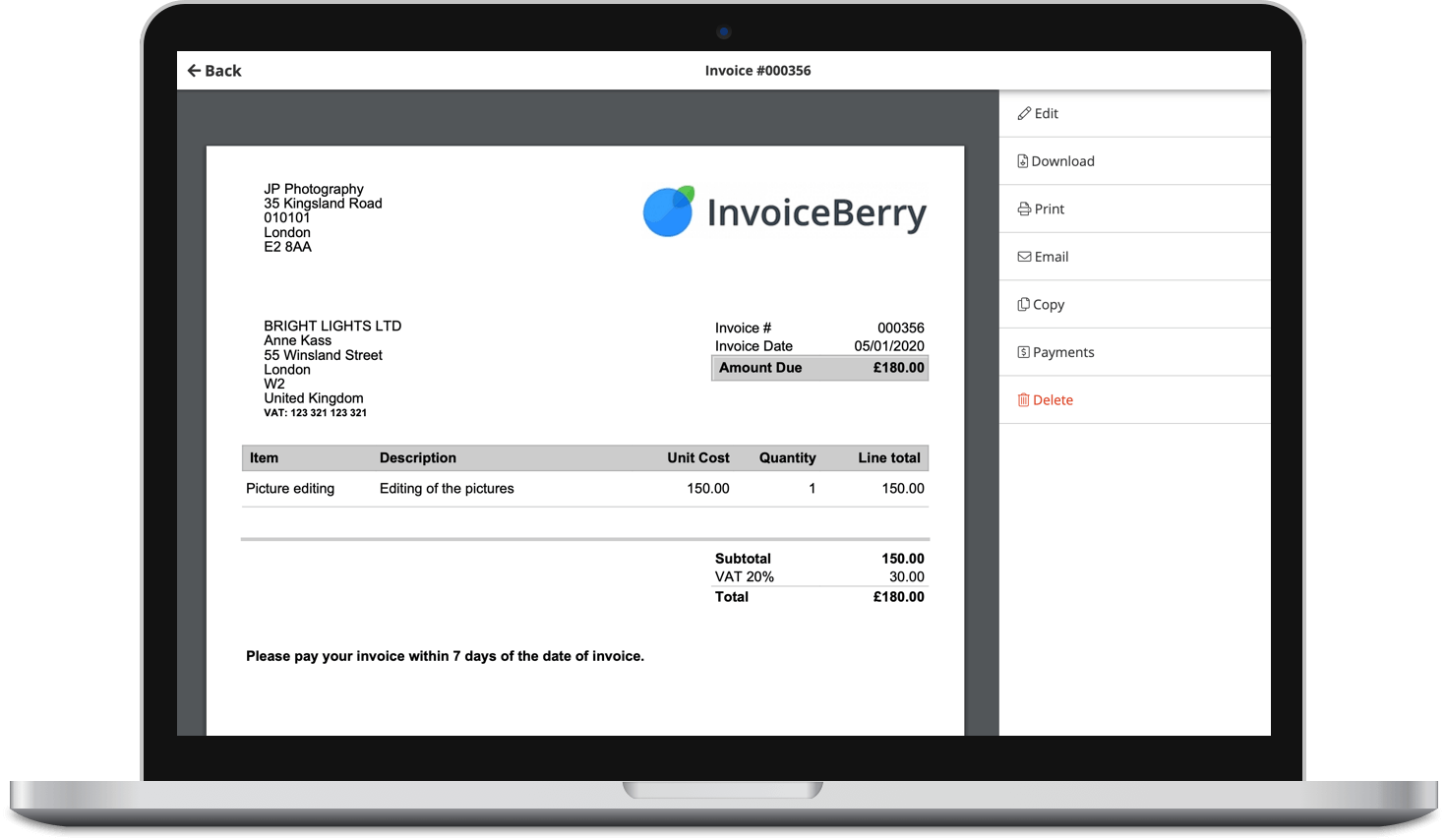 Send professional-looking invoices
Accept online payments with ease
Keep track of who's paid you
Start sending invoices
But the question that arises is this – which tools should you use?
Keep scrolling, and you will find a library of the eleven tools you need when you want to grow your business!
Whether you are an individual building a blog or if you run an online business, Elementor is a great tool for both. Elementor is a visual, drag-and-drop page builder. Using it transforms creating a great-looking, custom web design from something you need to be a developer to something anyone can do.
You can import hundreds of professionally designed templates with Elementor if you don't want to build your designs from scratch. It's perfect for people who want to design awesome pages on their own without knowing any coding, HTML, or CSS.
You can choose from over 90 content elements/modules, including images, headings, buttons, carousels, counters, progress bars, testimonials, and more. The pages are all mobile-responsive and SEO-friendly. There's a library of pre-made page templates that can be imported and modified. Elementor also makes it easy to add your own vector graphics and other types of files to your website.
Unique Feature: Elementor now offers best-in-class cloud hosting for WordPress. You can build your entire website without having to use any third-party host.
A cloud-based accounting solution, InvoiceBerry, serves small businesses across a wide range of industries. A number of features are included, including invoice creation, tracking of expenses and payments, and client management. You can also create quotes and estimates and send them to clients and then convert them into invoices. You can export all the invoices as PDFs.
InvoiceBerry is a simple and maintenance-free invoice service for online business owners and freelancers. With InvoiceBerry, you can accept payments online as well, and integrate it with a variety of payment providers, such as Stripe, Square, PayPal, and WePay.
Unique feature: With the payment reminder function, your customers are automatically reminded to make payments and you receive them on time.
Mailmunch is the one-stop lead generation and email marketing software that helps you to grow your eCommerce business with lead capture and email marketing tools to reach your audience with a personalized touch.
Here's everything that you can do with Mailmunch:-
Build email lists with a wide variety of opt-in forms and popups for every industry, and use case
Boost conversions with our eye-catching landing pages that are designed for high traction
Nurture prospects with lead nurturing sequences and targeted email campaigns using Mailmunch automation
Customized coupons, spinwheels that strengthen your eCommerce business, boost conversions, and increase customer engagement.
Customize your Shopify store with an intuitive drag and drop builder as per your requirements
Unique Feature: Our intuitive drag & drop builder along with hundreds of free templates for forms, pop-ups, landing pages, and emails ensure that you can launch any campaign in a matter of minutes (No coding required!).
AeroLeads is one of the best and most helpful email finder tools used by most of the top marketing professionals. AeroLeads automates the process of collecting emails and boosts your lead generation efforts by creating a list of unique emails in less time.
AeroLeads software helps you to find business emails and contact numbers from LinkedIn and Xing in a single click. Just add AeroLeads search bar or install its free chrome plugin and enter the name of your prospect or company and click search. You'll get all the required information starting from name, profession, email addresses, company, and over to 15 data points.
Unique Feature: AeroLeads tool verifies all the emails so that you can confidently approach your emails to prospects. AeroLeads integrates with third-party apps like HubSpot CRM, FreshSales, Zapier, Zoho CRM, Salesforce, etc.
Document360 is a SaaS-based knowledge base software that allows you to establish private or public knowledge bases. It assists both internal personnel such as HR, trainers, sales representatives, and customer support executives, as well as consumers, in locating the information they want via an online self-service portal.
Also supports Markdown editor to allow for more efficient and organized writing. Other notable features include an uncompromised authoring experience, a rich theme, built-in analytics, enterprise-grade restoration, backup, versioning capabilities, and so on.
Unique Feature: Even if you have no coding experience, it is simple to get started. It has a highly user-friendly interface that makes it simple to maintain several versions of articles and receive total security against accidental changes to content. Furthermore, it provides multilingual assistance to deliver appropriate information to your customers.
LeadsBridge is an iPaaS automation solution that enables marketers and advertisers to enhance their omnichannel strategy and build their own interconnected marketing ecosystem.
LeadsBridge fulfills your integration needs, focusing on bridging gaps between top advertising platforms – Google, Facebook, LinkedIn, and TikTok – and main marketing platforms – CRM, email marketing software, autoresponder, and so much more. LeadsBridge is also equipped to develop tailor-made integrations based upon your unique business needs.
The LeadsBridge platform is specifically designed for companies that want to streamline their advertising activities by integrating their marketing stack with Facebook & Instagram Ads, Google Ads, LinkedIn Ads, and TikTok Ads.
With 380+ out-of-the-box integrations available, you can easily connect your favorite software with your advertising platforms, seamlessly synchronizing data for your marketing workflows.
With LeadsBridge's integrations, lead data flows from a source into a destination of your choice automatically and in real-time, while always maintaining CCPA and GDPR compliance.
Run a simple Google search, and you will find more than 80 'best' tools to create a marketing plan. The list is endless. But is it possible to implement an inbound marketing plan using a single tool? Plezi is your answer.
You need not be tech-savvy as the tool simplifies the entire procedure. And the most intriguing part? You will have ultimate control over the plan. Moreover, Plezi's powerful, ethical algorithms will aid you in sending prospects appropriate content based on their behavior.
With Plezi's state-of-the-art publication and promotion features, you can see an increase in the number of people who visit your website. Furthermore, Plezi will help you generate more leads by delivering attractive content. By identifying and sending qualified leads to your sales team, Plezi ascertains that each lead represents a feasible opportunity.
Unique feature: Undoubtedly, it's the potential of this tool to simplify the hitherto complex inbound marketing plan and the ability to help you generate more leads. It helps you attract leads by perfecting a behavior-based content strategy and will help you establish an enduring relationship with them.
Social media and website development provide you with endless opportunities to grow your business. But it comes with a flipside. Instagram, Facebook, Twitter, Snapchat, LinkedIn, TikTok- the list is never-ending. The challenging part? Most platforms are audience-exclusive. For instance, you won't find more than 1/3rd of Snapchat users on Instagram.
What does this mean? You have to manage multiple platforms- with each platform having a different audience necessitating a different content policy.
Now, what if you get a single platform to manage content on all these platforms? Sounds like a dream come true?
Create, schedule, post, and manage your social content and ad campaigns across several social networks from a single dashboard with Hootsuite. Not only that, but the smart team management feature of this tool enables everyone in your business to play their role.
Moreover, you can use their customer messaging platform for retailers, combining the power of conversational AI-powered content tools with a human touch to offer exceptional customer services. You can even view and manage all of your customer discussions in one dashboard to give your clients a seamless and customized service.
Unique Feature: Hootsuite will help you dive deep into the performance of your social media campaigns. By going beyond numbers, you can maximize the impact of your social media marketing with real-time statistics and insights across networks.
Regardless of your niche, there is something you always need- forms. Be it for customer support or sales, building a sturdy workflow is your key to growth. What will Zapier do here? If someone fills out your form, you will get an instant notification to act. With real-time notifications and swift responses, you may generate more leads!
Furthermore, you can put all your leads in one place where everyone on your team can see them. When a customer purchases your product, you can add them to your email list to keep them engaged and notify them of something similar in the future!
However, the most important part- you can make workflows specific to your working style. Just begin slowly and progressively enhance your automation. The seamless flexibility that an automation tool provides will make your work easier and unique.
With hundreds of pre-made templates, you can choose the best workflow and customize it the way you want. Zapier supports over 3,000 different integrations, and you can bring anything into your workflow.
Unique feature: A report by Okta Business claims that large companies use 175 apps, and small companies 73, on average. Managing everything on a one-to-one basis is a hard nut to crack. Zapier allows you to connect two or more apps to automate repetitive tasks without involving complex Javascript or ringing up an IT expert!
10. Traqq
As a business owner, time is your most valuable resource. And as we all know, wasted time is unrecoverable.
Traqq is a simple, yet powerful time tracking tool that can help you improve your time management strategy. The time tracking software can handle teams of all sizes and is the perfect choice for those managing remote workers.
The tool works online and offline, allowing you to use it even when you're out of the office, meeting with clients. In addition, it provides detailed visual reports that show clearly how much time you're spending on various tasks.
With Traqq, you can:
better structure your day to save time and boost productivity
determine how much you're making per hour
determine profitable projects/clients
forecast more accurately how much time future projects will take
Unique Feature: Traqq promotes ethical employee monitoring where the screenshots are intentionally blurred to hide sensitive user details. This can help build trust with your remote workforce. Furthermore, it tracks web and app usage, displaying which apps or websites you used while working. This makes it easier to identify and eliminate time wasters.
11. ApiX-Drive
ApiX-Drive this is an online connector, a system that will help you link different services via API and set up data transfer between them. It is a kind of digital glue that brings different products together. The platform allows users to create integrations between different types of services. Among them are CRM, mailing and SMS services, quiz makers, social networks, CMS systems including headless CMS, marketplaces, project managers, payment systems, instant messengers, chatbots, and other products.
To use the connector, there is no need in technical knowledge and skills, you do not have to write any code. In order to integrate two services, it is enough to link their accounts on the ApiX-Drive website and select the parameters for automatic data transfer. Integration setup is carried out in a simple interface with a lot of prompts – on average, this process takes up to 5 minutes.
Unique feature: The free ApiX-Drive plan has several important advantages. So, the platform provides 100 actions for all integrations and allows you to connect any services from the catalog without restrictions.
Wrapping It up
The future is uncertain. A study report by Oberlo suggests that one out of five small businesses finds its way to the graveyard in the first year, and one out of two fails within the initial five years.
If you do not want to sing the funeral song for your business, you should act. By aligning the six tools you have just read with a perfect strategy, you can propel your business forward.
Author Bio:
Dipen Visavadiya is a result-driven SEO Specialist with 7+ years of experience. He has experienced increasing organic traffic from 10K to 100K in just six months. Besides SEO, Dipen is passionate about the use of technology to build professional relationships with people.
Small Business Finance 101
Download our free guide to learn the fundamentals of finance that will help make your small business more efficient and successful.