How to Adapt to Working From Home During the Coronavirus Pandemic
Written by InvoiceBerry Team on April 08, 2020
As more and more people get infected with coronavirus, many companies are requesting that employees transition to working from home. For those new to the concept, remote working may pose quite a few challenges during the initial stage.
Even if you are a focused, disciplined, and organized person, there are many distractions at home that may bring chaos to your productive day.
Try our online invoicing software for free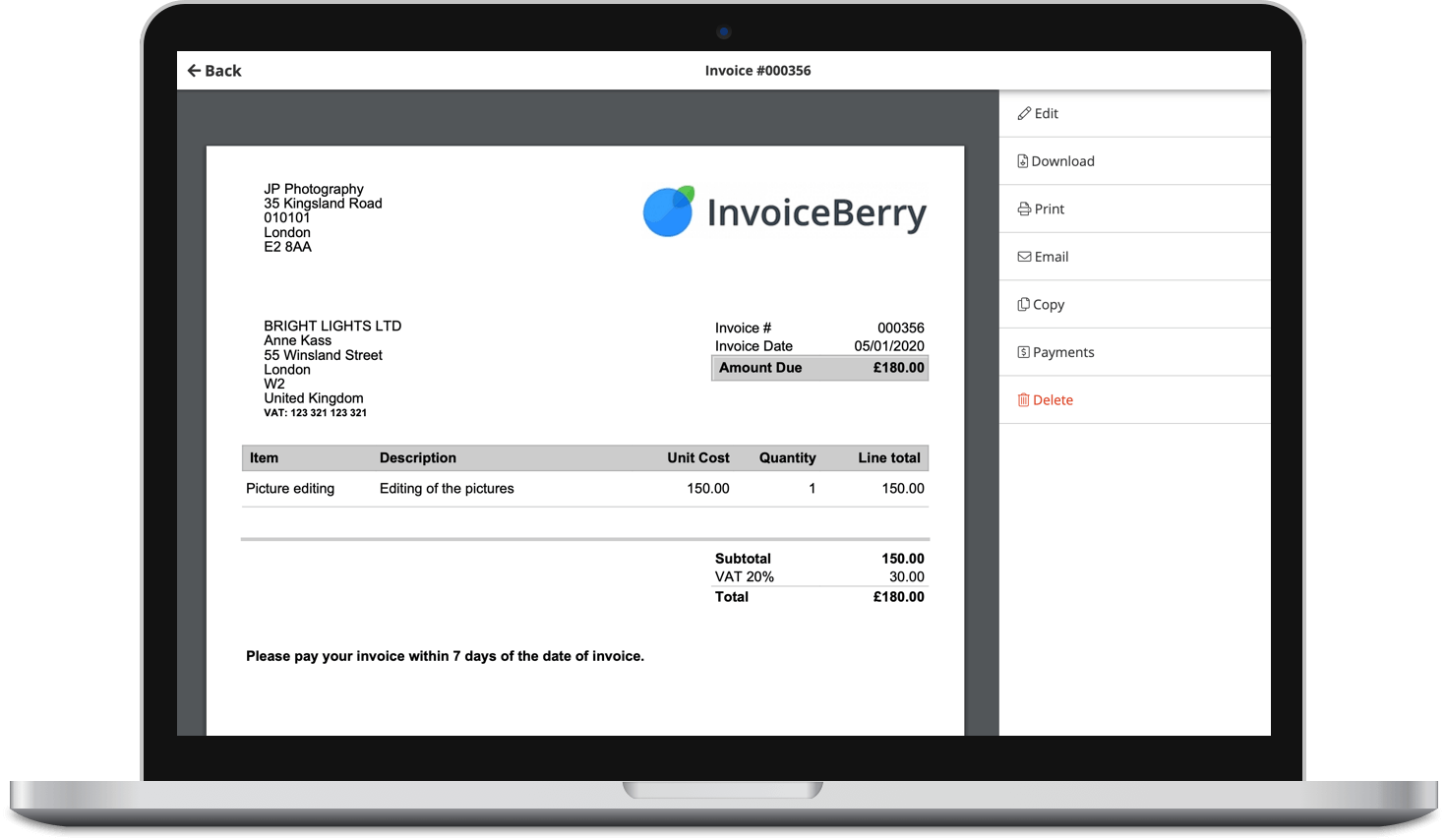 Send professional-looking invoices
Accept online payments with ease
Keep track of who's paid you
Start sending invoices
To help make your transition as smooth and easy as possible, we'll explore some tips to help keep you focused and productive while still being able to enjoy the positive aspects of working from home.
Set up a workspace
It's quite easy to get comfy working at home. After all, you don't have to put on your best suit to start that meeting with the team. However, sitting around on the living room sofa in your pajamas while working on an important company report may not be the best method to improve productivity.
Some people report that their brain immediately switches to vacation mode the moment they slip into their pajamas. To avoid this, put on your office attire if necessary and reserve a quiet place to be used as your office.
It doesn't need to be fancy. A simple desk with a comfortable chair in the living room may do. The most important thing is to keep your home office away from distracting noises (and unproductive Netflix binges).
Stick to a schedule
As much as we tout flexibility, it can be a double-edged sword. People get distracted easily or procrastinate because they have no boss looking over their shoulder. If your productivity starts to suffer the moment you work from home, start making a plan to correct it.
Before any workday, decide what you want to achieve in advance and come up with a schedule to make it happen. Be realistic when setting goals or you'll end up disappointing yourself and feel discouraged.
Avoid distraction
Distraction is the norm while working at home, so learn to anticipate and cope with it. If you find yourself spending too much time on Facebook, Slack, or Twitter, consider blocking access to those sites during work hours. Use a time tracker such as Clockify to keep track of time spent on each task. This way, you'll know where to optimize.
If you have kids, they can be a great source of distraction too. To deal with it, work out a schedule with your spouse so that they can look after the kids while you work. If that's not possible, schedule your work hours while the kids are sleeping.
Take frequent breaks
Find your focus wandering around? Instead of trying to force it back to the task at hand, consider taking a 15-minute break to enjoy a coffee or do some exercises instead. Your body and mind will thank you. Taking frequent breaks will not prolong the task. On the other hand, it improves productivity since your mind will be fresh and strong again after having a short break.
To be successful at remote working, focus on the outcome instead of the process. Research has found that our attention span is in fact very short: 8 seconds for the average American. Compared to the average attention span of 9 seconds for a goldfish, we realize why our minds keep jumping from one thing to another like a monkey moving from one tree's branch to the next.
With such a short attention span, working long hours on end is a recipe for burnout and exhaustion. It's suggested that your productivity will be at its best when you take 17-minute breaks after every 52-minute work session.
Tips For a Productive Day
There are a myriad of ways to enhance productivity throughout your day. Take some of these tips into account if you want to have a productive day.
READ MORE
Set your limits
Your family, friends, and neighbors may not understand that the work you do at home is as important as the work you do in the office. That's why many people reported that they had to deal with people popping in randomly for a chat or asking them to run errands. Such things will kill your productivity.
Fix it by setting your limits and learning to say no when necessary. Be upfront about your schedule and ask people to respect it. This doesn't mean being unhelpful to people. You can still help as much as you can if you plan your schedule smartly so that your work isn't hampered.
For example, if a family member or friend needs your help doing grocery shopping, instead of telling them you have to work, offer to do it after you finish working.
Invest in a Noise-Cancelling Headset
Even if you are a highly-focused person, you can easily get distracted with all the noises at home. While you are working, someone may turn on the TV. Another may start cooking in the kitchen. Especially if you have children and they are also self-isolating at home, avoiding noises is almost impossible.
In fact, working remotely during this time of self-isolation is more challenging than ever because apart from having to deal with our wandering mind, we have to find ways to concentrate with other family members around us all-day. To minimize distraction, consider investing in a high-quality pair of noise-canceling headphones.
This alone gives you two benefits: First, you won't be bothered by nearby noises. Secondly, when family members see that you are with your headphones, they are much less likely to interrupt you, and that includes the children too.
Stay healthy with physical exercises
Sitting for too long is damaging to your long-term health. It can wreck your back, block your blood circulation, increase your risk of heart disease, obesity, and dementia. To lower these risks, consider taking interval breaks as mentioned before to do physical exercises to keep the body active and healthy.
 If you are a full family with children, get your kids to participate so they can develop healthy habits that will continue well into their adulthood. For those who don't have a garden, get creative and come up with fun indoor games that the whole family can compete against one another.
Keeping the mind and body healthy is key to boosting your immune system, which plays an important part in fighting off any intruding virus.
View it as a chance to look inside
Working remotely gives you flexibility and freedom to complete tasks the way you want as long as you maintain productivity. Take this as a chance to master another skill set that may become important in the near future.
While working from home, you may discover certain aspects of your work habits that need improvement. For example, people are more aware of their tendency to procrastinate when working on their own. By mastering the skills for remote working, they also overcome their own weaknesses.
With the above tips, you'll overcome the initial setbacks of working from home and learn to enjoy the experience. Instead of letting the virus outbreak affect work productivity, make the best use of your time and start enjoying the new-found freedom.