Effective Marketing on Social Media: 20 Dos and Don'ts
Written by Angela on January 10, 2022
Everyone's online these days. If you're a business or freelancer, chances are you're already on all the social media platforms, posting up a storm, keeping up with the social Joneses.
And you're totally right to be. Maintaining a memorable online presence not only opens your business up to more customers and opportunities, but also gives you important information on how your business is doing.
Try our online invoicing software for free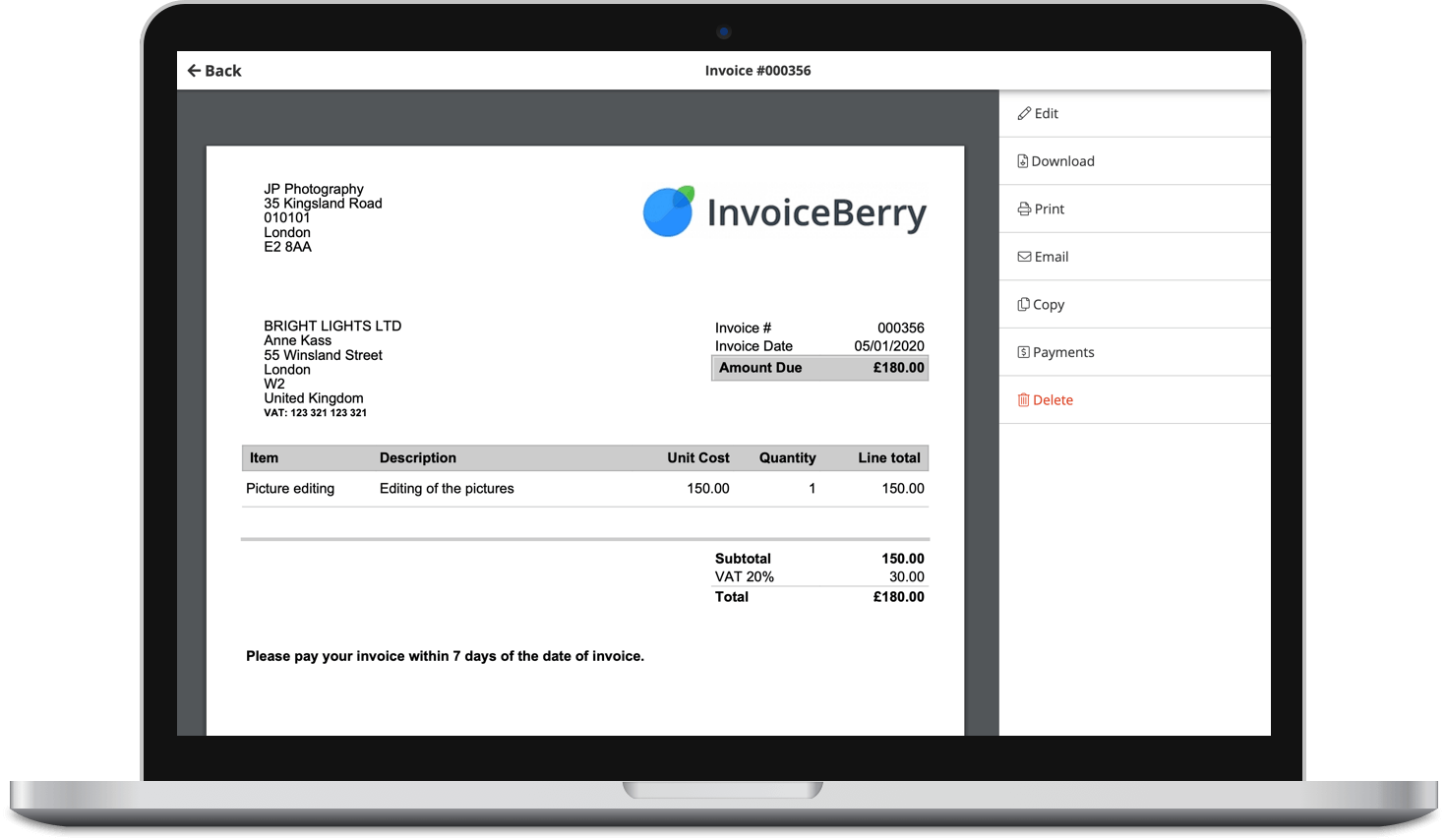 Send professional-looking invoices
Accept online payments with ease
Keep track of who's paid you
Start sending invoices
But it's easy to lose track of what you need to do, or be overwhelmed with keeping up an online presence. Don't burn yourself out doing things that won't help you get ahead. We've got a handy list of do's and don'ts to help you keep your social media game on point.
DO: Complete Your Social Media Accounts
Just like you won't step out of the house without clothes on, you shouldn't leave your social media accounts half-finished. When potential customers land on your account, they should see a complete, thoughtfully-designed page for effective marketing.
Complete all the steps to finishing your profile, make sure you have your business details available, and select quality photos and images for your profile photos and first posts.
Completing your profile also means making sure you get that account visible! Make sure you add links to your social media accounts on your business cards and your website. Always add social media buttons to your blog posts or use a platform that automatically adds them for you, so readers can easily share your posts to their own feeds.
DON'T: Get on Every Platform
Yes, it's important to be where your customers are. But resist the urge to open up accounts on every platform. You'll burn out and possibly give a substandard experience to users of some platforms since you can't focus on providing them good, quality content.
To see which social media platforms work the best for you business, ask yourself if they answer the following questions for you:
Is the platform relevant to your business? Not all platforms cater to the same market or give the same vibe.
Does your target market use the platform?
What can your business do to enhance your customers' experience while on the platform?
Remember that every platform you participate in is extra work for you to maintain and stay on top of. Better allocate that extra time to other important business tasks like putting finances and invoices in order, training your staff, and the like, than put effort into another social network that won't make a big difference yet.
DO: Separate Business from Personal
It might be tempting to just use one account for all your posts. After all, that means it's easier to maintain both, and you've got family and friends already on your personal account.
But you run the risk of alienating either your friends or your customers if you mix both. Your friends might feel your business posts as spam, and your customers will not find your personal posts relevant to them. So, it is beneficial both for you and your audience if you manage Instagram accounts separately.
Even if you're banking on your personality as a brand, it's better for your business to have a specific account of its own. It will be easier to design, plan, and schedule your posts on a calendar if you view your business accounts as separate from your personal life.
DON'T: Remove the Human in Your Business Account
Just because you've separated your business account, doesn't mean you can't be intimate and personal with your audience. Sometimes the best posts can be ones that tug the heart and invite your audience into your personal space–within reason.
Business accounts are great opportunities to do some automation and help manage your workload immensely. There are chatbots who take over answering many repetitive questions and queries, applications who help you post to social media on a scheduled timetable, and ways to automate social media mockups too.
But be wary of becoming too automated that you forget to make deeper connections with your audience.
DO: Tailor Your Posts for Each Platform
Each social media platform has their own flavor when it comes to posts found on their feeds. LinkedIn is great for business and professional niches, Instagram is perfect for visual products and services. And things can even change depending on the industry you're in.
It might be tempting to cross-post one post to all your accounts, but you're losing the opportunity to really make an impact if your posts don't blend well with what your customers are looking for on the platform. If they expect trendy and punchy posts, your long essay might be overlooked. If they are looking for professional, well-researched takes, your memes might be frowned upon rather than welcomed. Reposting someone's Instagram story is a good option to attract good traction to your profile.
Adding photos to your posts will call your reader's attention better than none, but make sure the photos are of good quality and match the tone you are going for in the platform. Posts that also invite users to learn more by going to your business's blog can also be another way to enrich your audience.
DON'T: Follow Trends and Gimmicks Blindly
It's tempting to chase that viral post dream by posting in a trending style or jump on a gimmick that's going wild. It's fun and can definitely net you a few new followers and likes…but make sure that the posts you make are still on brand.
Followers based on your off-brand post most likely won't be as engaged when you go back to your regular programming, so save yourself the headache and focus on posts and interaction that's on-brand.
DO: Interact with Your Audience
It's a social media platform: make it social! When your readers comment on your posts, respond and continue the conversation. When you see other people on your business feed, comment on their posts and strike up a discussion.
This is an extra step, but this personal touch builds camaraderie and community among your followers. Your engaged followers will be more excited to see your posts and that traction will only help your brand's image.
DON'T: Get Too Personal and Complain
While it's great to get personal while interacting with other people on your feed, make sure the interactions you start and continue are positive. Resist complaining, ranting, or encouraging negative talk.
If other people see you complaining about other businesses, troublesome customers, or bad-mouthing other people, this can shed an unpleasant light on you and your business.
Handle negative talk and criticism gracefully and with care. They should be addressed well to prevent further backlash on your business.
Be wary of trends that highlight negative sentiment like this. It may be fun to jump on the bandwagon and get some sympathetic reactions from your audience, but this may come back and haunt you in the future.
DO: Focus on Positive Personal Stories
The recent popularity of quick video on platforms like TikTok and Stories on Instagram and Facebook are great when it comes to bringing a more human feel to your business. Instead of posting complaints and rants, why not share something behind the scenes?
Positive stories of your work and what goes into it will always be welcome to your audience. You can share quick tips on how to use your products, helpful advice on things within your industry, or quick behind the scenes videos that show your quality work.
Take the time to share feedback and testimonials from your customers and clients. This can help with building your social proof as a business and also delight your customers whose words are highlighted on your channels.
DON'T: Get Comfortable and Miss Out on Grammar
While every post or story doesn't have to be a full-on production, make sure you triple-check your posts for grammatical errors and spelling mistakes. Errors like these make your business look sloppy and unprofessional.
You can try third party tools to check your grammar. Reading your post aloud before you hit that publish button will also help you determine if you have the right tone.
While the occasional deliberate tongue-in-cheek grammatical or spelling error may be on-brand for you, make sure you do this within reason.
DO: Post Regularly
We are creatures of habit, to varying degrees. A regular posting schedule will not only help you manage your time, but your audience will slowly grow to expect something from you based on that timetable.
You should also make sure you maximize the possibility of your target audience seeing your post by scheduling around the best times to post. These will vary by platform and by location and market, so you may need to try a few combinations before settling on a specific schedule.
If you're just starting out on a schedule, here's a good rule of thumb:
Facebook – for most days, 9am is a great time to post on Facebook as people are getting ready to work and going online. Weekends are the worst days to post on Facebook as there is less activity on the platform.
Instagram – target 11am to 1pm when posting as engagement levels are generally high during these times. Weekends are still low in terms of traffic and engagement, with Tuesday being the best day to post on the platform.
Twitter – weekdays see the most traffic and interaction on Twitter. You can focus on specific times, such as before work starts (9am), lunch break (12nn), and after work (6-7pm).
LinkedIn – since LinkedIn is targeted towards professionals, time your posts within working hours. Wednesdays and Thursdays are great days to post on the platform.
TikTok – users usually go through their For You pages before work and before going to bed, so timing your videos at 8-9am or 10pm is a good starting point.
YouTube – afternoon hours are the best days to post your content on YouTube as there's a lot of traffic on the site at this time. This primes it for Google to include it in their search index, perfect for the evening watch crowd.
Pinterest – pinning your content on Pinterest during the late hours of the day work best, especially on Fridays and Saturdays.
Regardless of the platform you are on, your target audience's behaviors and location will play a part for your business's best time to be active on social media.
DON'T: Talk Without Listening
Your social media accounts should be a two-way street. While it's an important mouthpiece for your business, you should also be listening on the platforms you're active in.
Listening to the comments on your posts and the general sentiment of your feed can help you stay in tune with your audience and industry. Listening will help you stay on top of possible negative feedback and sentiment about your brand, or to stay up to date on what's happening in your circles.
Invite your audience to share stories with you by engaging them as well on your posts. Ask for their opinions, look for recommendations, and highlight their engagement when you can.
DO: Look for Ways to Help
Your social media accounts are a great opportunity for you to enhance your brand image by supporting your community. Your brand can be instrumental in helping other people and businesses in your community, and even make a bigger impact.
Make your accounts more than just a trumpet for your selling initiatives. Making a difference in your customers' lives with more than your goods or services will make a difference in your brand's image and prospects.
DON'T: Put Your Followers to Work
I'm sure you've seen many giveaway posts and contest gimmicks where brands ask their followers for likes, shares, follows, or other things to get a chance to win something. This is a popular way to gain extra followers and engagement, though don't expect more than a little uptick on your numbers.
When running these marketing programs on your social media accounts, don't ask too much from your followers. It might be tempting to raise the bar and ask more effort from your followers for a freebie, but chances are, they'll just skip over your giveaway or completely ignore some mechanics.
DO: Tag Your Posts Appropriately
Tagging other businesses, locations, and people in your posts can be a good way to spread good will and vibes across your community. Why not share something great with your audience by tagging a location where your post was shot? People and businesses will love the extra mention and may even return the favor someday.
Tags are a great way to surface your content as well, whether you're tagging locations and people or using hashtags. Every chance to get a few more eyeballs on your post will help!
DON'T: Abuse Tags
That being said, don't tag blindly. Tagging people in unrelated posts will only get you some irate individuals who may see it as spam. Additionally, using too many hashtags will also make the post look less genuine, which will affect your brand's image.
Instead, carefully consider the benefits of using particular hashtags for your post. Weigh them carefully and choose only the most appropriate tags for a balance between visibility and sincerity. You can use the right hashtag generator tools and create hashtags as per your campaign.
DO: Set Goals Appropriately
Finally, you should sit down and set some goals for your social media accounts. Having a target will help you determine whether the effort you're doing in keeping up with your social media accounts is aligned towards what you want to achieve.
But remember that social media is more of a long-term game. Don't expect immediate returns or chase after viral posts. Set achievable goals based on what you want out of your marketing efforts and start tracking how you're doing against them.
DON'T: Get Hung Up on Numbers
While it's important to track how your social media activities are doing with some hard numbers, these aren't the only signs of success, nor should they.
Don't bend over backwards trying to reach a specific number. Those 1,000 followers might look great on your account, but if they aren't truly interested in your brand, it won't translate to engagement or sales.
You should track numbers for your own assessment, but remember that many things don't happen overnight. Your business will thank you for a more considered approach and for staying true to your brand values.
Conclusion
Your social media accounts are an important part of your marketing strategy, and of your business. While you won't get immediate results, growing your online presence will pay you back over time with a highly engaged audience who loves your brand and will willingly share your work with their own circles.
An effective social media action plan takes into consideration your audience and adjusts accordingly. Putting "social" into social media makes sure you won't be talking into an empty room.
Small Business Finance 101
Download our free guide to learn the fundamentals of finance that will help make your small business more efficient and successful.