How to Boost Your SME & Freelance Social Media Presence
Written by Bernard on July 13, 2016
Social media has spread beyond the confines of high schools and universities all the way to the corporate boardrooms.
Companies have recently realized that, rather than being just another marketing avenue to increase sales, social media is now a marketing must-have.
Try our online invoicing software for free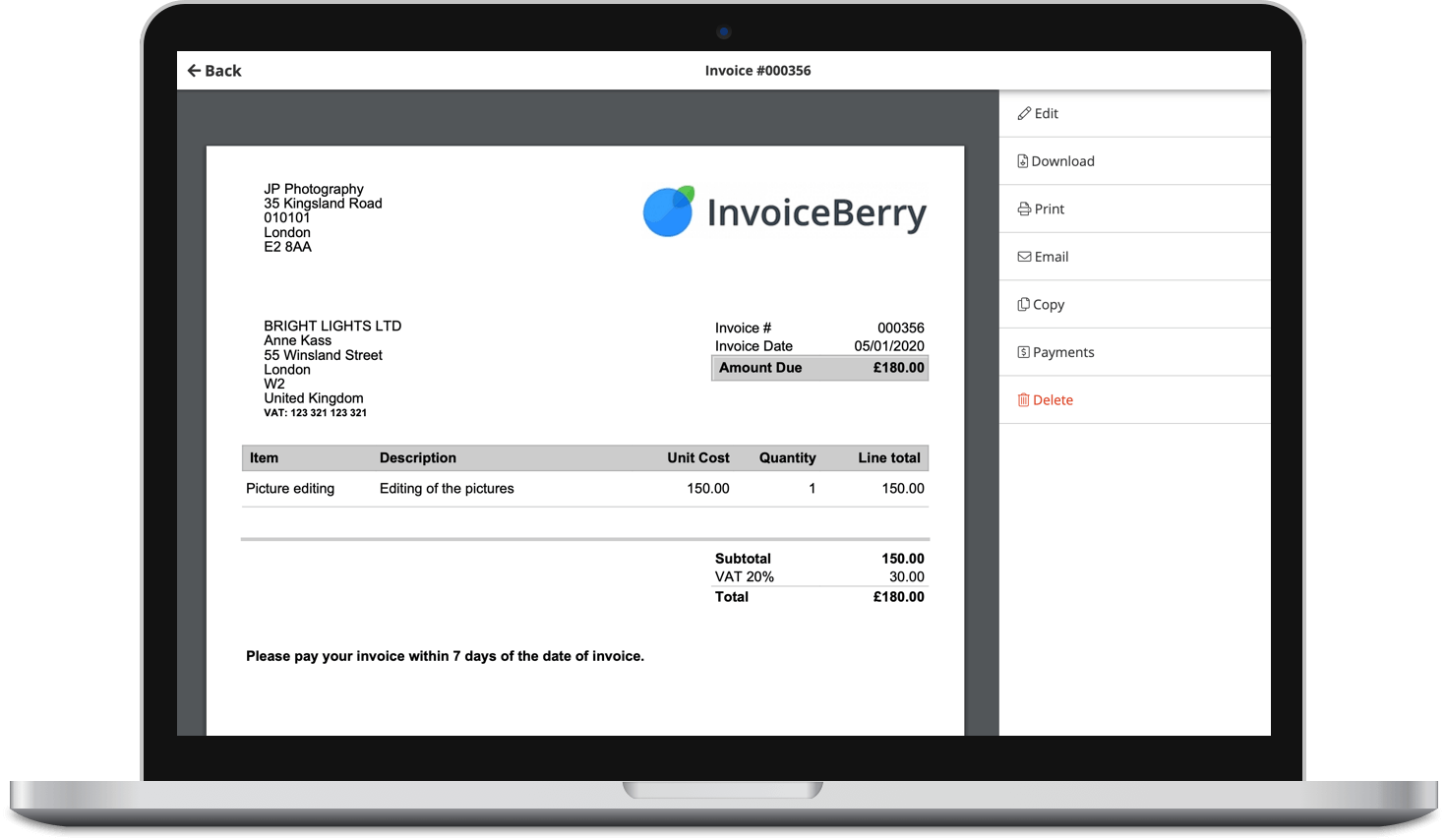 Send professional-looking invoices
Accept online payments with ease
Keep track of who's paid you
Start sending invoices
This can be due to a lot of things, such as the changes in consumer behavior (mostly the growing millennial generation), the growing inclination of the sharing and always-online economy, and the fact that people in general have become more dependent on technology.
If potential customers can't find any information about you online, they probably won't buy your goods or use your services.
What this all means is that your online presence—your social media presence—is crucial for the success of your small business or for your freelancing career.
It's been estimated that 8 out of 10 small and medium businesses utilize social media for their growth, and with a contribution of $5.5 trillion to the US economy and £3.3 trillion to the UK market, this is a huge potential.
Any freelancer or small business needs to have a good, active social media presence in order to be successful in today's competitive market. To help you with your goal, we at InvoiceBerry have put together our best tips and experiences.
In this guide, we'll answer the following questions:
What are your goals and who are you hoping to reach?
What will your content be about?
What platforms will be the best for your business?
What are the best social media management tools?
What are the benefits of a social media manager and should you get one?
How can you successfully engage your present and potential customers?
So, let's begin at the beginning.
What are you goals and who are you trying to reach?
When people recite the old saying, "The journey of a thousand miles begins with a single step," they focus on the idea that starting small is the best way to accomplish your big goal.
But here I'd like to focus on the hidden point: in order to start your journey, you need to actually know where you're going.
We can state the same for your social media presence.
Before you just go up there and start rage-tweeting pictures of cats standing on top of pepperoni pizzas, you need to answer some important questions first.
First of all, what do you want to achieve from your social media presence?
Do you want to drive traffic to your website, or do you want to promote your products or services to increase sales? The answer to this question can lead to different strategies for your social media presence.
Your goals should be specific, measurable, attainable, relevant and timely—the SMART method developed by Paul J. Meyer:
The second question is: what audience are you trying to reach?
This should already be a part of your well-organized and thorough business plan, but you'll need to have an idea of your customers' likely:
age
location
interests and tastes
income
education level
and other information. Knowing this will determine what kind of content you'll be creating on your social media platform of choice.
For example, at InvoiceBerry, we focus on creating powerful, simple and efficient online invoicing software for small businesses and freelancers.
Although our industry is business-related and we do use LinkedIn (the social media platform for the business crowd), we focus a lot of attention on Facebook and Twitter, as our customers enjoy more everyday topics.
If you want to sell clothes for kittens, you should probably go for Pinterest and Instagram, not just for the fact that they're picture-heavy platforms, but that they have the right audience.
Pinterest has 50 and older women and Instagram is also largely used by women, though younger than Pinterest's.
You should have a good answer to these above questions before you even begin building up your social media presence.
What will your content be about?
You should have a good policy or overarching guide over what kind of content you'll be releasing through your chosen or various platforms.
If you're in the fashion or trend industry, you'll probably be doing a lot of visual content for younger people, so Instagram and Snapchat will be your best bet.
For the more general, you should be on Facebook (in fact, all SMEs and freelancers should be on Facebook, regardless) and Twitter, and if you are more business-oriented, LinkedIn.
We'll go over these separate platforms' uses later on.
Beyond that, you should decide what categories of posts you will create. Depending on your industry, you should decide if what you're releasing will be mostly posts and tweets, articles for your blog, pictures, memes, videos, infographics, etc.
There are many options to choose from, but deciding what type of content you'll post is very important.
Another consideration is deciding how often you'll post. Building up your social media presence can be a very time-intensive task.
You don't want to make the mistake of newbie freelancers and small businesses who start their social media lives with a storm of content only to fizzle out after a few weeks.
You should keep a regular schedule, or decide to do something like:
| | |
| --- | --- |
| Day of the week | Activity |
| Monday | post a picture and/or gif |
| Tuesday | publish your blog post |
| Wednesday | post your infographics |
| Thursday | make picture-quotes from your blog and another established figure in your industry |
| Friday | review the week; create picture/gif/meme for the weekend |
Your schedule can be more involved in that, but it keeps you relevant and organized, so that you're not burning out in your first month online.
What are the best platforms to boost my business?
As we mentioned above, different platforms are used for different outreach to your specific audience.
Firstly, you should determine whether you're a B2B or B2C business and choose your platform based on that.
B2C businesses do advertising to general audiences, and they tend to go on Facebook, Twitter and Instagram. In contrast, B2Bs will focus on LinkedIn as they connect to other businesses.
You wouldn't have too much personal information on LinkedIn, whereas the Facebook crowd generally appreciates content with personality.
Secondly, if you have more than one type of audience, or you enjoy the idea of a multi-platform marketing strategy, you will use more social media sites.
Nonetheless, you should understand the types of people who generally use each platform and adapt your content for them.
For example, if you sell trendy skateboards or skater culture clothing, LinkedIn probably shouldn't be your primary platform. Similarly, if you sell cigars or are a classic car magazine, you shouldn't focus too much on Pinterest, as they don't have much older men.
Let's look at some of the biggest platforms, what their general audiences are and how you can maximize your results for each.
Facebook – 1.65 billion monthly users
The #1 social media platform, Facebook is a must-have for any small business or freelancer hoping to build up their social media presence.
According to the Pew Research Center data for 2015, a full 72% of online Americans use Facebook, which is 62% of the entire adult population.
These are largely women (77% of online adults), young people (82% of online 18-29 year olds) and middle generations (79% of online 30-49 year olds).  The platform has the most engaged users, where 70% use Facebook daily and a whopping 43% use it many times per day.
This means that if your business targets women between 18 – 50, or the general population in that age range, Facebook will offer you the best opportunity to reach them.
It is a great platform for engaging and connecting with clients and create new and stronger relationships. In fact, many users will automatically go to Facebook to check a company's profile and see the reviews.
Its like and share features are powerful marketing tools for measuring the success of your campaigns and projects, as well as being a great tool for creating buzz around your products or services.
The platform offers a great (an inexpensive) advertising tool that allows you to target specific users in the site.
However, as I said before, you should be using the site regardless, seeing as it has such a large following and dominates the online world.
Not sure how to use the cloud? Want to know the best strategies for using it to your advantage? Check out our
Complete Guide to the Cloud
now.
Twitter – 320 million monthly users
This rapid-fire social platform is popular with politicians, celebrities and famous business people for its ability to reach the masses with relative ease.
It has a limit of 140 characters in messages known as tweets.
While it is much smaller in regards to the share of the social media market—23% of online adults as measured by Pew and only 30% of online users under 50—the site is still quite popular for its wide reach.
Most serious businesspeople and politicians use it—and are quoted by the media—to send quick messages. And, of course, celebrities use it to get into trouble.
38% of Twitter users are on the site daily, and that number has remained steady for a while.
However, it is important to remember that Twitter has a lot of passive viewers and a statistically small number of active users, so the 1% rule definitely applies. If you remember, the rule states that only 1% of social media (here Twitter) users create content, 9% edit and adapt that content, and the other 90% simply lurk (view and browse).
It's good to take this rule for your Twitter usage.  You don't need to constantly create new content; in fact, most of your Twitter activity should be retweeting, quoting, and commenting on other content.
The purpose is to engage your customers and followers, and to show them that your Twitter handle is more than just pure marketing.
In fact, people like to follow both personal and business profiles, so consider having both.
LinkedIn – 433 million monthly users
According to Pew, LinkedIn draws in 25% of online adult users, which is 22% of the entire adult population in the US.
The highest proportion of the site's users are those with more than $75,000 in annual salary (41%), have higher education (46% of all users), and are between 30 – 49 (32% of all users).
For this reason, LinkedIn is seen as the business Facebook, and the platform definitely supports that idea. Each profile on the site reads like a resume/CV where your employment history, education, skills and relevant business recommendations are listed.
Many small businesses use it as a way of establishing a business presence, although, as we previously mentioned, the site is more geared towards other professionals rather than customers.
This is a good site for creating your company's business reputation, participate in discussions and forums, and even gain new ideas or connections.
For the most part, if you're a B2C, either LinkedIn should not be your primary focus—or one at all—or it's great as a background platform to help you with your business networking.
Pinterest – 100 million monthly users
One of the top visual content sharing platforms, Pinterest is still dominated by women (44% of online users, compared to 16% for men).
They generally skew towards the under-50 crowd at 37% compared with 22% of those above 50. 27% of its users visit the site daily.
Most Pinterest users have an annual salary of $30,000 to $75,000. They generally "pin" content gleaned from around the web and share it with other users. Pinterest has individual profiles but also supports boards for small businesses.
Pinterest, as a visual content platform, is great for the sharing culture, and it can help create wonderful buzz for your product or service. You can use it in order to build brand awareness and utilize the platform to drive traffic to your website.
Instagram – 400 million monthly users
Pew found that 28% of online adults use Instagram, and it is most popular with 18 – 29 year olds (55% of all online adults), African Americans (47%) and Hispanics (38%).
Similar to Pinterest, Instagram's users are more likely to be women (31%) than men (24%).
The site is visited daily by 59% of its users, and 35% visit it many times per day.
The online photo-sharing platform is most popular for its filters that can be shared through Facebook, Twitter, and other photo sites.
It is a site that has always been more popular with young, trendy users who are into fashion, music, and other popular culture aspects.
For small businesses and freelancers, you can post photo content and make them compelling with links to your web site. There is also a lot of room in the comment section, so you can put a link there as well as any further descriptions.
The world has already shifted to social media—now we're shifting to visual social media, and any business hoping to have an impactful presence needs to start taking pictures.
Snapchat – 100 million monthly users
A relatively young up-and-comer, Snapchat's thing is a bit confusing for some.
Essentially, it's a mobile photo-messaging app. Users can take photos and make short videos that are viewable to their recipients for about 10 seconds. After that, it disappears with no chance of coming back.
It has recently expanded its features with live text, chat and video calls between contacts. It's most popularly known as the platform that's pulling teenagers away from Facebook.
This is perhaps due to the fact that adults have not warmed up to the platform much, or to the fast-paced, near-secret spy-style model of the service, or to the personalized manner of it all.
Regardless, if you want to market to the younger crowd with fun content, Snapchat is a good bet, as it's also the fastest growing social network for millennials in the US.
What sets Snapchat apart is that it's actually more of a messaging app than a social media platform. You shouldn't think of your customers as fans—rather, they're contacts. This makes it much less public than Facebook.
There is, however, a public tool called Stories, which allows you to message your audience all at the same time. In line with the service's thing, your content will disappear after 24 hours.
This is great for a lively audience and teasing important events, but you should consider whether you have the willingness and manpower to take up such an activity.
What are the best social media management tools?
Great—so you've really thought about it and have now chosen your platform(s).
So now, how do you go about doing it? If you're doing one platform, it can take a bit of your time. And if you have 2 or more platforms, you'll have to dedicate much more time—anywhere from 6 to 21 hours a week.
So how can you do that and still run a successful business?
One option is to use a social media management tool. These offer you the ability to post to all your platforms, track comments and mentions, and can measure your post and campaign results through their dashboard.
They can automatically send tweets and posts that you've scheduled, or sync them on Twitter and Facebook when you've added new content to your site.
So which are the best ones to use? Let's take a look at the top 10.
The most popular social media management tool, this lets you cover all your social networks through a convenient dashboard.  It lets you track conversations and campaign results with many amazing features.
Free version:   Yes             Trial version:   30 days Pro            Monthly:   $9.99, billed annually   
This service lets you schedule content and is good for setting a consistent social media schedule without worrying about updating all the time. It also has analytics about user engagement and the reach of your posts.
Free version:   Yes             Trial version:   14 days Team        Monthly:   $10 (individual) – $399 (Large Teams)
This tool allows you to monitor any mentions of your product or competitors and is available in 42 languages in real-time. It allows you to analyze and share statistics reports and connect to Twitter, Facebook and Buffer.
Free version:   Yes             Trial version:   Yes, unstated        Monthly:   $9.99, billed annually     
Similar to Mention, this service lets you monitor conversations about your brand, analyze data, and source, manage, and curate engaging content for your fanbase.
Free version:   Unclear    Trial version:   Unclear                    Monthly:   Unclear (need to request pricing)    
This tool provides many free and paid productivity enhancements for your social media platforms and even your blog. There are many Twitter functions, such as auto-follow, DM cleanup, auto-DM features and more.
Free version:   Yes             Trial version:   7 days Pro              Monthly:   $13.94 – $35.94
This service analyzes your and your competitors' accounts across various social media platforms, although it is most useful and feature-filled for Facebook.
Free version:   Yes             Trial version:   14 days full             Monthly:   $49.90-$349.90 Analytics, $9.90-$199.90 Social Monitoring
Specifically geared towards Twitter, this service lets you manage your Twitter feeds with wonderfully powerful filters to only get the info you want and need. It also allows for scheduled tweets and notifications.
Free version:   Yes             Trial version:   Free                           Monthly:   Free 
Labeled as a predictive analytic marketing solution, this tool lets you watch real-time conversations on your platforms to predict optimal times to publish content and get the most attention from your target audiences.
Free version:   Unclear    Trial version:   Unclear                    Monthly:   $99 (probably, request for pricing)    
If you're limited by the 140 characters, this tool lets you attach videos, photos, and media experience to your tweets. Four cards are available: summary, summary with image, app, and player (can include video/audio/media).
Free version:   Yes             Trial version:   No                             Monthly:    free except for Lead Generation Cards
Geared towards B2B marketing, this platform focuses on managing content and analytics in order to measure lead generation with a whole host of other features. It can integrate with Salesforce, Marketo and CRM.
Free version:   No             Trial version:   30 days                    Monthly:   $400 (Basic +) – $2200 (Enterprise)
Should I get a Social Media Manager?
There are times, however, even with the help of these awesome social media management tools listed above, that you are still overwhelmed with your social media.
It could be that you are not that familiar with it, you have no taste for it, or you prefer to focus on other areas of your business.
In that situation, you should consider appointing someone who will be a dedicated Social Media Manager. This is especially true if:
social media is eating into the time you've allocated for other business activities
the entire process has become a burden
it's distracting you from your personal life
In these times, an SMM will assist you in optimizing your social media presence while allowing you to focus on expanding your business.
Essentially, this person should be well-versed in online culture and technology. He or she should definitely have an already established social media presence (otherwise, how can they improve yours?) which will count as their "experience."
The person should also be good with people, have wonderful writing and listening skills, and optimally a strong background in marketing and customer service.
The person should take up all the responsibilities of engaging with your customers on your chosen platforms, quickly and efficiently responding to their comments and criticisms.
---
You should get a Social Media Manager if it's taking too much of your time, it's become a dull burden, or it's distracting you from your personal life.
---
He or she should update your posts with relevant and compelling blogs, images or tweets and collect data to see which drives more traffic or has the greatest engagement.
The SMM must also be creative and come up with interesting and engaging campaigns to boost your social media presence, such as user-submitted photo or video competitions, discounts (think Snapchat's direct communication), funny, entertaining or witty responses, and a whole host of other things.
The SMM should be a full-time worker (the reason why you're hiring the person is because it takes a lot of time), but can work part-time if you're unsure.
The person should have a measurable effect on your social media and web site traffic, so you can check these things after a few months and decide if full-time will be the best. However, you may decide to do this within the first few weeks.
If creating content (such as blog posts) is one of the responsibilities, it is strongly recommended to have someone full time.
How can I successfully engage my customers?
The other points about engagement mentioned above should not be ignored. It's been estimated that customers complain a total of 879 million times on various social media platforms, but only 1 out of 8 messages to companies are answered within 72 hours.
The point of your social media presence is to engage with your customers, and that should be the prime directive of your social media strategy.
It is worth repeating that you should not be creating content about yourself or your small business—that's a bad strategy. You should be creating content for your customers, what's interesting to them.
Pure, traditional marketing no longer works. Instead, you are building a personality (small business or freelance) which is real, personable, interesting, and engaging.
Customers want engagement, and you'll need to interact with them. Those businesses and freelancers that only tweet their marketing things, or only discuss their own products or services on Facebook are usually ignored.
You want to become a trusted, perhaps friendly leader, an authority figure, in your field. You want to be seen as responsive, attentive, and adaptive.
This also means that you'll have to ask your customers how they feel about a certain product, idea, serve, or industry trend. You'll create conversations, discussions, polite arguments—passionate arguments—which all are great for engagement.
Here it's important to follow Pareto's 80/20 rule for social media platforms: 80% of all the activity you are involved in should be retweets, quotes, comments and other participation, while only 20% should be original content.
That's how you build a personality in your social media presence, by not just having your profile be seen as a marketing stunt, but a real, interesting person/personality who happens to also have a product or service which is actually compelling and useful.
Doing this, you'll end up not only increasing that all-important brand awareness, but also creating the holy grail of long-term brand loyalty.
To sum up:
Social media is an imperative for any small business or freelancer who wants to increase customer loyalty, brand awareness, and industry reputation. It is important to engage your customers with content that is useful for them, not content that just promotes or markets your products or services.
To create or improve your presence on your chosen social media platforms, remember to:
create goals by using the SMART method and define your audience by researching their age, income, education, and interests
decide on your content by determining whether you'll do blogs, tweets, photos, or a combination of all and setting a good and steady pace for your updates and social media interactions
research the various social media platforms (by reading the platform section) and try to adapt and your content to each platform's probable audience
choose the best online social media management tools from our recommended list to help you take control of your social media presence and make it easy for yourself
consider appointing someone as a Social Media Manager to manage your social media presence and take over your updates, interactions, and make compelling competitions or promotions
create lasting connections with your customers by responding to their questions, comments and criticism, as well as engaging them in direct communication and larger discussions
There are only some of the most important tips to boosting your social media presence online. If you follow these ones, you'll soon find yourself building a reputable presence online with many dedicated followers—which all goes toward an increase in your business.
Small Business Finance 101
Download our free guide to learn the fundamentals of finance that will help make your small business more efficient and successful.