56 Top iPhone Apps for Small Business Owners
Written by Evelina (InvoiceBerry.com) on May 02, 2016
When running a small business, time is valuable and often a difficult commodity to come by. From managing projects, calculating payroll and taxes, to video conferencing with clients and representatives, running a small business is a time-consuming undertaking.
Fortunately, as they say, there's an app for that.
Try our online invoicing software for free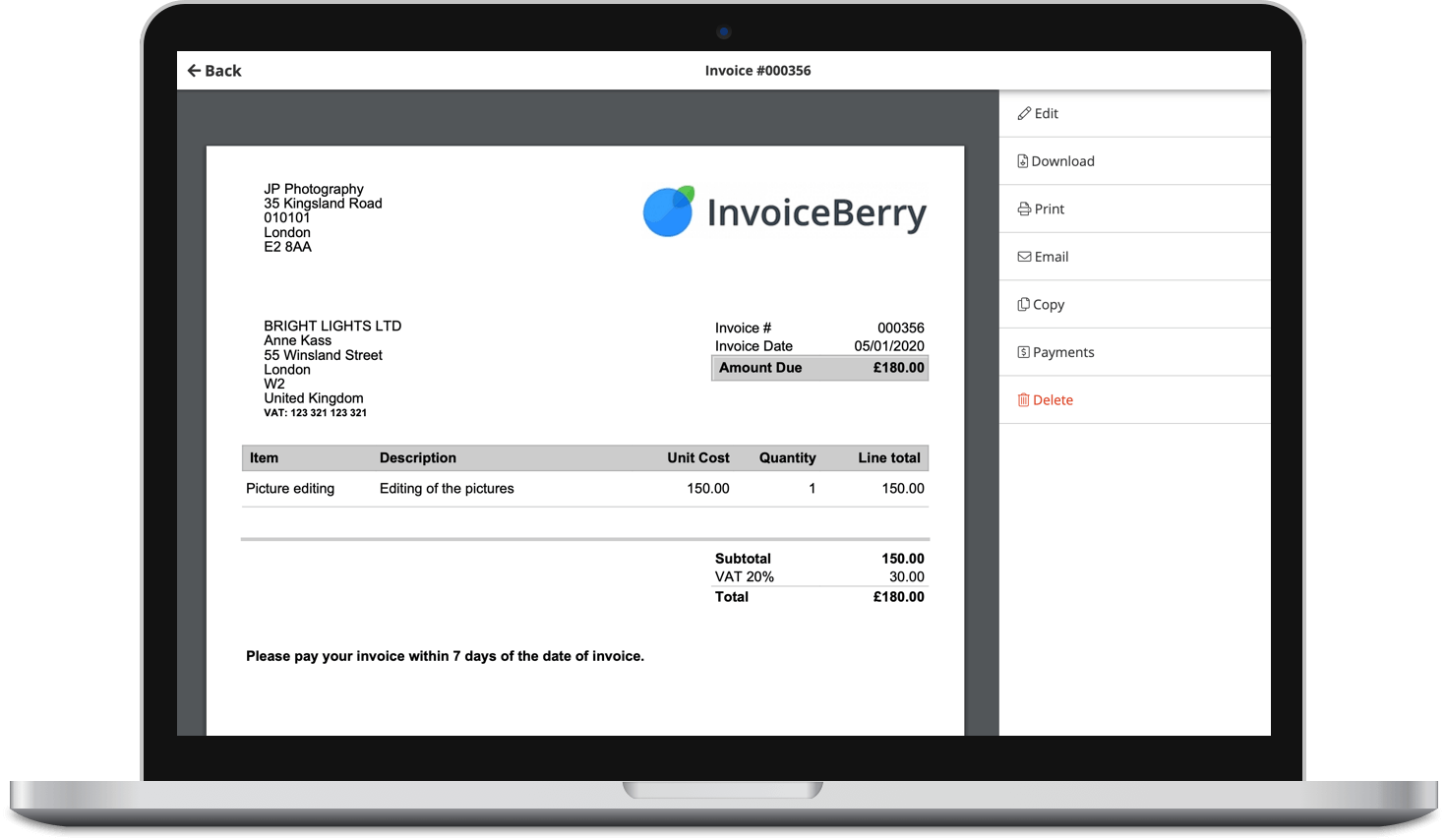 Send professional-looking invoices
Accept online payments with ease
Keep track of who's paid you
Start sending invoices
Let's face it, when running a small business, mobile apps have become more than handy, they are essential to today's many business owners.
Here are several of our favourite small-business-friendly apps available today.
Communication
Communication is essential to any good business transaction, from client emails to video conferencing with suppliers. Here are a several effective tools to help organise and streamline some of those communication issues.
1. Addapt is a contact management app that allows your social media contacts to maintain themselves through posts and notifications.
2. Cloud Magic manages up to five email accounts in one easy to use app.
3. Another option for organising multiple email accounts is Pushover. With this app you can consolidate all your email account into one simple mailbox.
Newsletters, surveys, bulk emails, and customer acquisition are instrumental in running a business.
4. With MailChimp build mailing lists, analyse data and construct custom campaigns that make email marketing a breeze.
5. Zapier consolidates your email marketing campaigns from multiple sources into one place.
Video conferencing has never been easier and there are many apps for that.
6. Fuze hosts meetings across many devices and operating systems.
7. Skype is one of the most recognisable systems out there and is both easy to use and reliable.
8. Viber is free group text, calling and video conferencing app.
9. Call Recorder record your business calls for training or further reference.
Social Media and Group Projects
10. LinkedIn is a professional social media site that connects working professionals and businesses.
11. Facebook Pages Manager allows you to update your Facebook page as well as maximize your tools for developing your online brand.
12. Salesforce consolidates your entire sales force and marketing campaign into one convenient app.
13. Wunderlist allows you to create project lists that can be shared with groups across devices.
14. Basecamp organizes all aspects of your project including collaborators, files and check-lists.
15. Trello allows you to assign, organize and rearrange project lists as needed.
Documents
Having your paperwork in order and readily available is another key factor to running a successful business. With these apps you will have your forms, contracts, contacts, and notes at your fingertips.
16. CamCard is a very handy app that allows business cards to be scanned then stored into your address book.
17. FullContact card reader: Scan business cards and sync with your contacts in Evernote.
18. With the Adobe Acrobat Reader you can read, highlight, import, and export on your iPhone as easily as on a computer.
19. PDF Expert 5 is easy to use to import, export and edit PDFs on your mobile device.
20. With Genius Scan scan documents on the go with your iPhone.
21. Evernote is a note taking system that allows for notes to be synced across mobile and desktop devices.
22. Share documents remotely with colleagues through Dropbox.
23. Manage your computer Microsoft office files remotely with Polaris Office.
24. With Docs To Goview, edit, and create word or excel files.
25. Scan and save documents on the go with Scanner Pro 7.
26. Take notes, write essays, make lists, save images and annotate documents in one location with Notability.
27. Mind Node is a note taking app that organizes your notes into a "mind map" of your jottings.
28. With Dragon Dictation watch as built-in transcription technology turns your voice into written word.
29. iSpreadsheet Free allows to create, edit and manage your mobile office spreadsheets.
Travel
Have a business trip coming up? These apps can help.
30. Search across hundreds of travel sites through Kayak Pro.
31. Flight Track Pro gives up to date, real-time information on your flights.
32. With Trip It consolidate all your travel information into one easy to access itinerary with links through to any pertinent website and relevant contact information.
33. Gate Guru provides up to the minute gate information on your flight.
Money Management
Money management is one of the trickiest aspects of running a business. Payroll, taxes, overhead expenses, and accounts receivable have often been pushed to the back corner office.
Fortunately that no longer has to be the case. With these apps small business owners are able to get real-time reports on their financials at any given time. Keeping track of receipts for expense reports and work mileage is an annoying necessity.
34. With MileIQ your mileage for business trips is automatically tracked, calculated and kept in an IRS compatible log.
35. BizXpense Tracker is an expense tracker that compiles the reports into a single easy to read PDF.
36. Shoe Boxed is a receipt and mileage tracker app.
37. Percentage Calculator is a specialised app that takes the headache out of complex percentage calculations.
38. Tydlig is a sophisticated calculator that can tackle complex equations and saves the data.
Accepting payments by credit card is not only preferable to some businesses, to many it's essential.
39. Square is a small portable credit card machine that make these transactions easy.
40. Dwolla is another safe way to request and pay money from any person in the United States.
Payroll is the most difficult part of any employer's job.
41. With SurePayroll never miss running payroll again and do it from your phone.
Time Management
Time management applies to so much more than punch cards. With these time management apps take the guesswork out of your schedule, and stay on track with your goals. Keep track of your own productivity as well as your employees.
42. Beluga Shared Tasks creates to-do lists and sharing groups around projects.
43. iPunchclock tracks work efficiency through this location aware tracking app.
44. Toggl is a useful time tracker that exports billable time into colourful spreadsheets or graphs.
45. Eternity Time Log tracks time and billable hours, adjust logs and track multiple projects in one app.
46. Clear is easy to use and a fun time management app as it is gestures based. Set reminders for yourself, and organise your tasks in daily lists.
47. Omni Focus is a mobile task management system.
48. Hubstaff is a time tracking app with location, project, and productivity tracking.
Just plain useful
Every business is unique in its set of needs, and every app is unique in how it responds to those needs. Here are a few special apps that meet those kinds of needs.
49. Business Plan is an easy to use app that helps build a successful small business model.
Away from the office but need access to your computer?
50. Splashtop Business can open, run and edit files on your computer from your phone, all within tight security parameters.
51. Maximise your Google Analytics with Analytics Pro2.
52. SEO Automatic is a useful URL checker.
53. WordPress allows you to anage your website wherever you go. Create and edit posts and pages or upload media.
54. Printer Share can print from almost any printer from your phone.
Get more out of your cell phone.
55. Use Launch Center Pro "speed dial" system to launch complex operations on your phone.
56. Onavo Will expand your mobile data.
Do you conduct International Business?
57. Text Grabber + Translator is essential to any business needing quick translation services. Take a picture of the document and hear it read aloud or translated into any of 40 languages.
These are just some of the great iPhone apps out there for small business owners. If you can think of any more, let us know in the comments below!