Blockchain Technology Applications for SME [Expert Roundup]
Written by Mindaugas on September 17, 2018
Inception of new technologies carry the ability to disrupt ordinary business practices around the globe. Blockchain technology applications have only recently come to light, but are becoming more relevant and its potential only continues to grow.
Advent of novel tech brings forth uncertainty – people are afraid of the things they don't understand. It's can be hard to embrace radical development such as blockchain technology while only having a tenuous grasp of it all.
Try our online invoicing software for free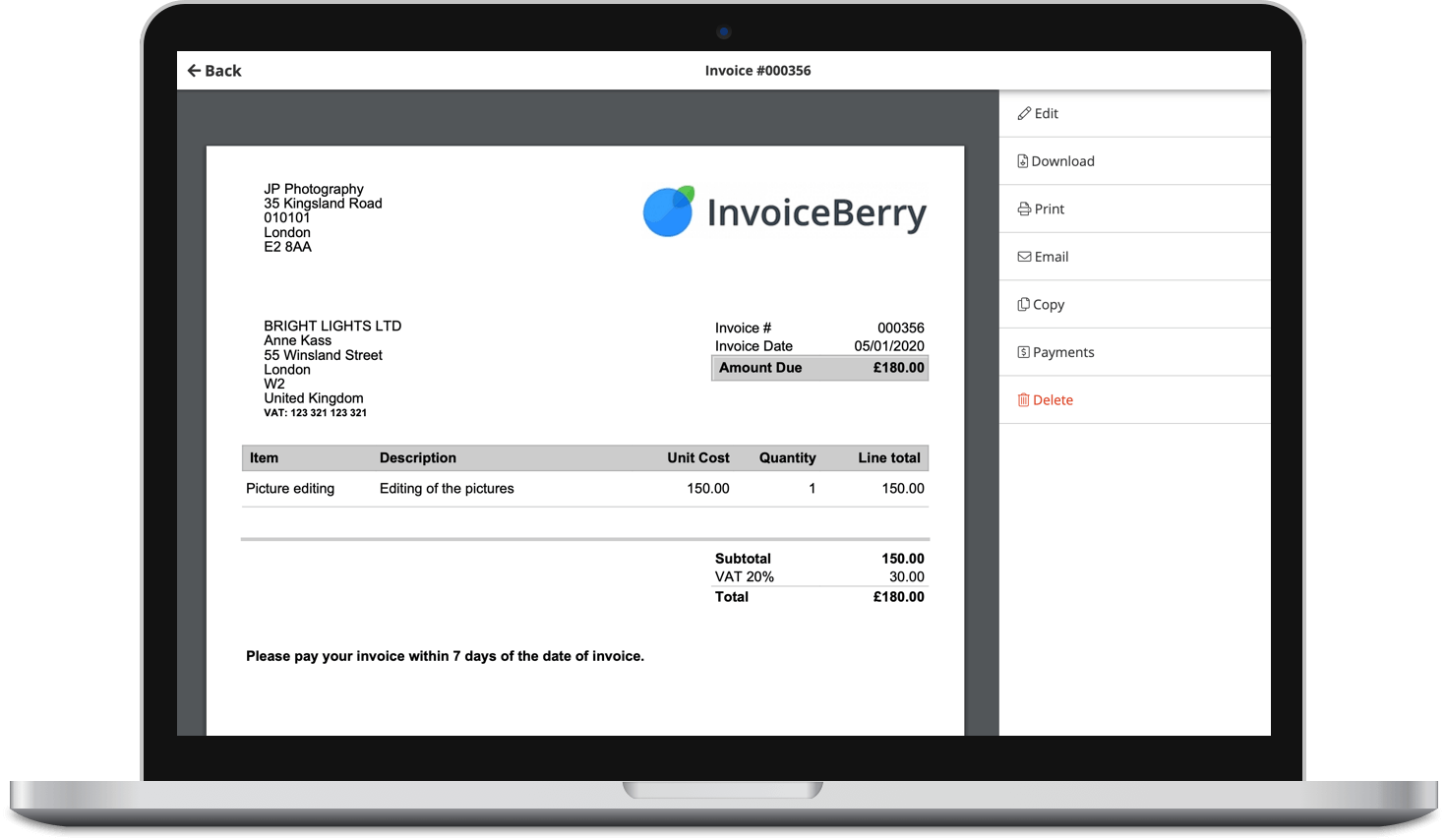 Send professional-looking invoices
Accept online payments with ease
Keep track of who's paid you
Start sending invoices
We have amassed expert knowledge which will help dissect the intricacies of blockchain technology applications. Continue reading to see how this revolutionary new trend can positively impact your SME and what implications it will have for the future.
---

Yael Tamar, CMO of iOlite
iolite.io | 
 yaeltamar
---
There are many ways in which businesses can already use blockchain and they depend on the industry. In the real estate industry, there are marketplaces for renting or selling properties on blockchain-based P2P marketplaces. In insurance, there are blockchain-based applications to manage claims; in IoT, you can use blockchain-based security applications; in logistics, companies can tap into a blockchain-based platforms that monitor and track freight movement; food industry companies, such as distributors, retailers, producers, and regulators can use IBM's Food Trust network to assure food safety.
Small businesses can get ahead, innovate and build an edge with blockchain transformation by using blockchain-based services as well as creating their own apps on top of blockchain – decentralized apps, or DApps. Finally, businesses can already use smart contracts to regulate and govern relationships and agreements with other entities.
---

Mustansar Iqbal, Blockchain Development at Autoblock
theautoblock.com | 
 mustansariqbal
---
One of the biggest ways in which blockchain technology is going to revolutionize SMEs is its ability to develop smart contracts. Smart contracts are almost similar to a contract that takes place in the physical world, except that it is digital and is a software program that self-executes complex instructions inside a blockchain.
Thanks to smart contracts, remote and autonomous consensus between two parties can be done through a single click. All in all, blockchain is self-reliant infrastructures that can help SMEs grow beyond their wildest imagination.
As a decentralized system, there is no need to pay intermediaries and both the enterprise and the consumer save a lot of money. Plus, the fact that blockchains are immutable makes it a lot more secure than traditional systems.
Blockchain even offers a solution to combat digital identity theft issues. Creators of intellectual property don't have to worry about their work being stolen anymore. What's more, blockchain can also help create a better sharing economy.
A platform can be formed and controlled by a group of individuals who aim to resolve a common problem. All revenues for their services can be divided among the workforce and the decision-making authority.
A blockchain based system is trustworthy and has a lot of customizable functionality that will revolutionize the way SMEs do business and satisfy customers.
---

Ruslan Tugushev, CEO at Tugush Blockchain Capital
tugush.com | 
 TugushBlockchainBank
---
Cryptocurrency can be used as a means of payment from individuals. Such payments are easily reflected in the cash register, and they do not require additional costs.
In addition, you can use the blockchain to start your project or raise additional funding. Tokenization through ICO has already proved to be an extremely effective tool to procure necessary capital.
Another way to use cryptocurrencies in business – payments between legal entities. Companies can get the most benefit and even increase profitability by increasing the speed of transactions, which is especially important in international transfers. Traditional bank transfer to another country usually goes from several working days to a week. Cryptocurrency payments take about ten to fifteen minutes and can be made at any time and without binding to the bank.
However, it is necessary to pay attention that the legislative base of some countries does not allow to use cryptocurrency for small business.
---

Aviv Lichtigstein, Founder of 101Blockchains
101blockchains.com | 
 @101blockchains
---
The blockchain is currently changing the whole market landscape affecting every player in the market. This also includes small and medium enterprises(SME's). Generally, SME's take more time to adopt new technologies when compared to the big players. Blockchain does pose the same fate. However, the impact of blockchain on SME's just cannot be ignored.
To the uninitiated, blockchain will open new venues for SME's. Now, they can improve their money payments and transfers. It will be more secure. Not only that blockchain will remove the need for middleman saving a lot of resources for the business.
Financial transactions can also be automated entirely. SME's can also use the blockchain to improve the security of their data and critical processes. As blockchain is altogether decentralized, it becomes hard for the hackers to get into the system.
SME's can improve their supply chain management with the use of blockchain. They will not only lead to the removal of middle-man but also automation. Smart contracts can easily handle tasks such as inventory management, order management, etc..
Blockchains will also enable SME's to reach the global audience easily. Banks will also have no say in business blockchain implementation. Loaning becomes easier which can allow more growth opportunities for SME's.
Lastly, both SME's and customers will benefit from it. The adoption rate, however, will be slow due to blockchain implementation complexity.
---

Kim Smith, Content Marketer at GoodFirms
goodfirms.co | 
 kimsmith
---
Blockchain technology will prove to be a boon for SME's through Smart Contracts – a far more economical option to streamline the flows that nourish the business. May it be invoicing, paying employees or bills, settling interest charges, making insurance policies, managing the inventory, finalizing a new deal etc. can be handled in a much cheaper and automated way saving company cost & time. 

Apart from reducing overhead costs, SME's can add value to their businesses with advanced security and transparency offered by Blockchain technology. An arrangement of public and private keys, secured by a layer of cryptography, guarantees that members of blockchain services can be authenticated by those same administrations without uncovering their most delicate individual or financial data.
This is an aid for organizations that never again need to bear the danger of taking care of a lot of individual information. Moreover, clients trust more realizing that their delicate data is avoided prying eyes. An independent venture that needs its clients' credit card information can confirm exchanges without knowing the identity of the user, encouraging a system that puts users in control of who has access to their personal information.

The best thing with Blockchain is the end of the constant struggle for SME's with funding especially from the time it takes to get a bank credit, that could be apportioned to different exercises. Also, advances trouble the money streams of a new business with interest payments and the danger of security. Venture capital, the current method for getting capital, is antiquated by blockchain too. Blockchain was the first driving force behind the new beginning of token deal slant that sees new businesses and other organizations' endeavor to discover working capital by offering their own particular cryptographic money or ICOs to willing market investors.

---

John McLeod, PR Consultant and Founder of JEA Associates
jeaassociates.com | 
 @JohnMcLeod
---
Blockchain can be utilized as a means to simplify and streamline tax reporting and collection for SMEs and the government bodies representing them.
AtEZYcount, we see disruption in the way in which SMEs and the government interact with tax reporting and collection. As of now, blockchain is not typically used for tax collection but the permanence of data recorded in blockchains makes it resilient to manipulation for fraudulent purposes. There are already some promising applications for blockchain technology in government services such as land registries and voting systems, it's not hard to imagine tax collection being added to the areas for blockchain experimentation. Blockchain's core attributes mean that it has significant potential for use in tax due to its: 
Transparency: blockchain provides provenance, traceability and transparency of transactions
Control: access to permissioned networks is restricted to identified users
Security: the digital ledger cannot be altered or tampered with once the data is entered. Fraud is less likely and easier to spot
Real-time information: when information is updated, it's updated for everyone in the network at the same time
---

Kyle Fournier, Crypto Analyst and Outreach Specialist at CryptoManiaks
cryptomaniaks.com | 
 @cryptomaniaks
---
Blockchain technology is as versatile as it is powerful. Use cases for blockchains are continually growing in number, but they're already excellent for recording data, transferring value between individuals, digitizing assets, and automating contractual agreements.
Depending on how large an enterprise is, optimizing processes like these or implementing them for the first time could achieve considerable savings, considerable profits, or both. Many small or medium enterprises can benefit immensely from blockchain technology.
Many SMEs suffer from poor financial record-keeping, an area that blockchain technology is especially well-suited to improve. Blockchains are also known as "immutable ledgers," meaning that they are lists of transactions that cannot be changed or tampered with.
SMEs that implement blockchain technology for the purpose of record-keeping may be able to significantly reduce their expenditures on record-keeping while seeing huge improvements in the quality of their records at the same time.
Blockchain technology is still in its earliest stages. At the moment, it's impossible to gauge just how far-reaching and expedient its influence will be. One thing seems to be relatively certain, however. Blockchain technology is indeed revolutionary. In the same way that the SMEs that built their websites benefited the greatest, the SMEs that adopt blockchain technology will reap the greatest rewards.
---

Matthew Markham, Operations Lead at Blockchain Warehouse
blockchainwarehouse.com | 
 MatthewMarkham
---
Blockchain offers SMEs a chance to innovate ahead of large business. Clearly SMEs can use the enterprise resource planning tools brought about by other blockchain companies, but the real impact here is a new avenue of growth.
Development languages for blockchain can be learnt by non programmers, and small and medium businesses should be able to get a blockchain product out, into the market, faster than large businesses.
There is a once in a lifetime opportunity for SMEs to add a blockchain product to their repertoire, or come up with a brand new business line that will attract capital not available in the past decade. Moreover, it offers SMEs the opportunity to do what they do best: innovate and be nimble.
---

Ofir Beigal, General Manager of 99 Bitcoins
99bitcoins.com | 
 @ofirbeigel
---
Crypto could make payments faster, cheaper, and more reliable than traditional methods such as credit cards, checks, or bank transfers.
It's also possible that blockchain tech could improve the efficiency and security of data storage. This could lower the costs and risks of storing customer information in a secure manner.
If cryptocurrency replaces fiat money, then certainly SME's will have to adapt to such a change, but this would be a general monetary revolution rather than something specific to SME's. At this time, there's no blockchain technology which is specific or essential to SME's, to the best of my knowledge.
SME's can accommodate crypto payments. In addition, use it to pay suppliers and employees where applicable.
Brick and mortar small businesses might wish to investigate the suitability of the Bitcoin Lightning Network for their point of sales operation. Although unlikely to become standard for many years, this technology has the potential to replace cash and credit or debit cards for quick, in-person payments.
Payment portal services such as CoinGate (turnkey, requires some trust in the company, allows for automatic conversion of fiat to crypto) or BTCpay (requires a developer to implement, trustless) make it easy to integrate crypto payments with ecommerce.
Finally, SMEs looking to raise funds could look into the feasibility of conducting an ICO (Initial Coin Offering). Although ICOs are generally used for startups, they could also be used by established businesses to attract funding from around the world. A future possibility is the issuance of regulated security tokens which would confer equity and perhaps voting rights to holders.