10 Tips to Help You Nail Your Next Remote Job Interview
Written by InvoiceBerry Team on August 24, 2022
Job interviews are something most of us have to go through at some point in our lives, but when the interview is conducted remotely, it can be even more stressful and scary than usual. While you can find remote job positions in the US on adzuna.com, how you fare in the interview will determine if you get the role or not.
Whether you're going in-person or doing an online job interview, here are 10 tips to help you get ready to land your dream remote job, whether it's in marketing, customer service, technology, finance, or any other field that makes use of remote workers on a regular basis.
Try our online invoicing software for free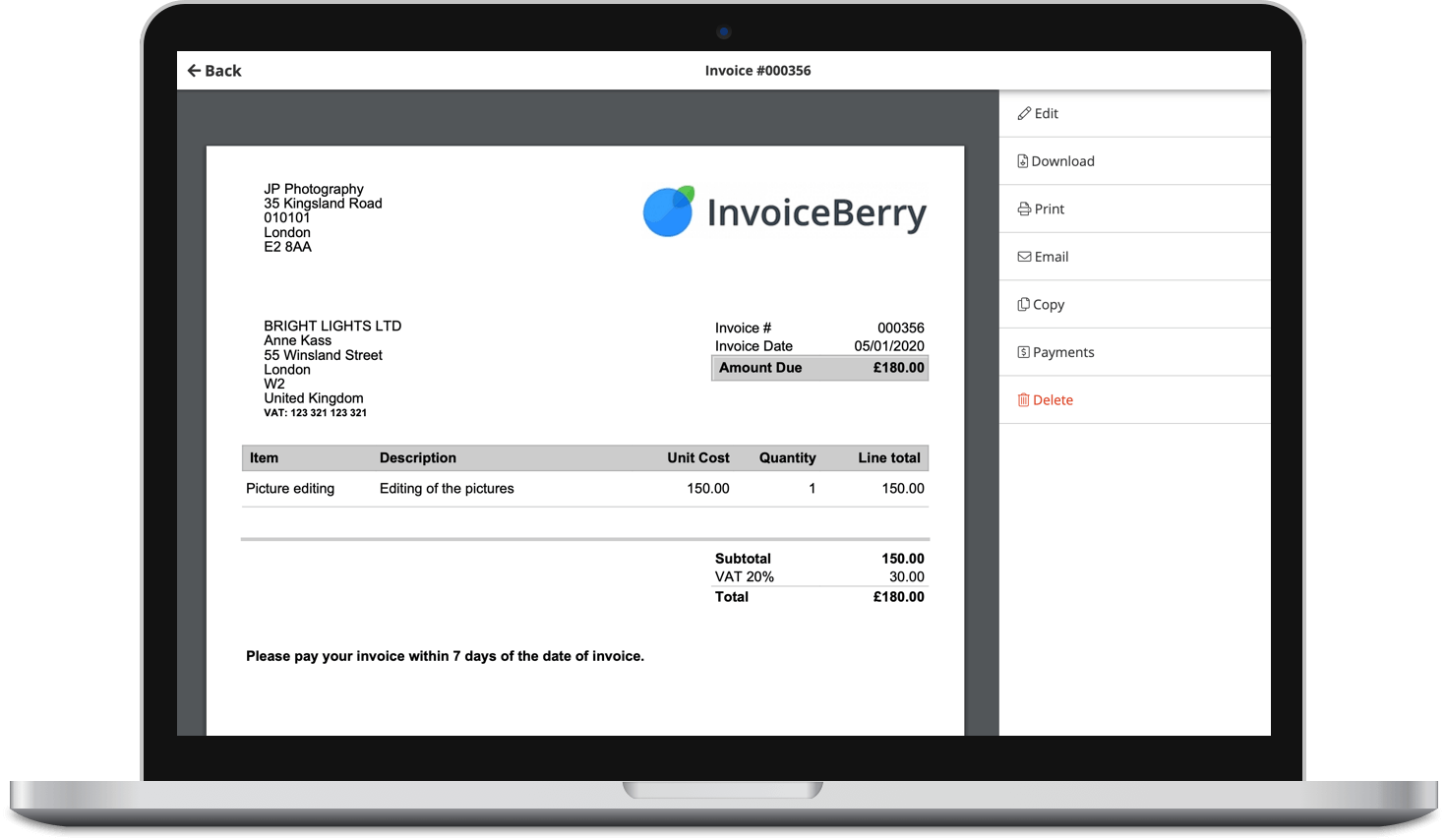 Send professional-looking invoices
Accept online payments with ease
Keep track of who's paid you
Start sending invoices
Tip #1: Dress Appropriately
Like when being interviewed in person, it's important to dress the part. After all, first impressions matter! Even though your potential employer won't be able to see you in person, you should still take the time to put together a professional outfit.
Here are a few tips on how to dress for the remote job interview:
Dress in neutral colors like black, navy blue, or brown;
Make sure that your clothes fit properly and aren't too tight or too loose;
Have an extra set of clothes and tie just in case of emergencies;
Make sure that any jewelry you wear is modest and doesn't show off any piercings;
Don't wear anything with slogans or logos because they might offend someone on the other end of Skype who might not share those interests;
Wear makeup (not too much!) but keep it subtle so as not to intimidate your interviewer.
Tip #2: Be on Time
Showing up on time is just as important for a remote interview as it is for an in-person interview. Again, you want to make a good impression and show that you're reliable.
To ensure you're on time for your next remote job interview, do this:
Take the necessary steps to prepare for unexpected events before the interview.
Do not rely on your phone's clock. Bring a watch or set an alarm if needed.
Find out what time zone the company is located in and factor this into when planning
Tip #3: Listen
When you're interviewing for a remote job, it's important to keep in mind that the interviewer can't see your nonverbal cues. This means that you have to be extra careful about how you come across during the interview.
Turn off any notifications on your phone so they don't distract or interrupt the flow of conversation. Make sure they can hear what is happening around them – background noise doesn't always work in their favor!
Take care not to interrupt and make sure you wait for the interviewer to finish asking each question before providing an answer. It also helps if you practice with a friend or family member who is good at mimicking what you might encounter when speaking with someone on Skype or Zoom; their responses will give you an idea of what they would want from your answers. This brings us to the next helpful tip: practice.
Tip #4: Practice the Interview Scenario
One of the best ways to practice for your remote job interview is to do a role play with a friend or family member. This way, you can get comfortable with the format and hone your answers to common questions.
Practice some common questions so you don't sound like a deer in headlights when faced with them: What are your strengths? What are your weaknesses? How do you handle conflict?
Try out these questions on a trusted advisor, such as your spouse or best friend, and ask them for feedback. If possible, find someone who has experience interviewing people remotely. The person will be able to tell whether you're coming across well over the phone or video chat and whether there are any verbal mannerisms (i.e., pausing too long) that need to be worked on before the big day!
If you know someone from the company you are applying to, try to have a phone conversation with that person. Talk about their workspace and see if there are any cultural expectations that might be different from what you're used to.
Now, if this will be your first time using voice over IP (VOIP) software like Skype or Google Hangouts, then make sure to test it ahead of time so that it doesn't create any technical difficulties during your remote job interview.
If you are nervous about public speaking, consider recording yourself answering the top 10 common interview questions. Review the video as it will help you spot any areas that need improvement. When it's time for your interview, you're well-prepared.
Tip #5: Get Comfortable with Being Uncomfortable
It helps to get comfortable with the idea of being on camera. If you've never done a video interview before, it can feel a little strange at first. However, if you do it more often, the interview will flow naturally.
Here are a few tips to be comfortable during the interview:
Relax and take a few deep breaths before the interview starts. This will help you calm your nerves and focus on the interview at hand.
Make sure you're in a quiet place with no distractions. This way, you can give your full attention to the interviewer and the conversation.
Dress as if you were going to an in-person interview. First impressions matter, even on a video call! And while we may not be able to see all the details of your outfit, they'll still be able to tell that you took some time preparing for the interview.
Sit up straight and keep a good posture throughout the interview. It's easy to slouch or slump over when you don't have someone sitting across from you, but it reflects poorly on your professionalism when there are cameras pointing at you.
Smile when answering questions—even if it feels awkward or out of character for you—and try not to squint or look too serious during parts of the conversation that aren't intense or emotional.
Tip #6: Communicate Effectively
It is also essential to be able to effectively communicate your qualifications and why you're the best candidate for the role.
Check out these tips on how to communicate effectively with your interviewer during a remote interview:
Read through the description of the position as well as any other information that was provided to you before the interview. This will help you connect with the recruiter easily and know exactly what they want from candidates.
Get some work done prior to the interview so that you can discuss what you have been working on in detail with your interviewer. This means you should have experience in the field or position you are applying for so that you can easily relate.
Keep eye contact with the person conducting the interview and smile when appropriate so they know that you are engaged and paying attention.
Tip #7: Think About the Company Culture
Although not necessary, it gives you an edge over the others if you research the company culture. After all, you'll be working with these people remotely. Thus, it's important that you make sure you'll be a good fit.
Ask about the company culture in the interview. What is the company's mission statement? What are their values? What is their work environment like? Ask these questions to show that you're interested in more than just the job itself. Plus, it will give you a chance to see if the company culture is a good fit for you.
Tip #8: Keep Things Lighthearted
No matter how great of an interview you had, there's always that nagging feeling in the back of your mind that you could have done better. If you're like most people, you've probably Googled how to ace a job interview more times than you can count.
But when it comes to interviewing for remote jobs, there are some special considerations you need to keep in mind. It's important to present yourself as professional and approachable during an interview – but don't be afraid to let your personality shine through!
Explain why you want this job. A lot of times, people end up applying for jobs they weren't initially looking for or qualified for because they thought they needed something new. Be prepared to explain why this specific position is perfect for you even if it doesn't seem like an obvious choice at first glance!
Employers want someone who will be both a good cultural fit and a productive member of their team, so be sure not only to prepare with care but also to show off what makes you unique!
Tip #9: Confidence Is Key
If you want to project confidence during a remote job interview, there are a few things you can do.
First, be sure to dress the part. Even if you are not meeting the interviewer in person, you want to show that you're taking the interview seriously. Second, make sure your body language is open and inviting. Sit up straight. And if possible, make eye contact. Avoid fidgeting by all means.
Third, speak clearly and slowly. This will help ensure that your interviewer understands you and that you come across as calm and collected. Fourth, be prepared to answer common interview questions. This means knowing not only what you would say but also how you would say it.
Most importantly, be ready to talk about your qualifications and why you're the best candidate for the job.
Tip #10: Take Breaks
We all know that job interviews can be stressful and nerve-wracking. But when you add in the element of being remote, it can be even more challenging. So, our advice is to take breaks when needed.
Before the remote interview, feel free to stretch your legs or go for a walk around the block. It's also good to have some healthy snacks available so that if your blood sugar starts dipping, you can quickly refuel and get back into the interview mindset. And stay hydrated by drinking water. The worst thing you can do during an interview is pass out from dehydration or low blood sugar.
Bonus Tip: Use a Professional Resume Builder to Create a Resume
A professional resume builder can help you put your best foot forward when applying for remote jobs. It usually offers templates, tips, and tools that will give you a leg up on the competition.
Most resume builders are fast and easy to use, so it doesn't take long before you are ready to apply for your next job. And if you're in need of a little extra support while creating your professional resume, then check out ResumeKit.
Here are some ways to help you create a winning resume using an online CV builder:
Choose a clean, simple format. 
Tailor your professional resume to the job you're applying for. 
Highlight your most relevant skills and experience. 
Use keyword-rich language that will pass an applicant tracking system (ATS). 
Avoid using abbreviations or acronyms. 
Include a link to your portfolio and professional online profile, such as LinkedIn. 
Ensure your contact details are up-to-date.
In Summary
A remote job interview can be an intimidating experience, but with these 10 tips, you'll be sure to nail your next one. Whether you're in the same room as your interviewer or you're communicating via video chat, it's important to stay focused and make your interviewers remember who you are. Give them reasons to hire you instead of the other candidates.
Remember that no matter what, your interviewers are just like anyone else – they can be swayed with charisma and charm if you know how to show it!
Bio:
Dahlia Keen is passionate about helping people find meaningful work in a career they enjoy. A creative writer for resumekit.com, she is backed by years of experience writing resumes for diverse industries, and she has helped hundreds of professionals land their dream job.