Avoiding Cash Flow Shortage in Ecommerce: 10 Things You Should Do in 2023
Written by InvoiceBerry Team on January 05, 2023
As the eCommerce industry continues to boom and more businesses rely on digital sales for their income, cash flow shortages have become a significant challenge.
As we move into 2023, it is increasingly essential for online retailers to be proactive in avoiding cash flow problems. This means taking steps such as budgeting properly, accurately forecasting future expenses and sales, and having access to lines of credit or other funding sources when needed.
Try our online invoicing software for free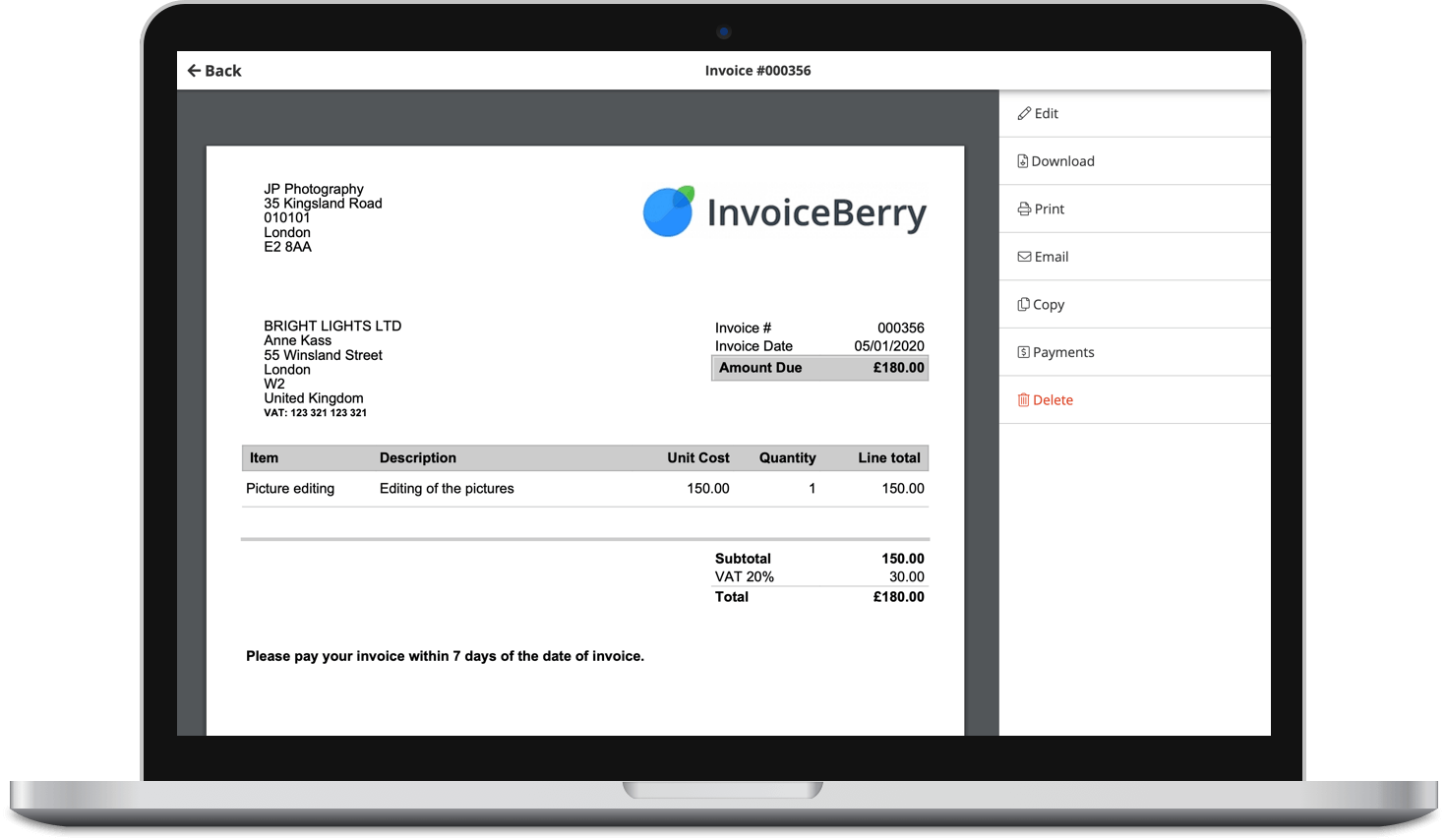 Send professional-looking invoices
Accept online payments with ease
Keep track of who's paid you
Start sending invoices
With some forethought and planning, you can ensure that your business has enough money available when required to avoid any unexpected financial difficulties.
Create a Detailed Budget and Stick To It
With the ever-increasing cost of living and technological advancements, cash flow shortages in e-commerce are likely to be more frequent in 2023. Creating and sticking to a detailed budget is one of the best ways to prevent this.
Rather than making decisions on-the-fly, having a clear budget plan will ensure that you are aware of your financial responsibilities and limits so that you can make informed choices for your business.
Additionally, each purchase should be carefully considered and weighed against its potential return. Therefore, getting into the habit of budgeting now will significantly reduce the chances of experiencing cash flow shortages in the future.

Monitor Your Cash Flow Regularly, Forecasting Future Expenses and Sales Accurately

To effectively budget and plan for the future, you must understand your current cash flow. This means monitoring your income and expenses regularly so that you can identify any potential problems early on.
Additionally, accurately forecasting future costs and sales is critical to avoiding cash flow shortages in 2023. A detailed forecast will provide you with a clearer understanding of how much money you'll need and when so that you can make sure there is enough cash available.
According to Catherine Schwartz, Finance Editor of Crediful, "Forecasting is essential for avoiding cash flow shortages, as it helps you estimate how much money you'll need to keep your business running smoothly. Doing this allows you to plan and ensure you have enough cash when you're likely to need it."

Explore Various Financing Options

Having access to alternative sources of financing can be extremely helpful in avoiding cash flow shortages. If you cannot obtain traditional loans or lines of credit, plenty of other options are available.
Crowdfunding and venture capital investments are two potential forms of financing that you may want to explore. Additionally, many businesses have found success with invoice factoring, a type of financing that allows you to access the cash from your invoices before they have been paid. This can provide an injection of money necessary to keep operations running smoothly.
"Alternative sources of financing are becoming increasingly popular, as they provide businesses with quick access to cash when needed," says Andrew Gonzales, President of Business Loans. "The key is to be proactive and explore your options before you need the money to be prepared if and when a cash flow shortage arises."

Take Advantage of Payment Terms From Suppliers

If you're having trouble obtaining financing, you may want to consider taking advantage of payment terms from your suppliers. Many suppliers are willing to offer extended payment terms in exchange for a higher volume of orders or the promise of future business.
This can be an effective way to conserve cash while still meeting all of your financial obligations. In addition, some suppliers may even be willing to provide discounts for paying early, giving you an additional incentive to stay ahead of your bills.
An excellent way to talk to your suppliers about this option is to negotiate a fixed amount they are willing to discount or reduce in exchange for an agreed-upon payment date. This will allow you to maximize the discounts while ensuring you can make your payments on time.

Utilize Billing Cycles for Customers to Ensure Timely Payments

Having customers that pay on time is essential for avoiding cash flow shortages. To ensure this, you should take advantage of billing cycles. Billing cycles allow you to set up a schedule for collecting payments from customers so that you know exactly when to expect money to come in.
Once these billing cycles are established, you can use them to plan out your cash flow and budget accordingly.
An example of a billing cycle is the "Net 30", which gives customers 30 days to pay their invoice in full. This allows you to ensure that cash is coming in regularly and helps avoid potential delays that could lead to cash flow shortages.
Another typical billing cycle is the "Net 15", which gives customers 15 days to pay their invoice in full. No matter which option you choose, having a consistent billing cycle can help ensure timely payments and reduce the risk of cash flow shortages.
"Business cycles are a great way to ensure that cash is coming in on a timely basis," explains Mark Pierce, CEO of Cloud Peak Law Group. "By taking advantage of these cycles, you can plan and make sure that money is in the bank when needed."

Stay On Top of Accounts Receivable

In addition to utilizing billing cycles for customers, you should stay on top of your accounts receivable. This means that you should regularly investigate unpaid invoices to ensure that they are still active and ensure that customers follow the terms of their payment agreement.
This can help avoid unnecessary delays in payments and allow you to quickly identify potential issues that could lead to cash flow shortages.
A good rule of thumb is to follow up with customers at least once a week. This will allow you to check in on unpaid invoices and ensure that customers stay on track with their payments. Additionally, this will enable you to remind customers of any payment terms they may have forgotten or missed.
According to Carter Seuthe, Author of Credit Summit, "Staying on top of accounts receivable is essential for avoiding cash flow shortages. If you're not actively monitoring your customers' payments, you may be in the middle of a cash flow crisis before you know it."

Consider Offering Discounts for Early Payment on Invoices

You may also consider offering discounts on your invoices for early payment. This is an effective way to incentivize customers to pay their invoices quickly and help ensure that cash is coming in on schedule. This can be especially beneficial if you are dealing with customers that have a habit of paying late.
When offering discounts for early payment, clearly outline the terms in your invoices so that customers know exactly what is expected. You should also consider instituting a payment threshold for customers to qualify for the discount. This will help you stay consistent and ensure that customers are not taking advantage of the discount.
Michael Nemeroff, CEO & Co-Founder of Rush Order Tees, says, "Offering discounts for early payment is a great way to incentivize customers to pay their invoices quickly and help avoid cash flow shortages. Just make sure to lay out the terms of your discount to ensure you and the customer are on the same page."

Request Deposits in Advance From Larger Orders/Projects

One of the best ways to avoid cash flow shortages is to request deposits in advance from larger orders or projects. Doing this will help ensure you have enough cash to cover any costs associated with the project. Additionally, it will help ensure that customers are committed to the project and will pay their balance in full when it is due.
When requesting deposits in advance, clearly outline the terms of the agreement and any payment deadlines that may be involved. Additionally, you should include a section in the agreement outlining any fees or penalties that may be incurred if payments are not received by the agreed-upon date.
Doing this will help enforce the terms of your agreement and ensure that customers are held accountable for any late payments.

Generate Multiple Revenue Streams

Another great way to avoid cash flow shortages is to generate multiple revenue streams. You should consider diversifying your business and offering various products or services. Doing this will help ensure that you have multiple sources of income coming in regularly, which can help reduce the risk of cash flow shortages.
Some better ways to create multiple revenue streams include launching a membership program, developing digital products, or offering consulting services. You can also consider forming strategic partnerships with other businesses to help increase your customer base and generate more sales.

Consider Outsourcing Tasks That Require Costly Equipment or Employees

Finally, you should consider outsourcing tasks requiring costly equipment or employees. This can help reduce the overall cost of running your business and free up cash flow to cover other expenses. Additionally, outsourcing some of your tasks can reduce the time and energy required to complete projects, which can help boost efficiency.
When outsourcing tasks, thoroughly vet any potential partners and ensure they have the necessary skill sets and resources to complete the project. Additionally, you should negotiate a fair rate for their services and include any additional costs in the contract.
Doing this will help ensure you get a fair deal and won't find yourself in a cash flow shortage due to unexpected fees or expenses.

Conclusion

Following these steps can help avoid cash flow shortages in your eCommerce business in 2023. From offering discounts for early payment to generating multiple revenue streams, many effective strategies can help you manage your cash flow and ensure it constantly flows in the right direction. Just make sure to research and negotiate fair and beneficial terms for both parties.
BIO:
Veselin Mladenov is the Content Manager of ThriveMyWay. He has more than 10 years of experience in the field of corporate marketing and sales and decided to pursue his passion – digital marketing and content creation.
Invoicing doesn't have to be scary
GET 50% OFF SOLO & PRO PLANS
UNTIL MIDNIGHT, OCTOBER 31