Accounting Mini-Course Grand Debut
Written by Leiann on January 27, 2020
InvoiceBerry is proud to present our new carefully curated Mini-Accounting Course!
It's a widely accepted fact that owning a small business requires wearing a variety of hats. One moment you're a manager, the next you're an accountant and then a lawyer.
Try our online invoicing software for free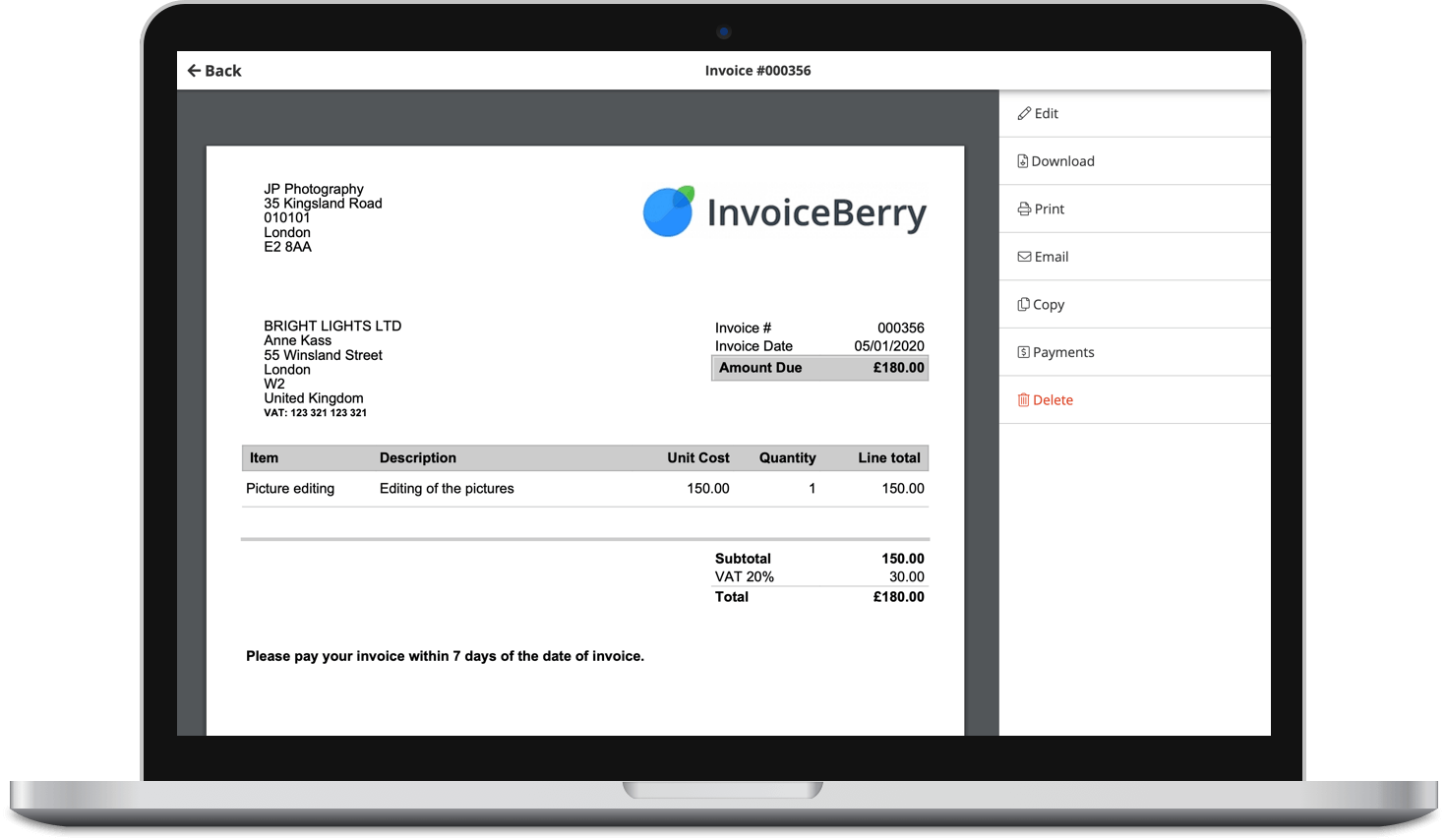 Send professional-looking invoices
Accept online payments with ease
Keep track of who's paid you
Start sending invoices
Even though accounting is an inevitable part of running a successful business, most entrepreneurs are never classically trained for the role. In fact, a 2015 Small Business report found that 60% of small-business owners do not feel very knowledgeable about accounting and finance.
That's why InvoiceBerry came up with the idea for this free mini-course to help small business owners and freelancers increase their accounting knowledge. The end goal is to impart learners with a tailored accounting foundation while embarking on a dynamic educational journey together.
When you sign up our free 10-day mini-course, you can look forward to receiving daily bite-sized lessons on:
Crafting financial statements
Everything invoice related
Basic budgeting 101
Common mistakes to avoid
Generally Accepted Accounting Principles
Grasping the differences between cash flow and revenue
The ultimate accounting checklist for small business
And so much more!
So get ready to proudly don your accountant hat as you come away armed with key financial knowledge that goes hand in hand with running a successful business.
Here are some juicy tidbits of the new knowledge you'll be receiving:
Invoicing 101
This enlightening email lesson does everything from defining an invoice, breaking down the anatomy and outlining the various types.
The invoicing tips help small business owners get a better basic understanding of payment requests and how best to navigate them. So if you don't know your proforma invoice from your commercial invoice, this is the lesson for you!
Not to give too much away, but a generous promo code may or may not be waiting for you as well!
Accounting statement triad
Next over the course of a few emails, the holy financial statement triad is explored in detail. First things first, assets, liabilities and owner's equity are defined in order to better explain the basic balance sheet equation.
A snazzy balance sheet template is shared to help make your life easier, along with a super helpful income statement definition and a cash flow focused blog post.
After these lessons, you walk away with a better understanding of the differences between profit, revenue, and cash flow. This translates into the ability to recognize that a business may be earning revenue while still losing money. You can then take steps to ensure your enterprise doesn't follow suit!
Budgeting basics
What would a small business accounting course be without a lesson on budgeting? It'd be a shame – that's what. This is why special care is taken to first off define the term budget and then delve into the main types you should be focusing on.
When it comes to managing a business, a master budget is a must. This comprehensive projection that summarizes projected activity includes interrelated subset budgets used to plan and set performance objectives. Operational, cash flow and capital budgets can then all serve to complement a business' accounting needs.
Finally, as the cherry on top, there's a blog post that walks you through the entire process of creating a budget for your small business!
Commonly expended expenditures
Paying expenses are an inevitable part of every operation and an essential consideration in every budget. This is why there's an entire email lesson dedicated to discussing the price of doing business.
It explores the four main types of expenses and discusses the top reasons for expense tracking. To be very honest, it's not only a good suggestion for small businesses, but it's also a must. When you track your expenses, you'll be much more able to keep an eye on your business finance and prepare your future goals.
So if you don't already know your fixed expenses from your accrued ones, you're gonna wanna give this email a read. Mark my words – mindful spending is where it's at!
Accounting mistakes to avoid at all costs
The penultimate email covers the most common accounting mistakes that small business owners tend to make. Not only that, but it also discusses the best ways of avoiding them.
We implore you to work on carefully developing a business plan. Watch your cash flow statements like a hawk. Focus more on efficiency. Be cognizant of things like the sunk cost fallacy and know when to cut your losses if necessary (but unlikely after learning everything taught in this mini-course!)
Closing checklist
Lastly, the course concludes with a checklist that recaps best practices related to successful business bookkeeping. These value-packed tips will not only serve to cement your accounting foundation, but they'll also touch on some indispensable resources that you'll wanna bookmark and keep in your pocket.
Do yourself and your business a favor by signing up for the Accounting Mini-Course email campaign today!
The oh so relevant GIFs will keep a smile on your face while the apt content engages your mind. There's even talk of a follow-up course in the making, but you didn't hear that from me!
Happy learning, honorary accountants in the making!