7 Ways Of Accepting Online Payments With InvoiceBerry
Written by Angela on March 29, 2022
Small business owners and freelancers rejoice! Accepting online payments from your customers and clients is now easier than ever, thanks to the slew of payment processing options out there.
But with so many choices, which one should you choose for your business?
Try our online invoicing software for free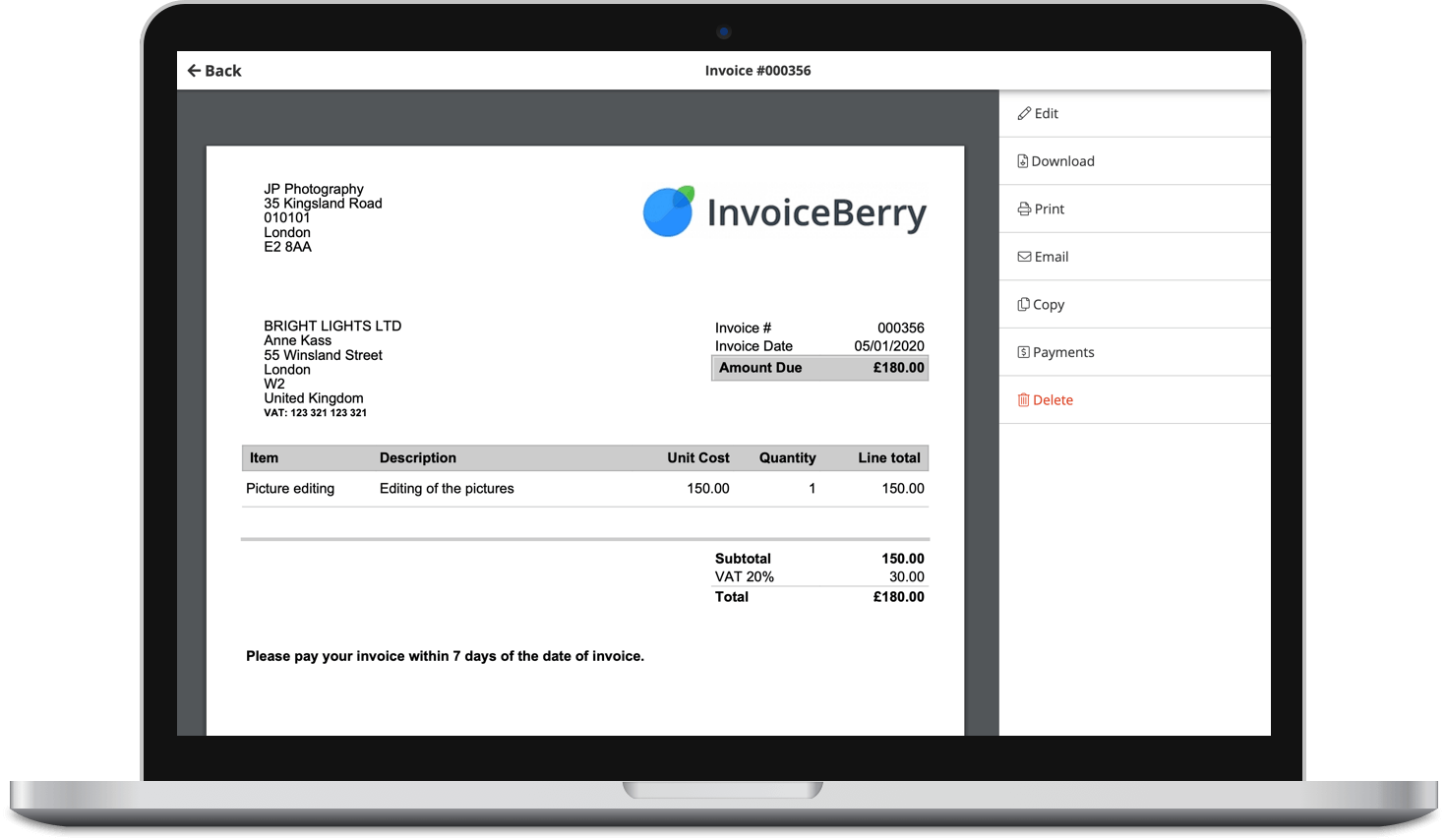 Send professional-looking invoices
Accept online payments with ease
Keep track of who's paid you
Start sending invoices
In this article, we'll take a look at 4 different ways of accepting online payments with InvoiceBerry. We'll also give you a quick overview of each payment processing option, so that you can decide which one is best for you.
Why You Should Accept Online Payments
Being able to accept online payments is now a necessity for most businesses, large or small. Customers expect to be able to pay for goods and services online, and if you're not able to accommodate them, they'll simply take their business elsewhere.
There are a number of other advantages to accepting online payments as well:
It's more convenient for customers. They don't need to bust out that chequebook or go to the bank to withdraw cash.
You can get paid faster. With online payments, you don't have to wait for cheques to clear, or for customers to make time to come by your office and pay in person.
It's more secure. When customers pay with a credit card or other online payment method, their transaction is protected by layers of security, which reduces the risk of fraud.
It's easier to keep track of your sales and expenses. Since everything is stored electronically, it's simple to go back and track your sales and expenses over time.
Low balance purchases are not a problem. Most online payment services including credit cards make it easy for customers and clients to pay you even if they don't have cash right now. They can even break apart payments into multiple instalments.
Improve your business's reputation. Being able to accept online payments is a sign of a modern and professional business. Customers tend to trust modern businesses more with their needs.
InvoiceBerry has been helping small businesses and freelancers with their invoicing and payments for over ten years now. We've selected the best online payment providers based on how businesses operate and what their needs are, and we've integrated them into our invoicing platform so businesses can easily get paid 24/7.
Accept online payments using a wide variety of payment gateways with InvoiceBerry
Here are the top ways on how you can get paid online easily:
Get Paid Online With PayPal
If you're looking for a fast, easy and secure way to get paid online, then PayPal is a great option. All you need is a PayPal account and you can start receiving payments from your customers in minutes. You can even use your PayPal account as an e-wallet.
There are no setup fees or monthly charges for using PayPal to get paid.
You simply pay a transaction fee when you get paid by your customer, so you don't have to worry about hidden costs. For each transaction, the fee ranges from $0.30 + 3.5% – 5.4% of your transaction based on you and your customer's location.
Get Paid Online With Stripe
Another great option for getting paid online is through Stripe. While Stripe needs to verify a few things about your business before setting you up with an account, you can start receiving payments from your customers in minutes once that's done.
Stripe also has no setup fees or monthly charges, so you only pay a fee when you make a sale. Transaction fees are as low as $0.30 + 2.9%, with extra charges if your buyer pays through an international credit card, currency conversions, and the like.
Custom plans are also available.
Get Paid Online With Square
Square is another option worth a look at for small businesses that need to get paid online. While it's available in only selected countries, you can use Square as an individual or a business, selecting the best account type for your field.
Square's transaction fees for contactless payments, online payments, and chipped or swiped cards are a low $0.10 + 2.6%, with higher transaction costs for manual payments.
They also have no monthly charges on the seller, which means it's one of the most economical choices for small businesses.
Get Paid Online With WePay
WePay is one of the newest kids on the block when it comes to getting paid online. They're a great option for businesses that need more customisation and branding options when it comes to getting paid, such as a seamless purchasing experience that doesn't show the payment gateway details.
Businesses pay a transaction fee of $0.25 + 2.9% with WePay, with no monthly or setup fees as well for their basic Link plan.
Their other plans that provide white label solutions and other services may have additional fees.
Get Paid Online With GoCardless
GoCardless is one of the leading providers for direct bank-to-bank debit transactions. You won't have to worry about credit cards or e-wallets with GoCardless, as direct debit is convenient and flexible especially when it comes to recurring payments or a long project. After your client allows you to collect payment from them, you both won't need to worry about anything else.
GoCardless does not charge a setup or monthly fee for its Standard tier, but rather charges a transaction fee as low as 1% + 0.20£ if you're within the UK or Eurozone. International customers pay 2% + 0.20£ only.
If you'd like your business's name on your customers' bank statements or customise your own payment page, they also have plans from 50£/month.
Get Paid Online With CoinPayments
Show how forward-thinking and modern your business is with the possibility to pay for your goods and services with cryptocurrency, with the help of CoinPayments. It is a cryptocurrency payment gateway that also has wallet and online merchant accounts to easily track your transactions. Business accounts can manage crypto payments and enjoy fiat conversion options and real-time global payments.
CoinPayments charge a 0.5% transaction fee for all incoming payments or 1% for all incoming token payments. Their network fee is charged only if payments are to be forwarded to an external address or accumulated in batches. Network fees will vary based on which cryptocurrency is being sent and network traffic.
Get Paid Online With Coinbase
Coinbase is another way for you to accept cryptocurrencies from your clients as payment for your services. They have a slew of business offerings, including Coinbase Commerce, that businesses can use for global checkout with cryptocurrencies. You can manage your own wallet and private keys yourself, or have Coinbase manage it for you with added insurance coverage.
Transaction fees are at 1% of incoming payments, with no monthly or setup fees. Withdrawal of funds received is subject to a network fee to cryptocurrency miners that may vary (typically $1-$5).
How to Choose the Best Way to Accept Online Payments
With so many options to choose from, how does one choose the best way to accept online payments? There are a few things to consider when making this decision:
The types of payments you want to accept, such as credit cards, debit cards, bank transfers, cryptocurrencies, etc. – take into consideration what your clients and customers always use.
The countries you want to accept payments from – do you service primarily local customers, or do you invoice global clients as well? Will they be able to pay you through your payment gateway of choice?
The currencies you want to accept – will you be able to easily change currencies based on the payments you receive, or do you want to keep everything in one stable currency?
Your average transaction size – some payment gateways will have different rates based on your transaction size and frequencies, so take this into consideration
Whether you need a merchant account – not all gateways provide a merchant account where you can easily see past transactions, obtain reports, or send invoices
The fees associated with each payment gateway – this is important to consider because not selecting the right option may eat into your profits
Some payment providers have low transaction fees, but might not operate in your country or provide a payment method that your clients favour.
Others might have higher fees, but offer a wider range of features.
The best way to find the right provider is to compare your options and choose the one that best suits your needs.
Are you a freelancer doing business purely online? Any of our top payment providers can help you with your business, but WePay does not offer merchant accounts, and some providers might not operate in your location.
Do you sell handmade and bespoke crafts via your online shop and in trade fairs? You might prefer Stripe or Square if they are available in your country for their easy point-of-sale features.
Do you manage a high-end business with luxury offerings? You might prefer not to show payment gateway brands when your customers are paying you. Your best bet for a seamless experience would be WePay's white label payment gateway solutions, or GoCardless's Plus or Pro accounts.
Do you do a lot of business with fellow Paypal-using businesses and professionals? PayPal may be a great option since your account doubles as an always-available e-wallet.
It's easy to try out various options with InvoiceBerry, since we accept payments via PayPal, Stripe, WePay, Square, GoCardless, CoinPayments, and Coinbase.
Online and Traditional Payments
Businesses still sometimes need to cater to more traditional payment methods, especially when their clients and customers prefer these methods more.
Fortunately, InvoiceBerry makes it easy for you to indicate other types of payments like bank transfer, cheque, cash on receipt, and other methods. This way, your customer can choose their preferred payment method, and you can get paid the way that's most convenient for you.
Accept more traditional payment channels with InvoiceBerry's "Other" payments options
If you'd like to encourage online payments to your clients, a great way to do that is to make your various payment methods clear on your invoice, and provide helpful links to paying immediately right on the invoice itself like how InvoiceBerry does it.
You can also look into offering a discount for those who pay online and on time. This is a great way to increase sales and encourage customers to try out the various payment methods available to them.
What's Next?
Now that you know how easy it is to accept payments with InvoiceBerry, why not give it a try? If you haven't signed up yet, now is a great time to do so. You can try out all of the features InvoiceBerry has to offer, and see how easy it is to get paid for your products and services.
Overall, whether you're looking to receive online payments or cater to more traditional methods, InvoiceBerry has you covered. By offering a wide range of payment options, we make it easy for businesses of all types to get paid quickly and easily.