5 Email Marketing Tips for Small Businesses
Written by InvoiceBerry Team on January 21, 2019
As a small business owner, you don't have the same marketing budget as that of large corporations. It's also likely that you perform a vast majority of business functions by yourself, including marketing. Even if you do employ a team, it will likely consist of only a few people, which means that the bulk of responsibilities will still fall on you.
Since you have to carefully budget your business expenses as well as your time, you need a marketing channel that is easy to use. This is where email marketing comes in.
Try our online invoicing software for free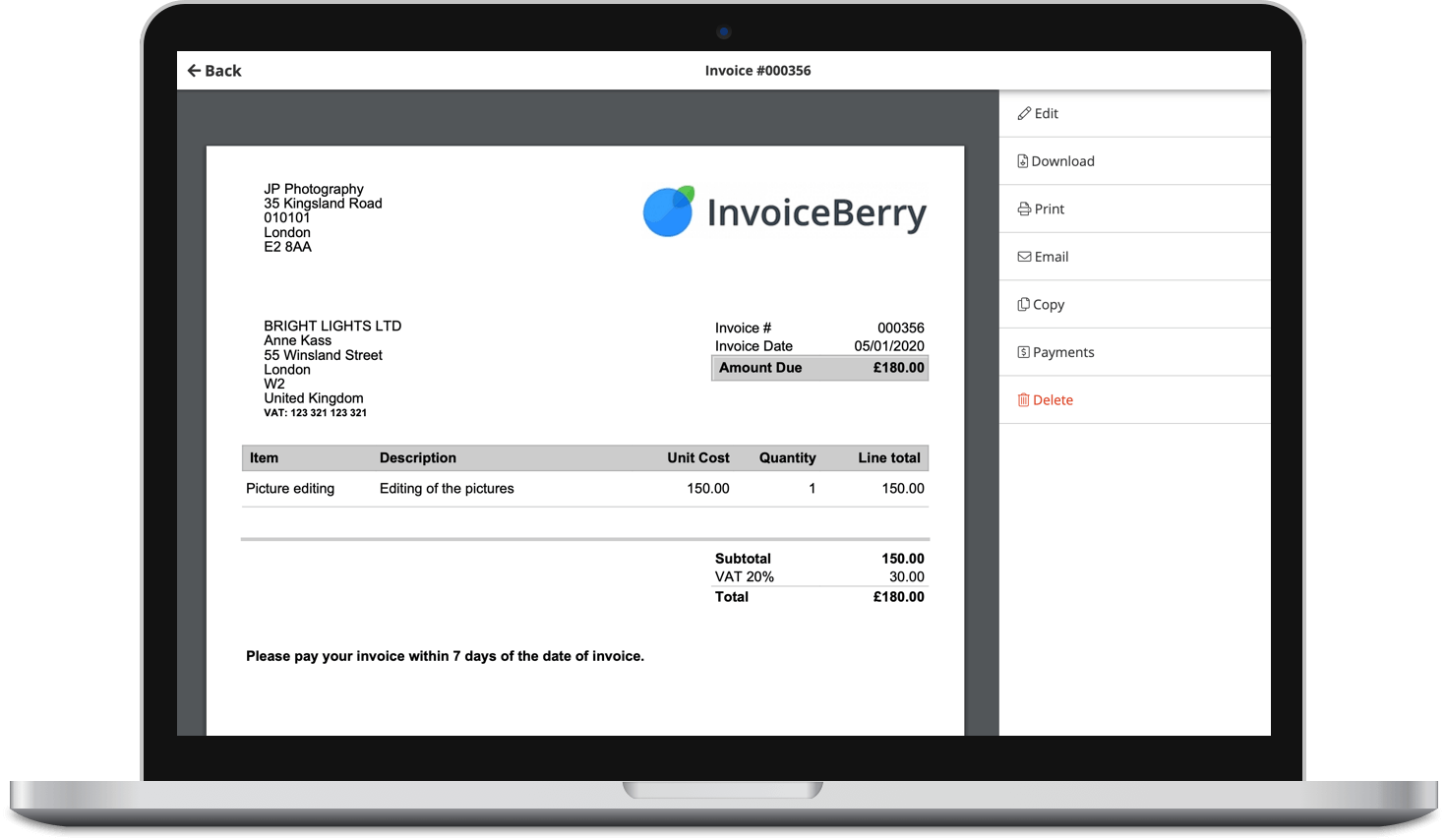 Send professional-looking invoices
Accept online payments with ease
Keep track of who's paid you
Start sending invoices
Why email marketing is necessary
Most, if not all big and popular brands today use email marketing to communicate with their customers. Think of any brand you do business with and it's almost a guarantee that they have an email marketing strategy in place.
However, just because big businesses use email marketing, that doesn't mean you can't use it too. You might be asking yourself: "Does my business really need email marketing?". Yes, it does. Email marketing is a must for your small business, and here are a few reasons why.
It works
Simply put, email marketing works. With its 4,400% ROI ($44 for every $1 spent), email marketing is undoubtedly a great tool you can use to not just reach your audience, but also to boost your revenue.
When you plan your campaigns well and execute it perfectly, you can trust email marketing to deliver results each and every time.
It is cost-effective
To start your email campaigns, look for the right email service provider for your business. With dozens of providers available, you have to a shortage of options and you can definitely find the one that is perfect for your business.
While plenty of providers cater to big companies, there are also those who offer affordable options to small business owners. Pricing schemes depend on the provider, but generally speaking, you only have to pay a small monthly fee to start sending emails through their service.
It helps you connect with your audience
For most people, email is the ideal medium for online communication. 73% of millennials prefer email when connecting with brands and 70% customers want to learn about a brand's products through email content instead of through traditional ads.
Since your customers prefer email, you can use this to your advantage. Reach out to them by sending out relevant content in the form of newsletters, new product updates, and promotional emails that leverage informative and high-quality blog content.
It is efficient
If you manage your own business and you do almost everything by yourself, you are likely pressed for time day in and day out. You don't have the luxury of being able to connect with all your customers one by one on a daily basis.
Fortunately, email marketing is there to help you. By using your email service provider's drag-and-drop editor, you can design emails that contain text content, high-quality images, call-to-action (CTA) buttons, and social sharing buttons with the span of a few minutes.
For added efficiency, you can also automate your email campaigns. You just set up the rules or triggers that your subscribers have to meet in order to receive a specific email, and your email service provider will take care of the rest.
5 of the best email marketing tips for small businesses
Maybe you're a small business owner who's never used email marketing and you've finally been convinced to give it a shot. Or maybe you've been using email marketing for a while now and are looking for ways to spruce up your next campaigns for the year. Whatever the case, here are five tips you need to follow.
Start by building your list
Whether you're taking your first foray into email marketing or you've been doing it for quite some time, make building a list of subscribers your top priority. That way, you already have a significant number of subscribers to send emails to even before you begin your campaign.
Your website is the perfect platform to allow people to subscribe to your email list. Make it easy for them to subscribe by giving them multiple opportunities to do so.
You can set up lead capture forms on your website and you can also include call-to-action buttons on different pages of your website such as your homepage and blog page.
In addition, make sure that you include language that provides people with a concrete idea of what they are getting when they join your list. For example, it could be something like this: "Join our newsletter and gain access to exclusive offers and promotions".
Create high-converting subject lines
Once you have enough subscribers to send out emails to, you need to think about how to make them open your emails. After all, an email that is left unopened or just deleted by your subscriber doesn't serve a purpose.
To increase the chances of your emails being opened, improve your subject lines. Why? Because 1) they are the first thing your subscribers see before deciding whether or not to open your email, and 2) they also serve as the perfect opportunity for you to make a great first impression.
Convince subscribers to open your emails by using incentivizing language when writing subject lines. Include words and phrases that grab your subscriber's attention like "back in stock", "brand new", and "on sale now".
By the same token, you should also avoid using words and phrases that trigger filters that mark your emails as spam, thereby reducing your open rates. These include phrases like "terms and conditions", "lower interest rate", and "not spam".
Sent out welcome emails
So, you've already gained a substantial number of new subscribers. What's the next step? You have to welcome them and start your relationship strong. When you send a welcome email to a new subscriber, your subscriber will feel valued and cared for as a customer, instead of just another contact on your list.
Furthermore, welcome emails are awesome drivers of revenue. In fact, welcome emails generate 320% more revenue than other emails. This means you can use welcome emails as a means to exponentially increase sales.
Entice new subscribers to make their first purchase from you by including an attractive offer in your welcome message. The specifics of the offer will still depend on your type of business, but it could be anything from a hefty discount, a free complementary item, or even free shipping.
Spread the word
Unlike big companies that have customers from all over the world, your business likely operates only within a certain geographical area. This means your reach is much more narrow.
This isn't a significant issue, though. You can still connect with more people by letting your subscribers do some of the work for you. Everything around you might be going digital, but word of mouth is still as powerful as ever.
Give your most loyal subscribers the opportunity to spread the good news about your brand to their friends and colleagues. Reward loyal subscribers by giving them a significant discount on their next purchase in exchange for referrals.
To take it a step further, give the referrals discounts on their first purchases as well. It's like hitting two birds with one stone. You grow your list without much effort on your part, and you boost your revenue at the same time.
Automation is key
As previously stated, small business owners like you are busy people. You can't afford to waste time, and you certainly can't afford to manually send hundreds or even thousands of emails to each and every one of your subscribers on a regular basis.
This is why email automation isn't an option for small businesses—it's a must. Email automation allows you to set up an email and define the triggers for that email. Once those triggers are met by a subscriber, your email service provider will send that email automatically.
Your welcome emails are a great place to start when it comes to automating emails. Whenever a new subscriber joins your list, a welcome email is immediately sent to them while you are still top of mind, which makes it easier for them to recall your brand.
With email automation, you can also set up schedules for emails, so that you don't have to go through the process of sending emails to your subscribers one by one. For example, if you send out weekly newsletters, you can schedule the email to be sent at exactly the same time on the same day every week. If you did it yourself, it would probably take up your entire day.
It would be wise to take advantage of email automation. This way, you have more time and energy to do what is most important to you, which is run your business like a well-oiled machine.
Wrap up
Email marketing is a proven tool that can be used by businesses of all sizes, and not just popular brands or Fortune 500 companies. It is easy to use, efficient, and cost-effective, so there is absolutely no reason for you to not get on the email marketing train. Go ahead and start your email marketing journey today, but don't forget to follow these aforementioned tips.
Lane Harbin is the Senior Content Marketing Manager at Campaign Monitor, an easy-to-use email marketing platform that empowers marketers to send targeted campaigns that grow their business. When she's not geeking out over email marketing, she enjoys binge-listening to podcasts, catching up on the latest tech news, and constantly rearranging her living room.