Top Blogs That Will Open Your Entrepreneurial Eyes To New Possibilities
Written by Evelina (InvoiceBerry.com) on May 23, 2016
Many websites and startups are strapped for resources and are focused on conversion, building leads, customer acquisition.
Needless to say, all businesses want to gain massive growth.
Try our online invoicing software for free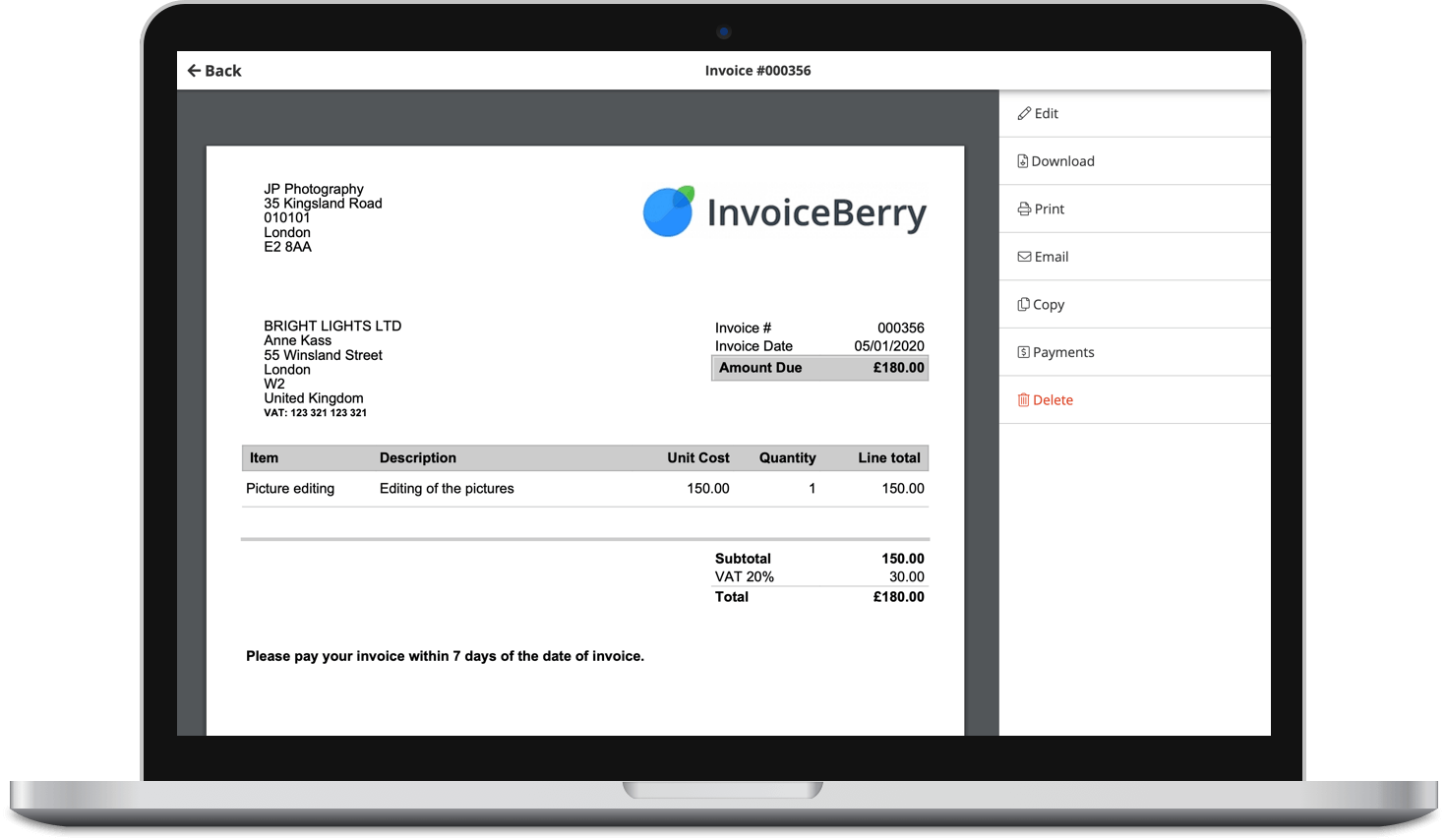 Send professional-looking invoices
Accept online payments with ease
Keep track of who's paid you
Start sending invoices
Company blogs have worked as the magic elixir that many startups need to propel forward. Words are the weapon that enables new companies to reach a multitude of people and affect them in the right way.
As we all know, the ability to communicate effectively with customers usually determines whether a business would be successful or not.
Through blogging, a startup can become an industry leader and reap many rewards.
Communication makes existing and potential customers feel like they have a relationship with the brand.
If your website or startup has been struggling to stay on top or needs a little motivation, here are top blogs that will enable you to make all the difference.
Blogs for Starting Your Website or Tech Business
Established in 2011, Startup Today was written and managed by 15-year-old Phil. While he may sound too young to give sound advice to startups or small businesses, he has proven that he is way beyond his years.
The blog gives helpful advice for those who want to start businesses that are related to making money, the social media or technology.
Startups can benefit from Della Michele's words of wisdom as she is an information junkie who has made a name for herself as a blogger.
In case you need the tools and rightful guidance on how to take your business to the top, this blog is for you. Della also gives valuable advice on different aspects of technology.
Small Business owners can find a lot of useful information about everything they need to know to run a successful small business on InvoiceBerry's blog.
Besides writing articles InvoiceBerry offers a very simple-to-use online invoicing software for small business owners, freelancers and sole traders.
Seth Goding is known as the father of startups. This blog has resulted in self-help books that have been translated into over 30 languages.
With his level of success, Seth Godin teaches entrepreneurs on running successful businesses in changing times. His points of view are inspiring and they will help you stay on the right track.
Founded by renowned entrepreneur Martin Zwilling, Startup Professionals shapes other entrepreneurs to become business executives, investors, and mentors.
Zwilling has written for other blogs such as Huffington post, Young Entrepreneur, and Forbes.
Regardless of the type of business that you are establishing, Startup Professionals will motivate you to make the most of the opportunities.
Many businesses experience failure. Entrepreneurs who do not want to go down this path will find Steve Blank's words very valuable. In his blog, he shares his interesting story of success and urges different startups to learn a thing or two from him.
Currently, businesses tend to benefit from helpful productivity tips, good content, advertisements and more. If any of this sounds appealing, Startup Pirates is the blog for you.
Also, Startup Pirates includes a list of significant startup events around the globe. This is beneficial for every business.
The power of connection, learning and funding are valuable in propelling a business forward. Dreamstake is a website that enables startup businesses and those who want to get a footing in the tech world to accelerate their success. The site has plenty of advice for those who are looking to make it.
Startup Grind is a blog that has been designed to educate startups to get inspired and to connect with other entrepreneurs. The blog vibrantly creates a strong network for those want to embark on their entrepreneurial journey.
Blogs For Tech Startups
ZDNet is a long-existing blog that has become a go-to platform for every tech entrepreneur. It features advice, tips, and information that is critical in running and establishing a tech business.
Referred to as the social media guide, Mashable is the ultimate blog that will give entrepreneurs useful advice on maximizing the social media to ensure their tech startup business will thrive. Mashable is a combination of tips that will enable you to conquer all social media platforms.
In order to have a successful tech startup, you need to keep up with the latest new and get informed. GigaOM will enable you to know how to cope with changing trends and make your tech business adaptable.
As the second biggest tech blog, TechCrunch will teach you everything that you need to know about networking and give you useful tips on what to focus on when establishing a tech startup.
Although we take social media likes and shares for granted, when it comes to tech startups, we need to put them to good use. Buffer educates entrepreneurs on the best social media practices and advises them on how to stand out from the rest of the industry.
Techstars is a renowned blog that has affected Tech Startups in a great way. It gives useful tips and showcases all successful tech companies that you may want to emulate.
If you need the right information on what is going on in the tech world before venturing into business, ComputerWorld is the best blog for you. This blog is helpful to different types of entrepreneurs.
ITBusiness Edge comprises of a number of IT blogs that are essential for those who want to venture into tech business. The blog focuses on the tech industry as a whole.
In order to run a successful tech business, you need all the knowledge that you can get. How-To Geek is a blog for IT startups that encourages entrepreneurs to venture into different aspects of business.
For Tech startups to be successful, they need to learn from the best. The official Google for Work blog is the best place to find out why Google is successful as it is and what your startup can emulate from them.
Blogs That Will Make Your Websites Thrive
In order to communicate to the world about your startup, you need the motivation that KISSmetrics will give you. It is a renowned SEO blog that focuses on advice about design, content marketing, and analytics how to.
This is a top SaaS blog that lets you know how to use different SEO strategies for inbound marketing. It brings SEO experts together and regularly collaborates with any kind of startups to host webinars that will help in advertising the business.
Many startups need the right advice in order to be on the right path of growth. Clarity is a blog that is made up of a community of experts and advice on marketing and design.
Landing pages can make or break a business. Unbounce is a top blog that teaches entrepreneurs on how to create landing pages that lead to conversion.
The blog features advice from landing page experts who also share their experiences with aspiring business owners.
Hubspot motivates startups to focus on useful content marketing. Apart from giving valuable advice, Hubspot also sells an email marketing automation system that will enable business owners to make the most of email marketing.
This blog is perfect for the creation of visual content that will encourage all your potential customers to try out your products and services.
Coming up with the perfect copy is the best way to connect with your customers. Copyblogger is the best site to give you a ton of valuable tips that will enable your startup to stand out.
The best copywriting advice rarely comes for free. However, CopyHackers will give you useful copywriting tips that are both actionable and sophisticated for your startup.
When establishing a company, most entrepreneurs have lead conversion in mind. Imagine a blog that will help you to boost conversion. ConversionXL is a perfect blog for startup websites that gives lucrative advice on conversion.
Spending a little time with David through has blog, For Entrepreneurs, will give you a chance to learn in-depth things that are important for startup websites.
There is always something to learn on Vero. This top blog well give you the best tips and hacks that will make startups thrive.
---
These blogs are not only helpful when establishing your business but they will impact advice that will be effective for a long time.