How to Start & Succeed in Your Catering Business
Written by Bernard on March 16, 2017
The catering industry was forecast to generate $8.12 billion in the US alone in 2016, with mobile caterers bringing in $915 million. In the UK it brought in £1 billion in revenue at the same time.
The industry is considered a luxury, and therefore it was hit particularly hard during and after the Great Recession of 2007-2009.
Try our online invoicing software for free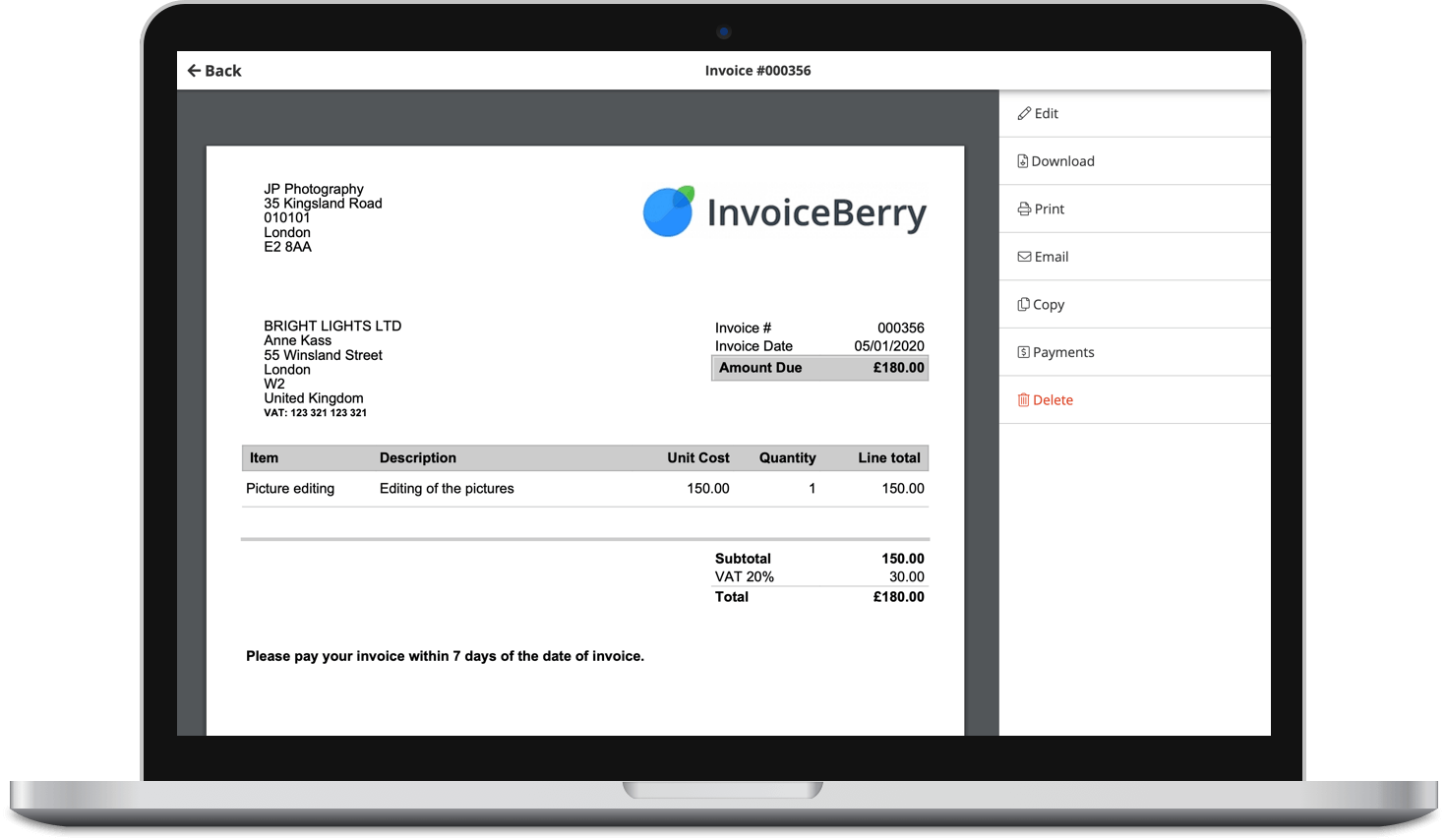 Send professional-looking invoices
Accept online payments with ease
Keep track of who's paid you
Start sending invoices
Although the catering industry in general was recovering in 2011-2012, the scale of the Great Recession caused lingering economic uncertainty and therefore stricter budgets for businesses and households.
However, the industry is experiencing an upward trend in the corporate and private spending on high-quality catering services.
The 3 Types of Caterers
While catering is an industry as a whole, there are generally three types of caterers.
1. Mobile Caterers
These types of caterers are most often found in their mobile food trucks or vans on street corner, at fairs, in food and drink trailers at construction sites, in business lobbies or in shopping mall kiosks or food courts.
The food that they serve is often pre-prepared and kept at temperature by their installed warming or refrigerator systems. The food they serve is almost always portable so that their customers can hold it in their hands comfortably.
They are particularly popular in urban and business districts, where the quick pace of life fits well with their quick-food business style.
2. Private Caterers
These types of caterers are self-employed freelancers or small business owners. They organize the entirety of the catering needs for various occasions, contracting vendors as needed. These usually include birthday parties, anniversaries, weddings, business events, and many other types of events.
Private caterers plan the menus, plate and dinnerware rentals, and also hire any necessary wait staff. They are also likely to arrange for clean-up staff for when the event has finished.
3. Hotel/Restaurant Caterers
These caterers are usually employed by the hotel or restaurant and are the liaisons between the customers and the kitchen staff to help plan the event.
They will work with the customer to arrange the banquet, organize table set-up, set the menu, arrange for the decorations, and any other extra services and personnel needed for the event.
In this guide we will only look at mobile and private catering, niches which are more likely to be populated by self-employed caterers.
Why Start a Catering Business?
As you can see, caterers therefore have a wide range of responsibilities. However, with a lot of responsibility and work also come a lot of opportunities.
Because food is a necessity and celebrations are dependable (although the size and scope may not be), caterers will always be needed in one form or another.
If you have a love for food and organizing events and have been considering getting involved in the food industry,  now is the perfect time to get started.
With the increase in the demand for catering events and economies in many countries already having recovered, your catering business stands a good chance of making it.
However, of course, there's more to the catering business than just your passion for food and event organizing. In order to make sure your business succeeds, you need to have the right strategy.
I. The Advantages and Disadvantages of the Catering Business
Before we begin to dive into the important catering business strategies, let's look at the advantages and disadvantages you'll have to prepare yourself for.
1. The Advantages
As a catering enthusiast, it is important for you to understand all the benefits that the catering industry can bring you.
You have your freedom
One of the biggest benefits of not just starting your own catering business, but starting your own business in general, is that you have the freedom that comes with being self-employed.
This means that you have the ability to determine how your day runs, what customers you work with, when and how you work, and every other aspect of your business.
You get to do your passion
Equally important is the fact that you'll be working on your passion of cooking for large crowds. It is especially important, of course, that you have great skill for cooking and can see the joy that not only your food but also your organization bring.
It also means you have the creativity to do your passion, as you can set your money, use the ingredients you prefer and set up the event as you best see fit, with the customer's agreement.
You can work when you want
When you become a caterer, you'll see that you have more flexibility in choosing your jobs than you would with other food-related work.
You can even do it on the side or part-time, as you can choose to do catering events only on the weekends or whenever your schedule allows.
You can earn a lot
The great thing about catering is that you'll have work in one way or another. The size and scope may change based on the budget or economy in general, but businesses and people will have events or celebrations regularly.
While not true for all catering jobs, many events can bring you in a lot of money and therefore make it very lucrative.
2. The Disadvantages
While you may be quite familiar with the advantages of a catering business, it is important to not only be mindful of the disadvantages but to also prepare yourself for it.
You'll have a lot of responsibility
This is the flipside of the independence that self-employment can bring. While you have all the freedom in the world to choose your clients, employees, working times, etc., you also have all the responsibility of ensuring that you have work.
This is not an easy thing to take on, and it can be very hard, especially in the difficult beginning stages.
You'll be very busy
The catering business is very demanding when you're actually working. Besides having to work the entire day when the event is happening, you'll also have to work a lot of days before to ensure that the event goes off without a hitch.
It can be very exhausting, because you'll be running around the entire day and you'll have to prepare yourself for that huge energy consumption.
You'll have a lot of stress
Catering is about food and organization, and therefore you need skills in both areas in order to be successful. You will have to make sure that every small detail is covered because if you miss something, it could ruin the entire event.
If you don't do well under stress, you may have to reconsider the field you're going in, since it is pretty much stressful for the entire of the event and even beyond that.
You'll have a difficult start
While you may have a passion for catering, it is difficult to emphasize how hard it can be in the beginning when you're just starting off.
Not only will finding clients be hard, since you need to build up their trust first, meaning you need to have references from past clients. It's also because you'll have plenty of competition, and positioning yourself as better than them will be a challenge.
II. The Catering Business Basics
With the advantages and disadvantages clearly set in your mind, let's dive into the nitty-gritty of what business basics you need to cover to start in catering. These are the foundations of a successful catering business that will help you get a good running start.
Here we'll look at your business plan, what insurance and licenses you need, the necessary skills and the software that will help make your work easier.
1. Your Catering Business Plan
Contrary to a now-common belief, business plans are not archaic, nor are they meant solely for investors. Primarily, a business plan is created in order for a business owner to determine the strategic steps to take towards success.
This forces the business owner to think about the numbers, as in the financial forecasts, but also to look at what the measurable goals are for new business and the methods to get there.
This is also useful when more people join the team, especially in senior positions. The business plan will help to put everyone on the same page and be a reference guide when the business expands or contracts.
Because of that role, the business plan is still crucial for any business.
There are, of course, some outdated ideas about business plans, such as it having to be a certain length. The truth is that the business plan can be of any size, depending of course on the business.
However, there are a few important parts that every business plan should have.  They include:
Executive Summary – this shows off the strengths of the business plan
Business Description—here you will review what the most important parts of your business are
Industry & Competition Overview—this is an important part where your research will pay off. You will look at the growth, trends, and competitors in the catering industry
Operations & Management Plan—this section covers your business operations and how they will work together to achieve your goals
Service Description—this part discusses the benefits your service provides
Marketing Strategy—here you'll cover how you'll place your service into the market, including the price, promotion, distribution and the sales potential
Financial Projections—the most mathematical part of your plan will cover your finances and how profitable your catering business is likely to be
While this may seem like a daunting task, we've put together a handy 8,000-word business plan guide to help you create yours. You can find it by clicking here.
2. Your Catering Prices
After you've created your business plan, or while you are doing so, you need to consider how you'll price your services.
One important strategy of having a successful business is in setting prices strategically. This usually means striking a good balance between setting competitive prices and making a profit.
Most customers will go around calling different caterers to get the best prices. However, they will also be more likely to use your service if they have received positive word-of-mouth or can see your successful events on social media or your own website.
We will discuss these marketing issues in the following section, so for now we'll focus on setting prices strategically.
When you are setting your prices, you need to take certain factors into account. Generally, you need to factor in your experience, training, skill level, location, quality of service and competition.
More specifically, you need to set your prices by doing the following:
Use fixed or tier pricing
With fixed pricing, you can set the price by menu per person or by the platter. Larger events usually use tier pricing which works by reducing the cost per guest as the number of guests increases.
In this way, the discount of buying food in bulk is passed on to the customer, while the caterer provides an incentive for the customer to increase the size of the overall order.
A general practice for caterers is to set the menu pricing by determining the food costs and multiplying that by 3.
Determine the number of courses and type of food
The more courses there are, the more complex the menu will be, and therefore the more different your pricing will have to be.
Similarly, if you have to create food that requires a long amount of time, you'll need to increase the labor hours.
For this reason, if the menu is particularly complex, you will have to use custom pricing after you've calculated the food and extra labor. When you are calculating labor, however, you should also add in the set up and preparation on-site.
There is also more labor required for sit-down or passing service, and these should be added into your overall labor costs.
Take into consideration additional services
Many catering services have additional service that they provide beyond food. This can include chair and table rentals, arranging the decoration, organizing necessary details for special themes, and many more.
While you may be willing to do these extra services, you should calculate carefully if you have the time and energy to do it, and if you'll profit from undertaking these services.
Iron out the details
Before deciding on the final pricing for the event, you should have a meeting with the customer to get all the necessary details on the menu preferences, time, place, number of guests and any special requests or services you are undertaking.
You should do this before you submit a proposal to the customer. This will allow you to carefully go through all the tasks and responsibilities you have, calculate it carefully, and come back to the customer with an accurate quote.
Taking the job too quickly, without having first gone through all the details, could mean a lot of work for you with little profit.
Protect yourself
It is also important to protect yourself if an unforeseen incident occurs.
For example, your customer could state at the last minute that there will be 10 more or fewer people at the event. Because you are charging per guest or platter, you will need to reconfigure the pricing, even though you've already purchased the food or agreed with the kitchen staff.
In order to avoid that, you should state that the guest list should be finalized one week before the event.
You should also add a clause that if any cancellation occurs within 48 hours of the event, the customer will be charged for 100% of the cost of the food and the hourly rate on any work completed by then.
3. The Software and Apps You Need
While there is often a lot of responsibility on your shoulders, it doesn't mean that you'll have to do it all by yourself. There are actually a lot of software and apps available to help your catering business run more smoothly.
Formerly known as WhenToManage, Peachworks helps caterers manage back-of-house operations.
Although used most commonly for restaurant operations, many of the features are adaptable to the catering business. This includes especially the POS software that will help you take payment from your customers.
In order to send out invoices quickly and easily, it's important to have the proper software.
InvoiceBerry can help you create and easily manage your invoices, and many business owners create and send their invoices in 60 seconds.
One of the more difficult parts of the catering business is in arranging for all the staff that are required for the event. Quickstaff helps that by letting you easily schedule and organize your staff for the various events.
This software helps you to create a perfect table seating plan for any event—anything from a small wedding reception to a major event. You can import guest lists, manage their details, RSVPs, meal choices, and much more.
III. Qualifications, Licenses and Insurance Your Catering Business Needs
In this section, we'll look at all the legal and work requirements you need to meet before you can begin your catering business.
1. Caterer Skills & Qualifications
Because of the responsibility a caterer has in making the food and helping to organize the event, there is a variety of qualifications that a caterer must have. Let's look at what the most important are.
Food knowledge
Of course, the first part (but not the major part) of running a successful catering business is in having a good knowledge of food.
This includes being able to plan and prepare menus, which involves knowing both how to prepare the food and how to pair it. If your menu skills are below par, you will need to work on improving them in order to have good references.
You should also know how much food a big crowd needs, how much to prepare and when, and how to transport the food to the event location.
Management skills
A large part of the catering business is in making sure that the people who are working with you are running smoothly.
You need to have a good eye for hiring talented, skilled staff who are motivated to do quality work and can deliver. This unfortunately also means letting go of certain people who are not working out without impacting the event.
Beyond that, you'll also need to have great people skills to interact with the customers and keep them satisfied. It could include keeping your composure during stressful times and also having the skills to calm your customer down.
Restaurant or catering experience
As is often said, running a restaurant is like doing a Broadway show, and running a catering business is like taking that show on the road.
There are many unexpected things that can happen, and you will have to adapt to those things and be able to comfortably deliver a great event.
This means that you'll need to have a lot of experience in many different scenarios and kitchens, as well as knowing the ins and outs of the entire industry.
It is generally advisable to start from the bottom and working all the way to the top, meaning you need to have experience in being a chef, bartender, dishwasher, truck driver, purchasing agent, and more.
2. The necessary licenses
Licensing requirements for catering businesses are generally varied in different countries and even, for the US, by state. However, they will usually revolve around the following:
Permits
In certain locations, it is prohibited to have catering businesses operating from home.
This means that, if you want to start catering operations, you must first find a commercial location to operate from. Then, in order to obtain the necessary licensing, your kitchen will have to pass inspection from the local health department.
Alcohol permits
In many places, if the food is cooked with any alcohol, the catering business will need to obtain an alcohol permit from the state.
In North Carolina, for example, the permit will authorize the business to store a maximum of 12 liters of alcohol (wine or liquor) on the premises. The permit also allows the business to transport the alcohol to and from the event location.
Business registration
Many locations will require that in order for a business to begin operations, they must first be registered with the state or other local authorities.
Different locations will have different processes for registering the business operations and operating name.
3. Insurance for your catering business
This may go without saying, but different locations naturally have different legal requirements for insurance.
That being said, it is still a very good idea to consider getting the following insurance types:
General Liability Insurance
This is one of the most common types of insurance for catering businesses. This policy will help protect you from any lawsuits that result from injuries at your events.
Beyond that, it also covers copyright infringement, property damage lawsuits, and reputational damage. It can also cover you in case your business accidentally starts a fire at the event venue.
In the US, General Liability Insurance policies for caterers can cost between $425-$500 per year for a policy limit of $2 million.
Catering Liquor Liability Insurance
If your catering business is going to be serving alcohol, it's a good idea to get Liquor Liability Insurance. This will help protect you from any lawsuits related to alcohol at your events.
Caterers are often responsible for any alcohol-related incidents at the event, and in some cases even for guests who are involved in car accidents or injure someone.
This policy can cost between $500-$620 per year.
Workers' Compensation Insurance
Most state laws in the US will require catering business to have Workers' Compensation Insurance in case there are any injuries or illnesses on the job.
This policy will help cover the employee's medical fees and any lost wages while protecting the employer from Workers' Comp lawsuits.
Workers' Comp Insurance for caterers usually cost between $790-$3000 per year with a $500,000 policy limit.
IV. Getting Your Catering Customers
One of the most important parts of any business (and probably the biggest part in general) is getting your customers.
You may have the most amazing product or service in the world, but if no one uses it, then it's an utter waste.
Therefore, getting your catering services in front of the right clients will prove to be the difference between business success and business failure.
Let's look at some tried and true ways to get your catering business customers.
1. Traditional Marketing
Although traditional marketing is fast falling out of favor in the always-online, digital world, there are still many traditional tactics you should be employing.
Network
Chances are, you will have or will want to have corporate clients that you can do regular catering for.
These can be golden clients, as they will often have a few events you can cater, rather than just one or more per year with private clients.
In order to find your perfect clients, you need to go where they are, which means attending a lot of corporate events in your local area.
Catering, restaurant and food-related conferences are also a good idea as they will allow you to find clients, partners, or better ideas for your business.
Use promotion materials
A definite throwback to the older days is the use of printed promotion materials.
These should not be thrown at potential customers like spam. Instead, mail them to potential business or private clients or send them with newspapers your clients probably read.
You can also incentivize customers by offering discounts or even creating a special event where you can invite businesses and influencers to sample your food.
Referrals
Lastly, you should be working hard on getting referrals for your catering business.
These referrals are quite hard to come by in the beginning when you've just started. However, your very first clients are most likely to be friends or family, or friends of your friends or family.
Why not use that opportunity to provide a small discount and request a referral. Even better, if the referral is successful, you can agree to give them a special price on their next event.
2. Social media marketing
Social media is without a doubt the rising star (or current diva) of the marketing world.
All sizes of business–small, medium, large, enterprise, etc.–are heavily investing in social media in order to get more customers.
However, you don't have to have large budgets to use it to your advantage as well. One of the great aspects of social media is that it is free for everyone to use, meaning you as well.
Just make sure that you create your business page and have optimized it so that people can find you easily and learn about you quickly.
This includes listing all your business details (times, phone number, location, etc.) and including photos of previous events you've hosted.
In fact, that's the first thing that anyone will want to look at, so make sure it is impressive.
Social media is an interesting beast in and of itself, and there are many amazing things you can do with it to help grow your small business.
To get much more in-depth information and analysis on how you can use social media to your advantage, download our free ebook The Ultimate Guide to Social Media for Small Businesses and Freelancers here.
V. To sum up…
The catering industry is on the upswing and has many advantages. These include:
having your freedom to determine your work
getting to do your passion everyday
having flexibility in your work, even part-time
potentially earning a lot of money
However, it is important to remember the disadvantages:
you'll have a lot of responsibility
you'll be extremely busy
you'll have a lot of stress
it'll be difficult in the beginning of your career
Getting started on your catering business requires you to take care of your business fundamentals. They include:
your catering business plan
your strategic catering pricing
useful software and apps to help you run your business
Beyond that, you'll also need qualifications and paperwork, including:
the necessary skills caterers should have
permits and business licenses
the three types of insurance you may need
In order to get your catering customers, you should use:
traditional marketing, which includes networking, print materials, and referrals
social media marketing
With these things covered, you'll find yourself with firm footing on the road to success.
Good luck!