7 Practical Tips to Launch Your Freelance Writing Career from Scratch
Written by Leiann on September 16, 2019
If you're reading this, I take it exploring the alluring world of freelance writing has been on your mind. It's easy to see why many are drawn to the flexibility, potential monetary reward and creative diversity such a role offers.
However, venturing into this new territory can be nerve-wracking. You're probably unsure of where to begin and battling doubts about your ability to pull it off. After all, the general conception is that people hire freelancers because they want to work with experts. 
Try our online invoicing software for free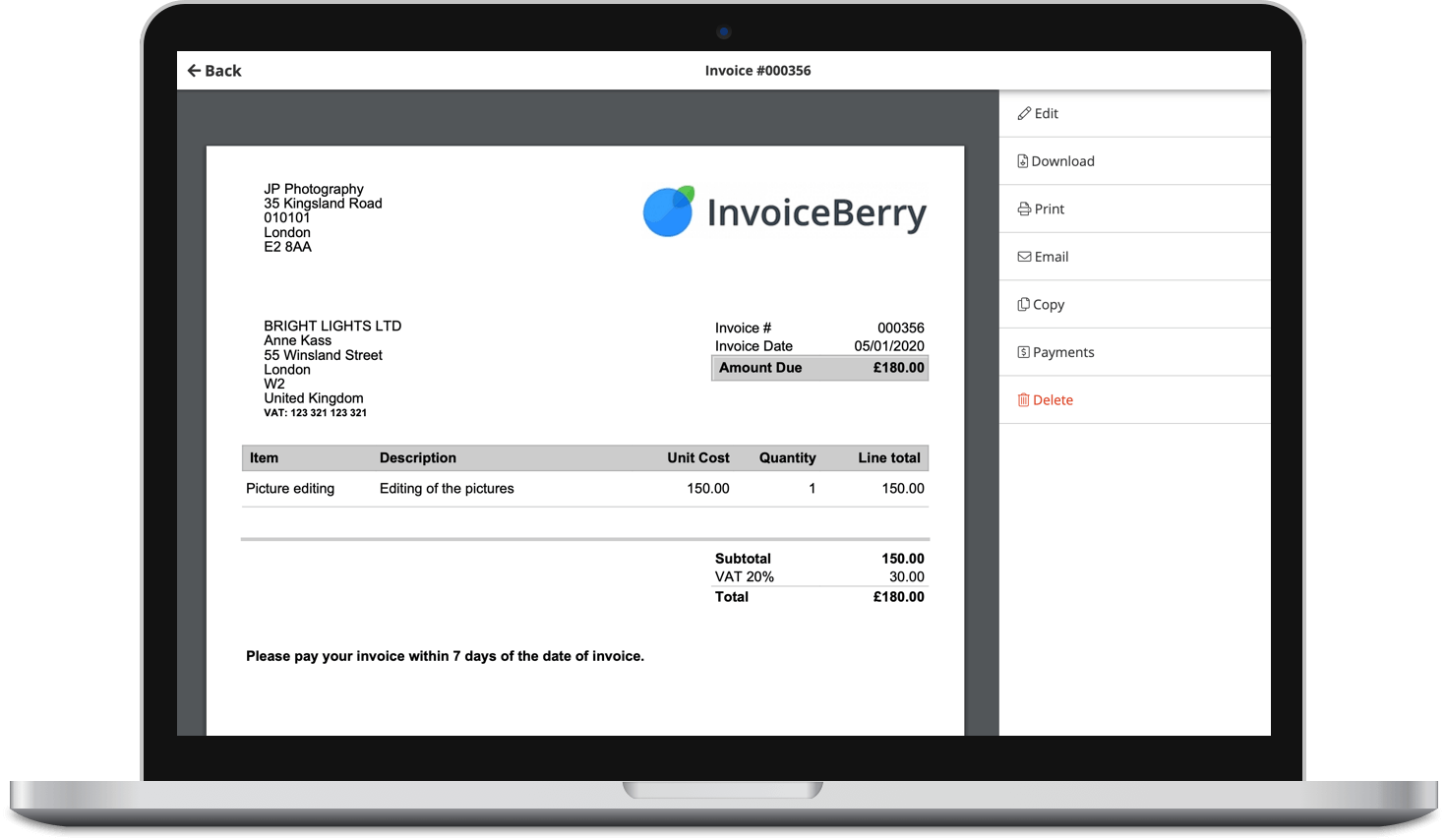 Send professional-looking invoices
Accept online payments with ease
Keep track of who's paid you
Start sending invoices
But don't worry, if you're willing to put the work in, you too can achieve expert status. Here are some tips to help get you started.
Take the plunge and begin brainstorming niches
The best advice is to start creating. There's no time like the present and if you wait until you've got everything figured out, chances are you'll never begin. Remember, the bulk of your skills are gained by doing, not by reading about doing.
It's often advised to identify a specialty early on and work at perfecting it over time. However, with so many options out there this task is much easier said than done. The trick is to not allow the pressure to immobilize you. You are in no way obligated to pick and stick with just one niche. 
Diversification is your friend and some initial soul-searching is needed to figure out which type of freelance writing most appeals to you. Consider your passions alongside how much money you want to earn, how much time you have to dedicate and the types of clients you'd like to target. 
Once you have your top alternatives identified, throw yourself into producing sample content. This will be a great aid in figuring out where your strengths as a writer lie. As an added benefit, your portfolio will also start blossoming. 
To get you launched on your journey, here's a list of the 10 most profitable freelance writing niches of 2019. Happy shopping around!
Sharpen your skills through personal development
Once you've settled on your preferred writing form or forms, the next step is to dive deeper into content creation. The fact that you're exploring this vocation implies a fondness for words and expressing ideas. But factors like proper grammar, punctuation and formatting will inevitably come into play.
It's a good idea to identify any weak spots or deficiencies and work on correcting them. Grammarly and Hemingway are two great writing assistant apps that can be called upon for added support with spelling, editing and flow. 
And even if you're already a grammar guru and punctuation perfectionist, by default of being a freelance writing newbie, it's expected that you'll need an introduction to tried and true blogging formulas as well as content generation guidance.
There's an excess of resources out there to better inform you. Additionally, several successful writers have created courses sharing the ins and outs of their trade. Continuously seeking out opportunities to sharpen your skills through self-development is what it's all about. 
These are some additional recommended resources you can check out for inspiration, along with this list of handy writing tools. 
Figure out where to find freelance writing opportunities
The next step of your freelance writing journey will entail figuring out exactly how to find work. The good news is that there are countless writing opportunities online. It may seem daunting, but the best advice is to be persistent in your approach. There are entire blogs dedicated to helping newbies find their first writing gigs.
For example, this post by Location Rebel does a phenomenal job at outlining and listing where to seek out writing opportunities online. The list includes job boards like UpWork, paid sites like Freelance Writer's Den and agencies like Contently.
It's also recommended that you perform regular sweeps of social media platforms while searching for phrases like "we're hiring," "work with us," or "writing job." In addition, joining writing job groups on Facebook and LinkedIn can be beneficial and result in gaining insider access to posted leads.
Pursuing opportunities to guest post on your favourite blogs, or on sites like Listverse, is another recommended tactic for gaining experience. So enter stalker mode, find blogs and websites that you connect with, and submit your proposal pieces. 
Having your writing published for all to read is guaranteed to provide an excellent boost to both your morale and budding writing career. Here's a beneficial bonus list of how to find and retain clients.
Learn the art of developing compelling proposals
Once you've identified some opportunities you'd like to apply for, your next goal is to develop a killer proposal that can outshine even the most experienced competitors. You'll need to first evaluate all the available information and come up with a pitch that outlines how your writing services meet the client's needs and deliver the greatest value.
A prompt and sweeping entrance is a must. For example, if the opportunity is related to blog posting, an effective outreach strategy would be to pitch a subject line like, "My 6 Steps to Driving Traffic for [Company Name]."
Once you've piqued interest, tailoring and selling your strengths comes next. If the opportunity presents itself, try to offer any insights spelling out exactly how your specific services would provide the best solution. As much as possible, you should show proof of previous results or links to similar completed works. 
Always remember, persistence pays. Try to keep in touch and send a follow-up message if appropriate. When dealing with competitive job boards like UpWork, you may apply to several posts before being invited to interview. Don't grow disheartened by the silence or rejection.
Instead, use this time to keep honing your pitches and improving your written voice. The right opportunities are just around the corner, and when they come piling in, you'll want to have a functional routine in place to ensure that you meet your deadlines and deliver outstanding work. 
Establish a routine and work to improve productivity
Depending on your personality, this could be one of the hardest parts of freelance writing. Not having to step foot in a physical office doesn't translate into an exemption from entering formal work mode. In fact, you'll need to be even more disciplined now that you set your own hours. Some performance efficiency tips include:
Decide on a time and stick to it
Establish early on your most productive/ convenient working hours and adhere to them. Whether it's 5 am or 4 pm, be sure to commit to writing during the hours assigned. Of course, there'll be times when disruptions happen and you'll need to reschedule. This, however, should be an anomaly, not the norm. Effective time management is key. 
 

Find a conducive workspace
Do you already happen to have a home office, a desk that's just the right height, a preferred co-working space or a favourite cafe? Whatever and wherever it is, find a few spaces that are conducive to working. Avoid overly familiar situations, such as a living room where friends and family might be milling about. Your bed may also seem like an inviting office space, but trust me, you must resist the urge!
Unlike many tasks, writing demands pretty much all of your attention. Be sure to remove distractions by turning off the tv off and setting your phone to 'do not disturb'. Also, if push comes to shove, you can consider turning the Wifi off by unplugging your router. That way, when you reflexively reach for your phone, you'll be unable to fall down the rabbit hole of mindless scrolling.  Check out this post from Write to Done for some supplemental tips on avoiding distractions.
Preferred apps will depend a lot on your writing machine. Are you working on a Mac or iOS device, a windows computer or some other medium? There's an abundance of great productivity-focused apps out there. 
My personal favourite way for staying focused is through the use of Forest, an app that combines the Pomodoro Technique with virtual growing trees to motivate users to stay off their phones. Find one that works for you and use it.
Master the marketing side
A solid marketing plan is a next step for guaranteeing the success of your freelance writing. You may be new to the game, but confidently branding yourself as a freelance writer is a must. In order to access a wider audience and potential clientele you have to market yourself. 
This brings us back to the importance of seeking out guest posting opportunities. Having a featured author bio that links to your growing portfolio is a great way to get your writing services noticed. The key is to state the type of writing you ideally want to engage in and the type of clients you'd like to join forces with.
Social media is your friend. Featuring "Freelance Writer for Hire" in your profile descriptions can go a long way. Twitter can be an awesome tool for networking. LinkedIn is also great for connecting with prospective clients and, through their Pulse instant posting feature, you're able to publish content that's automatically approved.
Next, starting a blog can go a long way in helping increase your freelance writing visibility. While a portfolio of samples is a good start, an active blog may even be better. Have a look at this free step by step guide to creating a blog in 20 minutes.
Bear in mind that even though you might not be paid for your initial blogging efforts, you will benefit from the practice of generating strong headlines, formatting, structuring and using an engaging voice. Also remember that the more content you have online, the higher your search engine ranking will be. This can go a long way in getting your writing noticed and helping future clients find your voice amongst the fray.
Figure out how to price your services
Once you start earning the big bucks, you will be faced with the challenge of deciding your prices. This Copyblogger piece does a nice job of delineating a step-by-step method for setting project rates.
 Project price = (Base rate) + (Markup)
When determining a fair hourly rate, consider project scope, the possibility of ongoing work and the client's overall budget. Base rate can then be calculated by multiplying your hourly rate by the estimated amount of hours it will take to complete a given project. A 25 – 50% padding is also recommended to cover aspects of the assignment such as client interaction, revisions and unexpected additions.
Finally, when the money starts rolling in, be sure to consider using an online accounting and invoicing software like InvoiceBerry. Automation of invoicing processes translates into time saved as well as easier tracking for producing financial reports.
Remember even if it doesn't feel like it right now, your professional writing services can eventually satisfy the overwhelming need to translate clients' ideas into cohesive content. You have what it takes to be a great writer and your timing for entering the game couldn't be better. 
Forge ahead with full confidence, persistence and willingness to grow. Make use of all the great resources at your disposal and commit to being diligent and disciplined. As cliche as it sounds, you miss 100 percent of the shots you don't take. 
Happy writing!