How Online Invoicing Saves Time and Improves Freelancing Income
Written by Mindaugas on September 11, 2017
We have reached the time when most things can be done online – online shopping, scheduling appointments and even invoicing just to name a few.
There are loads of benefits to invoicing online instead of the old fashioned way.
Try our online invoicing software for free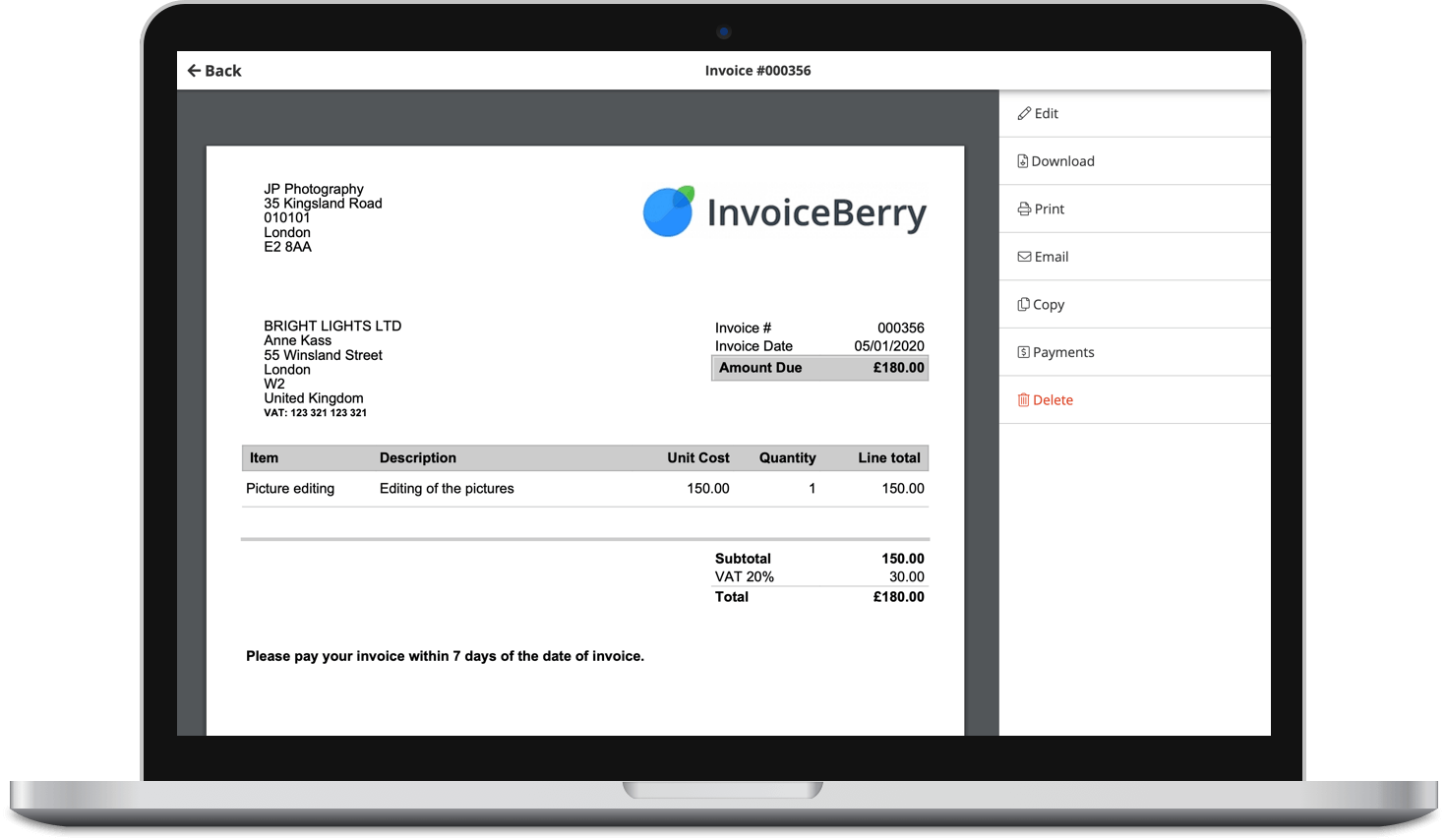 Send professional-looking invoices
Accept online payments with ease
Keep track of who's paid you
Start sending invoices
The pure convenience of doing all these things on the internet saves a lot of time for many. Not to mention you have the ability to not use as much paper and it's a whole lot easier to keep track of all your finances.
Now if you haven't already, I suggest you move your invoicing online. Utilizing the right tools to invoice, will be less of a headache for you and it will put money in your pocket quicker.
Accessibility for You and Your Client
Waiting for the old snail mail to arrive with your precious invoices, or having to get up and leave your home to go to the post office to mail it out…
That is a thing of the past. You shouldn't have to burden yourself and your customer with slow mail service. Online invoicing is quick and instant, both for you and your client.
Invoices are easier to access for both parties. They are at your finger tips as long as you have internet connection available. Convenience is the name of the game. Makes it incredibly easy for the client to pay you.
Gone are the days when you have to wait for invoices to arrive in the mail. There are countless options available that allow you to create, manage and send invoices online.
Learn to utilize your online capabilities to the fullest. It will increase your efficiency as a freelancer. Saves time in the long run, allowing you to continue work while streamlining your income.
Automation – One Less Thing to Worry About
Online invoicing has many advantages and by far one of the most important ones is the ability to automate.
Automation and using recurring invoices leaves you open to doing more important things. Instead of constantly wasting time trying to stay on top of your invoicing you can focus on the work you do.
Remember the more time you work and less time you spend on invoicing, translates to your higher earnings. Something to keep in mind when weighing out the positives and negatives of making this switch to online invoicing.
Easy to Track Multiple Things
As a freelancer, you may be subject to working on many different things. Receiving online invoices will streamline everything for you to make it all so simple.
Also, it makes it impossible to misplace online invoices for your client. Can you imagine if someone lost your paper invoice…Great, now you have to take time out of your schedule and go mail it out again. Add at least another couple days to you getting your money for the work you did.
Online invoicing also offers payment reminders. Things have a possibility of getting a bit hectic and overwhelming for both you and your client. You never know, some things such as payments can slip their mind, and they might slip your mind too.
Incorporating online invoicing in your life, you will have the possibility of always being reminded of outstanding invoices and your client will also be made aware of services that still need to be paid for.
Reduces Cost for Both Parties
Cost reduction is a great byproduct of switching to online invoicing. Think about how much time and money you would spend if you have to print out each individual invoice?
Now that you have printed out invoices, you have to seal them in an envelope, buy postage stamps and mail them out.
Might not seem like a lot, but costs for stamps, printer ink, envelopes quickly add up. Let's not forget all the time it takes to actually go through the process of leaving your home and tracking down those elusive mailboxes.
All that could end up taking a chunk out of your bottom line. Those unnecessary steps could and should be quickly eliminated.
Online Invoicing is Easy to Use
Online invoicing is easy to learn and to use. It really is. Frankly, online invoicing is a lot easier and less time consuming than conventional methods most of you may be used to.
With online invoicing, it only takes about 60 seconds to create and send an invoice to your clients. Now compare that to the old ways of printing, sealing it in an envelope and mailing it out. Not to mention the time it takes for your client to receive the mail and open it.
Most invoicing software is very intuitive and there will be no issues learning the in's and out's of it all. You will be very happy by switching to online invoicing. Your productivity will go up and the time spent on mundane invoicing will go down significantly.
Multi Currency Use
Some of us may encounter clients that may use different currency than what you're used to. Within the EU for example, there are 10 different currencies in use. That may cause some issues to arise if not utilizing online invoicing.
Proper online invoicing will incorporate accurate exchange rates for both you and your client.
Keep in mind, when working with multiple currencies and not using proper online invoicing software there is always a higher risk of lost revenue.
Human error that can be avoided with invoicing software, can sometimes cause hundreds if not thousands in lost income because of exchange rate miscalculation.
Time to Upgrade
Are you now convinced that you should be using online invoicing? Change can be frightening to some especially when it involves your finances.
Online invoicing will have nothing but a positive impact on you as a freelancer and your clients will surely welcome this change.
Many people have made this switch online and have seen incredible results in time saved, and accuracy when it comes to invoicing. I suggest you do the same – embrace the change.
InvoiceBerry Might Be the Perfect Solution
If you are thinking of making this crucial invoicing switch, give InvoiceBerry a try. It's risk free.
Our intuitive online invoicing tool will make your life and your client's life a whole lot easier.
Access your invoices anytime anywhere. You can keep track of all your clients on one simple platform. Set up recurring invoices and have the piece of mind that you will never again forget to send out an invoice.
You won't regret using InvoiceBerry.
Small Business Finance 101
Download our free guide to learn the fundamentals of finance that will help make your small business more efficient and successful.