Marketing Strategies for Small Business
Written by Mindaugas on January 29, 2018
Marketing is essential to any business no matter where it's located. Having a great product to offer is good, but if no one knows about it, what's the point?
A well orchestrated marketing campaign will get you noticed and people will start talking about your business.
Try our online invoicing software for free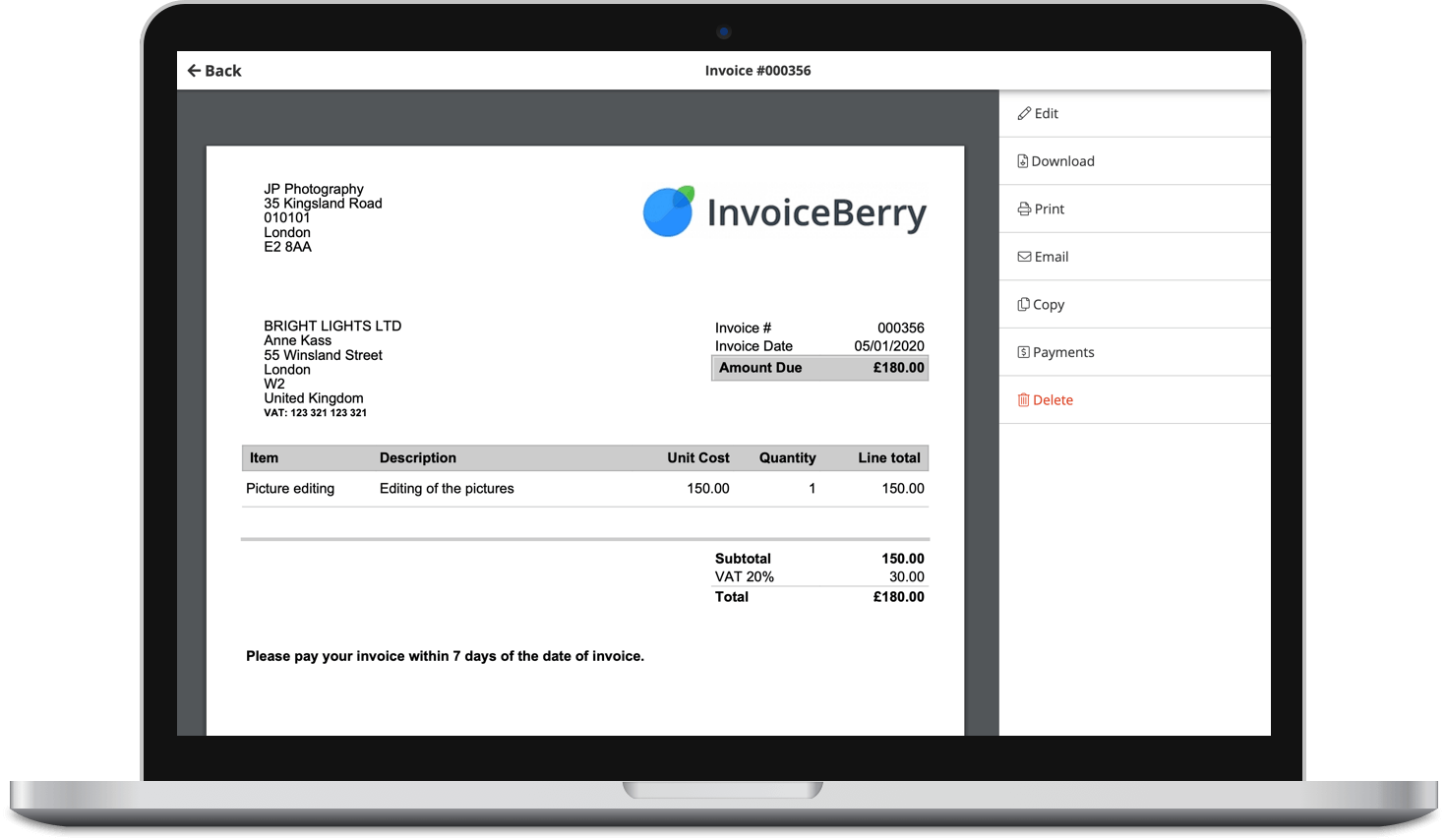 Send professional-looking invoices
Accept online payments with ease
Keep track of who's paid you
Start sending invoices
I have listed some important things to consider and marketing strategies to experiment with that will help get your name out into the world.
Buyer's Persona
Buyer's persona is a very important factor to consider before attempting any marketing. To best implement all your marketing efforts you need to figure out who will be buying your product or using your services.
Think of your ideal consumer. Who would it be? A middle class stay at home mother? A 23 year old university graduate who is looking for a job? Be as specific as you can when coming up with the buyer's persona.
Pin point the exact strengths and weakness of your consumers. This will ensure your marketing campaign is as effective as possible and will speak with the people on a personal level that will want what you have.
Research Your Area
Researching the area of your business is key. This may not be a huge necessity for an online business but if you're a brick and mortar shop you will have to do this.
Assess the income levels of different neighborhoods. Look at the education levels people have attained. See what stores operate in the area. What are their price points.
Those are just a few examples of the type of data you should be gathering when trying to acquire some inside knowledge of who lives there and who might be stopping by your store.
All this knowledge will come into play when you will be looking to reach out to the consumers to come and buy your goods and services.
Understand Marketing Channels
You can't utilize something to its fullest potential without understanding the ins and outs of it all. Am I right?
Before jumping into using all the marketing tools at your disposal you need to have a general idea of how it all works to be most effective with them.
There are a lot of marketing channels and new ones just keep popping up on a weekly basis. Educate yourself on all the available options before diving in. You will use less resources and you will avoid spending huge portion of your budget on marketing that may not even work.
Social Media
This is a channel that almost all the businesses utilize and it is incredibly effective. Everyone with access to the internet will have the potential of seeing your business social media page.
Take this into consideration, over 3.2billion people, or about 43% of the world's population now has access to the internet. Of that 3.2 billion, 2.5 billion use social media.
I guarantee you that you will not be able to come up with a marketing channel that can reach that big of an audience, besides social media.
If you properly utilize this resource, many potential clients around the world will know about you and your business.
Referrals
Simple and effective marketing strategy. Referrals can get people to talk about you and your business. Be strategic with it and you will see people come flocking in through the doors.
You can even bring partners on board to make referring a whole lot more effective.
For example, Derek Hines an internet marketer with West Coast Self-Storage recruited partners in the same market to enhance his referral strategy – "We'll also market ourselves to other storage facilities by giving a referral fee to the manager if they refer a customer to us.
This would happen if that location didn't have the size or type of storage unit the customer wanted. Rather than just turning them away, they can send the customer to us and be rewarded monetarily for it."
Networking
Networking is great and it might be frightening strategy to some. Utilize those people skills and reel in new clients and customers for yourself.
In the internet age, not many are willing to go out into the world and communicate with people face to face anymore. Don't avoid this strategy, it will be net you great rewards.
Look into some networking events that are happening in your area. Larger cities definitely have plethora to choose from. Have a look online and see some that may suit you and don't be afraid to go check them out.
Talk to other business owners. They will share insightful information that can help your business grow. You will have a chance to exhibit your proposals and meet new clients.
Face-to-face networking brings a certain element of connection that cannot be conveyed as well online, through mail or advertising ads. It's more personal and seeing the face that runs the business can create a more approachable feeling to new customers and other business owners.
Targeted Advertisement
Targeted advertisement by itself has many channels that you can go through. There are TV advertisements, newspaper ads, online ads, radio ads, etc.
I will cover some of the main ones here.
Web Advertisement
Internet advertising pin points potential clients very accurately. It's almost scary how algorithms work to be able to decide which people should view which ad.
People's browsing habits say a lot about consumer behavior, and what they may need in their lives.
When you or anyone browse the internet, small files called cookies are collected. They are bits of information that describe what and how the content is viewed on the internet.
A combination of cookies can effectively tell a lot about people and what ads should be shown to them and through what web pages.
If you choose to go this route, your ads will target the specific demographic that is most likely to use what you're offering based on their internet usage.
Costs vary drastically for these ads. Some businesses utilize internet ads better than others. See if this option works for you. In the end, they are a costly option so think carefully before venturing down this road.
Have a look at this guide, it will give you a more in-depth look at how you can best utilize online advertisement for your business.
Newspaper and Magazines
You have a lot of choice in this regard. There are countless magazines and newspapers out there for you to consider when looking to place and ad.
If your business has a physical location, you might want to consider a local newspaper or a local magazine as a potential place to advertise. Most of your clientele would be located in a more centralized location anyway.
Online business can opt in for a more broader reaching magazine or a newspaper.
Refer back to your buyer's persona. See what type of person they are and ideally what they would read. This way you will have a general idea of the type of readers they are and what they would pick up at a kiosk or be subscribed to.
Old Fashioned Snail Mail
Snail mail can be an effective method to market to you potential clients. You did research your location, right?
Don't be afraid to send out fliers and notices that inform the local residence of your business operations.
For example, a local pizza restaurant may want to send out promotional flyers giving people discounts and informing them of free delivery.
Small offers and promotions are always great for a customer to receive in the mail. Not only will you make them aware of your presence in the area, but you can also give them an enticing reason to walk in through the door.
Trials
Everyone likes free stuff. Even the word "free" is pleasing to the eye. Use this to your advantage. It's always nice to get to try things before you commit to the purchase.
Give new customers a chance to test out your products or services, if your business model allows it. Does your product live up to the expectations you are presenting?
Look at the software companies or the food industry for example. There are always demos and trials for the consumer so they have a chance to get a feel for the product that is being offered.
It may feel scary giving something away for free, but this helps build trust with the consumer, especially with the new clients. It's best to let the consumer get a sense of what you have and then reel them into paying.
Time to Try
There are many strategies you can utilize that have the potential to attract clients. You won't know what works and what doesn't until you have given it a shot.
Play around with your marketing campaigns. Some might work today and won't work tomorrow.
Keep in mind that there will be challenges that you will have to face when it comes to implementing marketing campaigns. Marketing is dynamic and you won't always stick with the same strategies that work right now.
Small Business Finance 101
Download our free guide to learn the fundamentals of finance that will help make your small business more efficient and successful.