Top 99 LinkedIn Groups for Small Businesses to Follow
Written by Angela on March 14, 2022
Are you looking for a way to connect with other small business owners and get help and advice from them? LinkedIn groups may be just what you're looking for.
In this article, we'll talk about why LinkedIn groups are a valuable resource for small businesses, and we'll list 99 LinkedIn Groups that you can join to get started. We'll also give you a brief overview of each group so that you can decide if it's the right fit for you.
Try our online invoicing software for free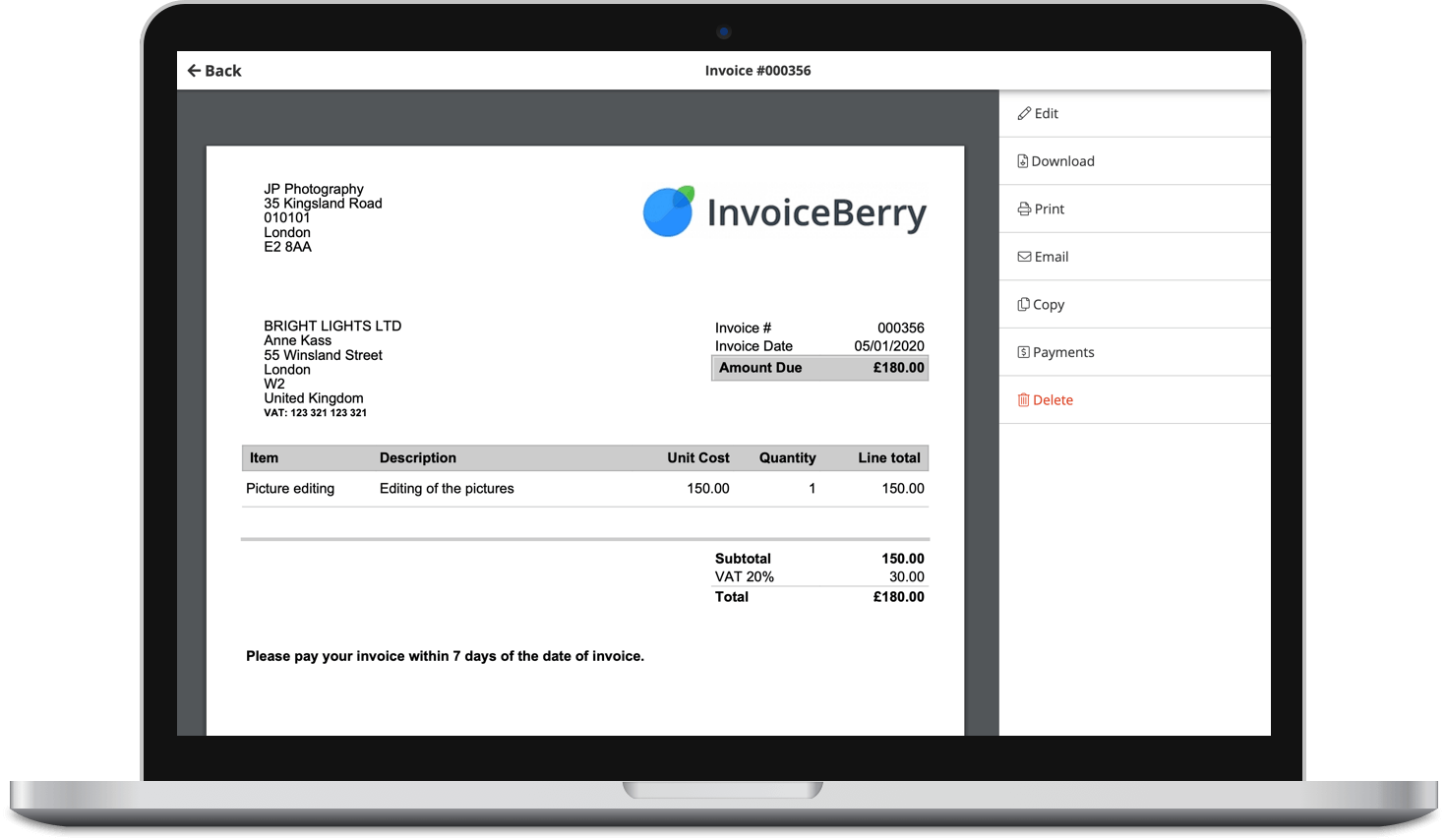 Send professional-looking invoices
Accept online payments with ease
Keep track of who's paid you
Start sending invoices
If you've never checked out LinkedIn Groups before, now might be the best time to take a look. Let's start with a few reasons why LinkedIn Groups can be helpful for small businesses.
How LinkedIn Groups Can Help Your Small Business
LinkedIn Groups provide a way to connect with other business owners who may be able to help you achieve your goals. They offer a great opportunity to learn from others and get insights into what's working (and what's not) for other businesses, apart from your network.
Don't underestimate the usefulness of a venue where like-minded individuals can get together and share insights, ideas, and solutions to problems that come up within your industry. A targeted group like this is valuable to maintain your focus on what you need to accomplish.
Another way LinkedIn Groups can benefit your small business is by helping you drive traffic to your blog or website. You can look into automating your social media posts and posting to relevant Groups to keep your content fresh.
If your business has great content, for example, sharing your latest blog post in relevant groups can help increase its reach and get more eyes on your business. And since LinkedIn is a platform where professionals network, it can be a great way to get your business in front of a new audience.
Finally, there is always the opportunity to find new clients, customers, and partners through LinkedIn Groups. By being active in groups relevant to your industry, you can connect with people who might need your services or be valuable partners in your business.
How to Get Started with LinkedIn Groups
If you've been on LinkedIn for a while, chances are you've been included in a few groups based on your profile. There are LinkedIn groups for alumni of certain schools, as well as big corporations and companies, and you may have been added automatically. You can give a quick check by going to the LinkedIn Groups page and seeing what groups you're already part of.
Joining a group allows you to see posts and discussions within a group, and comment and react to posts by other group members. Many groups allow members to post freely, while some will have moderated posting access.
As with any online community, there are a few unspoken rules when it comes to interacting on a LinkedIn Group. It all boils down to keeping things professional and making sure what you're saying is relevant to the group you're posting or commenting on.
If searching for a group to join, simply start searching at the top bar on LinkedIn. You're more likely to find groups relating to a professional industry, job, or even a location or practice.
We've gone over some of the benefits of using LinkedIn Groups for your small business, as well as a very brief overview of how to use it. It's now time to get started on what you came here for! Here are 99 LinkedIn Groups for small businesses to follow.
LinkedIn Groups for Entrepreneurship and Business
LinkedIn is a great tool for networking and exchanging ideas about entrepreneurship and business. The following groups may help you connect with like-minded individuals and learn from others in business.
With other 2.3M members, this is one of the best groups to join in LinkedIn. While posting is limited to HBR staff, discussions are encouraged for their posts with the intent of making better management happen. HBR believes that we would all be better off if leaders made better decisions and workers were more productive, and that thoughtful conversations can help bring this about.
This LinkedIn Group is a gathering of future-forward market research and insights experts who explore emerging consumer trends and their influence on brands and industries. You can connect with other corporate visionaries and futurists from a broad range of sectors to discuss future trends and how they can impact business.
The Business Technology forum is for senior business leaders and technology experts who aim to enhance business performance through new technology. Members can exchange ideas and opinions on how to progress and support their business' drive for success. A growing business can learn a lot through thoughtful discussions with board-level leaders and technology experts.
Business strategy is important for all of us, whether you're a big corporation or a small business. A solid, sound strategy is important if you're navigating difficult markets and times, and this group can help you build one for your business. Discussions and topics in this group can help you better understand the mixture of industry, product, employees, and customers to improve your business.
Market research is one of the things every entrepreneur and business owner needs to understand and accomplish for their business if they wish to succeed. Oftentimes it's a skill that is overlooked. With a LinkedIn Group dedicated to connecting people interested in market research with each other, learning how and discovering best practices around this skill won't be too difficult.
One of the most important functions in any business is business development. Through this, your business can find new opportunities for growth and development. Business development is not simply a process of marketing, but combines communication, public relations, sales, and marketing efforts to grow the business. This LinkedIn Group contains valuable discussions and topics to help you improve your business development efforts.
An important aspect of business is the culture behind your company. Managing changing and corporate culture is an important aspect of every successful business. It is often an aspect of business that is overlooked, but can have a significant impact on your bottom line. A LinkedIn Group to discuss change management and corporate culture is a valuable resource for busy professionals who would like to learn more and transform their companies with a better, more productive working environment.
Business is built up of people, and understanding how people work and is a valuable tool in improving anyone's business. The Psychology in Business LinkedIn Group is for people who wish to learn more about how psychology contributes to their professional lives, as well as apply psychological knowledge in business environments.
Business intelligence is one of the newest buzz words around, and is simply the use of technology and software to retrieve data and analytics in order to make better, data-driven decisions. The technologies surrounding business intelligence may be confusing and daunting to a business owner, which is why a LinkedIn Group dedicated to business intelligence is a great tool to tap into when it comes to understanding how to implement a BI strategy for your company as well as best practices on how to use this to make better decisions.
In this day and age, it's important to remove the digital from any thriving business. This may be confusing for more traditional business owners. This is where the Digital Business Leaders LinkedIn Group comes in. This group is for anybody who is interested in how to successfully lead a business in the digital age by learning from other leaders who have harnessed technology into their business successfully.
Need more business- and entrepreneurship LinkedIn Groups to check out? Why not try the following list:
LinkedIn Groups for Small Businesses and Startups
The small business and startup journey is often a different challenge compared to established companies and businesses. The LinkedIn Groups catered towards small businesses and startups are no exception. These groups can be a more focused resource for small business owners looking to help grow their business.
One of the biggest LinkedIn Groups catered for startups and small businesses, the Startup Specialists Group is a large moderated community for all people involved in starting their businesses. Discussions and topics centre around all things related to growing your business from the ground up, and members can enjoy learning from other startup leaders and business owners who have walked the path or are journeying along with them.
This LinkedIn Group is for existing business owners focused on growing, building, and scaling their businesses. Members can learn from other fellow business owners on tips and tricks that worked for them with their businesses, solving problems and understanding the ins and outs of managing a small business. Check this Group out as a great resource for small business owners and entrepreneurs alike.
One of the biggest small business LinkedIn Groups, the Small Business Network by Entrepreneurs HQ is a great network for entrepreneurs, founders, and small business owners. Through this group, they can meet coaches, consultants, and thought leaders who can help them in their journey towards small business success. They can share ideas and opinions on what works for them and grow together as a community of successful business owners.
The goal of the Small Business & Independent Consultant Network LinkedIn Group is to create a network of small business owners and consultants who help each other in raising the profile of small businesses. Aside from thoughtful discussions, members can connect with appropriate service providers within the group in order to help grow their own businesses.
Targeted for forward-thinking entrepreneurs, small business owners, and executives on LinkedIn, the Linked Small Business Innovators Group is a great resource for all members to keep updated on news and trends around entrepreneurship and business, as well as access expertise within the community in order to better their own businesses. Building relationships and connections within the group is easy and encouraged.
The Small Business Accelerator LinkedIn Group aims to help entrepreneurs start and build successful businesses. Members can learn and share information with fellow business owners, such as tips, tools, resources, best practices, and other information that can help any budding business owner in improving their businesses. This group also organises regular offline and online events to help entrepreneurs with small business training, such as free webinars on marketing and other business-related topics.
The Bright Ideas & Entrepreneurs LinkedIn Group is a small business startup community that helps members meet other fellow entrepreneurs. Members can also network with angel investors, venture capitalists, and the like, within the community, as well as learn from each other and gather important tips on growing their own businesses.
The Small Business Web Group is a community that empowers small and local businesses to grow and become successful through digital means. For many small business owners, the internet can be confusing to harness for their businesses, which is where this small community comes in. Members can get help understanding various techniques like search engine marketing and optimization, web design and development, and other related topics.
For startups and small businesses looking for additional investments to grow their businesses, a LinkedIn Group like the Startup and Entrepreneurs Network is a valuable resource to have. Aside from discussions and networking with other fellow entrepreneurs and business owners, funding proposals can also be sent to the group administration.
This moderated LinkedIn Group is for startups, mentors, founders, investors, and consultants that can help any small business or startup grow their business from the ground up. Through networking, valuable discussions, and useful tips, any small business owner can get help in expanding their business in this community.
There's no shortage of small business-related groups on LinkedIn, and if the above groups aren't quite what you need, you should try searching for small business groups within your area as well.
You can also check out the following groups:
LinkedIn Groups for Marketing and Social Media
Marketing and Social Media is a popular topic anywhere one goes, and LinkedIn is no exception. There are plenty of LinkedIn Groups covering the ins and outs of marketing and social media, ready for any member to dive into.
If you're confused about where to start looking, take a look at these groups to start with:
This two-million-strong LinkedIn Group is one of the biggest groups in LinkedIn, for many great reasons. An exciting and dynamic group, becoming a member gives you access to the many group discussions and industry reports and white papers revolving around Digital Marketing. The group also organises events and conferences to bring its members together and help them network with fellow professionals in the industry.
Businesses of all sizes can definitely gain a lot from this LinkedIn Group for Social Media Marketing. It aims to help businesses leverage social media to grow their businesses, by getting more followers and opportunities to do business. They share great tips, resources, and proven social media marketing strategies to their members.
The Marketing Communication LinkedIn Group is for all professionals dealing with marketing communication, which impacts all forms of marketing. From advertising, social media, branding, and other aspects, anyone involved in their business' marketing initiatives will gain a lot from this community of marketing professionals.
If you're looking for networking and discussions between marketing professionals and like-minded individuals, this LinkedIn Group is for you. As one of the larger LinkedIn Groups on marketing, you can easily connect with other professionals and learn from them, exchange ideas, and maybe even partner up with them for some great collaborations.
Dedicated to discussing the different areas of marketing, the Marketing Pros LinkedIn Group is a great resource for anyone interested in marketing. Learn the best practices for growing your business through effective marketing, engage in topics like online and inbound marketing, and discover other techniques and resources that can help your business grow through marketing.
As the discussion group for Ad Age, one of the industry's most trusted news sources on marketing, members can discuss and share information about the latest news and trends in marketing. Engage with fellow readers and like-minded professionals on the up-and-coming improvements in marketing, and learn how to use them in your business to expand faster.
Art and marketing goes hand in hand, and this LinkedIn Group celebrates that. This community combines art and marketing professionals in order to promote a healthy, successful balance between metrics and creativity. Learning to tread that line can help all businesses implement great marketing campaigns that have great potential for business.
This LinkedIn Group is for all professionals and business owners alike who are interested in reaching their best customers through inbound marketing, search engine optimization, and social media. Members can discuss and learn from other fellow professionals on the best ways to use inbound marketing and increase their profits.
Branding is an important aspect of any business, and one that many business owners forget to focus on. But it's never too late to make sure all your communications are in line with your branding and with how you'd like your customers to see your business. This LinkedIn Group can help all businesses improve their branding and communications to increase their business' reputation and success.
This LinkedIn Group is open to all marketers who have something to say about this industry. All professionals can share ideas, monitor trends, and find jobs and projects within this group, as well as meaningful interactions and valuable discussions. Learn more about the ins and outs of marketing with this dynamic and friendly community.
You can also find more marketing-related LinkedIn Groups if you search by country, but you can also check out these other Groups for more choices on where to go for your marketing networking and knowledge fix:
LinkedIn Groups for Freelancing and Consultancy
There are many LinkedIn Groups available for freelancing and consultancy, and for many industries it may be easier to find a group specific to the particular service you're providing as a freelancer or consultant.
But we've put together a list of the best open freelancing and consultancy LinkedIn Groups that are worth a look:
The FlexJobs LinkedIn Group is targeted for all kinds of freelancers who wish to look for the best remote work and other flexible job opportunities. They have many career categories available, from various expertise levels, and this group is a great resource for any freelancer or consultant in finding that next big project.
For service-oriented consultants and freelancers, it can be challenging to find communities that cater to your industry. This LinkedIn Group can be a good resource to find jobs and connect with other consultants in a variety of industries such as human resources, recruiters, management, equity and venture capitalism, finance, and the like.
Strategy is a broad service category but is critical for businesses of all sizes. As one of the bigger consultant-focused LinkedIn Groups, members can hope to find not only projects and jobs, but also connect with other consultants interested in strategy, management, consulting, and business.
Naturally, advertising is one of the major categories when it comes to freelance work available. Advertising professionals looking for a side gig or to connect with other freelancers will find the Advertising Freelance LinkedIn Group a valuable resource. From digital, production, creative, accounts, and strategy–anything related with advertising and freelancing can be discussed and shared here.
This LinkedIn Group is a free-for-all kind of freelancer community. Whether it's for marketing, development, content, or even jobs for finance and legal consultants, this Group might be what you need. Start some discussions and meet other freelancers and consultants and share your knowledge with other individuals.
This LinkedIn Group aims to connect entrepreneurs and small businesses with freelancers and consultants open to taking on small projects to help them grow their business. These can run from drafting business plans and marketing plans, developing their websites or helping them with online marketing.
This straightforward LinkedIn Group serves a broad, but needed purpose: helping freelancers find opportunities to work at home or get employed in a flexible arrangement. This dynamic group aims to help members find jobs that can be fun, rewarding, and flexible, and loves helping out new folks interested in learning how to work from home.
The Freelancer 4 Rent! LinkedIn Group is a dynamic community for freelancers who are interested in teaming up to take on a bigger project. For example, if you're a writer needing a photographer to help flesh out an important piece, or a web developer who needs the support of a web/graphic designer to land a big project, this community can be a big help.
One of the biggest LinkedIn Groups for digital transformation consulting work, this community is a great place to network with other professionals specialising in change consulting and digital transformation. With today's businesses always in need to help transitioning to digital, you can learn with other freelancers and share your knowledge in this specialised LinkedIn Group.
As one of the biggest creative talent pools, this LinkedIn Group can help business owners and graphic design freelancers the opportunity to network and work together. The community itself includes portfolios of its members, so they can freely discuss and share knowledge as well as help each other.
The list of all freelance groups is long, and if the service you provide doesn't fall under the more usual types of work, or if you need to look for more groups, LinkedIn's search function is always there to help. However, you should also check out these other groups in case they can help you:
LinkedIn Groups For Finance and Growth
Business finance and growth is an important topic for small businesses, and there are a number of great LinkedIn Groups to join in this category. Joining a group that falls under this umbrella will help because you will be able to connect with like-minded individuals who can help you grow your business.
Check out our top picks for LinkedIn Groups for finance and growth:
The Finance Plus LinkedIn Group is an active, dynamic community of finance and investment professionals, entrepreneurs and managers of all business sizes. Members can participate and discuss everything finance-related, such as industry news, interesting and reputable investment projects, and other related topics.
As the largest finance-related LinkedIn Group, the Finance Club should be one of your go-to groups when it comes to networking with other finance professionals. They focus on helping their members grow their network and enhance their careers, as well as helping them stay up-to-date and knowledgeable about the finance industry.
This LinkedIn Group is focused on helping members expand their professional networks as well as discuss latest developments in the industry. Whether it's business control, management accounting, forecasting, budgeting, or other related arms in finance, members can look forward to learning more about it here in this group.
This community is for global finance professionals looking to network and connect with other like-minded professionals. Members can hope to meet and learn from their fellow members in this group, as well as share their own ideas and opinions to others.
This engaging group welcomes finance professionals from all walks of life eager to discuss latest developments and best practices in the industry. All members can learn about current issues and get their questions answered as well by other finance professionals.
Catering for small and medium businesses, this LinkedIn Group brings together financial institutions and technology companies in order to encourage innovation and promote the success of small and medium-sized businesses. Established in 2012 and managed by the International Finance Corporation, this is a group one should keep an eye on.
Serving business and finance professionals alike, the Tech+Finance LinkedIn Group aims to help finance technologies that can build sustainable societies around the world. From small businesses to large corporations, this community invites active participation from all professionals for interesting and reputable tech investment projects.
This LinkedIn Group is part of The Global Leaders (TGL) network, and brings together an influential network of individuals and leaders from various industries such as business, government, education, and philanthropy. Their mission is to enable people interested in finance in achieving their potential, be it advancement in their careers or success for their businesses.
Crowdfunding is one of the newest and most popular ways of growth and financing. If you're a business owner interested in learning about this, or a finance professional interested in learning more, this LinkedIn group can help. From discussions and idea sharing, members can learn more about this new funding method as well as discover best practices and resources on how to do so.
This community brings together finance business partners to discuss various concepts related to finance business partnering. The group shares how this partnering is done in companies, how to implement it, and key challenges and opportunities. Members can learn from each other and share ideas and opinions.
Finance can be a tricky maze to overcome especially for many small business owners, but with a resource like an active LinkedIn Group behind you, you can learn more and find ways to expand your business better. Check out the next groups in our list if the above don't quite answer your questions:
LinkedIn Groups for Management and Customer Service
When looking for support for your business, management and customer service is an important area to focus on. These soft skills may be hard to quantify, but very valuable when you want your business to succeed. The following LinkedIn Groups can help you connect with those who can offer valuable insights and support.
This group is one of the most prominent communities for customer service on LinkedIn. It prizes itself with incredible members who believe that customer service and experience are the core drivers of organisations. In this group, you can discuss innovations and trends in the industry as well as learn best practices and valuable skills that will help you in your career or business.
The People Development Magazine LinkedIn Group is an open community aiming to encourage information sharing between members about leadership, management, and engagement. Ideas and discussions are welcome in this group, aiming to bring fulfilment and happiness in our working lives as well as those who are part of our teams.
The members of the Customer Service Excellence group love sharing discussions and experiences in order to help each other become the best in their careers and business. With customer service and customer experience being a very important part of every company, the opportunity to network and learn more is a valuable resource for every professional.
This LinkedIn Group is focused on employee communications, engagement, and experience — an important aspect of people management and improvement for all businesses. Members can network with other professionals in the industry, and gain valuable insight and learning from each other as well as other senior professionals in their field.
This international, moderated community focuses on promoting knowledge of how emotional intelligence is an important part of managing people in the workplace. Members are active in sharing ideas and starting discussions on how EI is an important part of life, in and out of the workplace.
People management and customer service are integral parts of all businesses, even ones not directly consumer facing. That's why finding a good group that can support you is important, but it can be challenging to find a good fit. Try these other groups as well:
LinkedIn Groups for Location Based Groups
Our last category for LinkedIn Groups that you should keep an eye on are those for location-based groups, such as your local town, state, or country. While it's impossible to highlight every location-based group, the following are a few examples to get you started.
One of the biggest networking-focused LinkedIn Groups, Network After Work is focused on hosting monthly mixer events for members in America in over 80+ cities. Since events are done a weekday right after work, members can pop by for a quick meet-and-greet before heading off home.
Professionals in Latin America can check out the Latin America Business Development Network as well.
You can also find smaller but equally valuable communities in your local states or regions, like the Toronto Job Networking – Canada Jobs & Technology LinkedIn Group – give your location a quick search and you may find something closer to home to help you meet other professionals.
This networking community is targeted towards professionals doing business within and with the UK, in all industries. Members can meet a wide range of professionals from senior executives and professionals all over the UK. Members can meet not only professionals in their field but others as well.
You should also check out the Business Support Network UK if you're looking for networking opportunities.
You can also cast your net wider and check out the European Business Networking LinkedIn Group.
The diverse and rich continent of Africa can be challenging when looking to network with other professionals and business owners. This group aims to help members connect with other people who are interested in doing business in or with Africa, so they can quickly identify and contact possible partners and collaborators.
If you are in South Africa, it's also a good idea to check out South Africa Business Communities.
One of the leading business and professional networks in Australia, the Australia Business and Professional Network LinkedIn Group brings together experienced professionals and investors with high growth companies worth a look at.
Individuals based in Australia can also check out the Australia Connection LinkedIn Group.
With South East Asia being one of the fastest-growing regions in the world, networking with fellow professionals and business owners in SEA is valuable for any business. Members can connect, discuss market trends and ideas, and find opportunities within Singapore and the region.
Professionals looks for more connections in wider Asia can check out the China Asia Networking Group for more opportunities.
Making the Most Out of LinkedIn Groups
If you're interested in making the most of our LinkedIn Groups, you should consider the following:
Conclusion
LinkedIn Groups are a great resource for small business owners. They provide a place to connect with other professionals, share knowledge, and generate leads. By following the tips above and joining groups that are relevant to your industry, you can maximise your LinkedIn Groups experience and use it to help grow your business.
Give the groups in our massive list a chance and you might learn new things, meet new people, and discover more opportunities than you expected.