Innovative Invoicing Tips & Tricks For Online Entrepreneurs
Written by InvoiceBerry Team on November 09, 2020
Online retail sales have grown rapidly over past years. It makes sense since it has become super easy for everyone with internet access to start selling Chinese products on Amazon or via a Shopify store.
In October 2019, Shopify announced in its quarterly results the platform surpassed one million merchants worldwide. Meaning: lots of freelancers and small business owners! This has also resulted in many more online invoicing software providers because no freelancer wants to spend too much time on invoicing. 
Try our online invoicing software for free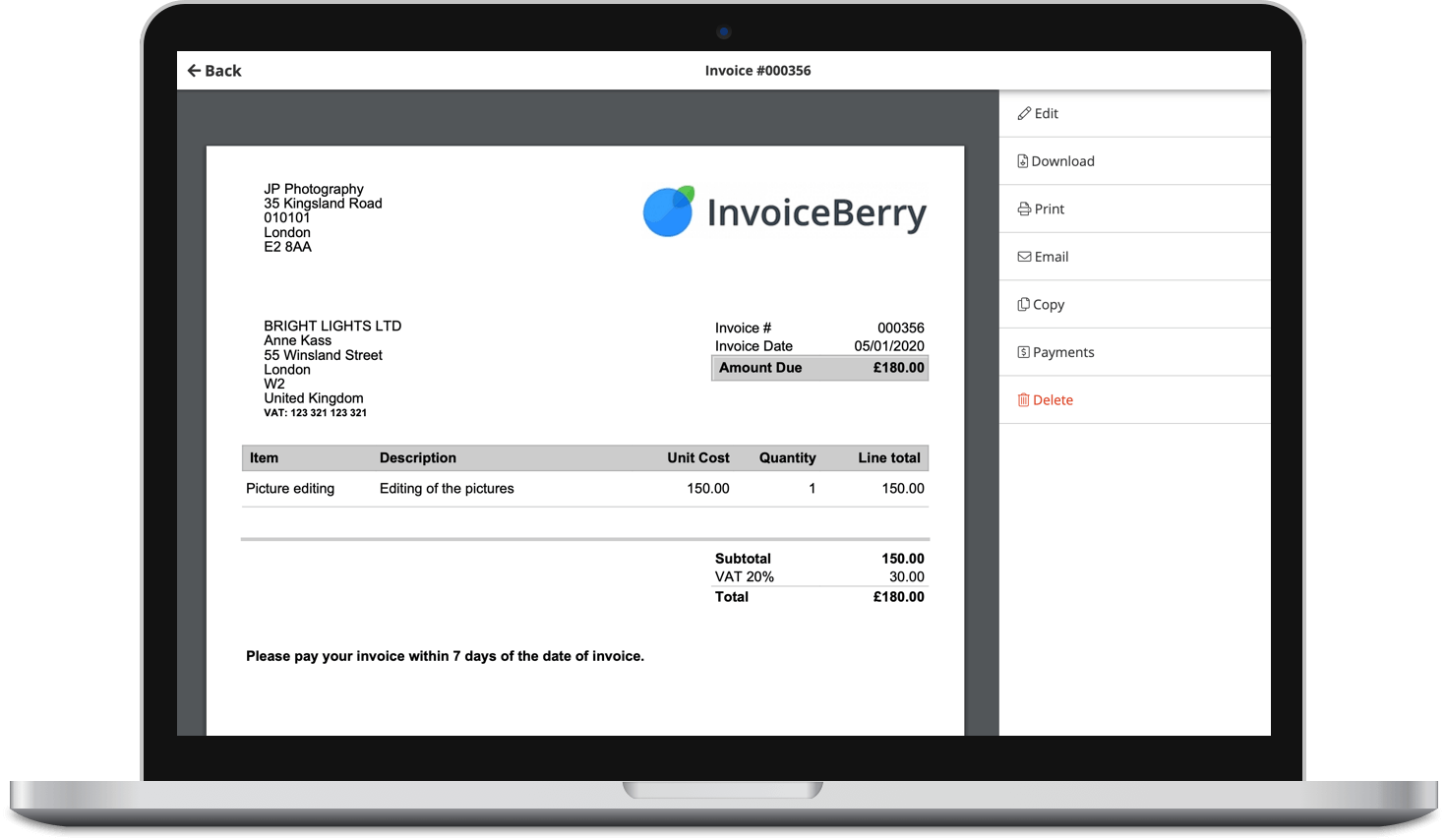 Send professional-looking invoices
Accept online payments with ease
Keep track of who's paid you
Start sending invoices
Billing is an important part of just about every business. In order to get your invoices paid and to meet the requirements of the tax authorities, you might need some guidance on optimizing them.
This is where online invoicing software steps in to help you on multiple levels throughout the invoicing process. The purpose of this article is to advise on exactly why you need online invoicing, how to choose the right software and provide invoicing tips on what to be aware of.
Why you need invoicing software
Let's start with why you need invoicing software as a small business owner. The days of struggling to create your own invoices in Excel need to be put to rest.
Save time
Instead of messing around with cells and rows and making sure your sheet fits on one piece of paper, an online invoicing software will uniform and automated. For the sake of branding, your logo and address will always be in the same spot for consistency.
Also think about all the mandatory info (tax %, totals, sender, bank account, invoice number, etc) that is sometimes required before your invoice can be sent. Online software makes it so you never forget to add any key details and calculation errors are close to zero.
In a nutshell, invoicing software will save you a lot of time, energy and headache!
Accessibility
Another benefit is you'll have access to your data anytime and everywhere you go! In addition, the software is constantly being developed so that the software always adapts to today's requirements.
Great if you're invoicing internationally and when you're traveling – yes we're talking to all you actual and wannabe digital nomads!
Automated integration
Integration and linkage with systems of the tax authorities, Chamber of Commerce or web stores is much easier via a web application. This also applies to invoice programs.
By linking different online tools, you reduce the chance of errors due to manual data entry and minimize the time you spend on administration because you only have to enter everything once.
The automation that's possible differs based on the invoicing software. However, even if there is no standard link with your accounting software, it can be created via an API in most cases. Start exploring the possibilities!
Automatic reminders
While we're on the topic of automation, online invoicing software can also be a great help when dealing with payment deadlines. Constantly monitoring which customers have cleared their receipts and those who haven't takes a lot of time.
Investing in an online invoicing service can save you the world of pain since in many cases you'll have the ability to set up alerts when a bill is late or overdue. Some software will even have a polite pre-set invoice reminder message you can send off with the click of a button.
Great professional branding opportunity
Last, but certainly not least, invoices are a great way to showcase your business' professionalism. Attention to detail in the form of your logo and signature colors can make the world of difference.
Plus online invoicing software encourages the addition of special terms and conditions, payment methods and due dates. And you can send thank you notes for an added personalized touch.
Way to make an impression!
How to pick the right invoicing software
Now, there are numerous programs on the market, but which billing program suits your business best? Making the right choice starts with proper preparation.
First, determine what your wishes and needs are. What do you want to be able to do with the invoicing software? Only creating invoices or, for example, also easily sending payment reminders? Do you want to invoice electronically or also send it by post?
As a first step, make a wish-list of the requirements that you want to see in your chosen invoicing software.
Your second step is to perform an overview analysis of invoicing software that match your wishes, needs, and budget. Always check whether the invoicing software sends invoices that meet legal requirements.
Pro-invoicing tip: try the software of your choice with a trial subscription, so you can test the billing program and view a sample invoice.
What to be aware of
Do you know what is legally required to include in your invoice? What are the rules for invoicing? And are you sending your invoices internationally, what local rules apply then? It's important to verify your invoicing software developers are up to date on these matters and more:
Ascertain the invoicing software is like a digital vault
You never have a 100% guarantee that data won't be hacked when working online. But at InvoiceBerry, we adhere to the strictest security rules and have our online security specialists staying on top of any outsmarting hackers.
It's extremely important to us that your data stays safe. The software's regular backups of data coupled with super-strong encryptions mean you can rest assured when it comes to data and payment security.
Before you hit send, is your invoice correct?
Are you really sure that your invoice contains everything the tax authority requires? You didn't forget to add a little detail?
When creating your invoices manually you always have to check, check and double-check. With invoicing software you never have to worry about this ever again!
Based in the UK? To be absolutely sure everything is up to scratch, check here for all the latest updates.
Follow up on invoices
Annoyed by your client for not paying your invoices on time? Take action yourself or let your invoicing software do it for you.
If the payment term has been exceeded, your billing software can automatically send a reminder e-mail to your client. Your clients appreciate you being punctual and on top of things when it comes to delivering your work.
Why not transfer that same work ethic over to your invoicing too?
Pro-invoicing tip: the faster you send that invoice, the better. With your delivered services at the forefront of their mind, your is way more likely to follow up on that invoice payment. Sending it a week later runs the risk of ending up at the bottom of the pile of paperwork on his/her desk.
In conclusion
In 2020 entrepreneurs are constantly seeking fresh innovative ways to increase efficiency, save time, and reduce noise through automation with advanced applications. Automating and streamlining your invoicing workflows is just one way you as a business owner can achieve these goals.
No more manual data entry, template adjusting, copy and paste, and errors. Give InvoiceBerry a try today where all your invoices are stored, secured and in one easy to manage place.
Invoicing made simple and intuitive – that's the goal.

Small Business Finance 101
Download our free guide to learn the fundamentals of finance that will help make your small business more efficient and successful.