How to Write Professional HVAC Invoices
Written by Iris Pase on September 21, 2020
When working in the HVAC (Heating, ventilation, and air conditioning) industry, many are the concerns technicians and business owners deal with. These include, for instance, keeping a consistent workflow, increasing revenue, recruiting and managing staff.
A good invoicing strategy is essential in order for your business to thrive. In fact, a well-presented invoice will give it a professional look, thus improving the business' image and your cash flow.
Try our online invoicing software for free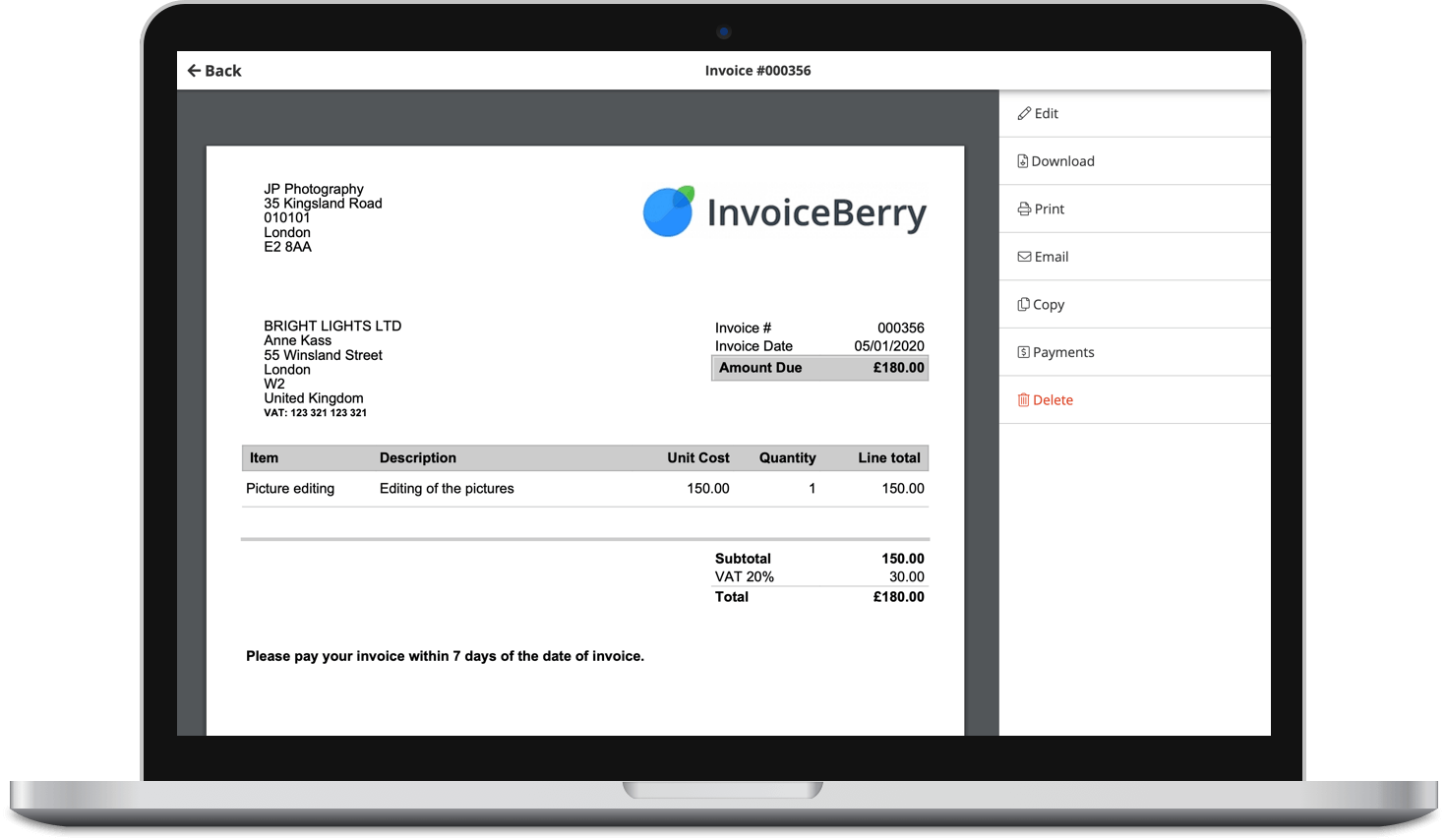 Send professional-looking invoices
Accept online payments with ease
Keep track of who's paid you
Start sending invoices
In this article, you'll find out more about HVAC invoices – from what they are to how many different types of HVAC invoices you can find. We'll then proceed to give you some top tips to write your own invoice and really improve your business reputation!
Never created an invoice before? Don't worry, here you can find InvoiceBerry's free invoice templates.
What is an HVAC invoice?
Although we all know invoicing is important, it can be a daunting matter to dive into. This is the reason why we'll start from the very beginning, explaining what an invoice is and how you should deal with HVAC invoices.
An HVAC invoice is a detailed receipt that documents any transaction between clients and businesses.
You would usually give your client an invoice once the job is done to prompt them to pay you for the provided service.
Remember to include any products or services you purchased on credit and to provide information on the available methods of payment. Also, don't forget to keep a copy of the invoice for yourself!
The Three Types of HVAC Invoice
Flat Rate
A flat rate invoice is quite easy to create, as you don't need to add many details relating to the price of labour, products and goods purchased or mileage – unless you've taken a job outside of your service area. In that case, you should charge mileage.
This kind of invoice bills the client one flat price, thus combining all the different costs into one.
Service Agreement
Various HVAC jobs are not likely to be one-offs, especially when dealing with maintenance work. This is when service agreement invoices come in handy.
The client is billed a flat rate in the form of a service plan, such as heating systems checkups, for example. Bills can be filed after each visit or periodically as monthly or annual packages.
The cost of labour is usually included in the package but you can add some extra tasks when needed. Use a check-list for the services that are to be carried out. It will give consistency and quality to your regular work.
Parts and Labour
Parts and labour invoices include the cost of labour, the parts and the time required to reach the place where the service will be provided.
Be very careful when specifying the amount of time required for the job. Always invoice for time once the work has been carried out and include the time spent to get to the workplace.
How to Write an HVAC Invoice
Choose the Best Invoice Type for Your Business
Not all businesses are the same, that's why owners need to be particularly careful when choosing among flat rate, service agreement or parts and labour invoices.
Weigh the pros and cons of each type and go for the most profitable choice!
Use a Clean Invoice Template or Software
Professional-looking invoices are a great asset to your business. They make it look accessible, organised, and reliable.
On InvoiceBerry you can find multiple free invoice templates and a complete invoicing software with 15 templates to choose from.
Number All Your Invoices
As a business owner or a freelancer, invoicing is extremely important. However, keeping track of all your invoices can be difficult.
This is the reason why all invoices should be numbered. Having all your documents tidy and organised will surely come in handy for your tax return.
Record All The Details You Can
Thoroughness is crucial in invoicing. Avoid misunderstandings by including as many details as possible, such as technical information,
Don't forget to add a due date for payment and all viable payment options. This will help you prompt payments.
Invoices should also work as a service record. Write down equipment information, products purchased or replaced and any specific detail that sets the customer's system apart from others.
In this way, you'll have a complete record of work carried out in each specific site.
Make Sure Customer Information Is Up-to-date
When going through your invoice, always include all your customer's details: phone number, address, email. It will be easier for you to store your clients' information or even collect it in a dedicated book!
Don't forget to check that all information is up-to-date, communications will be much quicker and the client's experience smoother.
Upsell by offering discounts
Discounts are not normally associated with greater profits. HVAC business, however, can take advantage of the use of smart discounts.
In fact, HVAC is based on trust and loyalty. Clients are not likely to compare 100 different business prices, they're looking for quality and reliability.
After a well-done job, end the client's experience on a positive note by offering a discount on future work. It's a great way to build customer loyalty and increase service agreements.
Opt for an Invoicing Software
Manual invoicing can become an unnecessary bore when working with multiple clients. Different details, double-checking information, being dependent on your own device.
Why not switching to an invoicing software? Writing invoices will be a piece of cake.
With InvoiceBerry, for instance, all client information is saved in the cloud. Using the recurring invoice function will schedule automatic invoices for your regular and repeat customers.
InvoiceBerry invoicing software will even send your physical invoices for you through Royal Mail – all in less than 60 seconds!
Follow up on unpaid HVAC invoices
Last but not least, keep track of all unpaid invoices. We all like getting paid and it's essential that clients reward you for your well-done job.
InvoiceBerry invoicing software
helps you do this by keeping track of your payments.  Quickly add payments you receive to an invoice, so everything recorded. Talk about a win-win.