18 Fantastic Marketing Ideas to Boost Your Small Business [Expert Roundup]
Written by Bernard on February 09, 2017
Marketing is one of the most important things for any small business.
After you've crafted the perfect product or service, you need to get the word out. Unfortunately, however, marketing budgets for most businesses just aren't that large.
Try our online invoicing software for free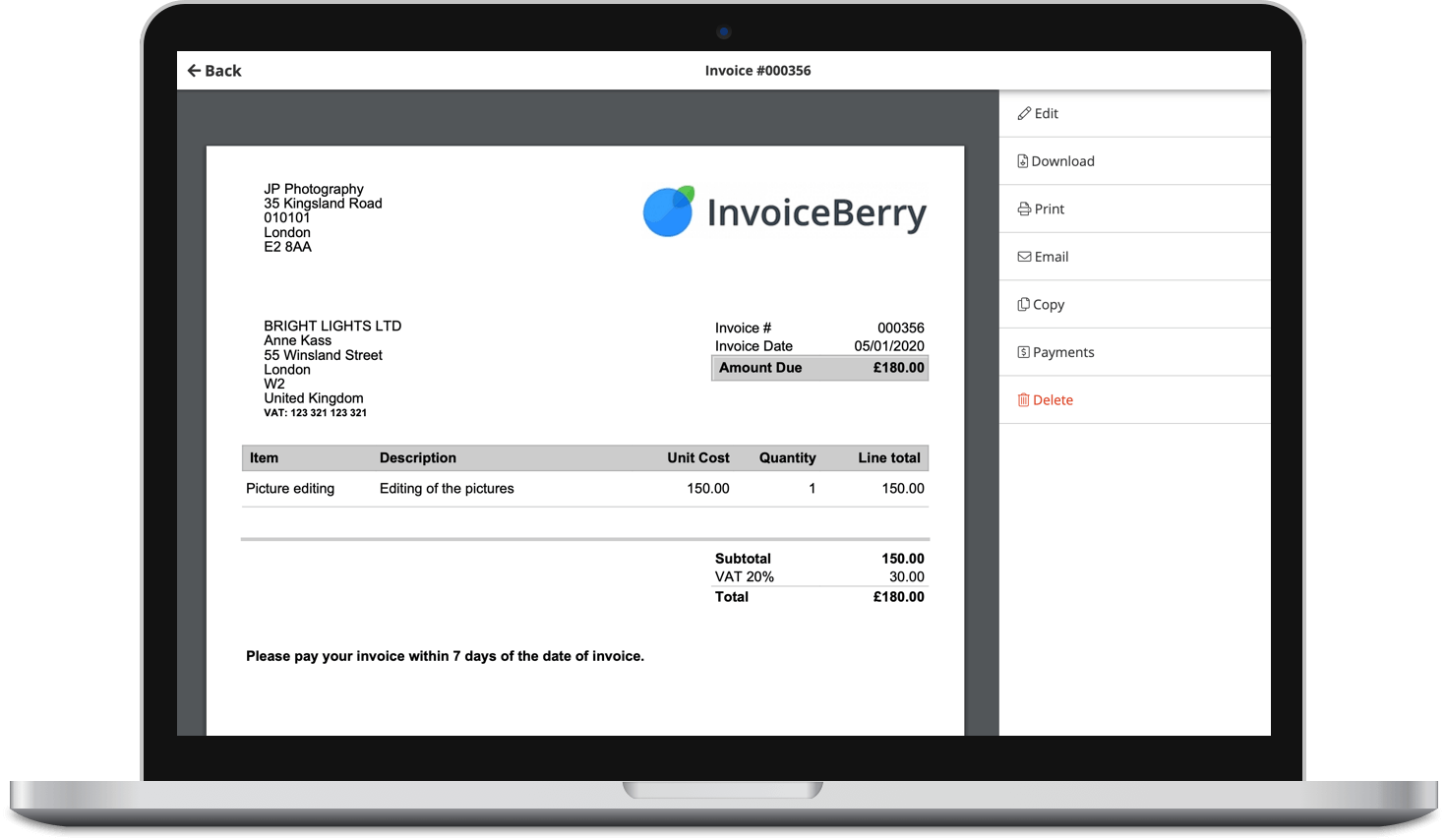 Send professional-looking invoices
Accept online payments with ease
Keep track of who's paid you
Start sending invoices
That's why business owners have to get creative and try to find effective marketing methods for low prices.
We asked some successful businesses what their most effective marketing ideas were.
Read below for 18 amazing marketing ideas that can help you boost your business.
---

Serena Holmes, President & CEO of Tigris Events
tigriseventsinc.com |  
@tigriseventsinc
---
As an experiential marketing agency, our clients depend on us to capture the voice and story of their brand. In order to market our business, we often shoot video of the different events we organize for our clients.
After editing them, we upload them to our website and share them on social media. This provides prospective customers with the opportunity to see how we work and give them a sample of the wide variety of events we manage.
Potential clients want evidence you can do what you say you can. We have found that showing is often more powerful than telling. Online videos that capture our staff and the unique atmosphere of the events we plan have been one of our most successful marketing strategies.
---

Stephen Jeske, CanIRank.com
---
I've found a lot of success on Quora by answering questions related to my field. I find it to be quite addictive, so over the past year, I've tried to limit myself to spending just 15 to 20 minutes a day.
The net result is that I've landed clients directly from the answers I've written. In my experience, Quora doesn't necessarily generate a lot of leads, but the traffic tends to convert quite well.
The key to making this work is consistency. Aim to answer one question a day, and you'll build a reputation and increase your exposure with every response. By simply doing this, I've become a Most Viewed Writer in over a dozen categories related to my field of expertise.
---

Tabitha Jean Naylor, Founder of TabithaNaylor.com
TabithaNaylor.com |  
@TabithaNaylor
---
I'm not sure you can really do anything so totally unique in the digital marketing space anymore, because so many crazy things have been tried.
So for me, it's always about getting attention in the right way. For example, a few years ago, I got involved with a really interesting dating company that had a fresh take on the world of romance.
We put together people who loved dogs, and the site was called You Must Love Dogs Dating. It's a great example of branding, because everyone knew what it was about from the site name, but it also drove a lot of interest, because it's a fresh way to approach the dating market.
The lesson I learned that I apply to my marketing agency is to always look for interesting ways to brand my company. Whether it's through outstanding content, or through posts that go viral, the focus should always be on drawing attention and then converting visitors into clients once I have their attention.
---

Natasha Rachel Smith, Chief Communications Officer for TopCashback.com
topcashback.com |  
@TopCashbackUSA
---
When we first launched TopCashback in the US five years ago we relied solely on PR to attract new members. We were by far the most generous cashback site which was a great USP but we didn't use this as the primary narrative.
We wanted to create quality content for money-saving-focused media that would give consumers an incentive to sign up to our (free) site. We believed the most effective way to do this was to offer special promotions, such as freebie deals, for new members.
Third party endorsement is extremely powerful, especially when your brand is unknown. We reached our target market via media outlets and bloggers they trusted, which dramatically increased the likelihood of them giving us a shot over our more well-known competitors.
This strategy saw our member base grow from the 60,000 members in our first 18 months to fast-approaching two million members three and a half years later.
---

Daren Low, Founder of Bitcatcha.com
bitcatcha.com |  
@DarenLowch
---
As a business owner, you must determine the methods that work best and use them, then rinse and repeat.That being said, content marketing is one of the most effective forms of marketing for an ecommerce business.
Each piece of online content should be based upon a specific value proposition that meets a customer profile. You need to understand the problems of the people who visit your website and identify how your content helps to solve those problems.
Start with keyword research to ensure that the topic of your content is actually in demand. Then optimize the written piece for best SEO. Next, pick a platform and present your content in the form preferred by users of that platform.
For instance, on Pinterest, the content should be presented as an infographic. It's your job to contact influencers on the site and ask for promotion of your piece. The key is to package your content in a way that it will be seen and shared.
---

David Scarola, Chief Experience Officer at The Alternative Board
thealternativeboard.com |  
@TAB_Boards
---
In today's internet era, marketing and technology have become synonymous.  If you want to advertise effectively in 2017, seek out employees who can keep up with trends and changes.
This means opting for more technical personnel rather than just creative types. While the creative side of marketing is critically important to developing clever ads and copy, marketing is increasingly involving things like online advertising, re-marketing and social media promotion.
Therefore, marketing hires should exhibit highly developed technical skills with a balance of creative savvy.
---

Ian Wright, Founder of Merchant Machine
---
One of the best ways we've found to market our business is to host meetup events for entrepreneurs in businesses that use payment technology (e.g. owners of coffee shops, salons, bars, etc.)
It's amazing how many of the barriers start to drop in a less salesy environment with a bit of nice food and a few drinks.
There are two ways to make this work, offer to sponsor a local meetup group that's already established for your target market. Or consider starting your own if one does not exist.
The key in either case is to offer something of real value, NOT a sales pitch. Case studies are always a particular favourite, especially ones with hard numbers attached to them.
---

Michelle Zakarin, Co-Owner Regents Review LLC
passtheregents.com |  
@nyregentsreview
---
Through my company, Regents Review, LLC, I do my best to quickly respond to customers' test prep concerns and comments using twitter.
For example, if a parent tweets about test anxiety or if a student tweets about feeling stressed about an upcoming regents, AP or SAT2 exam, I will tweet directly to this individual from the company twitter account with a message about how to study. Regents Review will then offer to help by including a link to the website for one-day study sessions.
It becomes more personal because the company is reaching out to the individual directly and people often like and retweet these comments. One retweet can increase followers and also increase web traffic.
Many will end up following us and sometimes ask us questions through Twitter. Since it is a platform which only accepts a limited number of characters per tweet, we can be terse and still get our message out there.
---

Russ Frazier, Digital Marketing Specialist Founder at Visigility LLC
visigility.com |  
visigility
---
My company recently helped launch a brand new consumer product. To build media and social buzz and blast open the gates with a big intro, we hosted a social launch party. The same concept can be used for a service business.
The goal of the launch party was to get immediate exposure and build a social following. We organized an event at a local hotel and sent personal invitations to our circle of friends through text, email and social media. We also contacted radio and TV stations with a press release about the party and received several mentions.
At the party, we had several giveaways. To enter, we asked each guest to invite their friends to like our Facebook page and to share a photo of themselves at the party on their own social media using a common hashtag.
In one day, our Facebook following grew by 534 likes. In 10 days, we had added 2,725 likes.
---

Angela Zade, Content Marketer at Evus Technologies
evus.com |  
 angela-zade
---
The most effective way to market your business is community involvement.
Most companies have ties to their community simply because of the people who work there.  Shamelessly showcase these connections on your website, company newsletter, social media pages, even framed pictures as office décor.
Community involvement delivers a "feel-good" sentiment to everyone who notices, and it can be a tax write off for the company sparing the marketing budget a few cents down the road.
---

William J. McCormick, Bert Wolfe Inc.
@bertwolfe
---
I've done collaborative marketing with centerpiece insert cards at local restaurants and event promotions all the way to more traditional things like t-shirts with my personal logo and number to Christmas cards and birthday letters to my customers.
I also have a unique phone number that utilizes my name at (304) 437-WILL for easy remembrance. The website that I promote is a resource to my customers with videos, blogs, helpful links, and public reviews from other clients who have done business with me.
I work on pure commission, so the only way to get paid more is to sell more and that means being seen more!
---

Brandon Ackroyd, Founder of Tiger Mobiles
tigermobiles.com |  
@tgermobiles
---
Many websites capture emails, but they do it with a pointless subscribe box in the footer. A way to do this more efficiently is by creating a lead magnet – some form of freebie in exchange for their email address.
For this to work you have to come up with a magnet that makes your customers excited. Ask yourself: what's the one thing that would be really useful to your audience, and that you could even charge money for (but won't)? We do this with a free toy on our website.
You want people to go through the lead magnet, and get something – gain something useful, get something free, or experience "aha" moments. The bigger the positive impact of your lead magnet, the better chance you have given the prospect of moving down your sales funnel at a later date. Ways you can do this include:
Discounts
Free guides
Free goodies
Whitepapers
Video guides
Free chocolate
Free trial
Demo of your product
Coupons
But remember, you don't want the magnet to be attractive to everyone, just your ideal clients. So don't go offering something generic for everyone who lands on your website.
Because how many of them will want to buy your product? Lead quality is important, and you only want to focus on your target group. Offer something that leads to your product.
---

Mindi Rosser, Founder of Mindi Rosser Marketing
mindirosser.com |  
@mindirrosser
---
One amazing way I have marketed my business to fantastic success is through developing a keyword-optimized LinkedIn profile.
For the past six months, I have received almost daily inquiries from potential clients because they have searched for specific keywords, and my profile ranks highly for these keywords. It's a simple tactic: identify all the keywords you want to rank for in LinkedIn.
Weave them into your profile. Wait for the inquiries to start rolling in.
---

Bryan Clayton, CEO of GreenPal
yourgreenpal.com |  
@YourGreenPal
---
Quick tactic that others may not have suggested on how to gain new customers: Facebook groups, especially local Facebook groups.
No matter your niche or vertical there is a Facebook group that you can participate in to contribute to the discussion, answer questions, and develop a presence to refer people to your business, often times when they are looking for exactly what you offer.
Facebook just also launched a dedicated mobile app to support their groups' communities so now it's easier than ever to manage the groups that you participate in, monitor the conversations, and participate while on the go throughout your day.
We monitor local groups and neighborhoods' groups , and when anyone is asking for a recommendation on a lawn care service, we kindly let them know about the GreenPal community.  We track the success and 60% of the time we make a recommendation, they sign up for our service
This tactic can work for almost any business in any niche.
---

Fraser Sutherland, Marketing Manager at Storage Vault
storagevault.com |  
@storagevault
---
You know what sort of people leave reviews for businesses? The ones that had an awful experience! They want somewhere to vent and the internet is the perfect place.
The people who had a good time, however, will almost never think about writing you a review. Unfair? You betcha! But that's just life.
If you want reviews and testimonials for your business, you simply can't leave it up to your customers to randomly decide to pop onto Facebook and write you a glowing recommendation!
When a customer has obviously had a great meal at your restaurant or a great experience in your shop, make the first move!
Drop them an email or give them a phone. Tell them you really appreciate their business and ask them to leave you a review. You'll be amazed at how many people will help you out!
---

Paul A. Dillon, CMC of Dillon Consulting Services LLC
dillonconsult.com |  
 dillonconsult
---
Here are some great, no-cost or low-cost content marketing strategies that any small business owner can use:
Even in this digital age, the best way to market a firm is face-to-face. People make purchasing decisions from people whom they know and trust.
Earned media is better than advertising. Write articles for trade publications in your industry and create some "buzz" around your product or service.
Offer your services as a speaker at industry conferences and symposia. State that you're willing to contribute your time and expertise, but ask that your conference and travel expenses be reimbursed by the conference organizers.
Don't forget the power of traditional media (radio/TV/print) to get the word out about your company and its product or service. Take a reporter who covers your industry to lunch. Over time, you'll get to form a relationship with the reporter, who can be very helpful to you in getting the word out about your product or service.
I have used all of these tools in my business.
---

Alex Novkov, Marketing Expert at Kanbanize
kanbanize.com |  
 alexander-novkov
---
Leave the marketing team at home when attending events created for developers.
From our experience as a SaaS company, providing a product targeted at other software companies, we learned that, in some cases, a developer can be far better suited to promote our product to other software engineers than any member of our marketing team.
This is why, when attending some industry events, we take a couple of our programmers to speak with the attendees on behalf of our company. In the meantime, a team member of our business or marketing unit is cruising without attracting too much attention.
Depending on the way the conversation goes, she or he might take over a lead provided by our engineers and begin approaching the new contact as a potential customer.
---

John Surdakowski,  Founder of Avex Designs
avexdesigns.com |  
@avexdesign
---
We put much of our marketing budget behind content and inbound marketing.
I feel that by providing value and engaging content, people see us as a leader in the world of digital marketing. When they're ready to make their choice, they tend to go with the company that provided amazing resources.
Networking is another way I've marketed our services. Building relationships is very important in every field. People like working with individuals that they know and trust. We make it a point to reach out to old connections and keep communication open.
Strategic marketing ideas for your business
Of course, the best marketing ideas are the ones that fit your business model.
However, you may be surprised at the types of marketing ideas that may be effective, so it's best to be strategic in your choices.
Do you have any other great marketing ideas that you've used effectively in your business? Let us know in the comments below!