15 Advantages of Using Online Invoicing Software
Written by Bernard on March 27, 2017
We've discussed before why invoice templates will never be as good as invoicing software.
But today we want to really explore all the advantages you can get from using online invoicing software.
Try our online invoicing software for free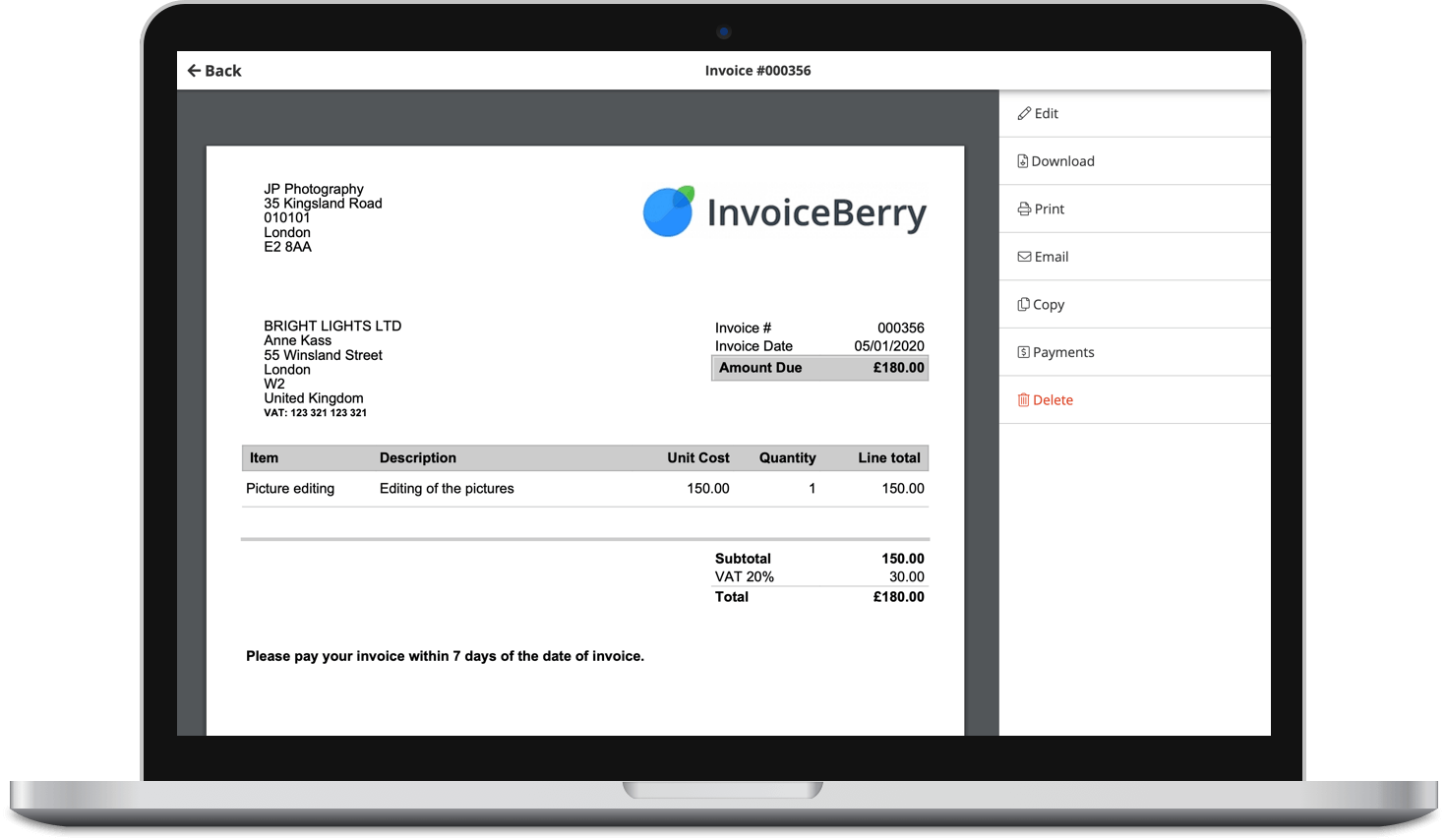 Send professional-looking invoices
Accept online payments with ease
Keep track of who's paid you
Start sending invoices
1. Everything is saved on the cloud
Why worry that you'll lose your paper invoices? Why look for your client's information through your emails and pockets?
Because online invoicing software is online, that means all your information will be stored online. You'll never have to look for your information or your documents ever again. Just log in to your account, and it's all there.
2. You can automate your tasks
One of the reasons invoices takes so long is because you have to keep entering the same information over and over again.
With online invoicing software, your information is saved. After you enter it the first time the software remembers it and you won't need to enter it again.
Of course, if you need to change a few details you can do that easily with just a few clicks.
3. Use invoice templates
There's no need to keep on using the same invoices. Sometimes you want to add some personality to your invoices, but don't want to spend the time and energy to create one from scratch.
In those situations, you can use online invoicing software such as InvoiceBerry that has many different invoice templates to choose from.
4. Email your invoices with a click
There's no need to go looking through your emails to find the address of your clients.
With online invoicing software, you can just find your client from the drop-down menu and you're set. All the information is already filled in, and all you have to do is click to email the invoice.
5. Get paid faster
Invoices are paperless, so there's no big fuss. Also, the information is saved on the cloud, so you never have to look for it again. What this all means is that you can create your invoice in under 60 seconds and send it off with a single click.
The faster you send out your invoices, the faster you'll get paid. And with online invoicing software, creating and sending out your invoices is very easy and simple.
6. Manage & track your invoices
Online invoicing is great for helping you to easily see what invoices you've sent.
You can quickly go through the ones you've sent or your drafts. You can also see which invoices are outstanding and contact your late-paying clients.
7. Send invoices by mail
Sometimes, clients prefer to get a paper copy of invoices. However, printing out invoices and then having to go to the post office to mail them can be really time-consuming.
InvoiceBerry allows you to send your invoices by mail so you won't even have to leave the comfort of your home.
8. Secure all your data
Online invoicing software works by storing all your information online. However, if you don't use the right service, that information can be stolen.
InvoiceBerry regularly backs up your data and uses 256-bit AES SSL encryption for extra protection. That is very strong encryption—so strong, in fact, that it would take someone, with the world's fastest computer, 1 billion billion years to break the code.
9. Customize your invoices
You can easily add your logo to your invoices and change or add your company information.
The software also allows you to add terms and conditions, payment methods, terms, and due date if you wish. With these options, you'll be able to present your client with a professional-looking invoice.
10. Easily send reminders
Sometimes your clients just forget to pay. It is usually because they're busy and have lots of work as well.
However, you still need to get paid. Instead of worrying how to correctly word your email to your client, you can use InvoiceBerry's invoice reminder function. Just send a quick, polite reminder to your client so that you can get paid faster without the stress.
11. Easily track expenses
One of the most important financial goals for small businesses and freelancers is to increase their finances. However, it's difficult to reach that goal without accurately seeing how much you spend and where.
With InvoiceBerry, you can easily track all your expenses and save it in the system. You can even add a scan of your receipts, so that way you don't have to store them in a shoe box in your closet.
12. Add thank you notes
Saying thank you to your clients is a good way to build a good relationship. However, if you have many clients, it can be difficult to remember to send one to all of them, or to send them piece by piece.
With online invoicing software, you can quickly add a customized message right on the invoice or send a thank you note to your client after you've received payment.
13. Create finance reports
When tax season comes around, you'll need to start creating your financial documents. Invoicing software lets you create your financial reports.
You can create client, payment, expense and tax summary reports quickly for any time period. This will help you simplify your work or your accountant's work.
14. It's free
Think it all sounds great but probably very expensive? Think again. You can enroll in InvoiceBerry's Forever Free plan. This is, as the name implies, free forever if you have no more than 3 clients.
If you have more, you can try one of our flexible plans for a low monthly price.
15. Get your team on it
You don't have to go at it alone. Online invoicing software allows you to add users to your account.
That way, you can all share the load. They can also track expenses, create and send invoices, and have as many rights as you wish.
Why you need online invoicing software
With InvoiceBerry's online invoicing software, there are many advantages—but you'll have to sign up first.
Once you do, you'll see just how easy it can be to create and send out invoices and get paid faster.