Unlike Xero, InvoiceBerry is exclusively built for invoicing, billing and expense tracking with features such as unlimited clients, live chat support and an affordable starter plan.
No credit card required.
Top Of The Class
| | | |
| --- | --- | --- |
| InvoiceBerry vs. Xero | InvoiceBerry | Xero |
| Send Unlimited Invoices and Quotes | | |
| Web & Mobile Access | | |
| Multiple Users | | |
| Handle Multiple Currencies | | |
| 15 Profesisonal Designed Invoice Templates | | |
| Live Chat Support | | |
| Custom Domain For Business | | |
| Zero Accounting Knowledge Needed | | |
| Starter Plan | $15/month | $20/month |
*Price of Xero Starter plan correct as of 19/05/2019
InvoiceBerry vs Xero: The Comparison
Which invoicing tool is right for YOU?
IF YOU...
Are tired of late payments and want to speed up your invoicing process
Choose:

Why? Simply because InvoiceBerry knows what it's like to be a small business owner and an entrepreneur. We tailor-made an invoicing platform that addresses the exact needs of any business owner and freelancer. Set up your account and begin invoicing in less than 5 minutes - then you'll have all the time in the world to focus on other pertinent business matters.

Designed for small businesses, sole traders, and freelancers, InvoiceBerry has a clean user-interface which will simplify your whole accounting and invoicing process. Gone are the days of having to master complicated accounting software even before sending any invoices. If you want to stop wasting your time trying to comprehend complex accounting systems and software, choose InvoiceBerry.

Our website even has a comprehensive accounting dictionary to help you wade through some of the unfamiliar accounting lingo.

InvoiceBerry makes staying on the top of your invoicing easy. It provides you with unpaid invoice reminders as well as invoice automation. These features will allow you to have peace of mind knowing that every invoice will find itself in front of the client's eyes quickly and effectively.
IF YOU...
Need an accountant or a bookkeeper to help you make sense of complex accounting systems
Choose: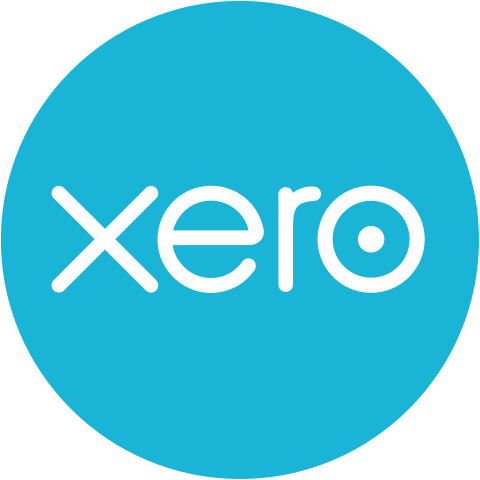 If you deal with complex accounting daily within your industry, Xero can help you get in touch with a certified financial advisor.

Xero's advisors can help you make sense of some of the technical details you might not be too sure about yourself. They help provide professional services and can help you in fields such as retail, real estate, marketing, and more. Depending on your background, and if you already know your way around certain aspects of finance but need the additional help - getting an advisor involved may be the way to go.

If that's the case, you can explore advisors in the US on their website or have a look at their advisor directory.
IF YOU...
Need additional features beyond invoicing, while still being intuitive and easy to use
Choose:

InvoiceBerry goes beyond mere invoices. The website also comes equipped with professional invoice templates, business plan templates, an accounting term dictionary, and much more - all features are included with any of our accounts.

In addition to tracking your invoices, you can also analyze expense reports, assess payments, and turn quotes into ready-to-go invoices with a click of a button. You can set up your account in seconds - take control of your invoicing.

If you also want to dive into the more advanced features and set up your cash flow statements. InvoiceBerry will also help you do that.
IF YOU...
Need all-inclusive accounting software for your business that handles a variety of functions
Choose: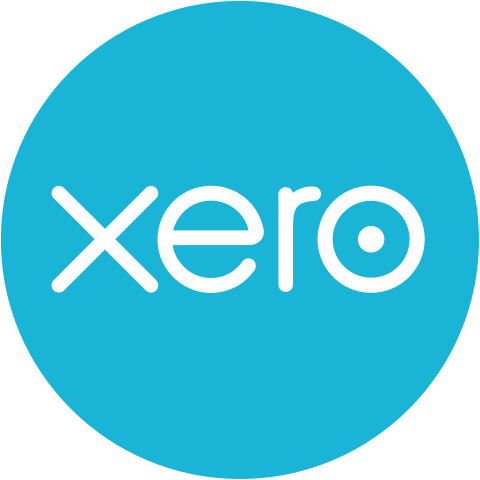 From accepting invoices to tracking expenses - both tools can help you manage your business more effectively. Both were designed for freelancers and small-business owners in mind and can help you simplify the invoicing process.

InvoiceBerry is exclusively built for invoicing, bill and expense tracking while being able to manage unlimited clients and more. Meanwhile Xero focuses more on the financial data management side. And if you're still confused or need further help, you can always invoke the help of one of their advisors.

Setting up InvoiceBerry is a simple process regardless of your niche or your business needs. You can add more users to the account and let your employees invoice clients, generate quotes, track expenses - from anywhere.
IF YOU...
Need your invoicing system to integrate with other applications to streamline business operations
Choose:

InvoiceBerry has the potential to be integrated with over 1,500 different apps via Zapier. If you really want to take automation to the next step, InvoiceBerry helps you find that balance, while still being intuitive with its functionality.

Some popular integrations include Slack, Trello, MailChimp.

For example. Let's say you integrate InvoiceBerry with MailChimp. As you add a new client to your InvoiceBerry account, that same client and their information will be automatically entered into your MailChimp mailing list too. Neat right?

If you work with a lot of apps in your niche and want to accomplish more while working less - save yourself the time and trouble and go with InvoiceBerry.
InvoiceBerry's award-winning invoicing software focuses on the most important part of your business - sending invoices and getting paid on time.
Easy & Professional Invoicing
Creating and sending your first professional-looking invoice only takes a few minutes. No need to enter credit card details, set up accounting systems or ledgers. Simply sign up for a free trial, enter your invoice details and send off your first invoice in a matter of minutes!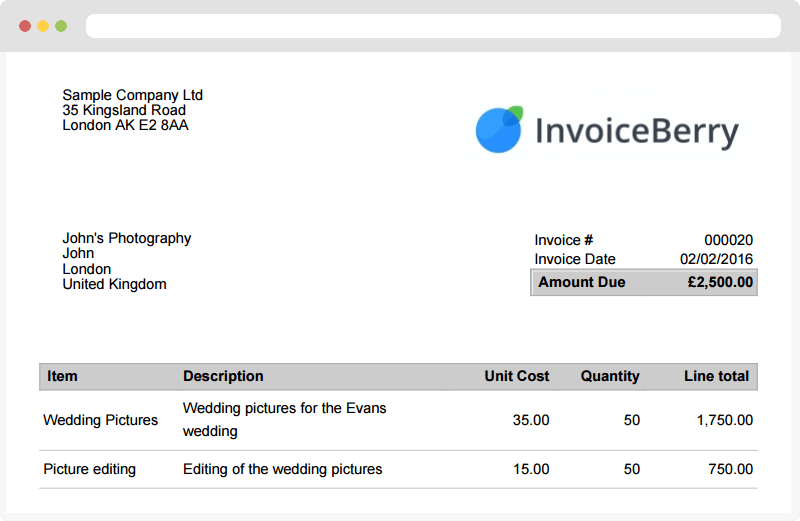 ---
Tired of waiting for client payments?
InvoiceBerry connects to your favorite payment providers – Stripe, Square, PayPal and WePay. Just add them to your account and ask your customers to directly pay you online when they receive an invoice. Our system will notify you about new payments as well as outstanding ones.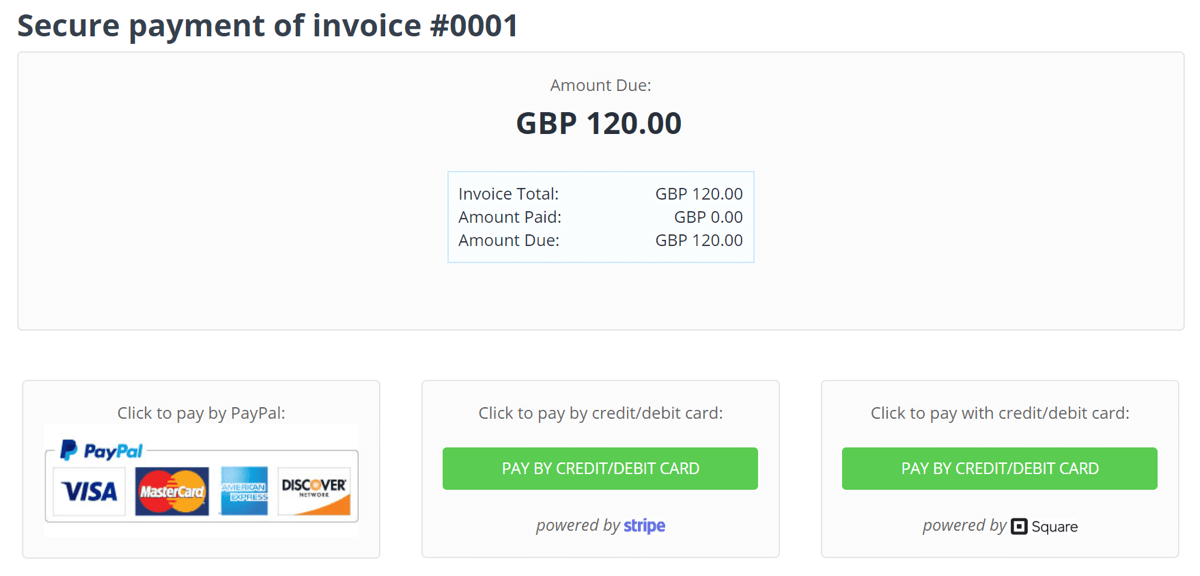 Amazing Features Included In All InvoiceBerry Plans:
Send unlimited professional-looking invoices
Customize your invoice templates
Send quotes and turn them into invoices
Create credit notes and keep track of client credit
Manage all your clients online
Accept card payments and get paid faster
Invoice on autopilot with recurring invoicing
Keep track of payments and send reminders
Manage your expenses online
Create powerful reports with business insights
See What Our Customers Say About Us:
Simpler Accounting
InvoiceBerry is the easiest way to keep your records as well as invoicing your customers. I would definitely recommend this software to anyone looking for a simple way to avoid accountants and keep your records tidy and safe.



Leonardo Acero
Outstanding Service
How do I know that InvoiceBerry is indeed outstanding? I have experience with a number of other invoicing solutions. Let me summarize that experience: stomachache. And in case of InvoiceBerry my primary feeling is: confidence, satisfaction.


David Gyori
Affordable Invoicing
I am just starting out as a new company so I think it will get even more valuable as I start to expand the range and complexity of my client base. It is an excellent and affordable platform for the 'budding entrepreneur' sector looking for ease of convenience at a reasonable price.


James Mcleod
See how we compare to others
InvoiceBerry vs. QuickBooks Online
InvoiceBerry vs. QuickBooks Desktop
InvoiceBerry vs. FreshBooks