Customer Acquisition for New Small Businesses
Written by Bernard on March 01, 2017
Customer acquisition is perhaps the most important part of any business. All the strategies, goals and product/service adjustments should revolve around whether it will increase the amount of customers coming in.
This is, primarily, unrelated to exactly what type of business you have. All businesses exist to do one thing: solve a problem a customer has.
Try our online invoicing software for free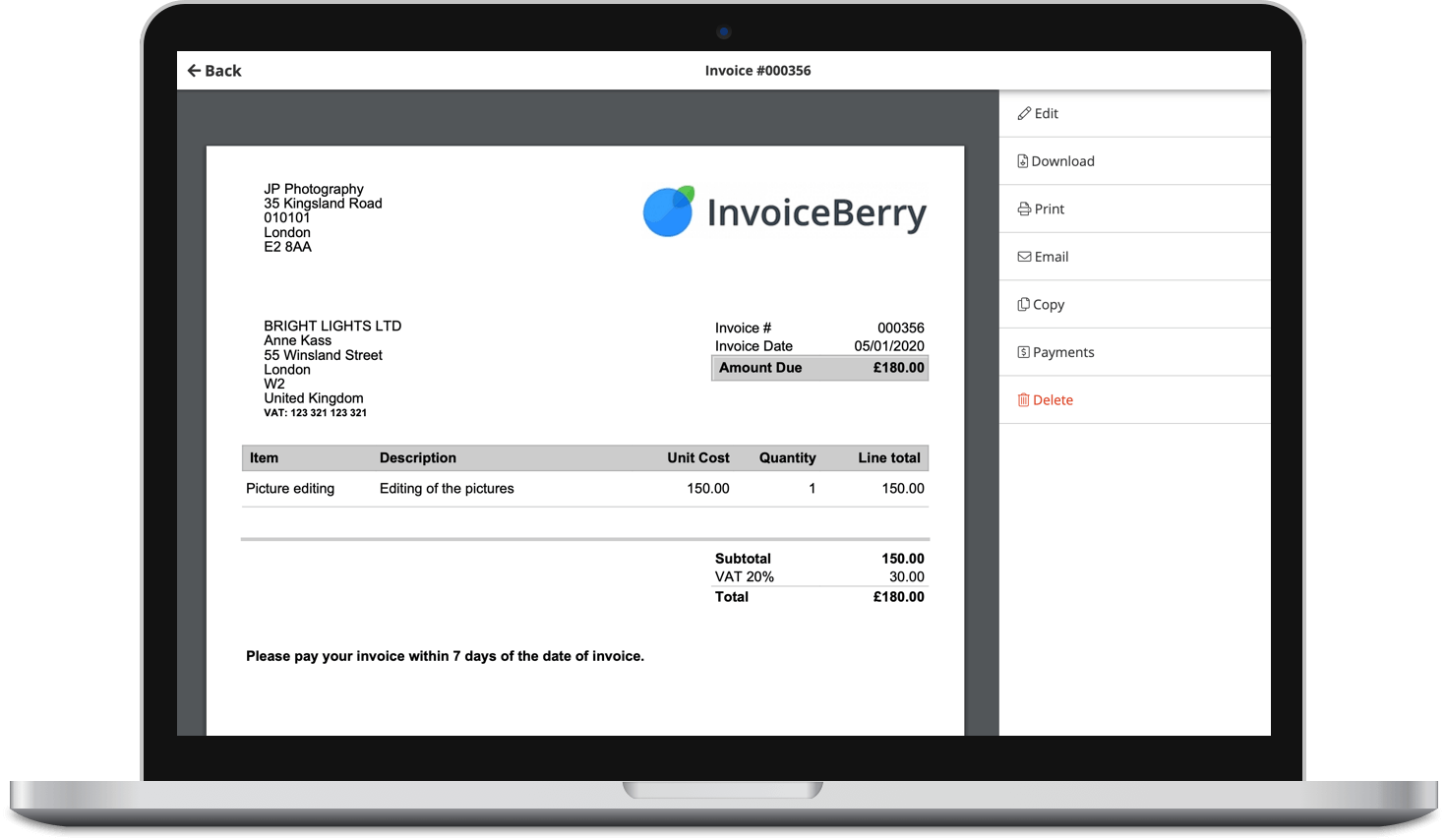 Send professional-looking invoices
Accept online payments with ease
Keep track of who's paid you
Start sending invoices
That problem could be anywhere from hunger to needing to send out invoices quickly.
How you go about getting your first and ongoing customers, of course, will depend on how well you know what problem you're solving and how you can get that message out to the right people.
In this guide, we'll overview exactly what you need to do to perfect customer acquisition. That pretty much will come down to two ways: traditional marketing and online marketing.
Before any marketing can be done, however, we'll have to look at the first big questions: what problem are you solving, and whom are you solving it for?
Your product or service
There are some important considerations to take into account before even thinking of customer acquisition. Let's look at some important questions to ask yourself and your staff first.
1. Do you know your product or service fully?
There will be no way that you'll be able to sell your products or services to clients without really knowing what you're selling. This includes not just you, but also everyone who is working in your company.
2. What are the shortcomings?
Nothing that anyone sells is ever perfect, no matter what product or service it is. It is illogical and dangerous to convince yourself that yours happens to be the one exception.
If you can understand what your shortcomings are, you can prepare yourself for when a customer asks for it. It will also help you to have a roadmap of where you want your product or service to be.
3. What does your product/service do better than the competitors'?
Answer this, and you'll be able to zoom in on exactly what you need to highlight in your sales and marketing strategies. If you can't answer this one—or your product/service is inferior to your competitors', then you need to spend more time on improving your product or else you will experience failure.
In order to fully understand what you're selling and, by extension, what problem you're solving, you should:
use your own products or services like a customer would to gain invaluable experience
read through online forums to understand what problems people have and how your product/service does or doesn't address those problems
read through your competitor's information and see how they present their products/services
By going through these steps even before you've released your product or service, you'll have a higher chance of success.
---
By going through these steps even before you've released your product or service, you'll have a higher chance of success.
---
Your ideal customer
Now that you've got your own bases covered, you can go ahead and try to figure out exactly whom you're selling your product or service to.
Although it would be perfect if everyone in the world were interested in what you're selling (something not completely unheard of with the likes of social media), that's not likely to happen.
Instead, you need to figure out who the perfect customer is that you're trying to sell to. This comes down to the following steps.
1. Describe your customers in as much detail as you can
If you can physically and psychologically describe your customers, you'll be more able to understand how to sell to them.
This includes their:
demographics, including their age, gender, income, education level, location, etc.
personality, including their preferences, habits, politics, etc.
hobbies, including their likes and dislikes, sports, etc.
2. Follow your customers
This doesn't have to be as creepy as it sounds. Basically, you want to know what physical and digital locations your customers are most likely to frequent.
These include:
what physical and digital locations they frequent. These can be coffee shops, concerts, or forums, Instagram, etc.
what they're likely to read. If you can get a lock on this, you'll be able to use it to create compelling blog posts for your inbound marketing, which we'll discuss later.
what words and phrases they use to find solutions. If you know this, you can optimize your posts and ads to show up first when your ideal customers search for solutions.
3. Find out how they make purchases
When you know what processes your ideal customers go through before they make a purchase, you can adapt your marketing and sales materials to help guide them to a purchase.
These include finding out:
how they begin their research. Do they ask friends/family/colleagues, do they Google it, or do they go to the shopping mall for it?
how the solution benefits them. This goes back to knowing your own product—if you can find out what the solution brings them, and how much it means to them, you can leverage that information for helping guide your marketing strategy.
4. Ask your current or past customers
If you have current customers, or even friends/family/colleagues who have tried your product or service, ask for honest feedback. In this feedback, make sure to address:
how they originally found your product/service
what caused them to purchase your product/service
why they stayed with your product/service
what sets your product/service apart from the competitors'
what features are still missing
Traditional marketing
Now that we've got the product and team preparation down, we need to look at the first method of customer acquisition: traditional (or non-digital) marketing. These will include tried and true methods that have worked for many businesses throughout the years and decades.
Customer referrals
The greatest traditional marketing tool is word-of-mouth. However, this one is gained through hard work and providing consistent quality products or services. In order to get something similar, but faster, you should utilize referrals.
Referrals go from current customers to potential customers whom they know personally. These could be friends, colleagues, family, or many others. In order to get that trusted referral, you should provide an incentive.
One way to get referrals is to use an incentive. Usually this incentive is in the form of cash rewards for the referrer, but they could also be discounts or credits on their next purchases.
One fantastic way to send out referrals is to put an offer directly on your invoices. This is good because when you send out a referral offer, the open rate for your emails could optimistically hover around 30%.
However, your clients always open your invoices and read them carefully.
If you put your referral offer right on the invoice, you guarantee that all of your customers will see it, which will increase the success rate of your referral offer.
Networking
Networking is an age-old, tried and true way to get new customers by leveraging current and future contacts.
One important thing to remember is that networking is not for selling anything. You are not there to be market. Instead, you are there to actually, honestly meet people, meet friends and relax.
Of course, you should be going to networking events that are one of two things:
people who directly need the products or services that you offer
fellow business people who are in direct contact with your potential customers
Networking is about creating relationships, as many relationships as you can get. It is important, of course, to get the contact information of each new person that you meet just in case you may need their help later.
Another thing to remember is that you should only give out your cards to those people who ask for it, not to everyone.
Networking may not always lead to direct customers. They may, however, lead you to contacts that can get you customers, and you should treat each networking contact as an opportunity.
Offer samples or discounts
Another effective means of getting into contact with potential customers is to give away discounts or free samples.
This can be an especially great tactic if you are just starting out and have no customers to speak of.
If you have a restaurant or food shop, you can give out samples of your food to businesses and homes close by, as well as an invitation or discount card so that
they will remember your name and
they will come to your store and spend actual money.
If you have a non-food business, then you can do something similar. Hand out discount store-opening discounts to businesses and homes nearby. This can be a great way to get people into your stores.
For social media and online tactics, we'll cover this in the digital section below.
Collaborate
Lastly, one fantastic way to get your customers is to collaborate with other complementary businesses.
This can be in the 'host-beneficiary' arrangement in which another business with the same target customers may hand out discounts or vouchers for your products in their newsletters or other literature. These could be something like a high-end cigar shop working with a high-end tailoring business, or a hair salon working with a beauty store.
This collaboration might be a one-time or short-term agreement. However, it can also last for much longer, even for many years.
If you find that your collaboration with another company or group of companies is beneficial, there may be no need to end it. For example, a web design agency and SEO service may find that they both benefit by sending each other clients for additional services at great prices.
Digital Marketing
One downside of traditional marketing is that it can take a lot of time and money to implement fully. It also depends a lot on others, so that you may end up waiting for some time before actually being able to take action on certain strategies.
Digital marketing helps take care of the time and money angle. The services and strategies involved in digitally marketing your products or services can be performed almost immediately, given that you have everything you need to begin.
Even better, a lot of digital services have two-week or month-long free trials, so you can start seeing results before you even spend a penny. Let's look at the most popular forms of digital marketing in detail.
Inbound marketing
One of the biggest resources many businesses have at their disposal nowadays is inbound marketing. One can imagine this as the opposite of traditional marketing, which is based largely on sending your salesman messages out to many potential customers, without the chance of dialogue.
Inbound marketing is about creating engaging content that your potential customers are coming to you for. You are solving a problem for free in order to engage and educate your potential customers, create a long-term relationship with them, and eventually convert them into buyers.
In order to take advantage of inbound marketing, you'll first need to get your own website and domain.
Although there are free platforms like Medium, WordPress, Blogger and more, it may not seem very professional to have a web address like yourbusiness.blogspot.com. Instead, spend the money for your own site.
Then, you'll need to create engaging content that your audience wants to know. Essentially, you're answering the questions that they have.
If you've completed Part I, which is to define the problems that your potential customers have, then you'll know exactly what you need to write about.
By creating free content, you are building up trust with your potential customers. You are showing that you have expertise, that you are consistent, and that you will be able to help them with their further problems.
For our full guide on inbound marketing, click here.
Online advertisement
While inbound marketing is a great (mostly free) option, it does take time. It takes time to get your business established, and even if you create the perfect blog post or video, it still doesn't not guarantee that anyone will see it.
In order to do that, you'll need to do outreach which can take a lot of time. To cut down that time, you can start using online advertisements.
One great thing about digital marketing is that there are just more options in terms of pricing and services. While traditional marketing advertising can be cost-prohibitive, online advertising is quite affordable.
In fact, if you decide to use Facebook Ads, you can get started with a budget of only $5 a day. Even better, online advertising will only charge you if someone clicks on your ad or engages in it in some way.
You also don't have to pay upfront. You can set your daily or monthly budget and ensure that it will not go over. So even if you'd only like to spend $10 or $20 to test it out, you can do that. If you find it works for you in that it brings measurable results, you can increase your budget accordingly.
For our full guide on Facebook Ads and Google Adwords, click here.
Social media
Social media is perhaps the first place that many small businesses head towards when they want to get new customers.
Largely, small business owners understand that they will need to have a social media presence in order to attract new customers. Social media sites like Facebook are therefore crucial for small business success in the 21st century.
The primary thing to do on Facebook is to be findable. If people cannot find you on social media, mainly Facebook, then they probably won't investigate you any further unless you provide something very unique.
If your competitors are online and you aren't, then your competitors will get your share of the market. There, when you create your Facebook  business page, you should make sure to add as much information about your  business as you can. This includes your phone number, business hours, address, and website if you have one.
Beyond that, it gets more complicated. Many businesses may have an online presence in a technical sense, but most of them underutilize it by simply posting their own marketing or content.
Social media is actually a fantastic way to interact on a personal level. It removes the wall of formality that often separates businesses and people.
---
Social media is a fantastic way to interact on a personal level. It removes the wall of formality that often separates businesses and people..
---
On your social media profile, try your best not to be controversial for the sake of controversy. However, that doesn't mean you shouldn't stand for something if you believe in it. You can show off some personality on Facebook and have it be beneficial for your business.
Another thing is to answer your customers' questions, comments and feedback that they may leave under your posts. It's not only a great way to interact with that one person, but also to show potential customers how responsive you can be.
There are perhaps too many angles of social media to discuss fully here. We've got quite a few resources for you though, like our blog post on social media here, as well as our ebook that you can download for free.
Customer acquisition tools
Small business owners generally don't have a lot of time to spend. They are often so busy working on all other aspects of their job that they try their best to optimize their time spent on each task.
For that reason, it's good to know that in the online marketing world, there are always products and services that you can utilize that will help you automate almost any of your business processes, including customer acquisition. These tools will help you with email marketing and website conversion, two of the most important aspects of online marketing.
Let's look at some of the very best customer acquisition tools you can use for your business.
There'd be no way to discuss any online marketing without mentioning the king of analytics, Google Analytics. This free service helps you to get as much data as you can handle about anyone and everyone who ends up visiting your website.
You can separate them by age, gender, location, language, and so many other factors. This can help you better define who your actual customers are, which may be slightly or vastly different from your ideal customer.
With so many great resources and videos to assist you, you can have Google Analytics set up on your website in no time at all.
One of the very best services for your email marketing (which helps turn subscribers into buyers) is Mailchimp. This is an easy-to-use resource that allows you to send beautiful, effective emails to all of your subscribers.
This program will help you to manage your subscriber list and even segment them into various groups for increased effectiveness. It can also link up with your social media accounts so that you can share your emails with your social media followers.
It's also free for the first 2,000 subscribers, so you can test it out and see if it works for you.
One of the most comprehensive tools for your growing your subscriber list and presenting a professional image is GetResponse. This service helps you take care of your email marketing, giving you great options for autoresponders as well as creating fantastic landing pages.
It also works with your marketing automation, helping take care of your workflows and tags. For the beginning small business, its Email Plan will be the best, with a subscriber list size of up to 1,000 at a cost of $15 per month.
This service creates a heatmap to show you where on your landing page your website visitors are clicking the most and least.
It helps you to track all their clicks, scrolls and button overlays. This gives you a great, concise understanding of how your visitors behave. With this information, you can see what parts of your website are working and which parts need to be changed or removed completely.
If you're really invested in creating the perfect landing pages to convert your visitors into buyers, you'll need to do lots of A/B testing to see what combination works the best.
In the past, this usually required an IT person to pore over the data and try out different combinations, usually inefficiently.
That's where Unbounce comes in. It helps you to create custom landing pages and overlays without any coding at all. it also comes with lots of high-converting templates so that you can choose the layout that's best for your business.
The most important part of customer acquisition
Customer acquisition is a mixture of short-term and long-term strategies. This is an important thing to remember, and it is crucial that you not put too much of your time and energy into only one customer acquisition method.
Although purchasing Google or Facebook ads may work in certain parts, you should also be working on your own local efforts.
Go to networking events, attend local fairs, physically interact with people. Even in this digital, always-online world, there is still lots of room for traditional marketing.
Having said that, it is equally important to not overburden yourself with too many things. Don't try to do all the things on this list if you are the only person in your small business, or if you have a very small team.
Instead, you should have your blog (posting roughly 1-2 times per week), focus your efforts on one social media channel, and work on traditional marketing efforts like networking and collaboration.
That combination of customer acquisition strategies will be sure to pay off without causing you too much stress.
As you go further in to your new small business, you will find more effective ways to get new customers. Although it may seem difficult and even impossible in the beginning, customer acquisition will become soon become second nature.