Save Time and Cost With Online Invoicing Software
Written by Uwe on May 15, 2013
Invoicing is a very important function performed by almost every business organisation. A company provides services, works on their clients' projects, offer products, but an error-free invoice is required to get paid for all these services and products. Creating an invoice manually can be a daunting task for a company; it includes lots of tasks like identifying the client, finding the pending amount and other details and then keeping track of the payments and dues. All these processes make this task quite time consuming, and since today a good part of their transaction is done online and the conventional trade boundaries are diffusing very fast with time, online invoicing software has come to the relief of lots of businesses when it comes to generating detailed and correct invoices and send it to the client.
What Is Online Invoicing Software?
It is an intelligent and robust program that automates the process of creating the invoices, sending it to the client and keeping track of the payments and dues. It allows business owners to focus more on the business rather than worrying about the pile of paper for generating invoices. Online invoicing software is very simple to use, you just have to fill out a few simple information and you are ready to go. When you have the invoicing software you will no longer need an accountant for this purpose. The invoicing software can handle every aspect of accountancy like applying mandatory tax regulations, statuary accounts, cash flow predictions, debit analysis and various other reports.
Try our online invoicing software for free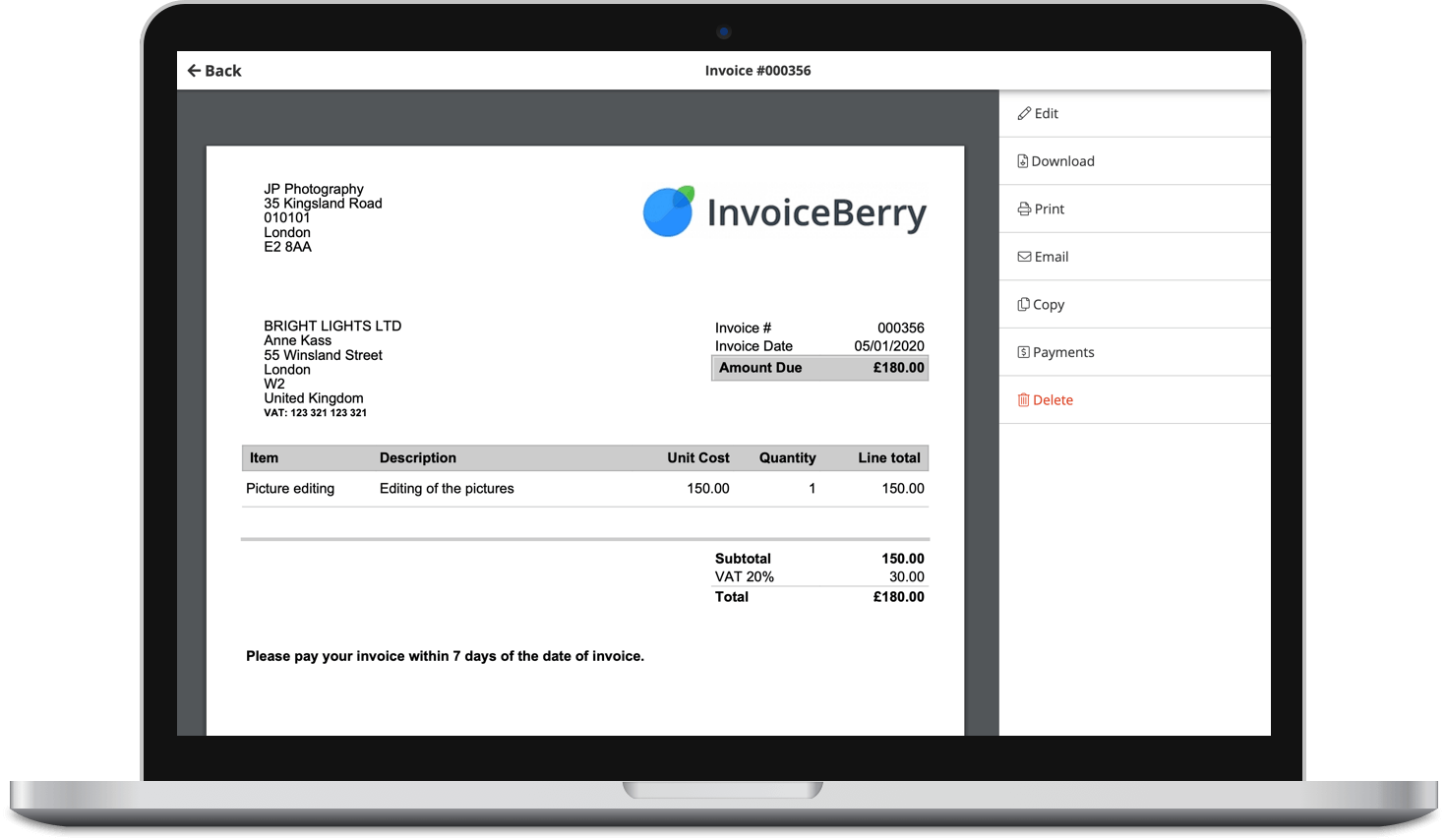 Send professional-looking invoices
Accept online payments with ease
Keep track of who's paid you
Start sending invoices
Benefits Of Online Invoicing Software
So let's look into the feature list of online invoicing software and how much tasks it can handle for your business. I am going to show you the benefits that you can expect from this invoicing software:
Ease Of Use: Don't be afraid to sign up for the invoicing software, it is designed to be very easy to learn and use. You don't need to be an experienced accountant or bookkeeper to handle this software.
Instant Invoicing: The great feature of online invoicing software is that it generates the invoices instantly and sends them to the specified email addresses instantly too. You don't have to be in the office to generate an invoice anymore, this software takes care of everything, your customers will receive the invoice within seconds.
Multiple Templates: The invoicing software comes with multiple templates for invoices and quotes that are made especially according to various companies' needs. You can create and design a wide range of professional looking invoices that fit your purpose.
Improve Image Of The Company: It doesn't matter what business you are in, this software helps you look more professional. When you use online invoicing software and provide professional looking invoices to your customers, it helps to improve the image of your company and makes your business look and feel more professional.
Overall, online invoicing software can save lots of time and money. It improves the efficiency of your office greatly and helps you to focus more on your business.
Small Business Finance 101
Download our free guide to learn the fundamentals of finance that will help make your small business more efficient and successful.