Deciding On Your Online Invoicing Software: 7 Questions to Ask Yourself Before Choosing
Written by Marc (InvoiceBerry.com) on July 28, 2015
When it comes to bookkeeping and accounting services, today's freelancers and businesses have more choice than ever. Thankfully we have long passed those days in which we needed to collect all receipts in thick folders and deliver them each month to professional bookkeepers. Thankfully we can now get rid of those filing cabinets clogging up our office space.
There has been a recent explosion of cloud based online invoicing software that makes it so much easier for you to handle all your invoicing tasks from one platform. You now have a wide range of inexpensive, easy-to-use online applications to choose from, that cater to businesses of all sizes. But wading through the long list of features offered by each different invoicing software can be quite a daunting task if you don't know what to look for.
Try our online invoicing software for free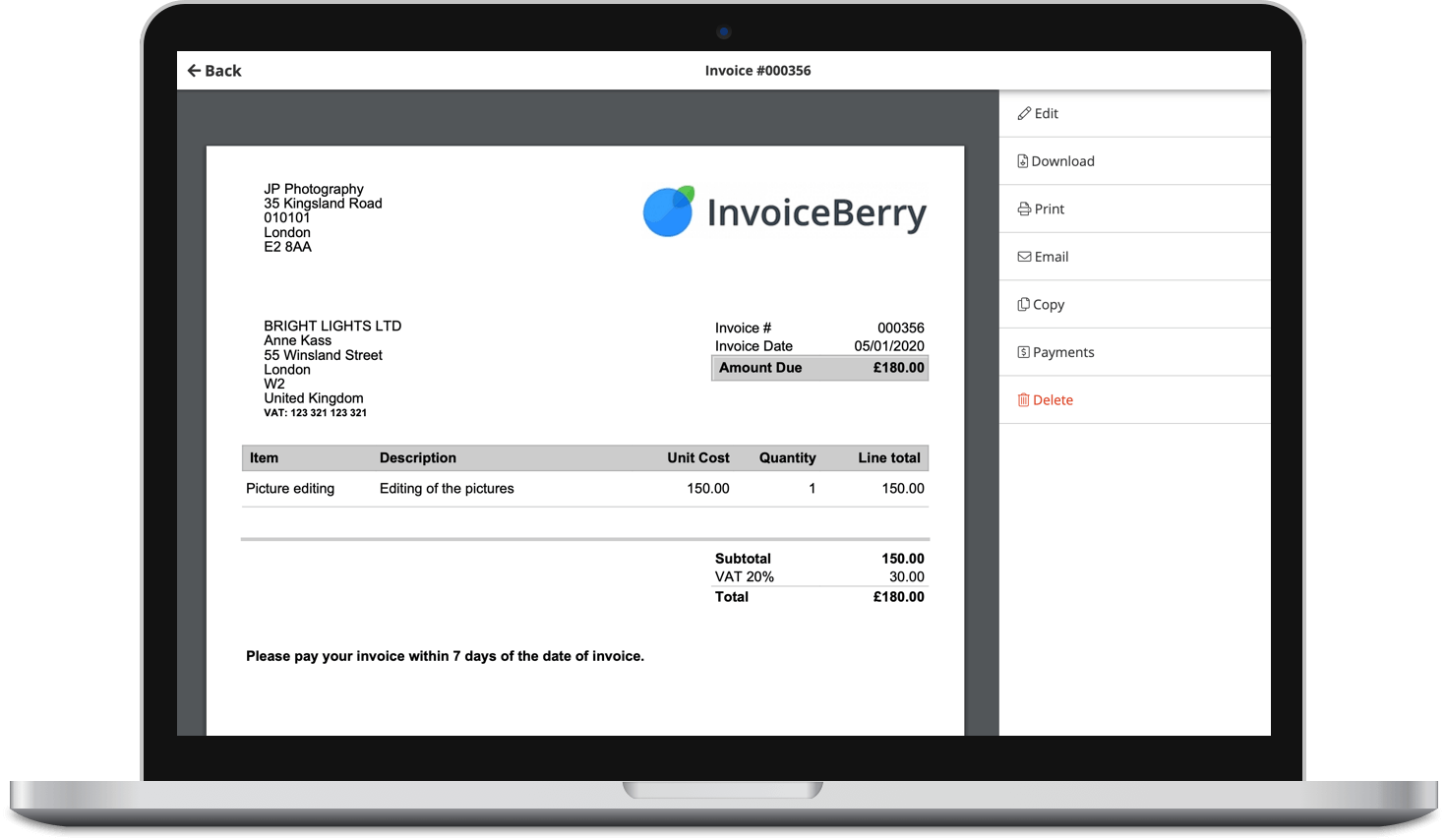 Send professional-looking invoices
Accept online payments with ease
Keep track of who's paid you
Start sending invoices
So here's a quick guide for you to help understand which software is the best for your particular needs.
Since each software is different, the very first thing you need to do is fully understand what your unique needs are. What is it that you are looking to achieve by switching to an online invoicing system? So in order to reach this conclusion, I suggest you ask yourself the following questions:
1. Average invoices needed per month
Do a rough calculation into how many invoices on average you need to generate in any particular month. This might vary seasonably depending on the type of business you run. If it does, then perhaps look into a quick average of each season keeping into account the busiest times for your company. How many billable customers or clients do you have? Here is your chance to consider company growth.
2. Monthly budget constraints
This is one of the most critical questions you'll need to carefully consider. There are so many different options out there. Each option offers a different pricing and payment plans. All this information can get quite overwhelming. So start by setting a budget for yourself. Look into how much you can afford on average in any given month. You might come across a super cool software that at first glance might seem to be offering everything you need, but is it priced right? Can you actually afford to pay its monthly or yearly price? Or even if you can, is it actually worth it? Are you actually going to be using all those features listed?
What your business needs from an invoicing software is going to be different from what another business needs in your industry. Therefore, don't just jump to what is popular out there, but take the time to analyse your budget and come up with a software that justifies the price you are paying against your actual needs.
3. Cloud-based vs downloadable
Some invoicing software will be applications that you download on your computer whereas others will be cloud-based and hence accessible via the internet. Do you want to have a software that you can download and use from your own computer only or do you prefer a cloud-based option? Cloud-based options give you more flexibility as you can access your accounts from anywhere in the world from any computer you can get access to. On the other hand, if you go for a downloadable option, then you won't be able to do anything if you don't have that laptop or computer with you on which you downloaded the software. Thus it quite limits your flexibility. However, if for example, you are in a location where internet is not reliable, then you might want to choose a downloadable software. Again this entirely depends on your own business needs.
4. Invoices in multiple currencies
If you have a global business, catering to a global market, this will probably be something very useful for you. Some invoicing tools actually have built in features that allow you to create your invoices in different currencies within a few clicks. You can even create one invoice that lists the bill in different currencies to give your client a quick look into what the total will be in a different currency.
5. Easily customizable templates
If you have that kind of business in which each client's invoice needs to have a customizable template, here is where you can benefit the most from an online application. Online invoicing software can help you create different templates within seconds. You can actually create 2 or 3 different versions of your invoice and have them ready to send off as and when you need in your cloud-based application.
This will save you so much time in the long run when you won't need to work up a new template every time a new client request comes through.
6. Reporting requirements
Reporting is an inevitable party of every business. But what kind of reporting do you need? Are you looking for a tool that can help you whip up more comprehensive monthly reports? Are you looking for a more retrospective analysis? Do you work on a project-based reporting or a general monthly report?
Most online invoicing tools will give you some basic reporting options. Some general reports that you might be looking to generate will probably be profit and loss reports, reports on your top suppliers or customers in a month or year, quick look into the debt owed to you, etc. So whichever software you have your eye on, make sure you look into what kind of reports it will help you generate.
7. Ease of use
This is actually a very important feature that most people neglect. If you are looking to invest in a tool or software that you will be using in the next couple of years, you want to make sure that it actually has a good interface. You don't want to find yourself having to train your employees on how to use a basic software just because its interface is so difficult to get around. See if you can get a free demo or trial of the invoicing tool you are looking to invest in. For example, InvoiceBerry offers a forever free account. This is the best way to get a look and feel of what you are about to pay for. See how user friendly the software is and if it adequately fits your expectations and needs. Only then jump into a more permanent long-term payment plan.
These are just seven of the most important questions you should be asking yourself before deciding which invoicing tool to buy. Just give yourself enough time to jot them all down. It will really be a great help in finding out the most suitable online invoicing software for your company.