9 Places To Find Freelance Photography Jobs
Written by Mark on June 08, 2020
So you want to get paid to take pictures, but you're not sure how to make this dream a reality? Freelance photography is the career you're looking for.
Whether you're a sports photographer or you prefer taking photos of weddings, travel destinations, or products, going freelance can be an immensely rewarding decision for you.
Try our online invoicing software for free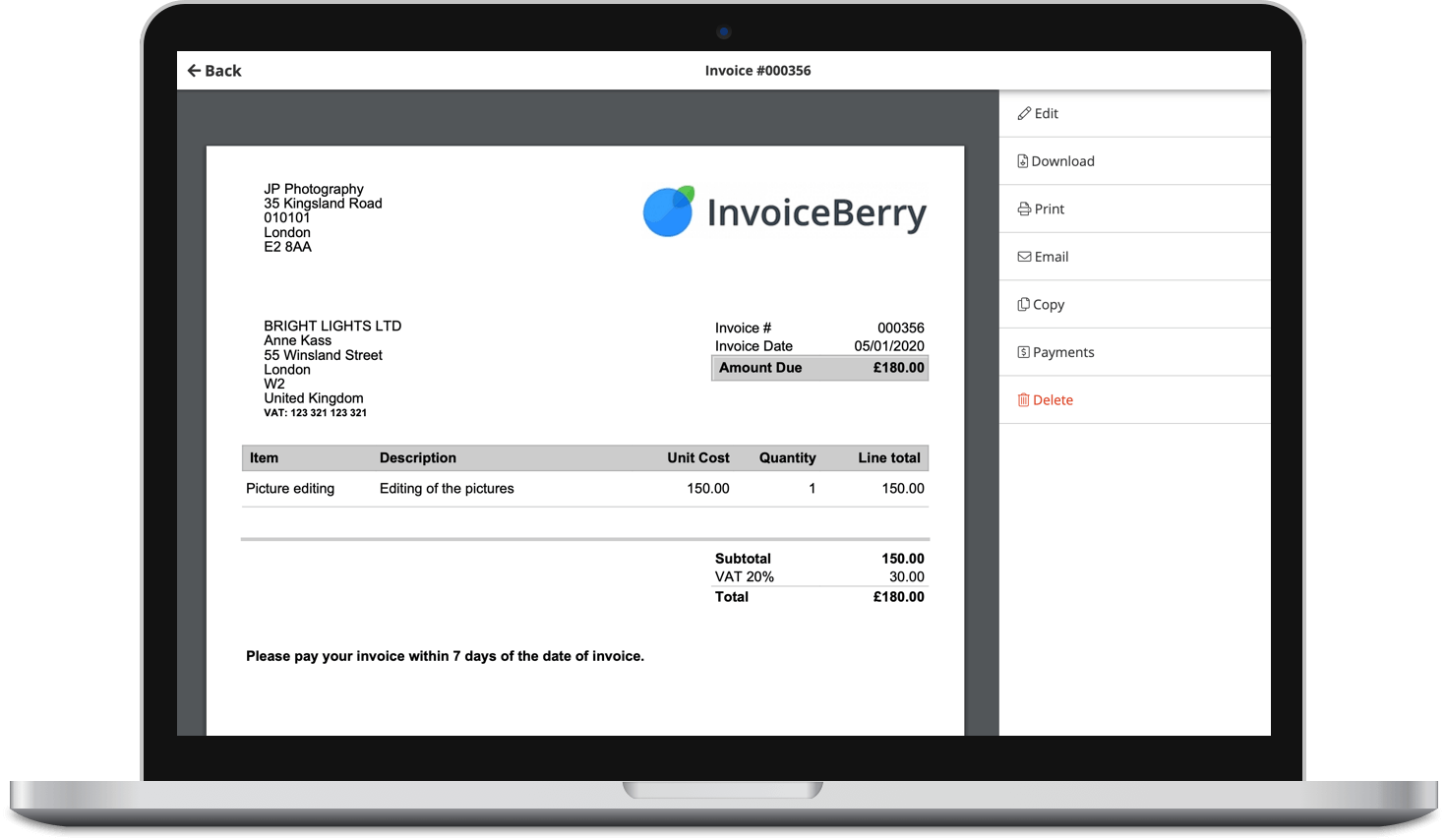 Send professional-looking invoices
Accept online payments with ease
Keep track of who's paid you
Start sending invoices
As a freelance photographer, you have the freedom and flexibility to set your own schedule, choose the kind of jobs to work on and select who you work with.
Although this might mean you won't be getting regular paychecks, there's no reason why you can't earn a decent income as a professional freelance photographer.
Hopefully, you've got your gear ready, mastered your craft to a great extent, set up an awesome blog or website, and spent countless hours shooting and editing content for your portfolio. So it's time for you to start looking for clients and recurring gigs that will keep you busy and your pockets full.
There are lots of places where you can find work as a photographer online. You might be surprised at the sheer number of options you'll find by simply typing "photography jobs near me" into your favorite search engine.
However, you don't have to scour the internet aimlessly in search of opportunities. We've put together a list of some of the best places you can find a steady supply of jobs as a freelance photographer.
What type of freelance photography work do you want to do?
Before you start looking for jobs you need to consider what freelance photography field you want to venture into. When you have a specific direction in mind, it'll be easier to implement a targeted approach to get you there.
There are three main ways that you can make a living as a freelancer:
Contract work — long-term, steady work with a few dedicated clients.
Stock photography — selling photos to stock photography sites.
Freelance gigs — usually one-off, short-term work without any serious future commitments.
If you have the bandwidth for it, you may pursue all of these types of freelance work, but initially, it's probably best to focus on one or two.
It's also a good idea to pick a photography niche (or a few closely related niches) and concentrate on building your experience and marketing in those areas, which you can then leverage to charge higher rates.
Where to find freelance photography jobs
From general to industry-specific job boards and stock photography sites, here's a look at some of the best places that can help you secure your first or next freelance photography gig.
1. Upwork
With over five million businesses and ten million freelancers from all walks of life using the platform, Upwork is one of the biggest and most popular freelance marketplaces out there.
There are hundreds of photography-related listings to choose from at any given time, and the jobs are divided into different categories to help you find your perfect match.
You can find photography jobs that are remote or on-site, short-term or long-term, paid for a fixed price or hourly, and for entry, intermediate, and expert-level freelancers.
Jobs range from events and portraits, product pictures, commercial real estate, to photo-editing requests.
Set up a free account and start bidding right away. You'll only get a limited number of job bid credits, after which you'll need to purchase a membership plan to keep submitting proposals.
2. People Per Hour
Although a huge number of available photography projects on People Per Hour are graphic design and post-processing, you can still find several gigs for commercial realty, event photography, and product shoots.
These listings are categorized by the level of experience required, location, and budget, and users are required to send a proposal in order to apply.
You can create your own listings, offering specific services for a fixed price. There are free and paid account plans for you to choose from.
Potential employers can also browse through the profiles of freelancers and send job offers directly to them, so make sure your profile is catchy and really shows off your skills.
3. FlexJobs
Find freelance photography work that is right for you with FlexJobs. The platform has listings for event photography, sports, photojournalism, commercial gigs, nature, portraits, photo retouching, video editing, and more.
FlexJobs goes through the trouble of weeding out junk posts and spam so freelancers can enjoy more quality job postings at better rates. You're guaranteed to find new listings almost every day.
It costs literally nothing to browse the site for photography jobs, but if you want to apply to any of them, you'll have to cough up a subscription fee of $15 a month or $30 for three months.
4. Get Photography Jobs
Get Photography Jobs is one of the biggest photography-focused job search boards out there.
It's fairly easy to use. Just pick a location, enter your keywords, and start searching. You can even save the search parameters so that you get email notifications every time new postings meeting the criteria are added.
The platform is free to use, so you don't have to worry about paying for access. Make sure you screen the job offerings that interest you before you apply, to avoid getting scammed.
5. Fiverr
On Fiverr, the roles are a bit reversed. Instead of people posting photography jobs for professionals to apply for, it is the freelancers who advertise their services for interested parties to hire them.
This process might make landing decent-paying jobs a bit of a struggle when you first sign up, but things will improve and it'll be easier for you to get noticed once you get some customers and reviews.
The great thing about this platform is that it has gigs for almost every kind of photographer. You get free access with a basic account, but you upgrade to enjoy increased job access, higher placements and rank in people's searches, and a host of other benefits.
Pro-tip: since Fiverr actively encourages its freelancers to share their gigs on social media, you should take their advice and get yourself a scheduling tool.
6. The Creative Loft
As the name suggests, The Creative Loft caters specifically to creative professionals such as photographers.
Every week, hundreds of legitimate photography jobs are posted on the platform. From videography and headshots for business cards/portfolios to images for ad campaigns, there's a variety of photographic work for you to choose from.
The only thing standing between you and these lucrative gigs is a small subscription fee. When you do apply for jobs, don't forget to bring your A-game.
7. Getty Images
Getty Images is one of the Premier stock image sites in the world. It boasts of both a large image library and a customer base.
Although it can be quite competitive, you can earn a steady income for yourself with a portfolio that's full of unique and high-quality pictures. If you want to get in, you better start saving your money for a high-end camera.
Getty allows freelancers to focus on the niche and style that they prefer. The best strategy for getting ahead on the platform and maximizing your earnings is to take note of current trends and create your own assortment of similarly themed photos.
To submit your photos to the site, you need to apply to become a contributor and show at least three to six photo samples.
If you get approved, you can start submitting your photos immediately. Whenever someone buys any of your photos, you'll get a commission/royalty.
8. Freelancer
Freelancer is the largest freelance marketplace in the world. You can land a job by bidding on a project listing, when a client directly contacts you with an offer, or by participating in contests.
Don't fall for the bidding trap of pricing your services at a ridiculously low rate because the competition is stiff and you think it's your only chance to be awarded a project.
Employers usually take a look at portfolios and experience before making hiring decisions, and they're more likely to go with a higher bid in exchange for more professional work.
At any given time, you can find hundreds of photography job listings on Freelancer. Most listings revolve around product and video, portrait, photo editing, and travel photography.
9. Journalism jobs
If you're a photojournalist looking for new and exciting opportunities, JournalismJobs is the platform you should be checking out.
Thousands of people use it to advertise open photography roles in the journalism industry including media giants like National Geographic, CNN, ESPN, Reuters, USA Today, and Forbes.
Since the platform is well-known in the journalism space, you'll be contesting with a lot of applicants for new job listings so make sure that you craft a killer pitch that stands out.
You can also upload a resume to help those looking for the services of a photojournalist to find and reach out to you.
How to increase your chances of being successful as a freelance photographer
As with every job, you need to put in the work if you want to see positive results. Here are some tips you'll want to keep in mind when searching for work to help you get hired and become a well-paid, sought-after freelancer:
Bonus: Hustle but stay healthy
Landing freelance photography gigs is no easy fit. So make sure you maintain an organized schedule so that you're able to meet your goals without sacrificing on personal health.
You want to maintain a positive work-life balance, instead of haphazardly working without any organization.
Land clients and make some money
Freelance photographers usually earn a higher hourly rate than their counterparts who are dedicated employees working for a particular company.
You can pursue a broader range of opportunities,  which would, in turn, translate into greater creative freedom and a more extensive portfolio. Speaking of portfolios, platforms like Pixpa are great at helping photographers showcase their best work online.
No one is saying that the freelance path is going to be covered with roses all the way, but as long as you know where to go looking for jobs and how to win the attention of prospective employers, you'll be well on your way to making a living from your love for photography.