7 Uses of Accounting Software to Boost Your Business
Written by Irakli on November 05, 2018
Accounting is the first and foremost necessary skill for small and midsized business to survive.
It helps you keep track of where the cash flows and if your startup will make it by the end of the year. Thus, if you really want to improve your accounting and finance skills, accounting software is a great way to up your finance skills as an SMB. If integrated well, it can be an essential part of your system and substantially improve all things finances inside your company – from bookkeeping to tax accounting.
Try our online invoicing software for free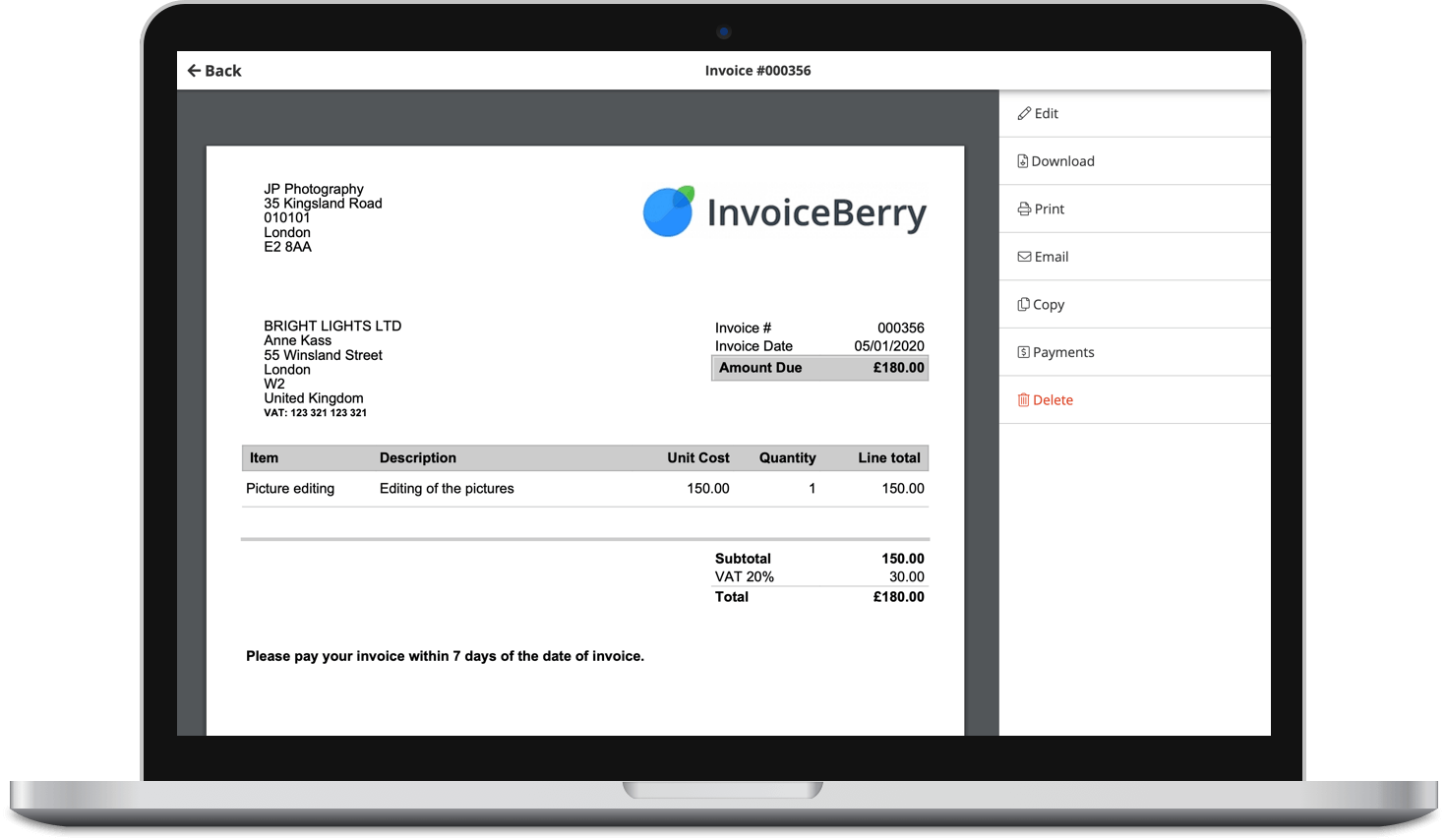 Send professional-looking invoices
Accept online payments with ease
Keep track of who's paid you
Start sending invoices
When a startup is operating effectively, accounting helps keep track of the cash in every operational activity. As a result, if you ever want to scale up, you need to be on top of your budget as a business.
This is where accounting software comes in. Advantages include saving time, reducing costs, improved productivity and more.
The following is just a sample of the many benefits you'll receive by using online software specifically tailored for small businesses
1. Saving time, money, and expenses through accounting software
This is one of the best things about using accounting software to boost your business operational activities. The fact that you can automate some, if not all, tasks of your accounting goes a long way.
Take paying the bills for example. Most of us auto-pay phone and internet bills monthly, but for businesses, monthly expenses add up. And if you're paying them manually, you're wasting a lot of time that could have been spent somewhere better.
By using InvoiceBerry to keep track of your expenses, you're essentially tracking them on the go, per category. What this means that you can then create reports to see where you spend most of your money and how. All of this, of course, done automatically.
2. Convenience of the accounting software
This is directly tied in with the above. Since, nowadays, convenience is everything.
Ideally, the best type of accounting software is simple and easy to set up. When companies decide on a software, they sometimes get distracted by the flashy features they might need just in case and end up paying more than they have to.
Meanwhile, if you're a small business and need software to take care of your invoices, you just need something that's quick and simple to set up.
InvoiceBerry is designed with accessibility in mind, for you and your client alike. Because all the tools you need are online, you're saving a lot of time on invoicing. This is easier to access for both parties as you don't waste time downloading and setting up unnecessary software.
When everything is already available online, invoices become easier than ever.
3. Customization
Customization is another essential part for accounting software.
Because, realistically, your operational activities are unique to you and you alone. Sure, you might find someone in the same industry as you doing more or less the same numbers  – but your cash flow is unique to you.
Do you see where I'm going with this?
Customization is important because you're tailoring your accounting needs specifically to your company. Not the other way around.
By customizing your invoices, you're giving it life and personality to fit that of your business. Through InvoiceBerry's invoice templates, you can make the invoice truly yours by adding a logo, specific terms and conditions, payment methods and more.
With this option, you're sending out a professional yet crisp invoice that's designed to meet your every needs, custom designed for you down to a T.
4. Tracking made easy
One of the most important financial goals for businesses is tracking and analytics.
However, it can be difficult to reach that goal without managing your invoices. You should always be monitoring your cash flow and invoices carefully and looking for areas to improve.
For example, are your invoices getting paid on time? Are there any ways you can speed up the process? How do you handle clients who are usually late?
Well, the good news is that you can do easily track your expenses on and invoices with InvoiceBerry and save it for future reference. With InvoiceBerry, it takes up to 60 seconds to set up an online invoice. 60 Seconds that will pay with recurring payments with retaining clients.
5. Help with taxes
For SMBs especially, tax accounting can always seem complicated. After all, there are so many types of taxes that keeping track of them can be hard.
Luckily for you, this is where an accounting software can save you many sleepless nights. The next time tax seasons comes around, you'll have to start preparing financial documents and tax summary reports.
But when this happens, you'll be prepared. Here's how:
Luckily for you, InvoiceBerry can also help you with invoices with or without tax. For example, you can add a sales tax or a VAT option to your invoice to save you the trouble of charging for them separately.
6. Creating your business plan
If you're just starting out, your business plan is everything.
Writing a great business plan from scratch to pitching it takes time.
But to save time, what you can do instead is follow one of the many free InvoiceBerry business plan templates.
These templates are free, available for Word, Excel, and Open Office and are designed to guide you through the process quickly and easily.
The business plan template you choose can be as simple or as detailed as you chose, depending on your business goals and industry. So, you can follow a simple business plan structure, or use a business plan checklist instead.
Once done with your business plan, you can move on to your business plan presentation or your cash plan budget instead – depending on the stage you're on.
7. Multi-currency
If you're managing a remote work team, dealing with different currency invoices can seem challenging at first. But the trouble of converting internationals currency to and from each other is a thing of the past.
Nowadays, most accounting software are equipped to deal with multi-currency invoices coming in from all over the world.
Since you can customize and add payments to your invoices, dealing with international currencies is now easier than ever too. InvoiceBerry personally deals with invoices with over 200 currencies.
Bringing it all together
All in all, there are a lot of advantages to using an accounting software and with InvoiceBerry, you'll be saving yourself a lot of time and money, based on how easy it is to set up.
The best thing is that you can customize your invoices as specifically as you want, or use one of the many business plan and invoice templates for free of charge.
If that sounds like something you'd be interested in, know that you can try the InvoiceBerry invoicing software for free and change your plan at any time.
Invoicing doesn't have to be scary
GET 50% OFF SOLO & PRO PLANS
UNTIL MIDNIGHT, OCTOBER 31